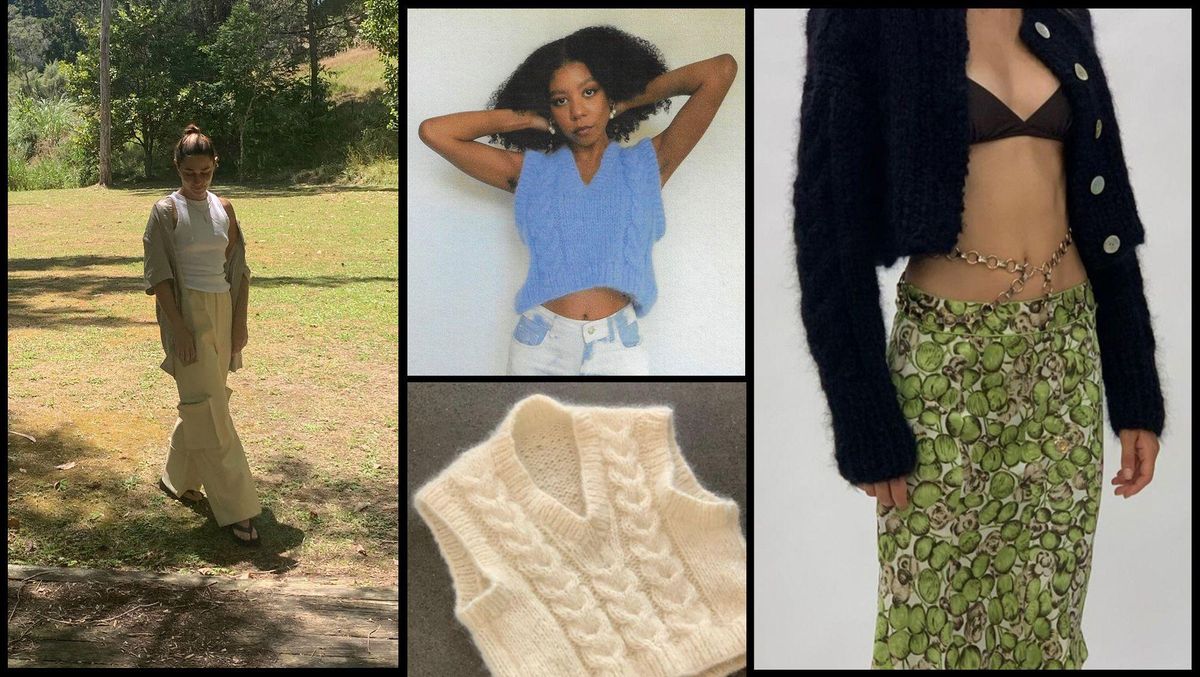 Photo: Courtesy of Charlotte Jennings
How To Shop Like
Knitwear Master Charlotte Jennings Reveals Her Go-to Shopping Habits
The brain behind Frisson Knits knows a thing or two about getting dressed.
Graphic:
Stacey Toth
Welcome to our How to Shop Like series, where we spotlight personalities within the fashion industry and take a deeper look at their personal relationships with fashion and how they shop—think all the best insider tips and tricks. This week we're chatting with Frisson Knits founder Charlotte Jennings.
Knitwear is one section of our closets that has witnessed unfettered expansion over the past year. There are few items that are more utilized than a sweater, especially when it comes to our WFH rotation, so it seems every designer is ramping up their knitwear offerings. Ahead of the curve, Charlotte Jennings founded Frisson Knits as a brand dedicated solely to knitwear—ideated out of simply knitting in front of the TV with her mother.
As the brand is relegated to tops—at least for the moment—their Instagram page depicts their cool-girl band of followers from Reese Blutstein to Courtney Trop as they uniquely work the sweaters into their ensembles. A wonderful source for styling tips, there you'll find cardigans worn barely buttoned over skirts, vests layered over t-shirts (in our favorite color combination), and cropped sweaters with pleated skirts. Jennings herself mimics that same sartorial inclination so couldn't wait to pick her brain for all her best shopping and styling tips


Shop Charlotte's Current Picks:

Lucinda Babi
Gil Rodriguez
Auné
Saks Potts
Emily May Watson
Molly Perkinsons
When did you first fall in love with fashion?
"When I was living in Las Vegas I would always go to Goodwill with my mum. That's when I really started putting together my own style and found it really exciting to be able to express myself."
Why did you decide to launch your own line? Why knitwear?
"I had been knitting with my mum in front of the TV and we were really enjoying doing it together. After a while, we had six or so sweaters completed and decided maybe we should shoot them all together and start making some custom sweaters if anyone was interested in them!"
What does personal style mean to you and how would you describe your own?
"Personal style is important to me; it's how I express myself based on my mood or feelings. I really love anything oversized and comfy for day to day, but really like to push myself when going out. I'm definitely quite casual but love statements or colorful accessories to really make it my own."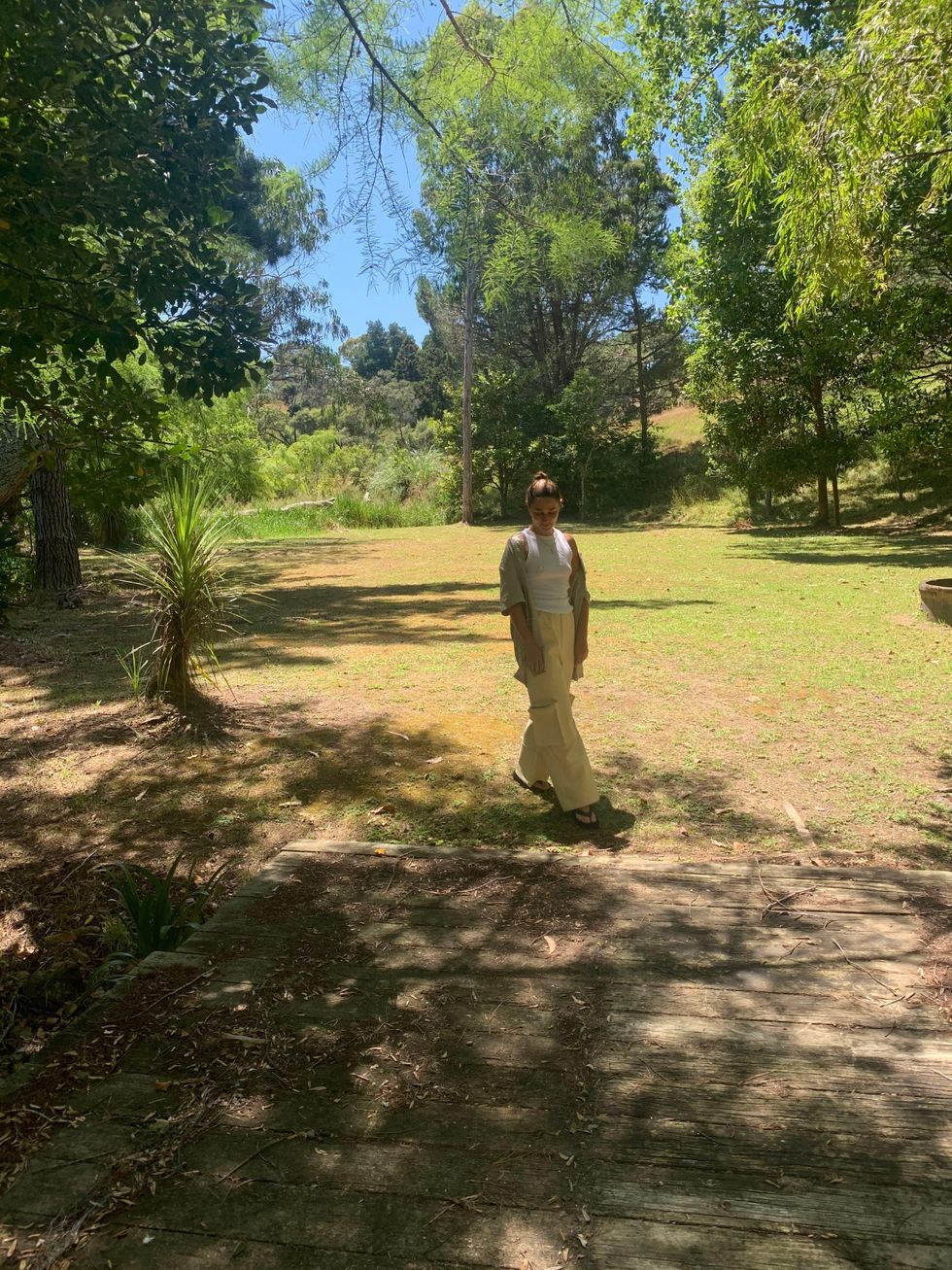 Photo: Courtesy of Charlotte Jennings
Do you have a uniform?
"When I moved to the beach during lockdown I really got into the trap of track pants but now it's summer in New Zealand, so I love to wear a slip dress with an oversized shirt over the top. I'm also a fan of a pair of dressy baggy pants."
Favorite thing to splurge on?
"Knitwear and shoes."
Favorite purchase of all time?
"Vintage knee-length tan coat that I found in a thrift store in Hamilton, N.Z."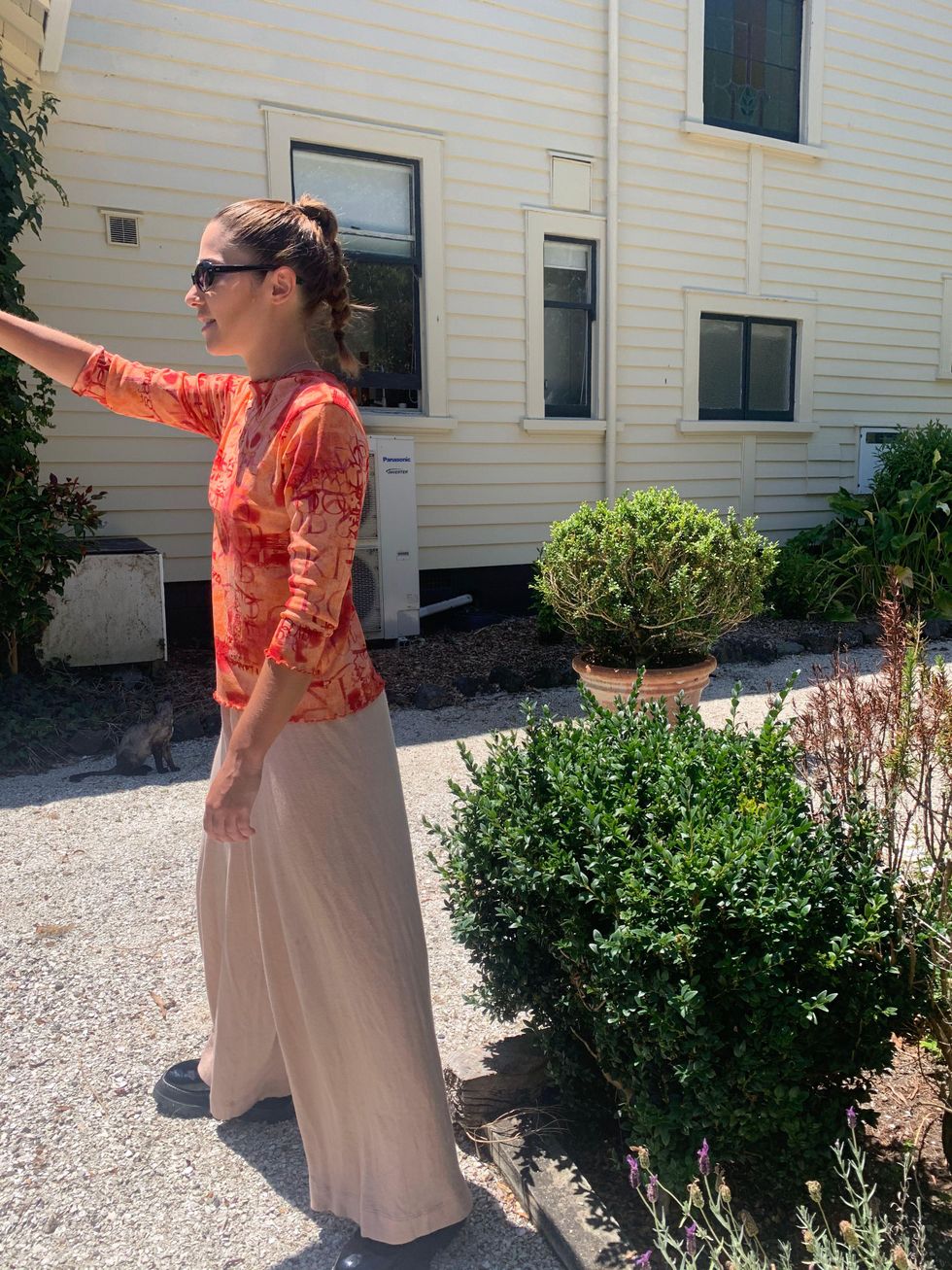 Photo: Courtesy of Charlotte Jennings
Where do you look for inspiration for your collections? Is your answer the same in terms of your own style?
"My personal style has been pulled through a lot into our collections. I love anything with a statement sleeve! I find that style flattering and easy to wear with baggy pants. When we are designing for Frisson, the kid mohair we use is such a statement yarn and it's also so versatile. We have started using 100 percent NZ wool—completely different from mohair—which means we have chosen to move into slightly more traditional knitting style, especially with the addition of cables. My inspiration comes from what I would want to wear—cozy, comfy—but something you could use everyday. Also, the quality is everything for a timeless piece!"
What has designing taught you about fashion?
"As I have been designing handknits, I've found it's quite different from general clothing. I have a different process. I do it with my mum, and it's always very slow and takes at least three knitted garments to get the final finish we want."
Which stores do you frequent?
"My favorite store is Maimoun. A few other ones I really enjoy are Error404store, Doza Shop, That Looks, and Dandie store."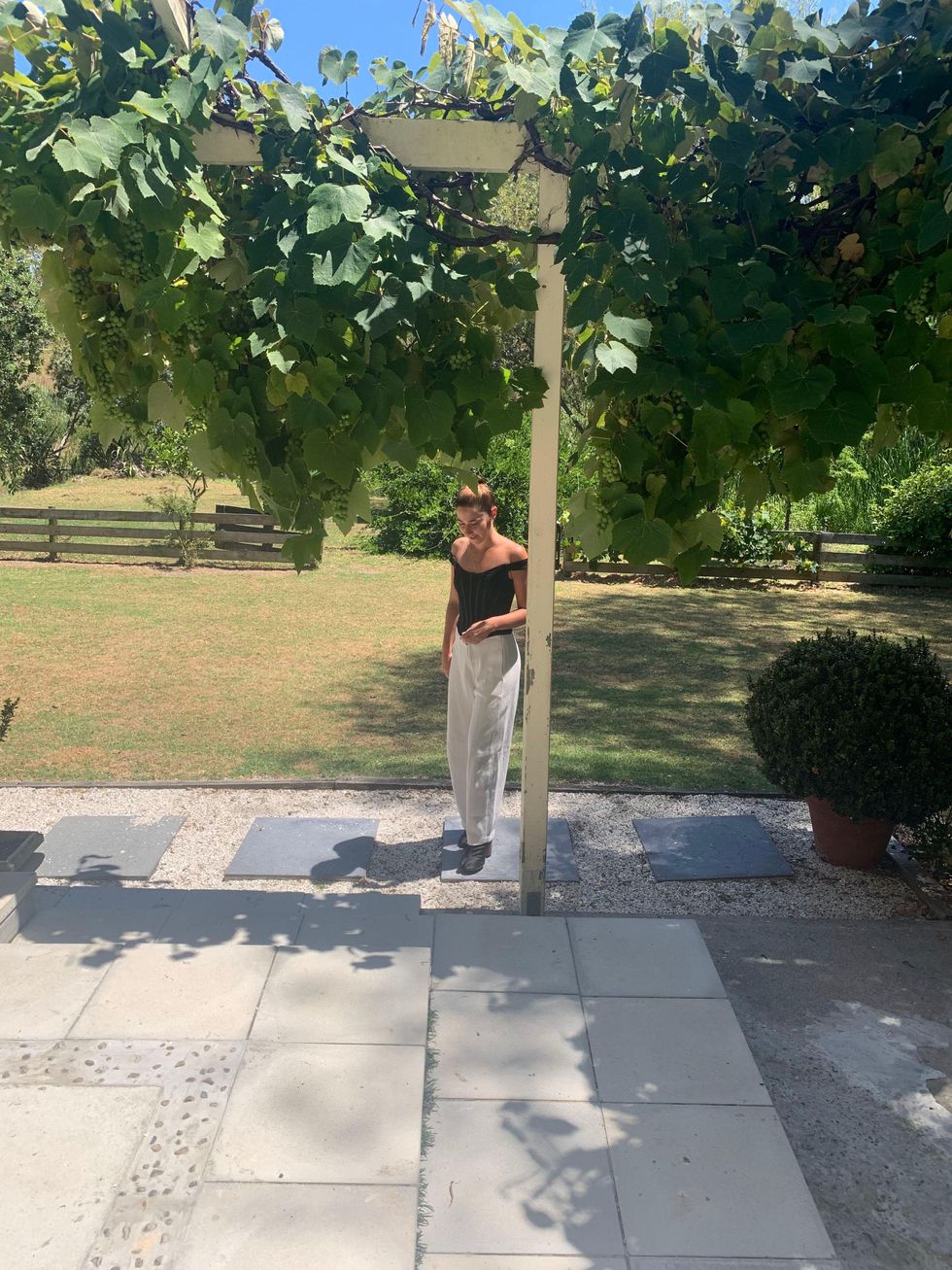 Photo: Courtesy of Charlotte Jennings
What will you be wearing lots of this winter?
"In the winter I was wearing my Jil Sanders chunky boots, Paris Georgia cargo pants, and my new wool vests."
Vintage or new?
"Vintage. I really love artisan products, anything that has had a lot of time and thought put into them."
Your go-to accessories?
"I love my Florist handbag! It always brings a little fun to any outfit."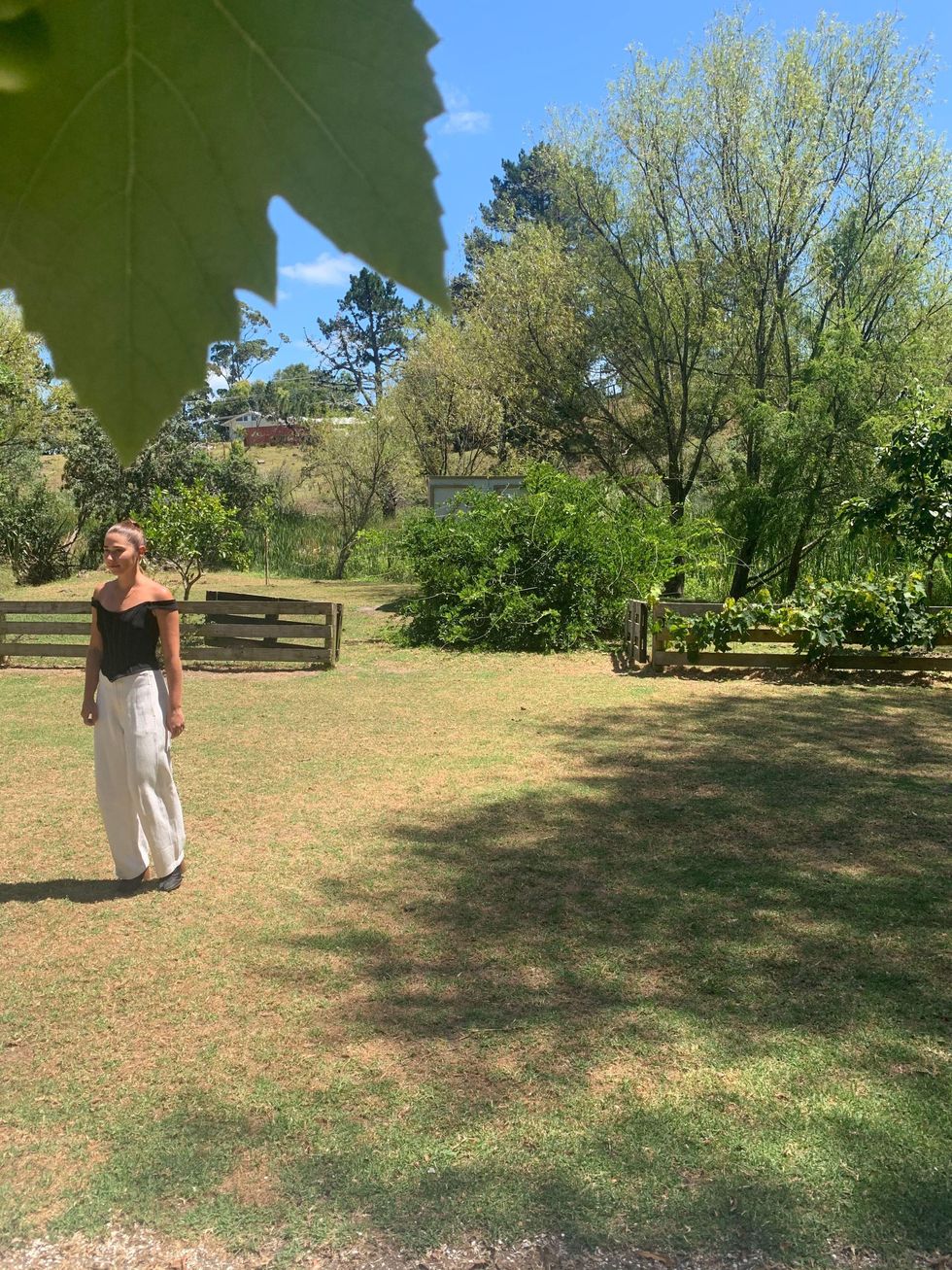 Photo: Courtesy of Charlotte Jennings
If your label had a muse, who would it be?
"All the lovely people that buy my knits are my muses. Every time I get an order I'm so thankful to them for supporting Frisson and letting me create these knits that I love."
Who are your favorite small fashion brands of the moment?
"Karl Laidlaw, Gil Rodriguez, Helenamanzano, and Maroske Peech."
What are the top five most worn items in your wardrobe?
"Vintage leather jacket (Vintage Hustle), Paris Georgia full-length black coat, oversized black Frisson Isabella knit, Dark Green Dickies, and Prada Cloudburst sneakers."
If you could live in one era simply for the fashion, which would it be?
"I would love to say the '60s—I'm obsessed—but realistically it would be the '90s."
Phots: Courtesy of Charlotte Jennings
Want more stories like this?
A Visual Depiction of Our Winter Shopping Carts
Working from Home with Swimwear Designer Georgiana Huddart
Creative Director Kara Jubin Shares Her Formula for Getting Dressed