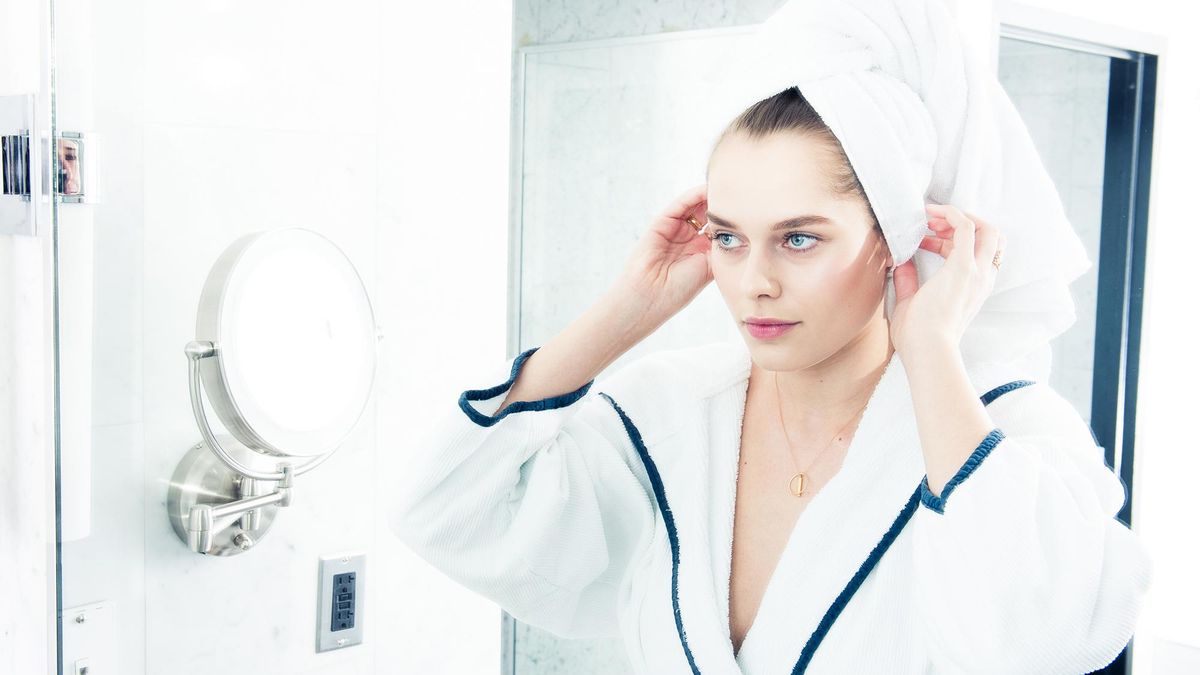 Skin
The Ingredient Your Skin Needs for a Smooth, Supple Glow This Spring
Dermatologists explain why provitamin B5 should be in your arsenal.
We've officially made it to the tail end of a harsh winter and couldn't be more excited to bask in warmer, sunny days where we can actually go for walks through nature. In preparation for the months of hydration that are on the horizon, we've been swapping out our thick moisturizers for lightweight gels and looking for serums that will draw water from the air to our skin as the humidity starts to rise. One ingredient we've been eyeing for its hydration-boosting benefits is provitamin B5. So what does it do? Dr. Joshua Zeichner, board-certified dermatologist and director of cosmetic and clinical research in dermatology at Mount Sinai Hospital, and Dr. Dendy Engelman, board-certified dermatologist practicing at Shafer Clinic, gave us the intel on spring's hottest skin-care ingredient.
What Is Provitamin B5?
Although it may sound as if we're making cocktails of crushed vitamin capsules and serums, provitamin B5 is actually a common skin-care ingredient that you can find in many formulations. Dr. Engleman explains, "Pantothenic acid, or vitamin B5, is one of the eight necessary B vitamins our body needs. It is found in many different foods, and therefore, most are not deficient in it. When applied topically, it helps to expedite healing, soften the skin, and help the skin retain water."
Dr. Zeichner reveals provitamin B5's trait that we find most intriguing: "At the same time, vitamin B5 has humectant and emollient properties," meaning that it can both hydrate and moisturize the skin. And yes, there is a difference—hydrating the skin helps boost its water content, which creates a plump appearance to the skin, while moisturizing the skin helps to support the skin's lipid barrier and protect the skin from water loss. Typically, you would need a hydrating serum and a moisturizing cream for this effect, but provitamin B5 has it all.
In addition to acting as a 2-in-1 plumping ingredient, provitamin B5 also has amazing healing benefits. "It does have anti-inflammatory benefits which help for wounds, sunburns, hives, et cetera," says Dr. Engleman, meaning that while it's working to up the ante on your hydration levels for a firmer, more airbrushed complexion, provitamin B5 is also taking on the role of decreasing redness in the skin, whether it's from rosacea, dermatitis, or an angry cystic bump. And Dr. Zeichner mentions that it's an ingredient that's safe enough to use on sensitive skin, too, meaning that everyone can benefit from provitamin B5.
How Can I Incorporate It into My Routine?
As with any great ingredient in the skin-care world, provitamin B5 can be found in most products ranging from cleansers to exfoliants and even some masks. Yet Dr. Zeichner recommends incorporating it into your routine through serums or moisturizers. If you do replace your serum with this, make sure to still use a lightweight moisturizer to seal in this supplement's goodness. And if you are using a moisturizer that contains provitamin B5, consider spritzing on a hydrating mist before application. Dr. Zeichner states, "Think of vitamin B5 as the supporting actress in the film rather than the star. It may not win the leading-lady Oscar, but it is just as important." And although it does have the ability to diminish redness in the skin, both dermatologists state that it should not be your go-to ingredient for lightening hyperpigmentation. Use provitamin B5 in conjunction with an antioxidant, an SPF, and an exfoliator of your choice (if you are exfoliating that day), and watch your skin glow.


Shop 6 Products We Love:
If you are in the market for a serum that will instantly make you glow the same way one would post-facial, this is the one for you. This formula contains both provitamin B5 and hyaluronic acid, making it perfect for those looking to remedy dry winter skin. We love that this formula by Skinceuticals instantly soaks into the skin, making it ideal for those who prefer to layer their skin-care products.
Consider this serum if you often find yourself scraping away at remnants of fine lines and wrinkles with a gua sha tool. While provitamin B5 hydrates and moisturizes the skin to a supple state, wheat proteins support the lipid barrier, effectively diminishing the appearance of fine lines and wrinkles.
We're all looking for great products that will nourish our skin without breaking the bank. This serum is a perfect choice for those looking to bring a surge of moisture to their skin, as it contains both provitamin B5 and hyaluronic acid. Additionally, La Roche-Posay's proprietary thermal water in this formulation will soothe any redness in the skin that one may experience from rosacea.
Skin care does *not* stop at the face, which is why we think adding this body lotion to your cart would be a wise decision. Provitamin B5 creates a bounce in the skin on your arms and legs, while fatty acids support the lipid barrier for an all-around glow. Consider this body lotion as your daily moisturizer post-shower–especially if you're battling keratosis pilaris (or chicken skin).
Using a retinol product can be tricky for those with dry skin, which is why it's important to introduce this ingredient into your nighttime routine along with other hydrating ingredients. This product contains a 0.5 percent pure retinol concentrate that will boost collagen and elastin production in the skin, while provitamin B5 will hydrate the skin.
If you are looking to streamline your routine to fewer steps, consider purchasing this moisturizer as your all-in-one product. This cream will hydrate and moisturize your skin with hyaluronic acid, provitamin B5, and omega-3 fatty acids while protecting your skin from environmental stressors with added vitamins C and E.