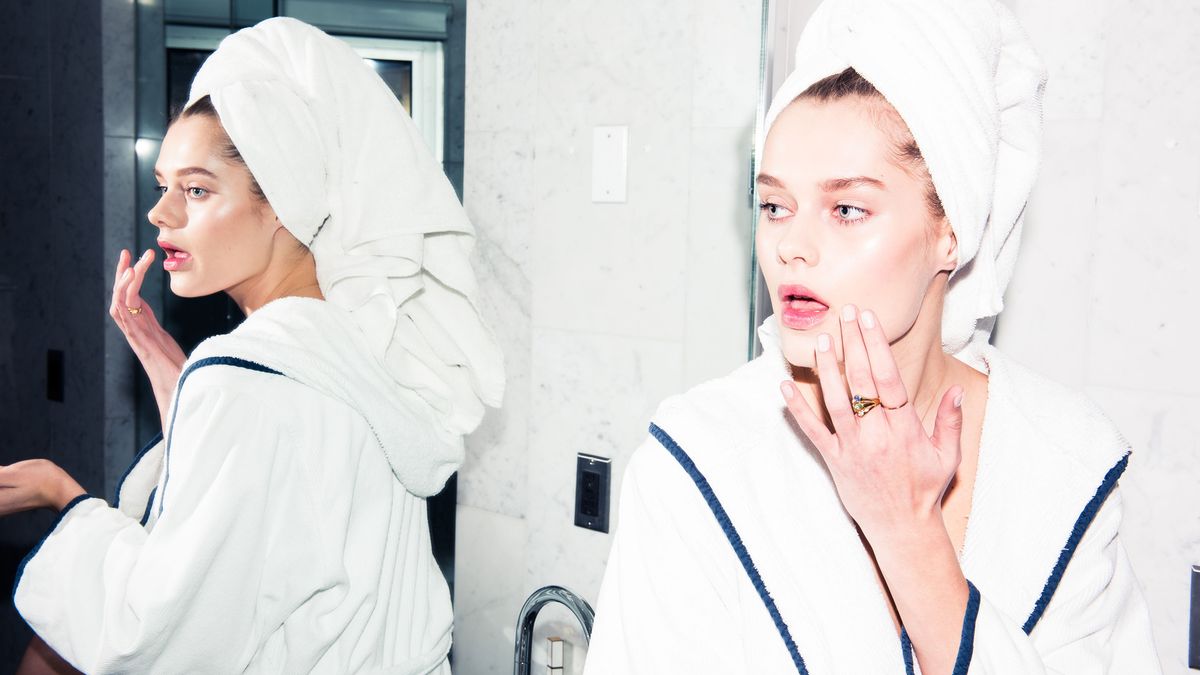 Skin
Exfoliating in the Winter Can Be Tricky—Here's How to Do It Safely
All the softness and glow, minus the irritation.
We know this isn't the most groundbreaking news, but we're going to say it anyway: Figuring out a skin-care routine in the middle of winter is tough. As you're navigating which products are right for you to
cleanse
,
tone
,
exfoliate
,
hydrate, moisturize
, and
protect with SPF,
the dryness and sensitivity that accompany this time of year often mean you have to swap out some of your favorite formulas for something new (and gentler). Exfoliants especially can cause a whole host of problems if you're not careful, and many are too harsh to use on skin that is already experiencing irritation from the environment. Not to worry, though—there is a way to safely exfoliate your skin and maintain the integrity of your
skin barrier
during this time of year. Here's everything you need to know about using chemical and physical exfoliators in the winter.
Wait, So My Chemical Exfoliator Is Causing Sensitivity in My Skin?
Most chemical exfoliators, whether a professional treatment or over-the-counter topical product, are composed of hydroxy acids that, according to
Dr. Joshua Zeichner
, director of cosmetic and clinical research at Mount Sinai Hospital in New York City, "are a group of related compounds that work by dissolving connections between cells on the outer skin layer." These ingredients can help even skin tone, minimize dark spots, decrease breakouts, and soften the appearance of fine lines and wrinkles. They're able to target many of the concerns we have regarding the overall look and feel of our skin.
Yet despite everything positive they can do for our skin, alpha-hydroxy acids and beta-hydroxy acids—two of the most common chemical exfoliators on the market—can be intense. Their molecular size is relatively small, meaning they can penetrate deeper skin layers, and they can also lead to sun sensitivity without proper SPF protection. Some people can handle these types of actives easily, even in the winter, while others who already have sensitive skin aren't as lucky. Says Dr. Zeichner, "The wrong [hydroxy acid] can lead to significant irritation [in sensitive skin]." An exfoliator that is too strong can cause a breakdown in the
skin's protective barrier
, which is never ideal, especially during the winter season, when our skin is at its driest. This can lead to an overproduction of sebum and, in some cases, an increase in breakouts—not to mention possible chemical burns. If you're unsure of whether or not your skin is too sensitive to use these ingredients in the winter, a patch test on your arm or hand might be helpful before diving into a new product.
Which Exfoliators *Can* I Use?
Although AHAs and BHAs may be too intense for our sensitive winter skin, that doesn't mean we should abandon exfoliation altogether. There
are
alternative ways to slough off dead skin cells and remove excess oil from our pores without stripping our skin completely. Here is a list of dermatologist-recommended ways you can exfoliate your skin until the weather starts to warm up.
---