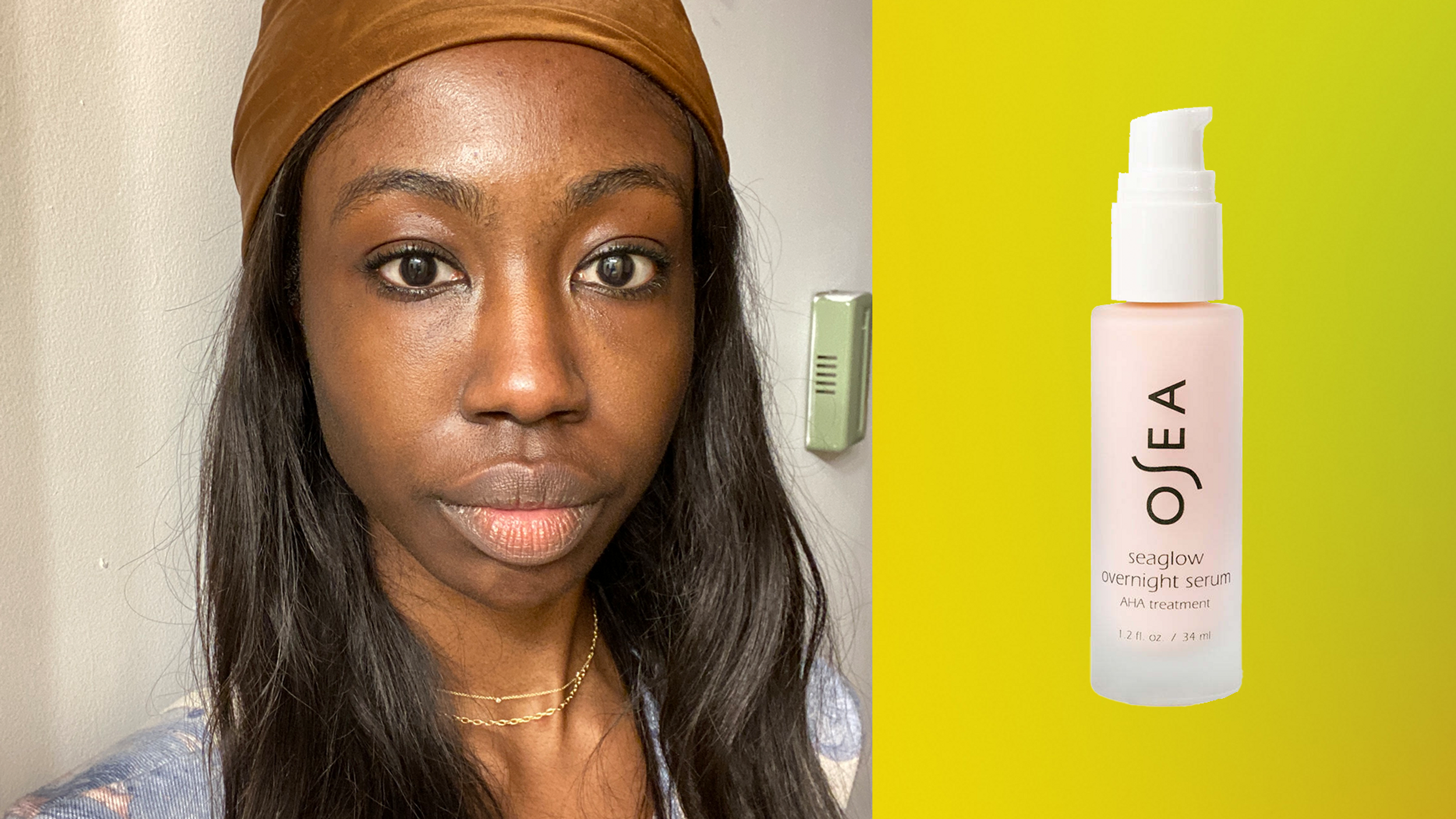 We Tried It
Osea's SeaGlow serum creates a glowing complexion after just one use.
I'm a huge fan of Osea's Body Oil and Water Cream, so when I got a chance to test out their latest launch, SeaGlow Overnight Serum, I jumped at the opportunity. I was curious to see if it would live up to its claims to boost radiance and smooth skin overnight. In general, my skin doesn't cause me too many issues, but I do struggle with congestion on my forehead and nose along with discoloration. Below, my review on my new go-to nighttime treatment.
The Formula

Housed in opaque glass packaging, the serum is packed with ingredients that resurface your face like a peel.
Alpha hydroxy acids: This chemical exfoliant gently sloughs off dead skin cells to reveal the smoother, more even-toned skin underneath.
Phytic acid: Free radicals blitz your skin all day long, which damage the cells, cause inflammation, speed up the aging process, and reduce collagen levels. This acid works as an antioxidant, which means it neutralizes free radicals and protects the skin. It also helps get rid of blackheads and reduces the appearance of large pores by removing calcium buildup.
Fermented shiunko oil: Studies show that this oil repairs the skin barrier, soothes irritated skin, and reduces redness.
Spirulina: While more studies need to be done, some reports show that this antioxidant ingredient has anti-aging and anti-inflammatory properties while also boosting collagen levels.
The combination of these ingredients in the Seaglow Overnight Treatment exfoliates dead skin and hydrates your skin. When you rinse off the treatment in the morning, your skin feels softer, looks clearer, and has a noticeable glow.
Also, there's a reason this treatment is applied at nighttime. Sleep isn't just necessary for your mind and body, but your skin, too. While we sleep, our skin hits reset and creates new cells to replace the older ones. The cell regeneration process also means that your skin is better able to absorb any products you layer on in the evening, so you wake up with plump, radiant, and smooth skin in the morning.
Me the morning after rinsing off the serum.


My Review
The creamy gel formula is lightweight and slides onto your skin. It absorbs into your skin quickly, so you don't have to worry about residue transferring onto your pillowcase. Plus, there's no tingling or stinging sensation upon application, unlike other acid treatments. I've tested the serum three times over the past few weeks. The first time was during a facial at the Rosewood Miramar and the second and third times were at home, as a part of my daily skin-care routine. Each time, I've noticed a difference when I woke up.
If you struggle with dull, uneven skin and hyperpigmentation, I'd definitely recommend incorporating this serum into your regimen. The serum delivers brightening results with no dryness or irritation, and with consistent use, you'll notice those stubborn dark spots fade away.