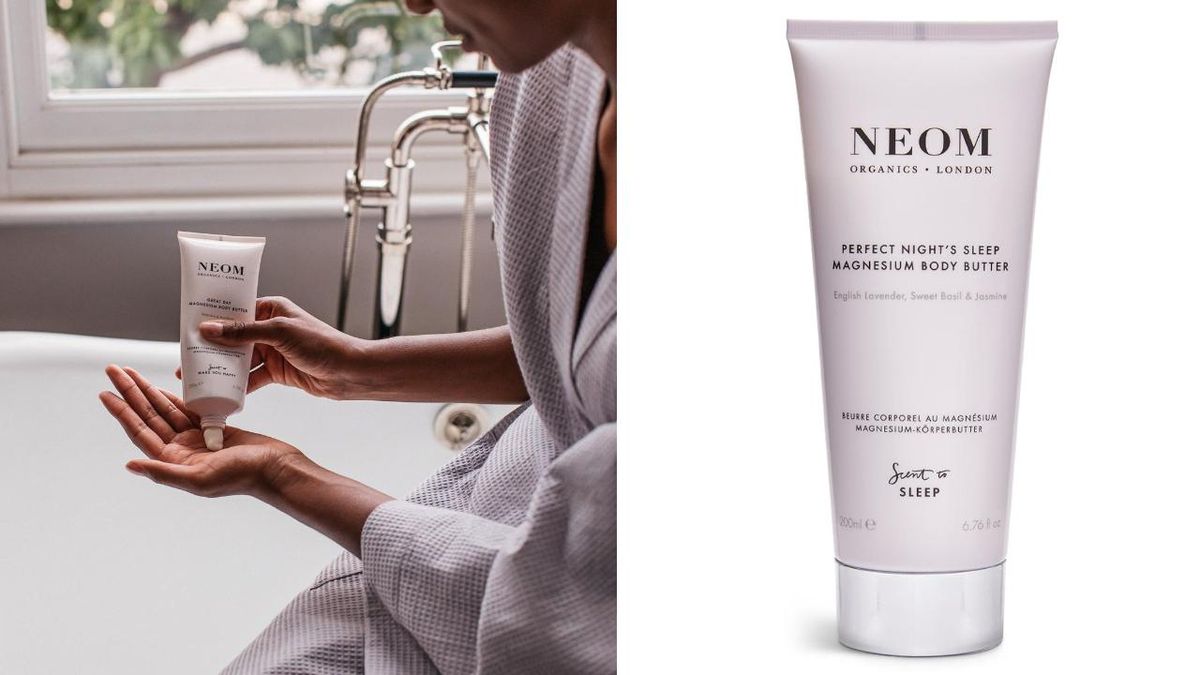 We Tried It
We Tried It: This Body Butter Took My Beauty Sleep to the Next Level
It soothes the senses while hydrating your skin.
The pandemic has upended our work lives, our personal lives, and our sleep habits, too. If an onslaught of anxious thoughts keeps you up at night, you're not alone. Studies show that people are tossing and turning more than usual due to pandemic-related stress, myself included. I've tried numerous tactics to help me fall asleep at night. Some worked; some didn't. However, many of the methods that did help lull me to sleep left me feeling groggy when I woke up in the morning.
When I had the opportunity to test out Neom Organics Perfect Night's Sleep Magnesium Body Butter, I thought why not? After showering in the evening, I slathered on the whipped body butter before hopping into bed. I'll be honest, I didn't have high hopes for the claims the brand made. So, you can probably imagine my surprise when I woke up the next morning with the realization that the body butter had worked almost immediately—I slept through the entire night and woke up without the feeling of sluggishness that I'd become used to.
Neom Organics
While the brand calls out the magnesium in the formula, the jury's still out if the ingredient can improve your sleep. According to Anthony Rossi, MD, a board-certified dermatologist, while there is some data that shows how magnesium may play a role in sleep via neurotransmitters, it's not robust enough. "Transdermal magnesium delivery isn't well established and support for this is not well supported," he says. "There are specific magnesium transporters that are not present in the stratum corneum—the top layer of the epidermis—so absorption by diffusion is limited."
How Does the Body Butter Work?
It's actually the essential oils in the formula that help relax the senses and calm your mind before bed, specifically lavender. And the ingredient pulls double duty in the body butter since it's applied onto your body and, because of the strong scent, inhaled as well.
So, there are two major components of lavender oil: linalyl acetate and linalool. Once the body butter is massaged into your skin, the two are quickly absorbed into your bloodstream, reaching peak levels after 19 minutes and helping you fall asleep faster. According to another study, when you inhale lavender oil, the particles stimulate the olfactory sense and "directly affect the central nervous system responsible for controlling human emotions and physiological functions." And other data shows that lavender oil aroma can decrease your blood pressure and slow down your heart rate.
I've used the product for a few weeks now, and I can say confidently that it's now a staple in my nighttime routine—I can't imagine going to bed without it. And aside from elevating your quality of sleep, the product will level up your body care game, too. It's formulated with a blend of shea butter, aloe vera, and grapeseed oil for a dose of hydration that sinks into skin in seconds, leaving behind a soft and smooth finish as you're eased to sleep.