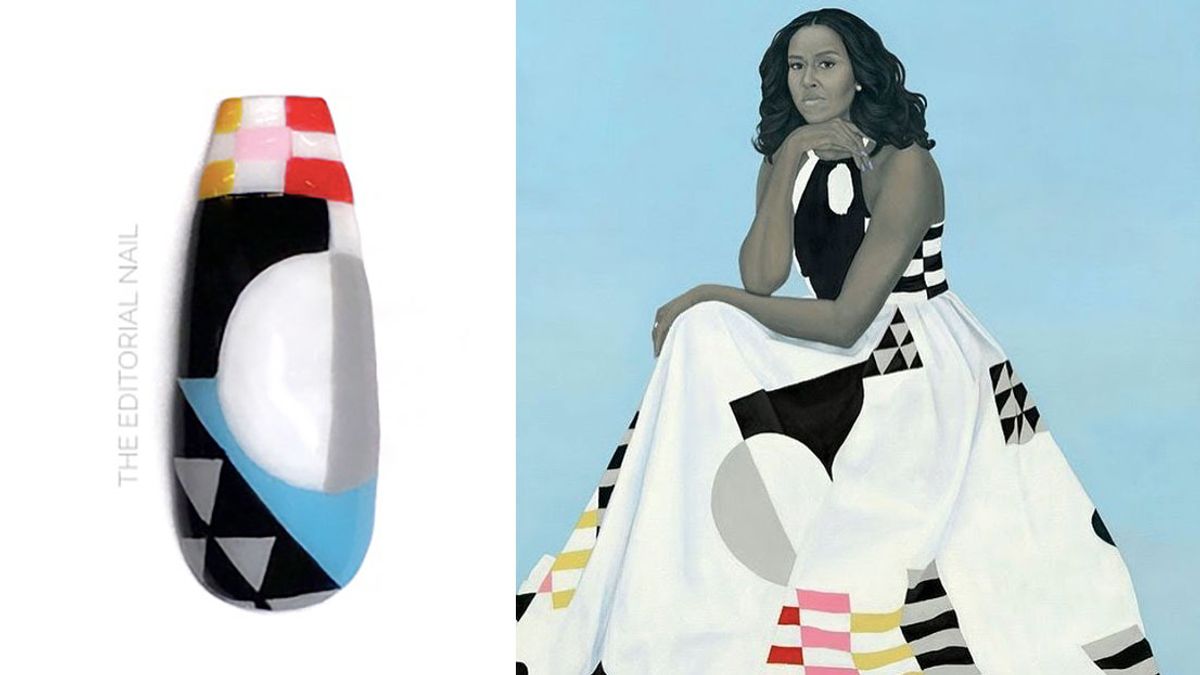 Nails
Gracie J's designs reflect everyone from Michelle Obama to Jay-Z.
When nail artist Gracie J (aka @theeditorialnail) started painting miniatures and patterns inspired by images depicting black culture for Black History Month, the endeavor was originally pursued following a challenge from her sister. Over the course of the month, the nail artist, who was the lead manicurist for the show Claws, designed nails to mirror Michelle Obama's new portrait by Amy Sherald, Jay-Z's character Jaybo from "The Story of O.J.," the cover of I Know Why the Caged Bird Sings, and the number 7053, which Rosa Parks held in her mugshot. But the 28-day project—with a different design scheme for each day of February—came from a motivation that has very little to do with the calendar.
"I feel and believe that black history should be celebrated every day," she says. "When people go through extreme measures to alter their bodies to look more like the features of a black woman, it doesn't happen only in February; when black culture is constantly being appropriated, it doesn't happen only in February; when our aesthetics are constantly being gentrified—it doesn't only happen over the course of 28 short days. Black history is everywhere around us. Mainstream and pop culture wouldn't exist without black and urban culture."
---
"I celebrate my blackness every day, because it's my way of paying homage to the men and women that put their lives at risk to afford me the opportunities I have today," she says. "They didn't partake in their activism for me to sit around and be ashamed of myself. I am a proud black woman of Haitian and African descent."
Though the response to her project has been completely positive, Gracie's intention was not solely to make something beautiful to look at. "I think it's important to make everyone, including oneself, uncomfortable in our ignorance," she says. "It is important to continue to have open conversations with others. It is important to constructively educate others so that we can all at least try to treat one another a little better."
Below, a few of her designs from her project, along with the images that inspired them. You can see the rest on her Instagram.