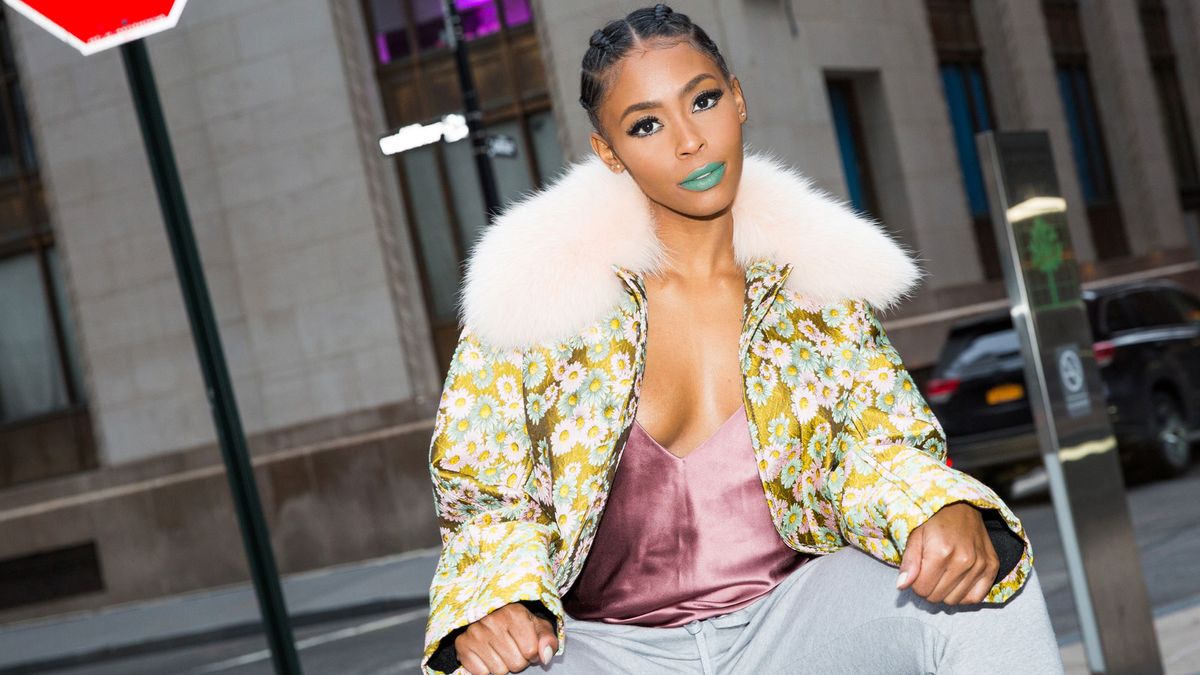 Celebrity
Nafessa Williams tells us how she was fired before landing her role as the first black lesbian superhero on the CW's Black Lightning.
Alec Kugler
Standing on the ledge of a window overlooking the city, Nafessa Williams forms a powerful pose. She appears calm yet confident, and her skirt blows in the wind as the camera snaps away. If she's giving off any kind of vibe, it's that of a badass superhero ready to save the day. Which makes sense, since that's exactly who Williams plays on TV, on the CW show Black Lightning.
"It's really a dream job," she tells me after we've wrapped, her lips still covered in a shade of green—something she's somehow totally pulling off (another superpower, I think to myself). Williams' character, Anissa Pierce, is the first black lesbian superhero, and the actress is aware she's landed herself a history-making role. "Lesbians need to see themselves on TV," she says, adding that she researched what it's like coming out and potentially struggling with a stigma. "And at the root of it, it's just love, you know?"
Love is actually at the root of everything Williams does, from leaving her job in law to pursue her passion, to representing her home football team, the Eagles, for a few of our photos. See and find out more about this star on the rise, ahead.
---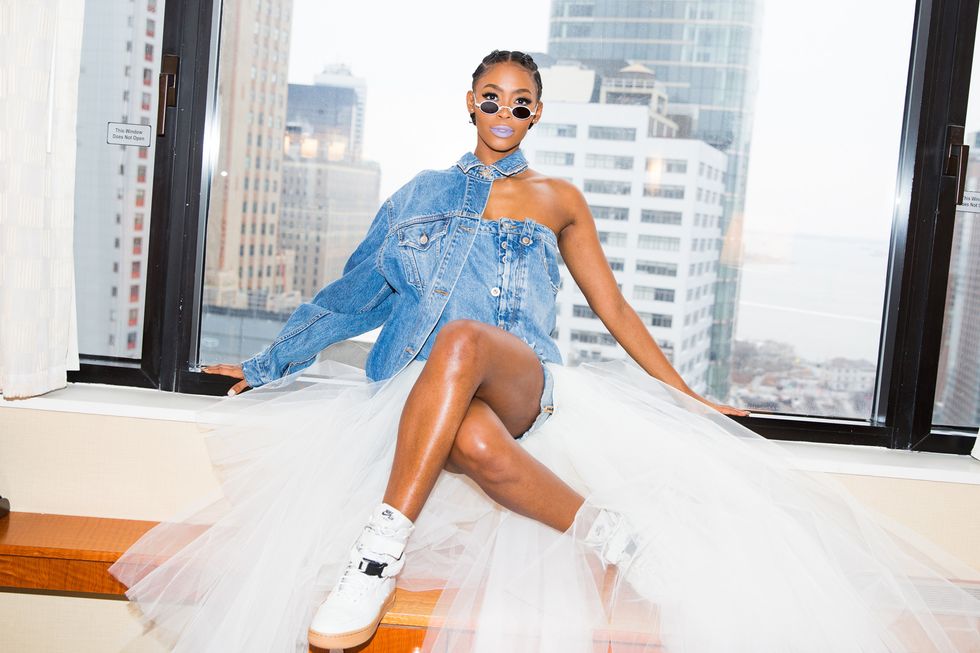 I know at one point you were pursuing a career in law, but was acting always in the back of your mind?
"I've known since I was about six or seven that I wanted to be on TV. Rudy Huxtable and Clair Huxtable? It's all their fault. TV was an escape from some of the issues and the struggles of being in the inner city and wanting to get out of that environment. I saw Tatyana Ali, and I saw Lark Voorhies, and I wanted to be them because they looked like me. However, it's not the most secure thing, so it was something that you kind of put in the back of your mind—a hoop dream. Like, how do I even start? It wasn't until I graduated college and was interning, and even had a full-time job at a worker's comp firm, that I just was like, 'I can't do this. I gotta go get what's calling me.' I went on an audition, and [my job] fired me for taking off. That was the start of it all."
So it's good that you got fired?
"It was the best day of my life! It was the beginning of the rest of my life. I was the happiest fired person ever [laughs]. My mom and some of my close friends, at first, were just like, 'Whoa, why would you do that? It was such a good job!' I was like, 'Listen, Mom, you'll see me play a lawyer on TV, but it's not happening.' I think it's cool when you're young to try things. We may think we know what we want to do, but it's not until you're actually doing it that you can really decide if it's for you."
You've talked at length about how your Black Lightning character is the first LGBTQ superhero, but what are her other standout qualities?
"She's super smart. She's strong, she is bold, she's so confident, and when she believes in something, she fights for it—she doesn't care who's on her side. She's willing to fight for the injustice that's going on within the community, even if that means battling at the front line at a protest and going to prison for it. She's just one of those fighters and believers, and wants to see change in the community and in the world, so she's doing that through her superheroism, and using activism through that."
Do you believe in the Law of Attraction?
"I believe in it wholeheartedly, and I act as if I believe in it. Things have been unfolding, all the way down to telling my friends November 2016, 'I want to play an action role.' I was like, 'I'm gonna get a trainer, and I'm going to take my workout up a notch and physically get myself ready.' That was November, and I booked Black Lightning in February. So, little did I know! But I knew, because I prepared. You just have to fight and prepare for it as if you know it's gonna happen. I believe that we can have anything; I don't believe anything is impossible—really."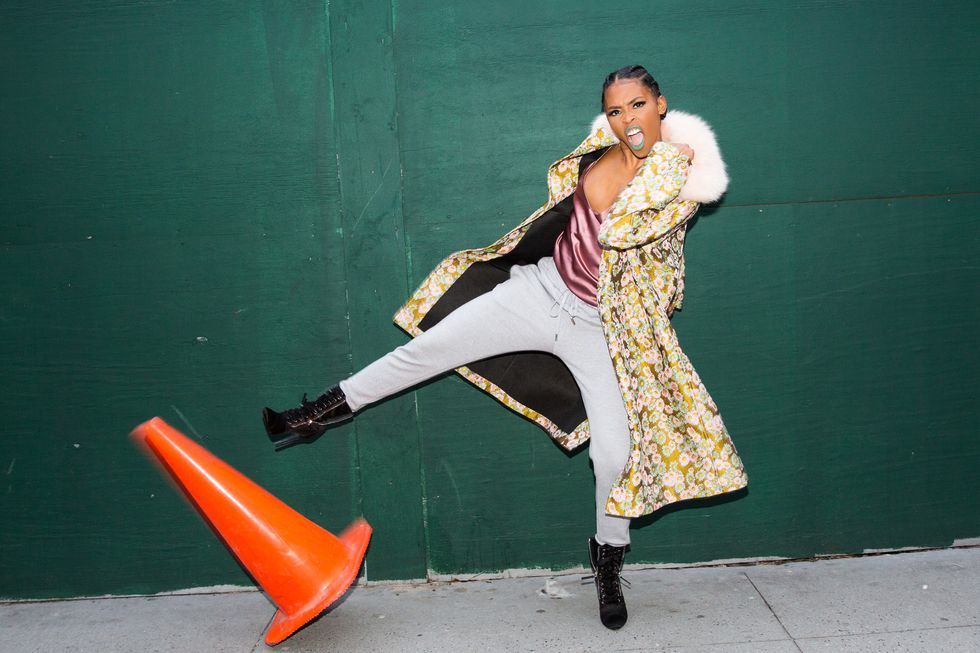 So what's the next thing you're ready to speak into existence?
"I want to do comedy next; I'm really silly. I guess another dream job is to be on [a] show like Martin. Maybe I'll create it myself! I want to be on SNL. I love improv, and I love just having fun and laughing out loud, and being ugly when you do it, and not worrying about how you look. Really getting out of your head, and fully being myself. I think what I'm most excited about is for everyone to see me in more of a comedic character. That's who I am really at heart."
You were saying that you would like to model for Fenty?
"Yes, yes, yes! I think Rihanna is so dope. I love Rihanna, I love J. Lo. They automatically come to mind when I think about fashion. Tracee Ellis Ross always kills it—hence my straight backs, inspired by Tracee Ellis Ross. Tracee will have a fur, and she'll be super dressed-up in one of her mom's dresses, but then she'll wear straight backs. I like to wear colors. I like to be bold. I don't want to look like everyone else."
Styled by Sierra Smith
Look 1: Unravel denim outfit; Nike sneakers. Look 2: Bally jacket; Fleur Du Mal shirt; Bally sweatpants; Giuseppe Zanotti booties
Want more stories like this?
The Life-Changing Lesson Supergirl's Melissa Benoist Learned from Her On-Screen Alter Ego
How This Actor Went from Yale Grad Student to Black Panther Villain
You Probably Missed This 1 Detail While Watching Black Panther