Step Inside the Vibrant World of Jeweler Nadine Ghosn
The woman behind Karl Lagerfeld's iconic headphone necklace.
Designers
Photo: Courtesy of Nadine Ghosn
Meet Nadine Ghosn, the up-and-coming fine-jewelry designer behind the NGFJ brand who is shaking up the industry with her quirky, whimsical diamond-studded designs.
Ghosn sought to create a new niche in the fine-jewelry space, which didn't really exist when she first established the company five years ago. Since founding her eponymous line, NGFJ has been stocked at world-class retailers ranging from Bergdorf Goodman and The Webster to Colette and Le Bon Marche in Paris, developing a devoted following including the likes of Leandra Medine, Pharrell Williams, Beyoncé, and Karl Lagerfeld.
We caught up with Ghosn to discuss creativity, inspiration, and a deep-rooted love for unconventional, high-end jewelry.

How did you get into jewelry design?
"It was during my time at Boston Consulting Group (BCG) that a long-term mentor of mine, the CEO of Hermès, invited me to join a prestigious two-year rotational program at Hermès, where only four participants explore different departments (handbags, scarves, jewelry, etc.) and positions to understand which management role they'd like to hold once they complete the program. It was at the fine-jewelry department where I discovered my love for crafting fine jewelry.
"During my time in Hermès' training program, I went to visit my family in Beirut, which boasts an incredible jewelry craftsmanship and gem industry. I was visiting my favorite jeweler, and he shared that many craftsmen who have been designing jewelry for at least three to four generations are starting to abandon the trade as demand for bespoke jewelry dwindles. I found this to be heartbreaking and became determined to find a way to support generations of craftsmen and know-how. I came up with the idea to pledge $20K worth of gold, which enabled him to retain two of his craftsmen, and in exchange, he would teach me the ins and outs of jewelry manufacturing.
"Once I completed the two-year program at Hermès, I was offered the position of Head Buyer of Fine Jewelry of the London stores; when I turned it down, I was recruited by Richemont. Nonetheless, following my trip to Beirut, I had this entrepreneurial itch to create my own jewelry line, and on my 25th birthday, I decided to take the plunge and go for it.
"With a budget of $3K, I set up the company's foundation by developing the brand vision, building a website, and designing the logo. Next, I designed my first jewelry line and released two collections—BARE collection, a more elegant, risk-averse line, and VIE, a more bold and forward-looking design aesthetic—to test what people gravitate more towards."
Tell me about your design process:
"I like taking everyday objects (like hamburgers, pencils, headphones, etc.) and formulating innovative and avant-garde ways to bring them to life. After coming up with an idea, I tirelessly work with my manufacturers in either Italy, Thailand, Hong Kong, or Lebanon to test and bring them to fruition.
"A very large chunk of the business's budget is allocated to trial and error—I'm very meticulous and will experiment with the designs and test over and over again until it's perfect and meets the vision I have in mind.
"In terms of my collections, I release one collection per year, as it takes a lot of time to craft truly timeless jewels, where each piece in that collection speaks the same language and has a similar look and feel."
How do you find inspiration for your collections?
"I'm heavily inspired by a mixture of street and contemporary art and traveling to exotic, colorful places like Rio, Positano, or Singapore. Also, in order for me to feel energized and be at my best in terms of creativity, I love to exercise and spend time outdoors, read inspiring books, and spend time with my boyfriend."

From a creative standpoint, who or what has been your biggest influence?
"I aspire to surround myself with enthusiastic creatives who embody color, positivity, and fun as much as possible. As an example, a good friend of mine is London fashion designer Mira Mikati, whom I love bouncing my ideas with and dreaming up ways to push the envelope in terms of creativity and innovation."
How did Beyoncé and Karl Lagerfeld become clients of yours?
"When I first opened my business, the dream was to sell my designs at Colette in Paris and have Beyoncé and Karl Lagerfeld wear my designs. I'm very proud and humbled to share that I've fulfilled all three of these ambitions. The first retailer that stocked my designs was Colette, and Beyoncé bought my Shut Up earrings from there.
"I briefly met Karl at a CHANEL Vanity Fair party in Cannes, and a few months after the dinner, I got a call from Karl's team requesting to order the diamond-studded headphone necklace for him. I insisted on personally meeting him to deliver the jewelry, and this was the beginning of how I developed a meaningful relationship with him."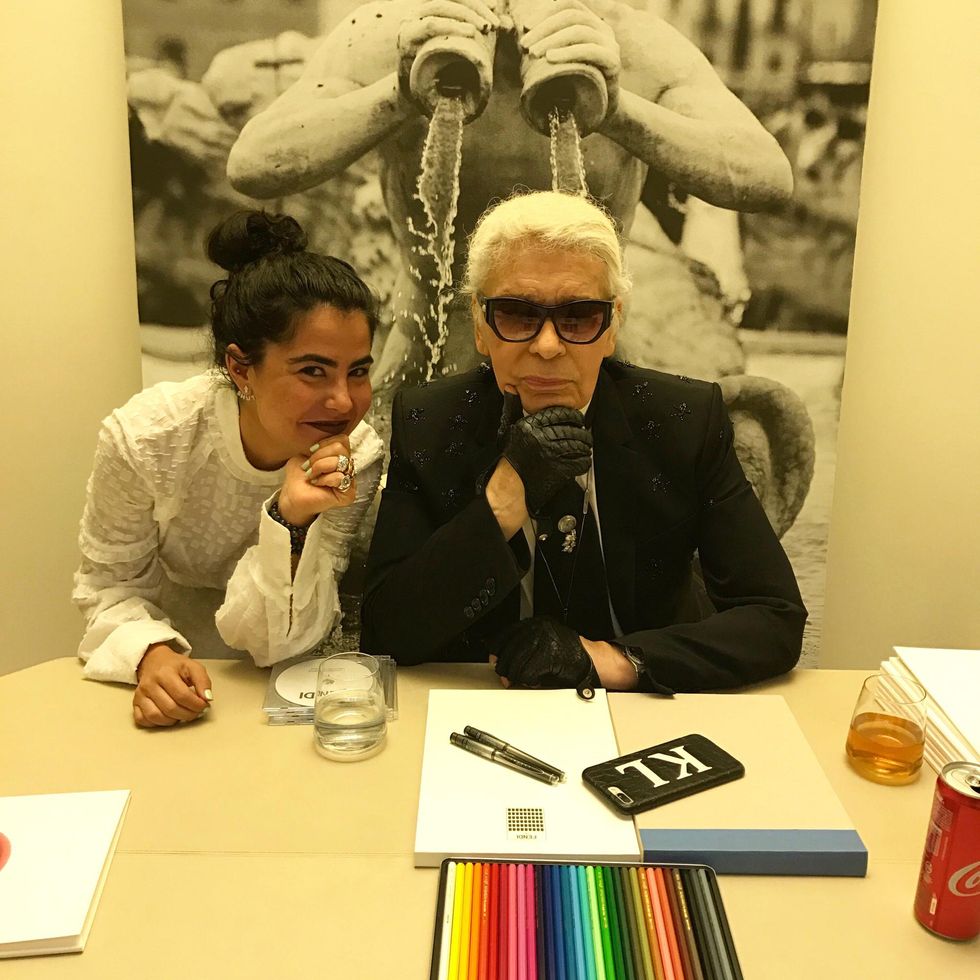 Photo: Courtesy of Nadine Ghosn
What is your personal favorite piece of jewelry from the NGFJ collection?
"The Hamburger ring, as it is the brand's most iconic piece and represents a strong relationship to the brand, to the point that people have stopped me in the street, calling me the 'Hamburger Queen.'
"I also love the pieces from the Building Blocks collection. After a few years of running the business, I was at an inflection point and was contemplating whether to continue pursuing this entrepreneurial path, and the Building Blocks collection cemented my commitment to continuing and building NGFJ! From then on I've adopted the mantra 'never stop building.'"
How would you describe your personal style?
"My style evolves with my collections—my style has become more edgy, colorful, and fun. I love mixing basics from Uniqlo and TopShop with eye-catching accessories like vintage CHANEL bags and chunky, vibrant NGFJ jewelry."
What is your dream for the NGFJ brand and next big milestone?
"I'd love to work with renowned brands like Tiffany or Hermès on a collection—this way I can create a collection with truly unlimited resources and impact.
"I also have my eyes on collaborating with Lego on a jewelry collection, as I did with McDonald's in the past. My Veggie Burger ring won the Couture Innovation Award in 2017, branding my burger into an iconic piece that caught McDonald's attention, which led to a collaboration for a McDonald's Prize in a Big Mac competition—we called it the Bling Mac."
What advice do you have for aspiring designers seeking to build their own brand?
"I think it's super important to foster a strong support system. Running your own business can be extremely emotionally draining at times, and having a strong, supportive environment in place will help you get through anything thrown your way.
"I also think that you have to constantly remind yourself to stay true to your vision and trust the process. When I first opened my company, I didn't have any prior experience or knowledge in jewelry design and was lacking the network, yet I was driven to find a way to do work that I truly love."

Want more stories like this?
Four Fashion Industry Veterans Share Their Career Advice for the Current Moment
How Costume Designer Paolo Nieddu Recreated Billie Holiday's Iconic Style
The Surprising Materials Designers Are Using in the Name of Sustainability