How Costume Designer Paolo Nieddu Recreated Billie Holiday's Iconic Style
The story behind the dress.
Culture
Billie Holiday is associated with one image above all others. You've probably seen it: shot from the chest up as she sings with traces of an embellished gown, her favorite red lip, and, of course, an orchid in her hair. That iconic image was merely a snapshot of her range as not only a performer, but a style aficionado. In
Lee Daniels
' new film
The United States vs. Billie Holiday
, now streaming on Hulu, costume designer
Paolo Nieddu
says Holiday, played by
Andra Day
, was a style chameleon who understood how to use fashion as but one tool in her rich arsenal.
Nieddu's robust presentation of Holiday's personal style parallels the goal of the entire film, which strives to show you every side of the legendary woman as she repeatedly puts herself in harm's way in an effort to champion Black issues. She was more than a singer, but a leader in the civil rights movement; more than an addict, but a lover and a fighter. Nieddu's costumes served as a tool to shape the character, to not only paint a picture of the era and industry of the 1940s and '50s, but to use as an eerie juxtaposition to underscore bone-chilling subject matter.
In one scene, Holiday is beaten by her husband, left lying broken and sobbing on the floor. The next, the camera quickly cuts to the singer on stage, outfitted in an elegant pink-satin ball gown, crooning in a full face of makeup, hair perfectly coiffed. The sinister shift in mood, highlighted by the shift in sartorial ensemble, will send goose bumps running down your arm. Nieddu relished in moments like these to depict a woman who perseveres through it all.
As one can imagine, Nieddu underwent a massive amount of research to pay respect to the character. A costume designer's job, in tandem with the whole team, is to create a million pictures embedded into the film. At each moment, they must consider how a dress looks in comparison to the set and the other characters' ensembles while balancing historical accuracy with a desire to create a modern cinematic experience. Then layer on the fact that most of the images from that era were in black-and-white, and you have quite the challenge—so of course they had to call in Prada for help. "The clothing has a lot more work to do than just being on the body," Nieddu tells Coveteur. Information on all that and more below—the soon-to-be sartorial star spared no detail. 
---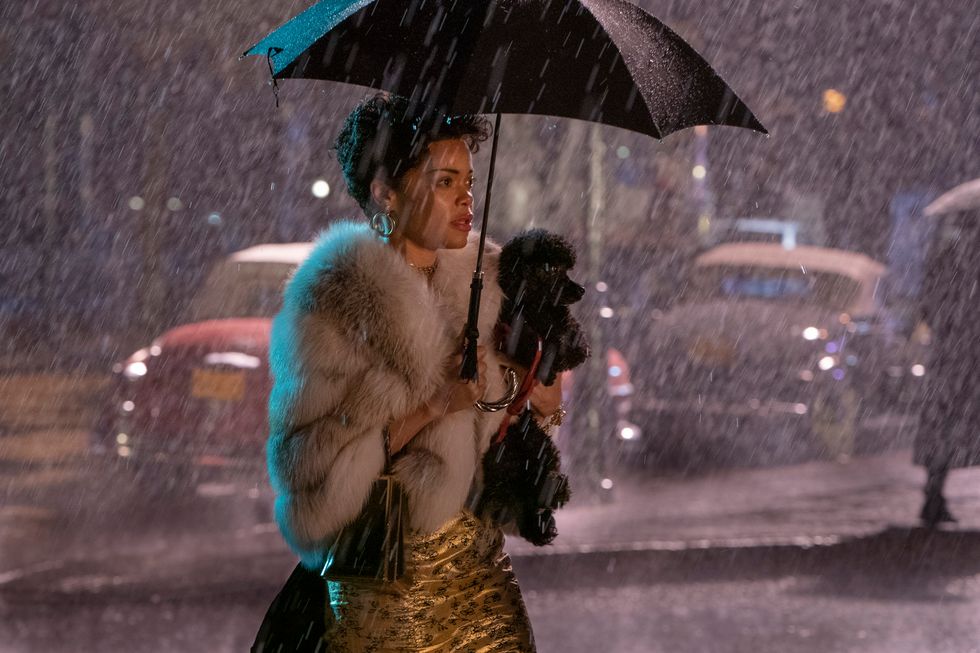 Photo: Takashi Seida; Courtesy of
The United States vs. Billie Holiday
What does your job entail as a costume designer?

"So many things. It's not only just about finding the character and getting all the clothes. There are so many things, like breaking down the script and figuring out how many pieces you need. Obviously, these are all really logistical things, but you have to address the budget and the schedule and work with the hair and makeup department, the production designer, the cinematographer, and, of course, the director, the writer, the actors. You're working with all these other people, all coming together to get the perfect scene on camera, finding the perfect way to execute the character from all these different angles."

The title Costume Designer entails a lot of just that: design. How much do you actually create for a movie, and how much do you source?

"For this particular movie, I would say both. For Billie, she probably wore like, 35 or 40 pen-to-paper-made outfits, and then the other elements were vintage pieces that were sourced. All the jewelry was sourced vintage. The shoes, some of them were vintage sourced and some were new that were made to look old. Of the movie, maybe 70 percent of the main characters' costumes would be made, and then the other 30 would be sourced."

So you're commissioned for this film. Where do you begin?

"I started right away with every picture that I could find of Billie. She was the one I focused on first. I essentially made a sort of photo timeline from the first script that I had read. Here are some stage performance looks, and then here's her towards the end of the period. I sort of put this visual binder together. Then I started expanding on it, putting together color pictures of her, pictures of her in suiting, pictures of her in gowns, pictures with different hairdos and accessories. We started pulling together images of fashions of the time, as well, and went from there."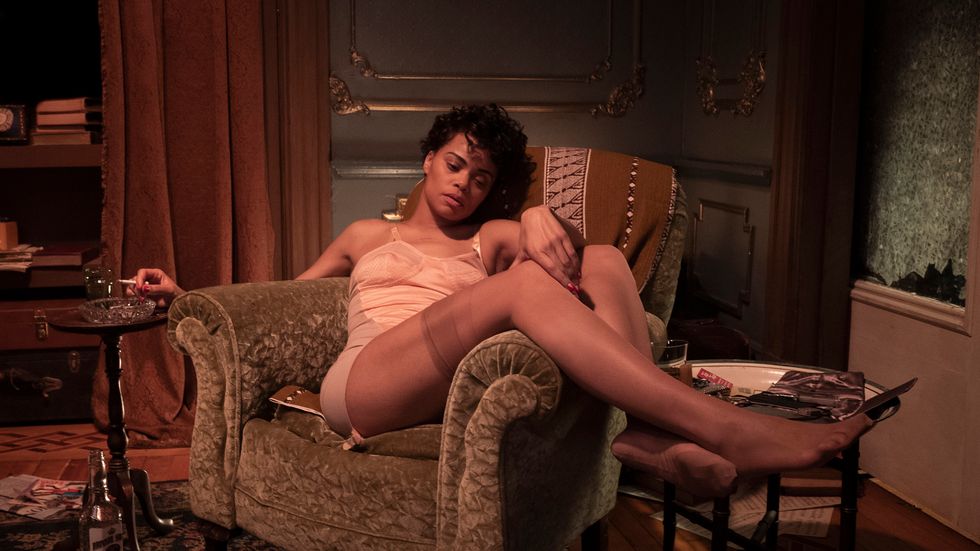 Photo: Takashi Seida; Courtesy of
The United States vs. Billie Holiday
What did you want the audience to know about her just from the clothing?
"I think I really just wanted to capture her as a truly elegant and glamorous woman. She was more than just the image of her with the white flower in her hair. I wanted her to have the range and the layers of being somebody who really lived. She was only 44 years old when she passed away, so she spent a lot of her adult life on the road as a performer. I really wanted to showcase the fabulosity of that and also wanted people to see a real person underneath all of it. There was this woman who was looking for love and struggling with addiction, struggling with fame and comebacks and money woes and all of that—all the while maintaining this image."
Obviously, you're looking at all of these historical images; how literal do you keep the ensembles?
"It depends. For example, her courtroom grey pinstripe suit was based on a real photo of her. I tried to keep that as close to the image as possible. We work with the actor's proportions, so we always want to do what's the best and most flattering to wear. So there's liberty with that, and then there was liberty with the color because so many of the images were black-and-white."
Tell me about working with Prada:
"That was amazing, getting to customize pieces and having them come in these big, beautiful huge boxes, like refrigerators. I basically worked with them by sending them the research photos of Billie that I wanted to use. Then they would make suggestions like, 'Could we do this in red?' They told me to go through their archives. So I went on
Vogue.com
, and I basically started with the earliest ones that were out there, flagging the images that had the right feeling. It was cool because you really see where some of their inspiration came from, like 'Oh, this is a '40s silhouette or this bustline is really '50s.' Seeing the film, with the pieces I built, some of the vintage pieces that were sourced, and then the pieces collaborated with them—it all flowed."
Photo: Takashi Seida; Courtesy of
The United States vs. Billie Holiday
Were there any moments where you knew they would be iconic?

"I think the black Carnegie Hall dress. There was a shot of her from behind where the spotlight is on her and you really see the silhouette of the dress and of her hair and the flower. I just remember in my head being like, 'I feel like this is going to be the trailer. This is going to be the poster.'"

Any fun stories behind the costumes?

"The day of the Carnegie Hall scene, I was waiting outside for the white gloves, which were still being made day-of. We had black ones, but at the last minute, I was like, 'Wait, they should be white.' My costume supervisor was waiting outside of the location where they were rehearsing. The tailor was making them that morning at 6:00 AM. They got on her literally moments before Lee called action on the first scene. That was a nail-biting moment I will never forget."

You also had to outfit an entire cast in period attire. How difficult was that?

"Luckily, I had an amazing group of people to work with. Our space was probably like, 10,000 square feet. It was a huge lofted warehouse space filled with period clothing. People were coming in to be fit around the clock. The men in the film also all needed tailored clothing. We were making things in L.A. and Toronto and Chicago and locally. It was insane. It was a constant hamster wheel of getting people dressed until the very end."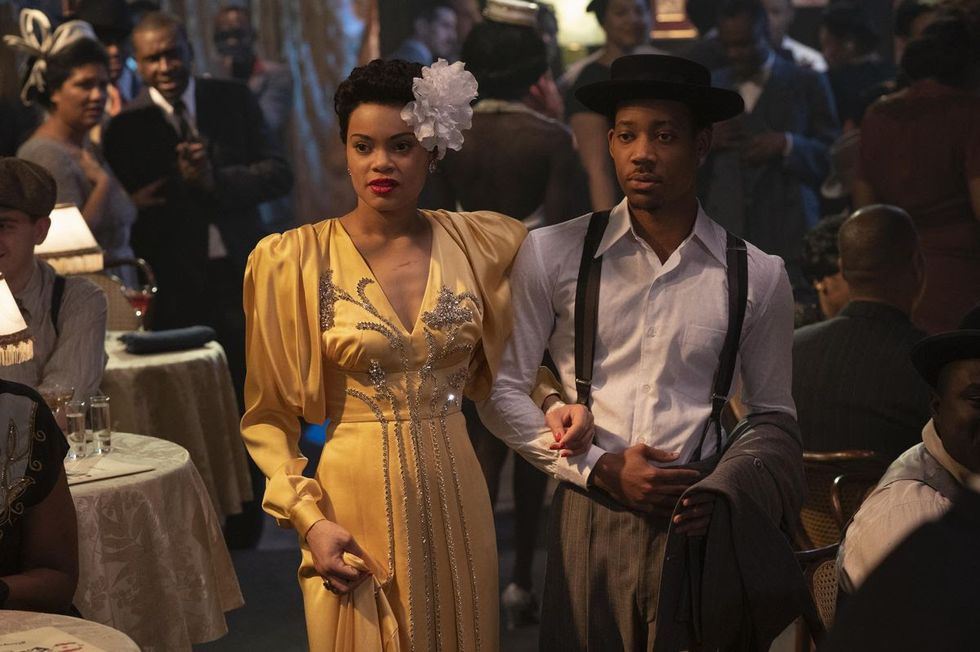 Photo: Takashi Seida; Courtesy of
The United States vs. Billie Holiday
How did you outfit supporting characters in relation to Billie?
"You didn't want to take away from her, especially with characters like Roslyn and Miss Freddy. They're always with her. Those are her friends, but they're working, so they can't be as over-the-top or pull focus from her. It was sort of balancing that and really balancing all of the colors next to each other. You didn't want it to be too print-y. I didn't want cacophony with her looks, and theirs in these tiny dressing-room scenes. So it was balancing that while still trying to give them their own identity. They are working with an entertainer and they don't have conventional office jobs. They aren't the Jimmy Fletchers who are in the FBI agency, trying to blend in and do good by the boss."
How important is clothing in the creation of a character?
"For me, I would say it's the closest thing to the camera no matter what. It's on the actor's skin. I think such a part of what people take away from film so often is the look. Like in
Cinderella
, it's the shoe. It is such an important element. It tells the story, whether it's the colors or the fabrics or how the actor feels or what the director wants. Sometimes the clothing has a lot more work to do than just being on the body."
After costuming contemporary films and TV shows, what was it like to work on a period piece?
"It was amazing. This was the first time I'd ever done period film. I've done '70s and '80s flashbacks in
Empire
, but that was nothing like this. This was super challenging. The amount of time and research that goes into it is just wild. I loved it. I would love to do it again. This was such a creative, fun style icon to do, so that was amazing."
Photos: Takashi Seida; Courtesy of
The United States vs. Billie Holiday
Want more stories like this?
An Ode to Sade's Personal Style
It's Yvonne Orji for Me: The Best Friend We Didn't Know We Needed
Stylists Share Their Favorite Black Hair Moments Throughout History