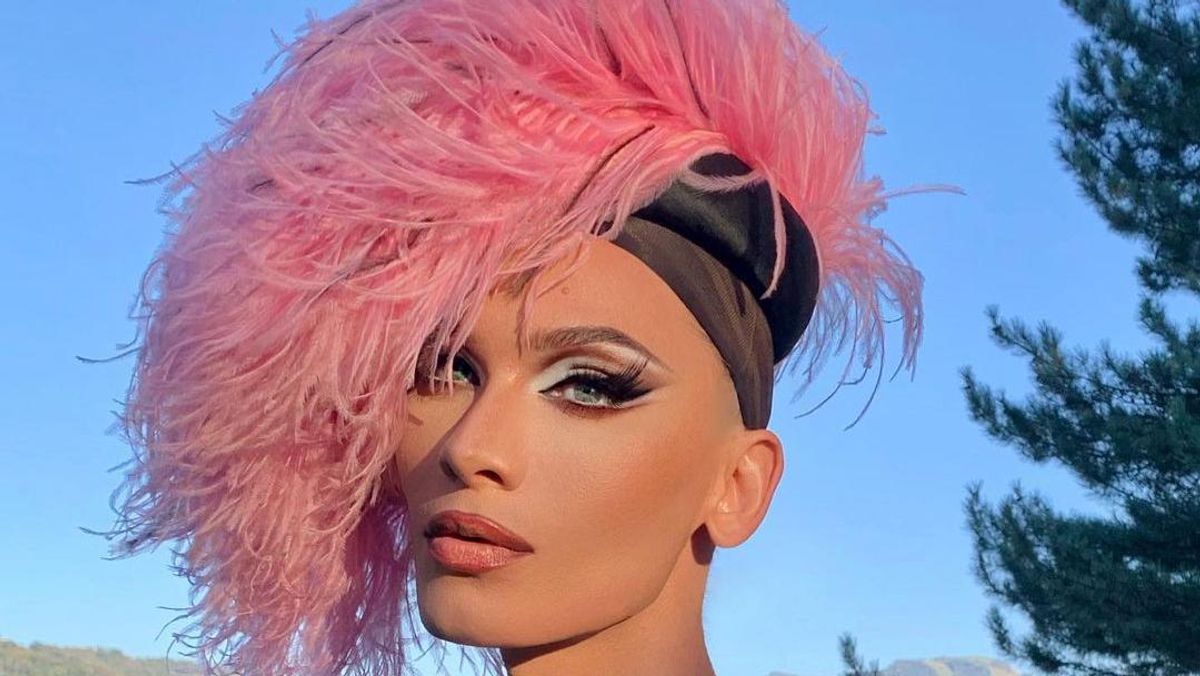 Celebrity
Miss Fame Is Celebrating Pride Month in Style
The fashion namesake and RuPaul's Drag Race alum takes us on a journey through self-acceptance, Pride, and, of course, beauty.
From the moment I see Miss Fame's slightly pixelated face across my computer screen, I know one thing for certain: I'm extremely underdressed for this meeting. While I'm in my humble New York City apartment in a tangled bun and a T-shirt that's living beyond its years, the gender-nonbinary drag superstar-turned-model is donning a Patrick Church leather patchwork jacket and a bag that they note was a gift from Dior and Fendi patriarch Kim Jones. Their eyebrows are arched and fluffed perfectly symmetrically, skin radiant and dewy, and my lax look pales in comparison to their curated ensemble—so I leave my camera off the entire conversation.
Yes, Miss Fame's sense of fashion and beauty is intimidatingly impeccable, but their true beauty comes from their true mission: shining a spotlight on the LGBTQIA+ community that's so bright, acknowledging it is unavoidable.
"Right now we're really finding a time to find the beauty from community and working as a union to make sure that people feel seen and heard," Miss Fame tells Coveteur. "I hope that through my platform, people are able to use my message and my image as a point of elevation; I want people to dream, to believe, and have hope to never feel limited because of who we are."
The RuPaul's Drag Race graduate is putting up a fight for queer rights through every front row they've graced in full drag, including (but definitely not limited to) Miu Miu, Jean Paul Gaultier, Maison Margiela, Mugler, Kenzo, and Viktor&Rolf. Miss Fame has been working with the latter fashion and fragrance house for quite some time and has recently partnered with the label for their latest Pride month campaign, "Free to Love, Free to Be Me," which has been crafted in conjunction with GLAAD. On top of working together to feature short films created by high-profile LGBTQ+ activists and content creators, Viktor&Rolf will also be making a financial contribution to support the LGBTQIA+ organization's mission, which is also near and dear to Miss Fame.
"For [Viktor&Rolf] to seal the deal and say, 'Hey, we want to put a campaign towards you to build your life,' when people like myself get work like this, it helps me to build my future," they say. "I'm an artist. I come from very humble beginnings. I grew up on a farm. There's no secret family member that's paying for my dream. I fought for my dream and I worked for everything I have. And I love to see that for other LGBTQIA+ people working in the beauty industry, getting opportunities, and then seeing them continue to work within those brands and houses."
Below, we chat further with Miss Fame on their rise to the top of the fashion totem pole, the true meaning of Pride Month, and more.