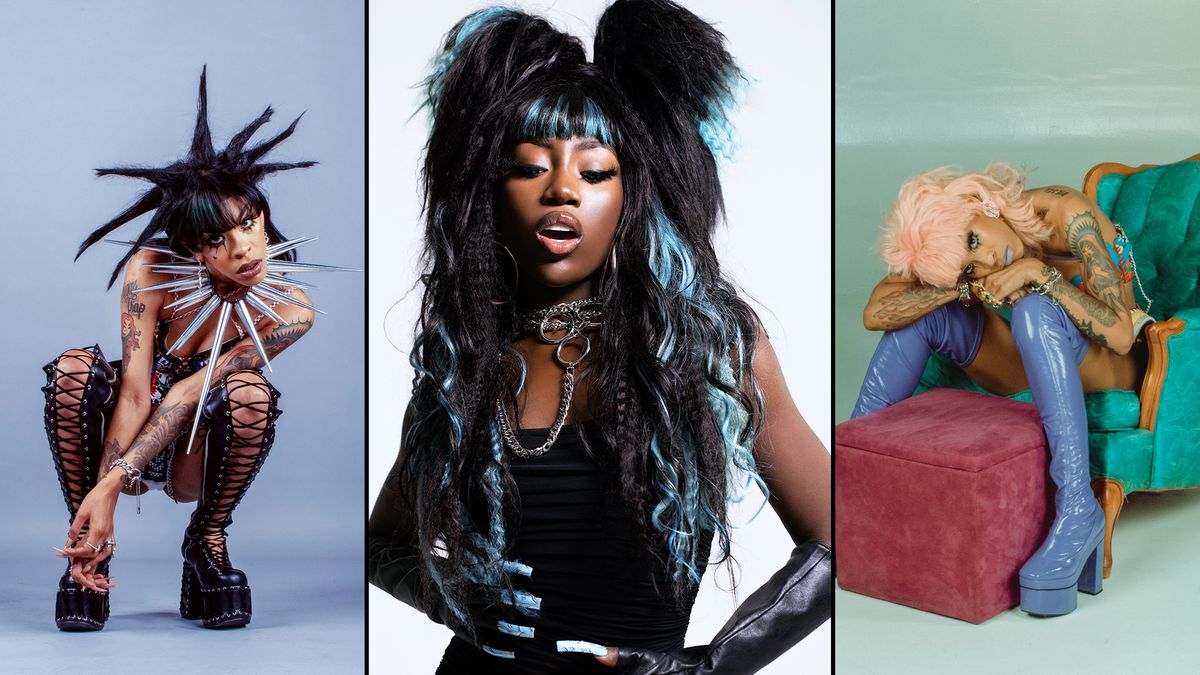 Celebrity
A No-Nonsense Conversation Between Bree Runway and Rico Nasty
The collaborators talk everything from cancel culture to the consequences of Black female artistry.
Within seven to 10 working days of her first record deal,
Bree Runway
had devised a Powerpoint presentation. Equipped with a schoolteacher stick, she toddled into the label's conference room in heels that spelled
Runway
 and propelled her just shy of an extra foot. "Right, everyone, slide one," Runway began, when "anyone who was anyone" at the company had gathered for her impromptu lecture. "This is my identity, this is my music, and this is where I want to go with it."
No one has questioned her since—mostly because she proved herself right. Now Runway is well on her way to joining the ranks of creatives hailing from her hometown of Hackney, London—which small-time successes Edgar Allen Poe, Sid Vicious, and Idris Elba also call home—as industry tastemakers have embraced the creative en masse. But she doesn't need their validation.
"I already know what I am," Runway impresses. "Nothing is going to make me a star more than I already feel like I am. People look back but think forward."
Her acceleration to the big leagues can be largely credited to her uncategorizable sound. "It's pop, but it's my own thing," she sighs when Uber drivers ask her to define her music. The complicated truth is Runway is forging a new path between hip-hop, rock, dance, and pop. With extraordinary vocal dexterity, the artist spits and sings, chants, and builds out the beat—all on the same track. As such, labeling Runway a "rapper" feels reductive. She springboards as successfully off '90s-reminiscent guitar riffs as she does grunge, chewing-gum synths. Forget star, Bree Runway is an entire constellation.
With her debut mixtape,
2000AND4EVA
, a surefire smash, new fans should be warned that following Runway's trajectory may cause whiplash. In conversation with collaborator and rap supernova
Rico Nasty
, who credits Runway with "riding the beat like an American girl," Runway navigates A-list comparisons, cancel culture, and the construct and consequences of Black female artistry.
---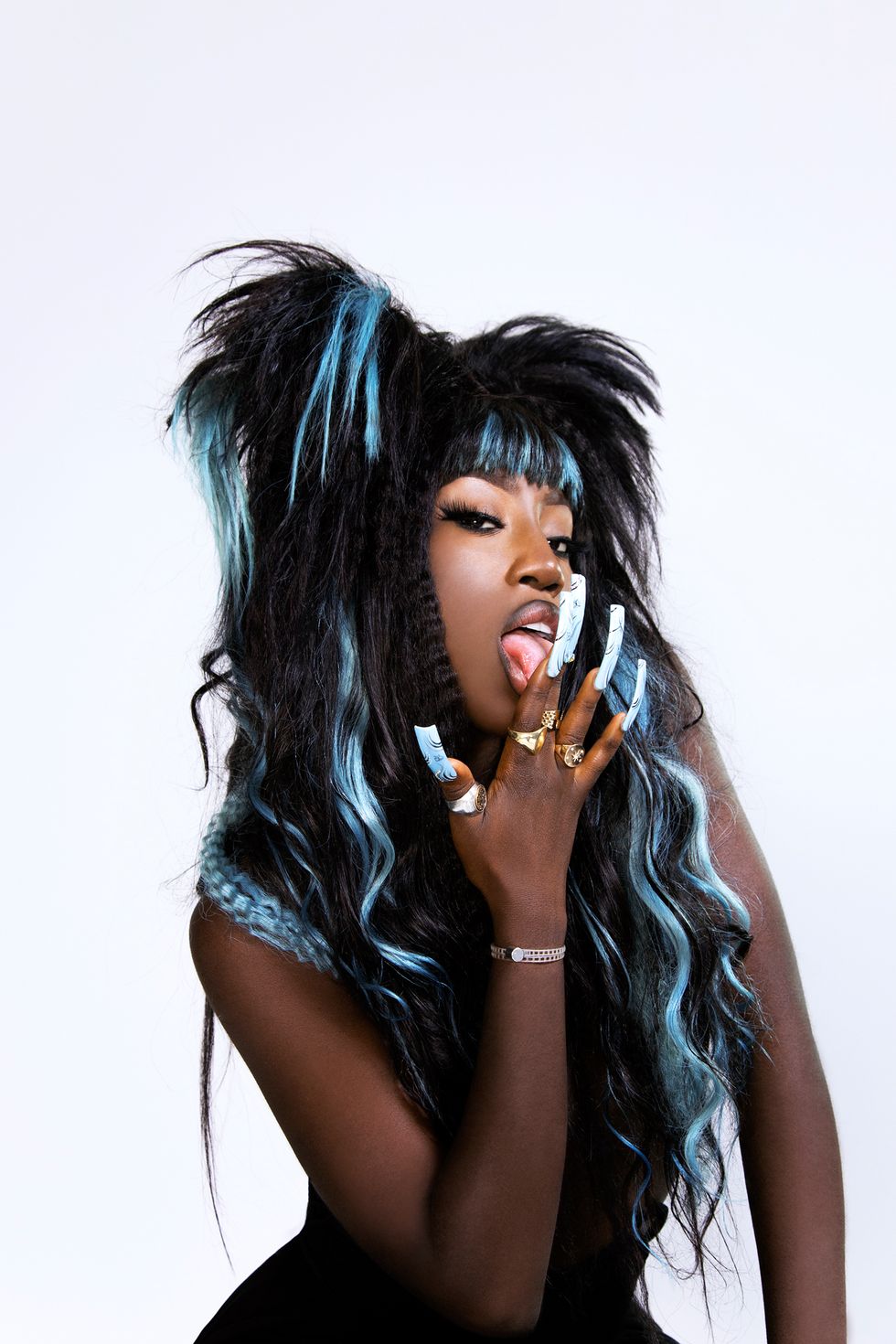 Photo: Lusha Alic
Bree, I want to start with how you formulated your sound stylistically. What was your initial vision for yourself as an artist?

Bree Runway: "Finding my style was a turning point for me, because I'm such a people pleaser. Because I had a good voice, I would find R&B tracks on YouTube and write music to them, because I thought that's what people want from me. It got to a place where it wasn't really what I liked. I realized I didn't need to keep singing over YouTube beats. I wanted to get interesting, because there's more to me."

Rico Nasty: "It is hard because you do want to do whatever made you popular. But you get older, and it's like, 'F**k what they want me to make, I'm going to do what I want.' Because you see so many people do one thing, and that's just their thing. And life is too short not to recognize how versatile you can be. Bree, you need to hear this, know that you're bigger than trends or what's hot on Billboard."

BR: "I'm definitely the one telling the label what we're doing—nobody can tell me what to do, literally. You can't even tell me to change a word if I don't want to change it."

RN: "We're like the opposite then. If a label tells me to change a word, I'll do it. And sometimes it's valid, they'll tell me they can't hear a word or that they don't think people can relate to something. But if there's anyone I feel pressure from, it's the fans and the press."

BR: "The press?"

RN: "Because I'm young. I just turned 23, so you might read an interview from when I was 19 and the two don't correlate. It's weird knowing that everything and anything you say can be held in a court of law. They got it in print, then you're caught up. And that eventually happens to everyone because you're always changing."

BR: "I can definitely relate to that. The press thing is really annoying to me, how you can say something plainly. You can say: 'The rice is white.'"

RN: "They'll run it like, 'Bree Runway said "The white people eat rice."' It's fucking crazy."

BR: "I hate that so much. And I'm someone who's very free with what I say and really honest. And it's like, I never meant this. But in the same breath, I don't feel pressured to impress the press; the pressure comes from wanting to get things right when I'm speaking. Because once you've said it, you've said it."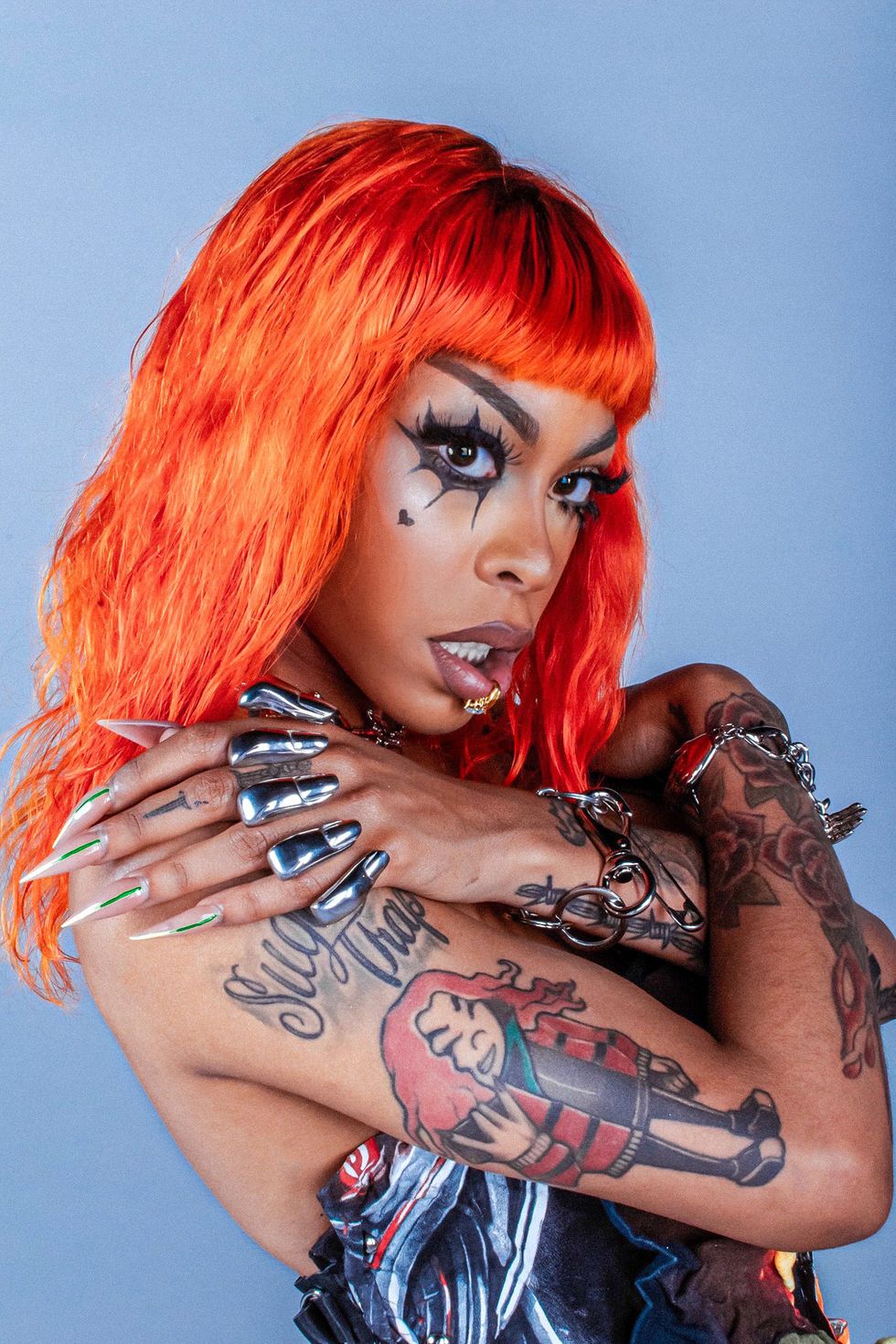 Photo: Guy the Photographer
So then what's both your takes on speaking directly to fans? Is jumping on Instagram Live, for example, just as much of a minefield?

BR: "Me, personally, I've only done one Live in my whole life, and that was just to perform. I didn't want to say anything that could be screen recorded, I don't want any problems."

RN: "See, I'm someone who does that all the time, and it does trigger anxiety. You don't know what you're going to say, but I like that feeling, not knowing what's going to happen next. But I have a list, and once I've done that, I get the fuck off."

BR: "Good! You need to know what you're going to say, and after that, you leave."

What do you think about direct interaction with fans?

RN: "I have a Whatsapp with my fans. It's like 80 of them."

BR: "Woah!"

RN: "I use it when I don't want to get onto social media because it's a lot, or I'm having a bad day, I feel like I'm leaving my fans in the dust. So I'll send a mass text, sometimes I'll give them exclusive links, and it feels really important to have that relationship with them outside of social media. We've gotten used to looking at fans as bots because there are too many people. But once you look at them like humans, you know they love you whether you're right or wrong."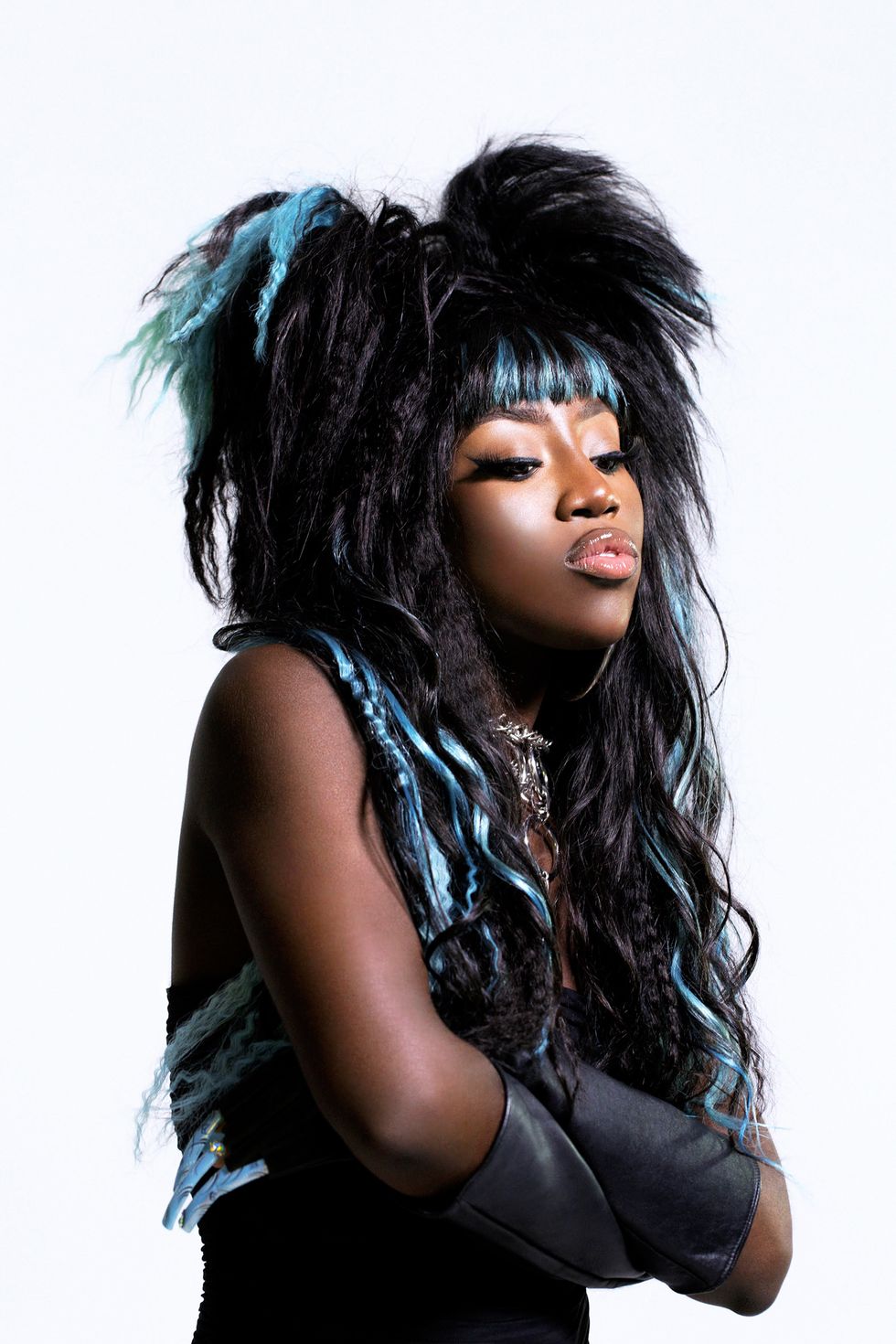 Photo: Lusha Alic
What do you appreciate your fans get consistently right about you?

BR: "I think they know that when I take something on, I will literally bleed for it. But I wish they could get on board with the fact that I'm not going to put my best tricks out there straightaway. It's like, Yes, I can sing, but I'm not going to do that all the time."

RN: "That's literally what I'm dealing with. If I keep giving you what's expected, then you'll never be on your toes."

BR: "Right! You need to be on your toes with me. We're both in a state of rebellion. This is going to sound so fucking arrogant...no, I literally can't. The honest truth is going to cause me problems…"

RN: "No, you're entitled to feel like you're great. As women, we never want to step on anyone's toes. But there's no one like you. Say it!"

BR: "There's not many of me and Rico. Music, right now, we don't have that fire. I feel like for everyone right now, it's a numbers thing. But those don't equate to talent or artistic prowess. So I think how I'm playing it right now is great, I'm giving little snippets and the fans are loving it. They're comparing me to the greats. So when I have more of an audience, and then I'm showing my best hand, then what's it going to be."

What's it like for you, Bree, to draw comparisons to someone like Missy Elliott and hear that she's a fan?

BR: "It's wild, but I feel like Missy has the same mind as me where she knows I'm not biting her style. I'm just doing me, you know? And how our song came about because she came to me...it's mad."

RN: "For me, it's Rihanna, man. She reached out to me to do the Savage x Fenty show, and for once I felt like I was doing something right. I had never met her or spoke to her, but to hug her at the show, and her knowing who I was, it felt like everything was going to be OK."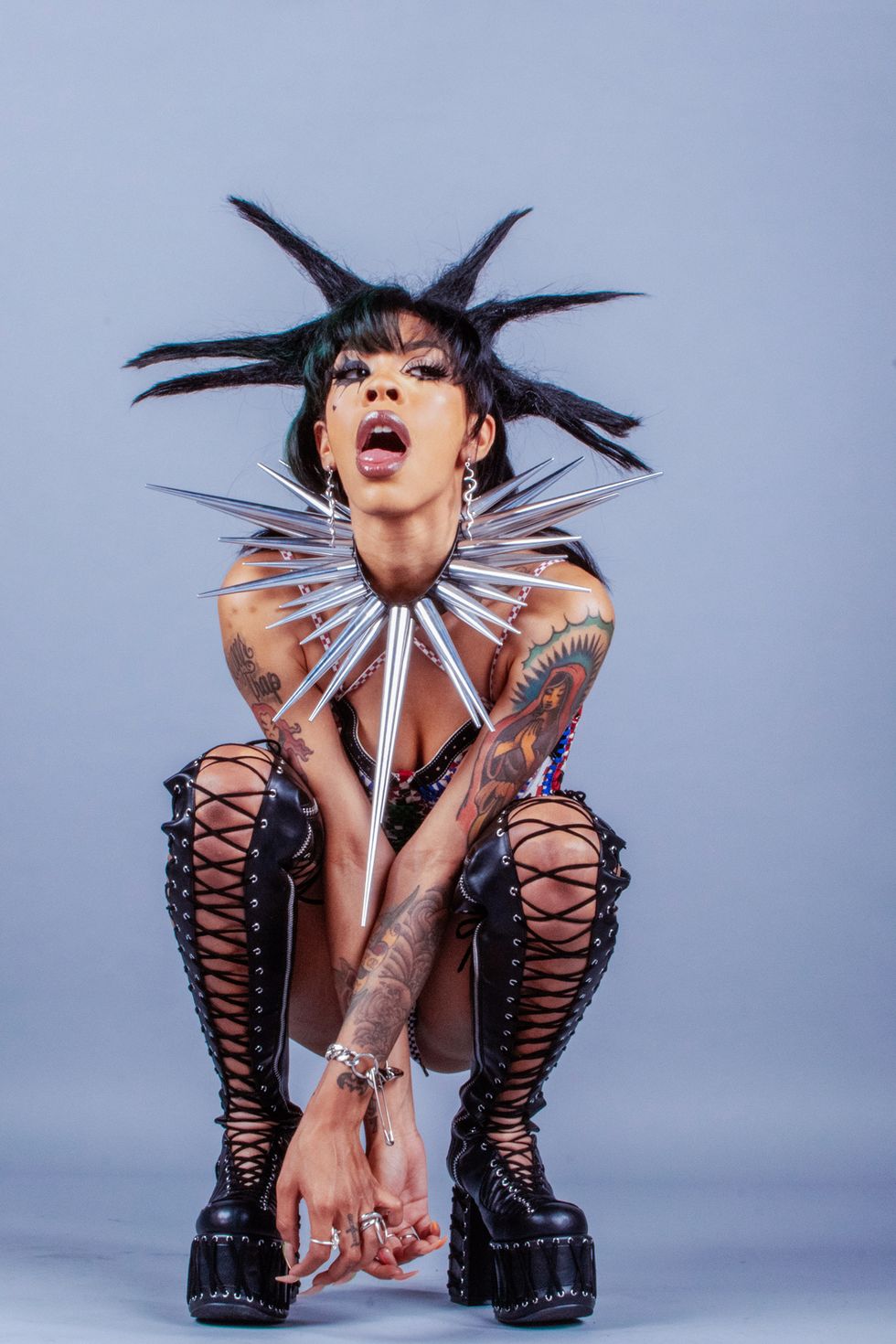 Photo: Guy the Photographer
Does the industry still see it as a risk to sign a woman in a male-dominated genre of music? Is that why you have to go in with a more definitive vision, because they feel like they're taking a chance?

RN: "There's always going to be something that they want you to be. I feel like it's different for Black women, because you can make all the music you want, but you can always feel like you have to work three times harder."

BR: "Three times? Ten times."

RN: "Right, ten times. Opportunities come easier for people who look a certain way. With Black women, you have the talent and work hard, and then it's How does she look? How long does it take her to get ready? Is she on time? It's some female shit, too—male artists are late as hell! We had one woman for each era, like Lil' Kim, then Eve, then Beyoncé. Always a bunch of men and one token female. But you can't be the victim. There's a glass ceiling, but you have to keep going."

What was it like watching the aftermath of the Tory Lanez and Megan Thee Stallion incident unfold? I can't imagine how close to home that must have felt:

RN: "It was sad, but it was more scary than anything. She did everything right. She was a people person, no drama. Meeting her, she's amazing to be around. It's not fair. Y'all don't trust Black women, y'all don't protect Black women. You don't fight for us, nothing. It's a sense of backstabbing, of betrayal. It's like, are y'all serious?"

BR: "Exactly that. The fact that, regardless of anything, Black women need to take care of everyone else and really have our own backs, too. If something like that was to happen to a Black man, we'd all be doing everything we can to help. The backlash to Megan was very, very painful. The internet is really scary."

RN: "It's like, this is our new Beyoncé! And y'all think this shit is funny!? It's like, do you think this would be funny if it was someone you knew? Or would you be posting the GoFundme? When the fuck has it been funny for a girl to get shot?"

BR: "It's just not. It's not funny. It's disgusting."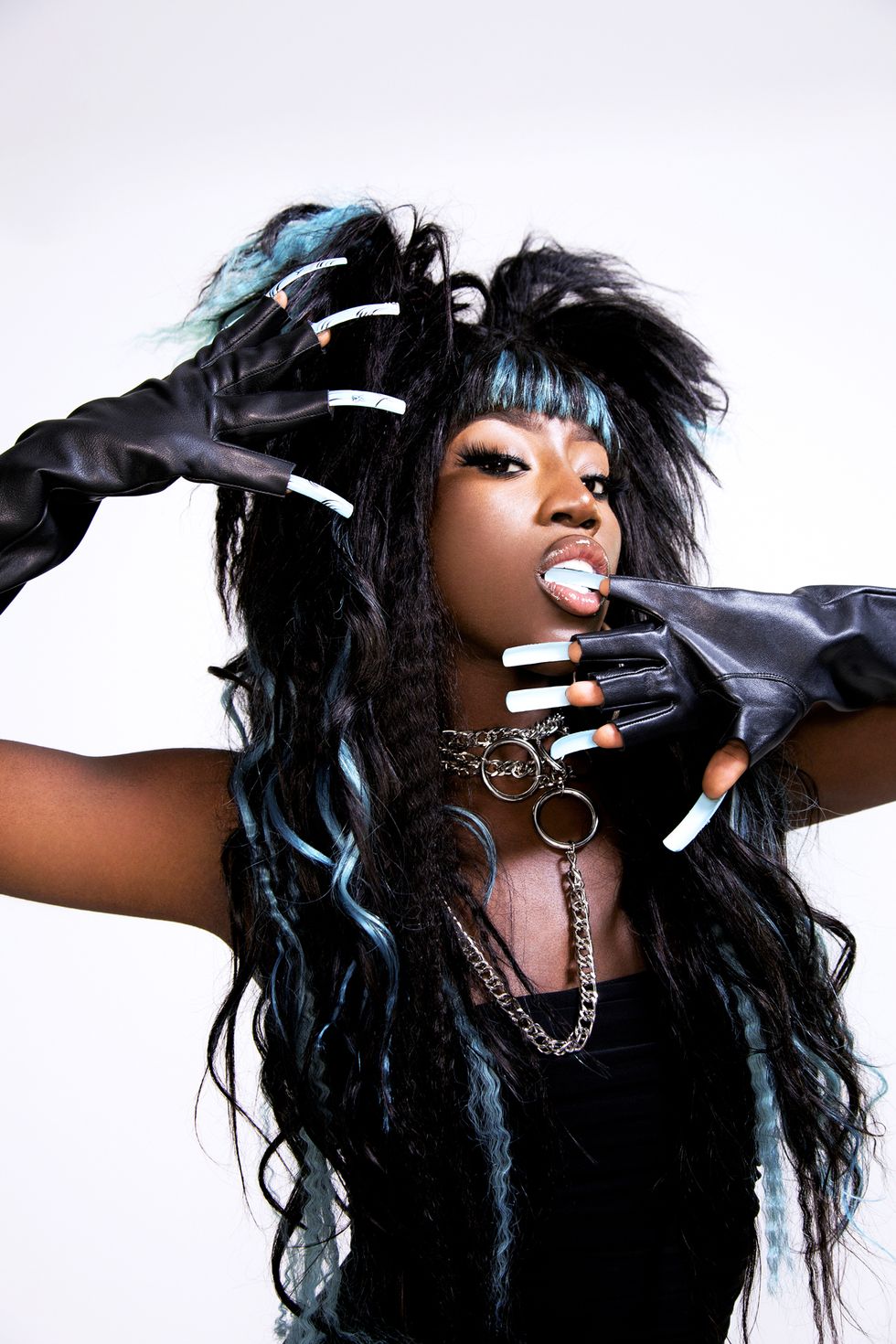 Photo: Lusha Alic
How do you approach a time like this as an artist? Are you compelled to create? Or do you want to put that on hold?
BR:
"I had that mental conflict at the height of quarantine, like what I should put out. But then I remembered my role in music, and it's just to bring the people joy and give them life. We need to let someone press play and give them an escape for a second."
RN:
"I was confident at first and felt like I wanted to make something [to reflect the time], and to be completely honest, it sounded cheesy. Forced. And I think that's because I felt pressured as a Black woman. Like I had this voice and I wanted to use it. Then I realized I wasn't as educated as I thought I was, so then it became about educating myself. And that's where I'm at. But I don't ever want to make music for people to hurt themselves to. I don't want to be that type of artist."
BR:
"It's true. And I don't know if you've been to a Rico show, but I was in my own world. Rico needs to stay doing Rico because she gives people life."
How did you both initially connect?
BR:
"So we actually met in New York. I asked her for a photo, and we were just about to take one, but she got pulled away. I need to try and find the photo."
RN:
"That was
you
?! You're looking different, bitch! That's crazy. I remember a time I met you and it was after a show. But Instagram is a crazy place, and I was in a hotel in London, and I was like,
Who's fire in London?
and started watching all her videos. And that was it, I'm a fan."
What do you think each other brings to the table as an artist?
RN:
"Her voice alone is signature. Bree rides the beat like an American girl with a British accent. She's not missing a beat. And it adds that edge, and London is really punk, so she has that edge."
BR:
"Rico brings the most distinctive voice ever, that's one. She sounds like a drug. She wakes you up, like a punch in the face you love. She's a rock star."
Photos: Bree Runway shot by Lusha Alic; Rico Nasty shot by Guy the Photographer
Want more stories like this?
Hitmaker Murda Beatz on Finding His Style Through Song
How Pianist Chloe Flower Became Our Pied Piper
Orville Peck Is the "Show Pony" with Sincerity