Cover Story
The Black-ish and Girlfriends star talks about her summer music playlist, how Pattern came to be, and why she loves solo vacationing.
Natalia Mantini
Marcus Allen
Hair:
Ashley Lynn Hall
Makeup:
Tasha Reiko Brown
If there's one thing that Tracee Ellis Ross loves, it's flowers on a Monday. Not from bae or a production crew, but to her damn self. "I'm a lover of fresh flowers, and usually on Mondays I get a big delivery in a bucket," she told me as she was adjusting her Zoom camera to a full-screen setting. She was showing off what looked like white-and-pink ombre tulips in a brass metallic vase as she explained to me why she loves putting her flowers in vases.
"I was just putting them out, and I like to get it all done because I don't like them sitting in the buckets, because I feel like they should have their home," she told me. "I've always loved fresh flowers, but during the pandemic they were sort of my saving grace to see a sort of blossoming thing that had beauty in my home."
Thespian, entrepreneur, beauty and style icon, and lover of plants—Tracee Ellis Ross, ladies and gentlemen.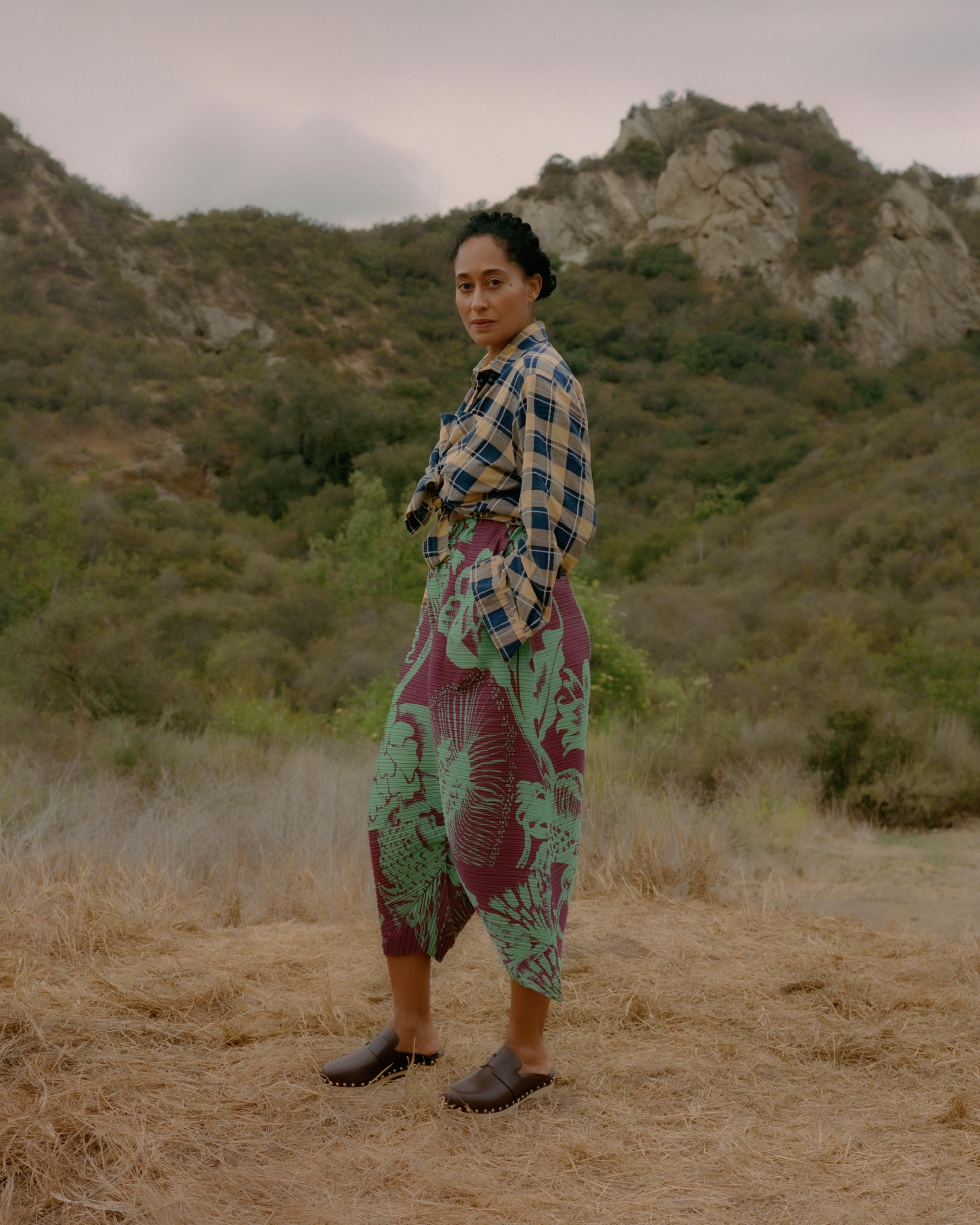 I'm somebody who meditates and I have a sitting practice, but I was not able to be in sitting meditation during the majority of the pandemic. It left me too vulnerable to getting stuck in my brain, in my mind."
After gushing over her and expressing how I remembered watching her on UPN in Girlfriends with my mom before bed, I asked Ross how she was doing. Between playing Bow Johnson, MD, on Kenya Barris' Black-ish—which is coming to a close following its eighth season—and managing her real-life Pattern business, one can say that when it comes to finding balance, Ross does this well. She described to me her mental state as "hanging in there," especially as we prepare for a world of re-entry and post-pandemic adjustments.
She had some allergies earlier, which she was led to believe turned into a bit of a cold after a small state of pandemic paranoia. "Like everybody, any sensation of anything other than optimum health, even though I'm fully vaccinated, always sends you into an absolute panic," Ross said. After reminding herself that being scared was an appropriate response during a nearly year-long global health crisis, she gave herself the grace and allowance to feel all the feels.
Currently located in Los Angeles, Ross assures me that she's doing just fine, and I can tell. The natural glow from her skin is just as radiant as the light peeking through her window onto her blue walls. She calls this version of herself "hiatus Tracee," which is her favorite version—especially because she's not waking up at four-thirty in the morning to cram everything into one day. Throughout the craziness of the world, including a historic election cycle, a pandemic, and a resurgence of a social justice movement, she's managed to have a holistic approach to life which in turn served as a solid foundation for her mental health the past year.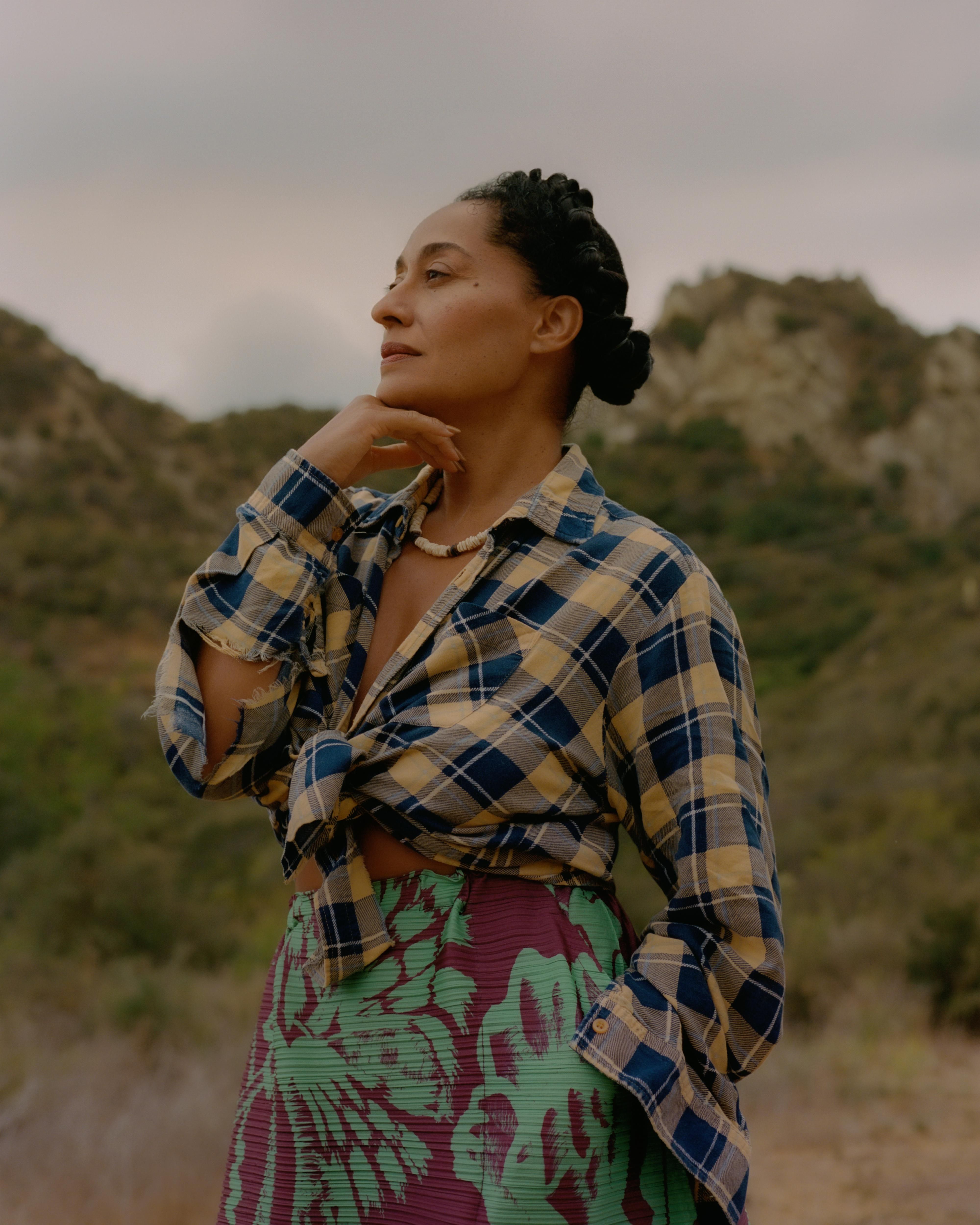 "I'm somebody who meditates and I have a sitting practice, but I was not able to be in sitting meditation during the majority of the pandemic. It left me too vulnerable to getting stuck in my brain, in my mind," she admitted to me. Instead, Ross shifted her meditation practice to a more movement-based ritual and allowed herself to be more explorative—mentally, physically, and emotionally.
She acknowledged that the pandemic granted the opportunity for illumination and realization of knowledge, and she extended her gratitude for the vaccine. "When I got vaccinated, I felt a deep sense of relief and gratitude that science could step in to take the place of my rudimentary tools of being afraid of people and locking myself in my house," she disclosed. As someone who never took the flu shot or takes antibiotics and medications regularly, her body and fine-tuned physiology respond best to forms of care such as acupuncture. "I wish everyone would get vaccinated, but I know that it's a very personal choice. For me, it was the right one."
The High Note actress's strong sense of self-awareness and self-love carried her through the pandemic, which she's been cultivating for quite some time. "I'm 48, so I've had probably a few more years than you to have time to sit and sort of meet and greet myself and learn to love and accept myself. Most importantly, to be kind with myself even when I'm not in love with or like with what might be happening, or where I'm at," she told me.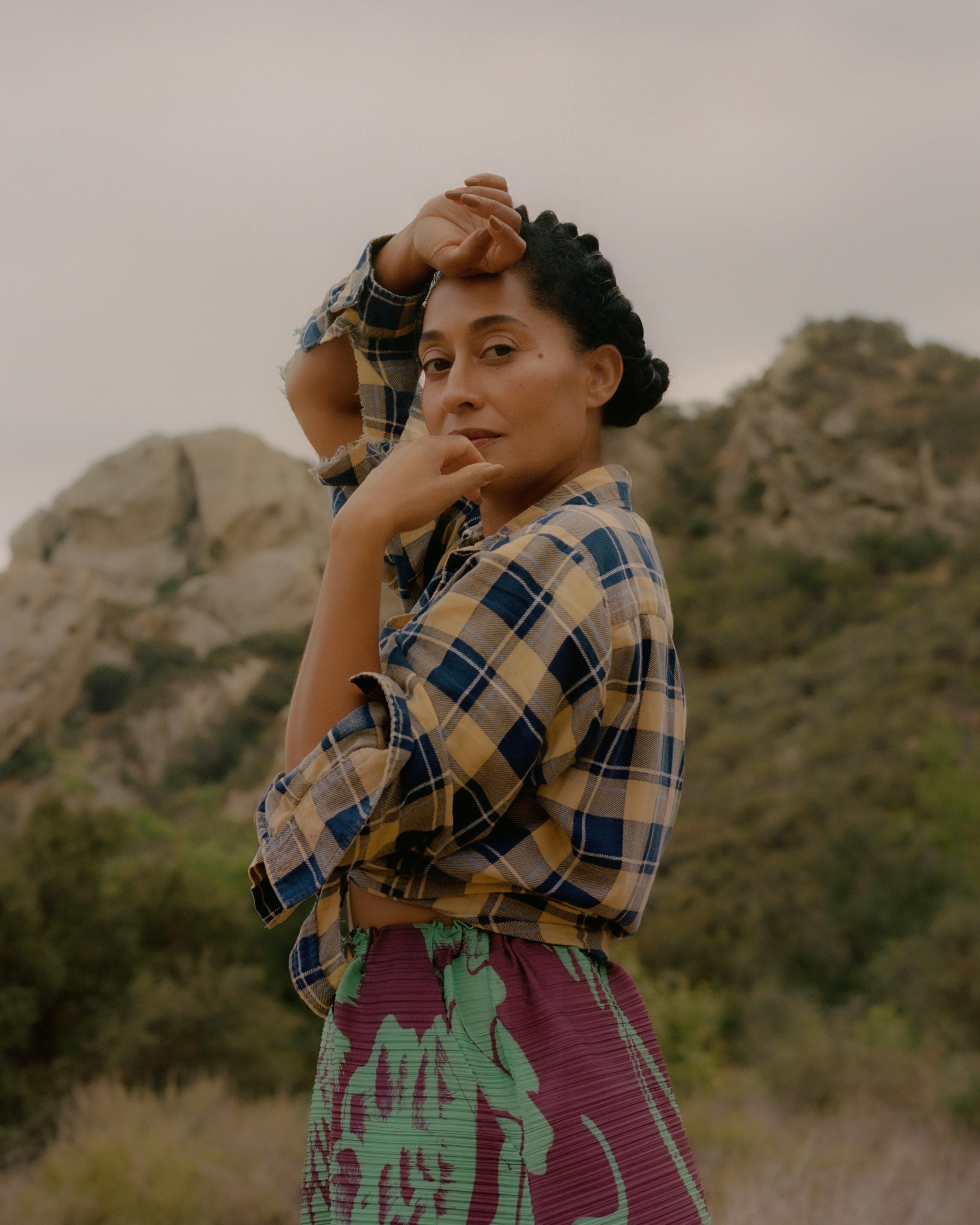 As a performing artist, Ross refers to her art as "unzipping," and though there are different layers to her as a producer, CEO, and actor, she brings her full self to every space that she's in. "I feel like I play an extrovert, but I'm an introvert. I'm both," shared the self-proclaimed ambivert. "I really do like my own company and I need it. I need the quiet. I need the silence. I don't usually have music or the TV on at home." While her life is performed with a jam-packed schedule and military precision, she curates time in her schedule for one particular moment.
"I call it the wander/ponder/bes. I try and make space and really cultivate time and space to wander, ponder, and just to be," she explained. She deems it necessary to take the occasional digital wellness detox from her 10.3 million followers to tap into her creative sense. "Because of social media, it's really easy to never leave yourself alone and let yourself and your imagination run and move and just ponder. Particularly when I'm in the process of creating something new, I'll take Instagram off my phone and really let myself have that space because that's where imagination and visioning come in."
Part of her vision was the development of Pattern, a natural hair-care brand born from Ross's mission to celebrate and care for textures, curls, and coils for Black women. Though it officially launched in 2019, the beauty brand is 10 years in the making. That's right—this wasn't a fly-by-night scheme by a celebrity who magically woke up and said she'd be the face of a brand. This is her shit through and through.

To be an active space for the celebration of Black beauty, and for authentic beauty, and to let ourselves be the subjects of our content, of the products that we created, and not the object, [is] around this anchored place that hair care is self-care."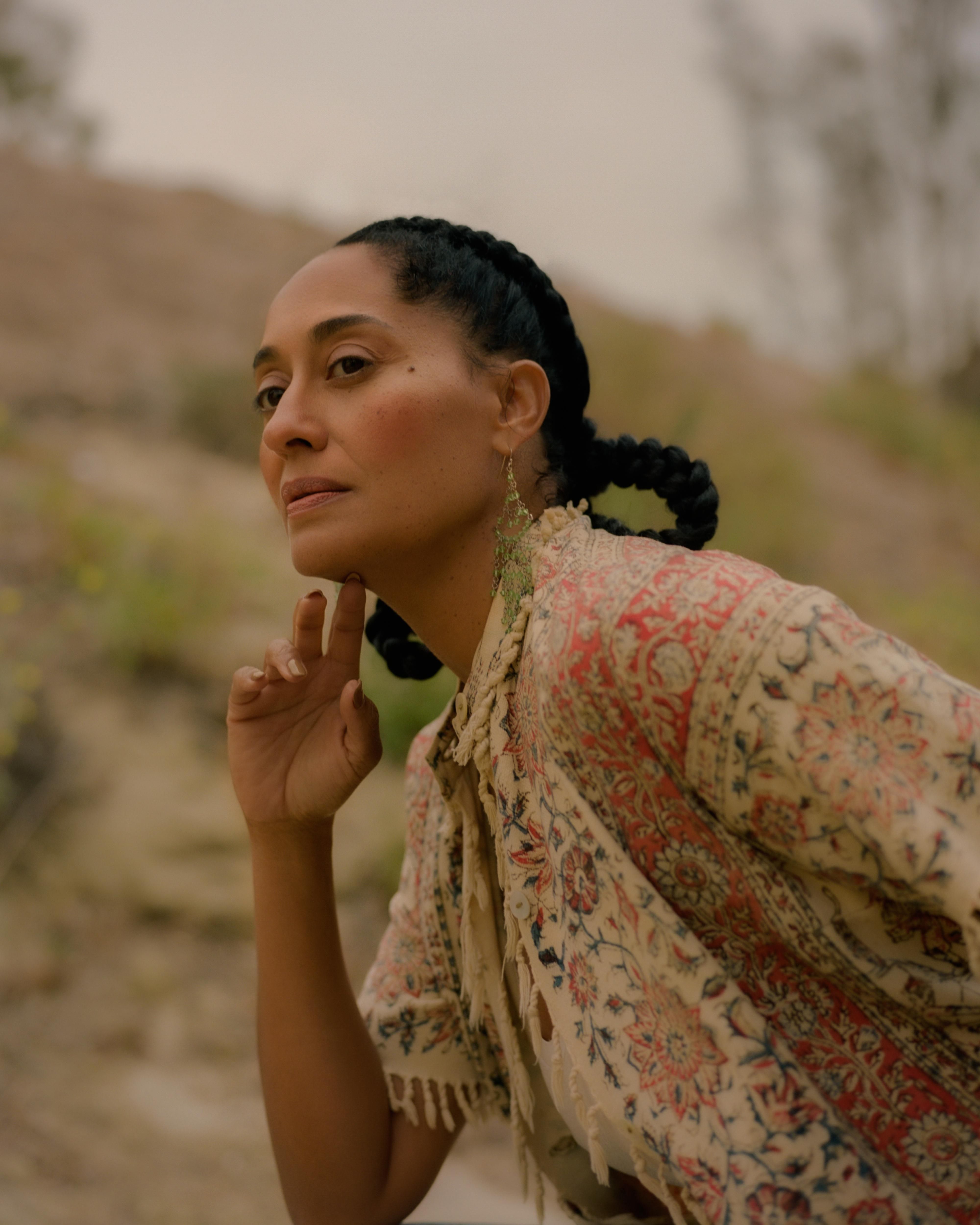 Her vision for Pattern Beauty has remained the same—to create effective products for this vast community of people who, such as herself, had spent so many years becoming our own best experts because the proper products didn't exist. "We were being chemists in our bathroom. We were mixing products and brands and all these different things," she said, "so I wanted to create products that really worked for us and that took into account all of the things that mattered."
She first wrote her Pattern pitch when Girlfriends wrapped, but it took nearly a decade to get off the ground. "The industry was in a very different place. The understanding of the buying power [and] the Black purchasing power, I think, is often underestimated. My fame was not where it was. The beauty industry was not as awake to the importance and extraordinary beauty of the curly, coily, and tight-textured community," she shared.
When creating her products from her scalp serum to her hydration shampoo, Ross had Black women at the front of her mind. She keeps size and value at the top of her agenda when making the right products with love and care to give buyers clumping, slip, shine, and more than a dime size of conditioner for every use. Our love language in our hair is different—and she doesn't skip around the bush to address it.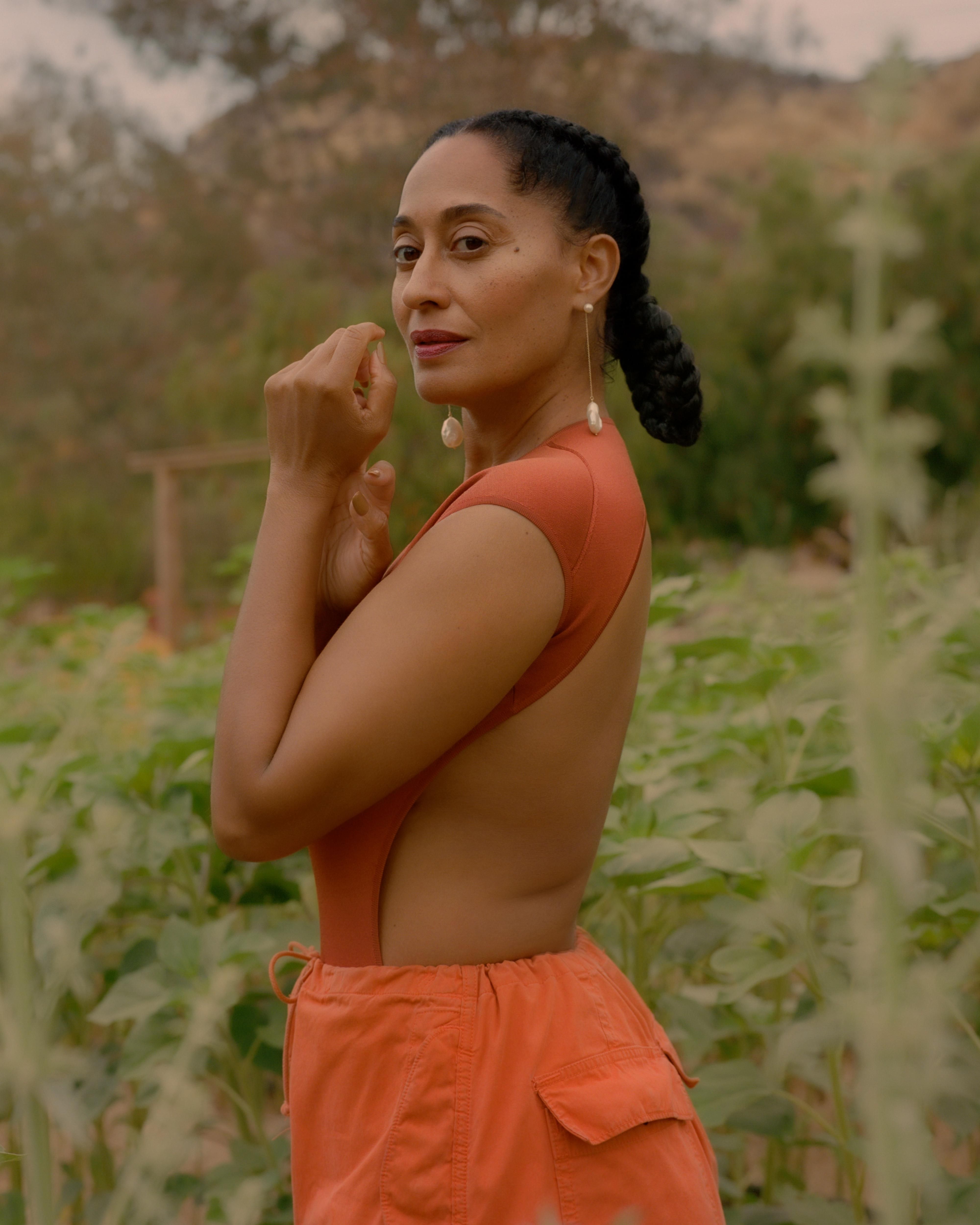 "To be an active space for the celebration of Black beauty, and for authentic beauty, and to let ourselves be the subjects of our content, of the products that we created, and not the object, [is] around this anchored place that hair care is self-care. That our crowns connect us to our legacy. That our hair and how it authentically grows out of our head is part of what we come from and one of the ways that it's a portal into our souls. And such an expression of who we are," she said passionately.
Fortunately, when the pandemic first hit, nothing had changed much for her production. While she grieved the wrongful deaths of our brothers and sisters such as George Floyd and Breonna Taylor in 2020, she used the racial reckoning as a moment to amplify her brand's commitment to the Black community. "I realized that although Pattern is not a social justice organization, the celebration of Blackness in and of itself is a political act," she pointed out.
Ross continued, "We at Pattern utilized the platform to continue to celebrate the humanity, the beauty, and the importance of Black beauty. Of hair care being self-care. Of our hair tying us and connecting us to this global and historical thread of our legacy—and that's what happened."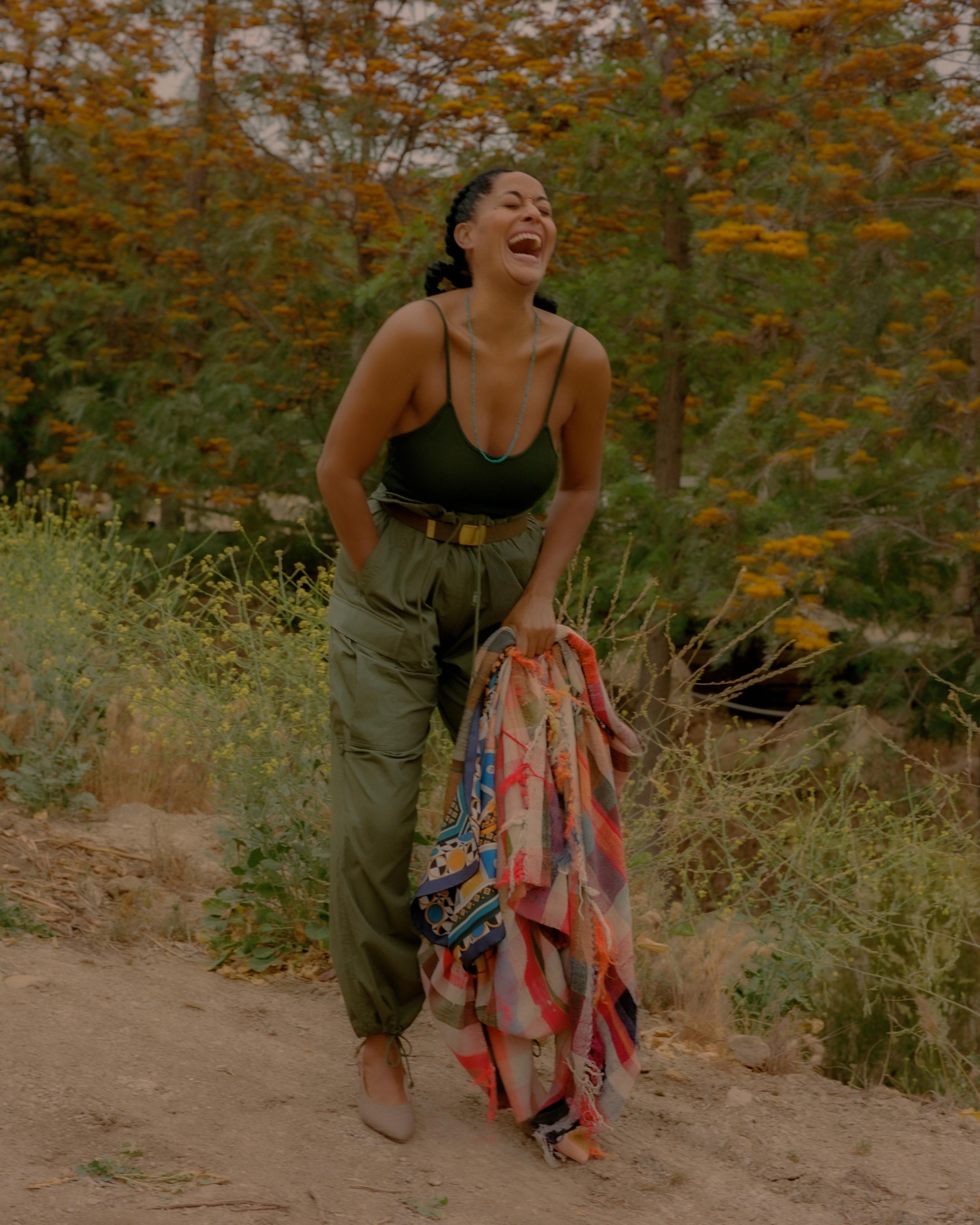 While being a CEO and entrepreneur is "no joke," it's her passion, and she's grateful for her platform and the ability to use it to demonstrate affirming and celebratory messages as they reverberate into our communities. When it comes to her personal order of business as a career woman and as a Black woman taking up rightfully owned space, Ross keeps it to the point.
"My underlying mission is to continue to celebrate, empower...not even empower," she said as she corrected herself. "Celebrate and support Black women and girls, and to expand our real estate and our equity in all areas and aspects of our lives. And to continue to support our freedom and our beauty."
Speaking of beauty, I knew I had to take advantage of this opportunity to grab tips from the color-coated beauty and style icon herself while we were on Zoom. "I always love a beautiful, bright color," she said as she began to gush about this flowy, hot pink dress that she just bought. I can tell by the smile on her face that she was hyped to wear it this summer. These days, she admitted that the pandemic put a bit of a hold on her heel game, and if she does pop out, it'll be a low heel.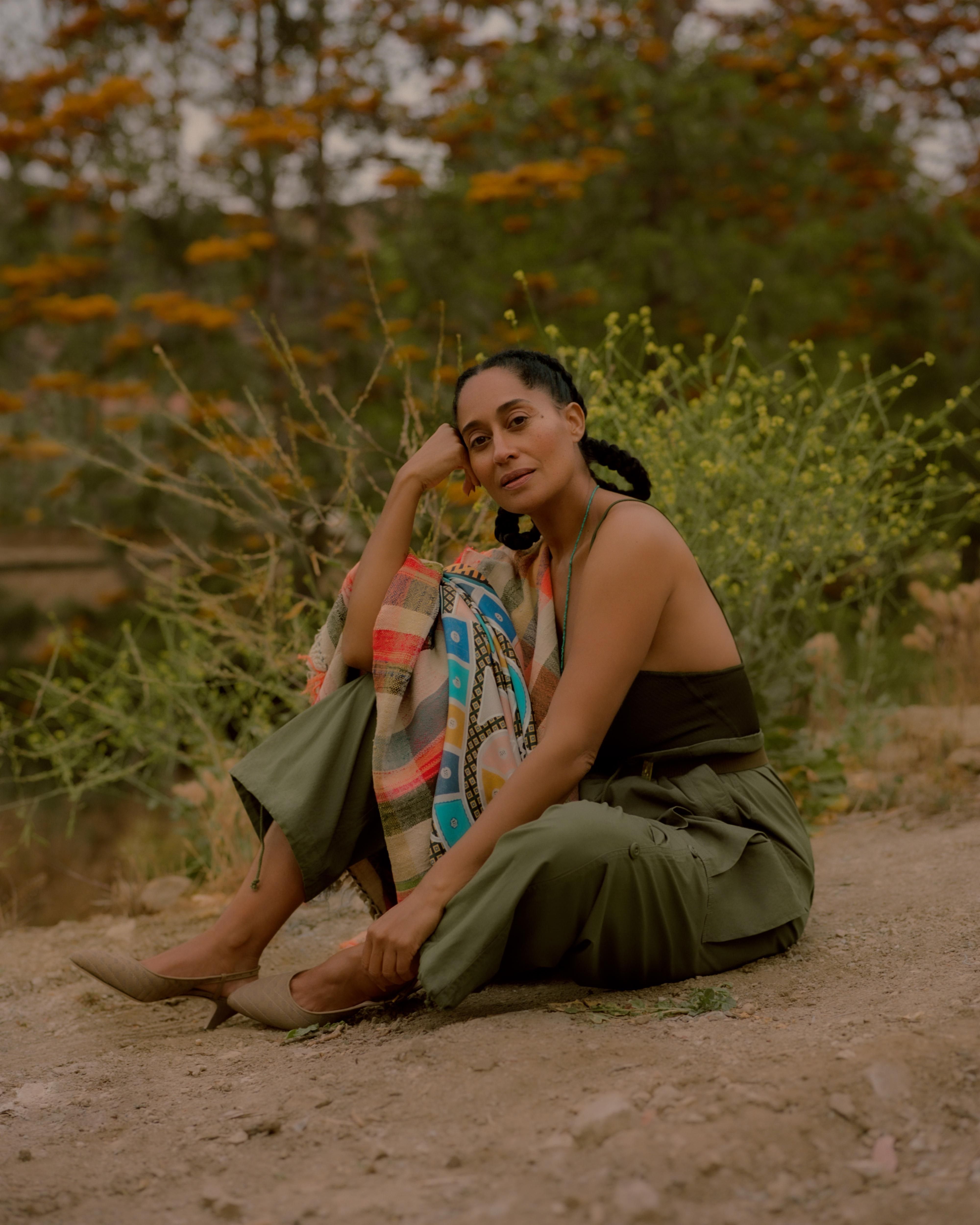 "I'm excited to be getting dressed again. I love getting dressed. I do. Yes, I love getting dressed for the red carpet, but I love putting myself together. It's a form of creative expression to me," she expressed. From her viral bathing suit and Jordan 1s photo and monochromatic press day 'fits to sporting castmate Yara Shahidi's Recreate adidas collaboration and vintage feathered CHANEL capes, Ross's style is boundless. "Re-emerging out of this pandemic, vaccinated, able to go and have dinner outside and put some clothes on is just wonderful. For people to be able to see the whole face and not just the eyes, it's great."
On her flawless, anti-aging Fountain of Youth skin, the Brown University alumna gave us her ultimate secret. Are you ready, folks? "Hydration, hydration, hydration, hydration," she commanded while she forced the back of her hand into her palm, signifying that she was not joking. At the core of her beauty regimen are sleep and water. Ross aims to go to sleep before midnight every day and gets in between seven and a half to eight hours of well-deserved rest. A good 20-minute moisture mask and washing her face at least twice a day "to get the grime off" are key ingredients, as well.
On the days where she's going through a bit of an afternoon slump, while some people buy a large coffee, she opts to drink some water, meditate, and wash her face. "Sometimes when I'm working on set, after lunch we actually take off all the makeup around my eyes, take off my lips completely, start fresh, and it's like a whole new thing," she noted.

I'm excited to be getting dressed again. I love getting dressed. I do. Yes, I love getting dressed for the red carpet, but I love putting myself together. It's a form of creative expression to me."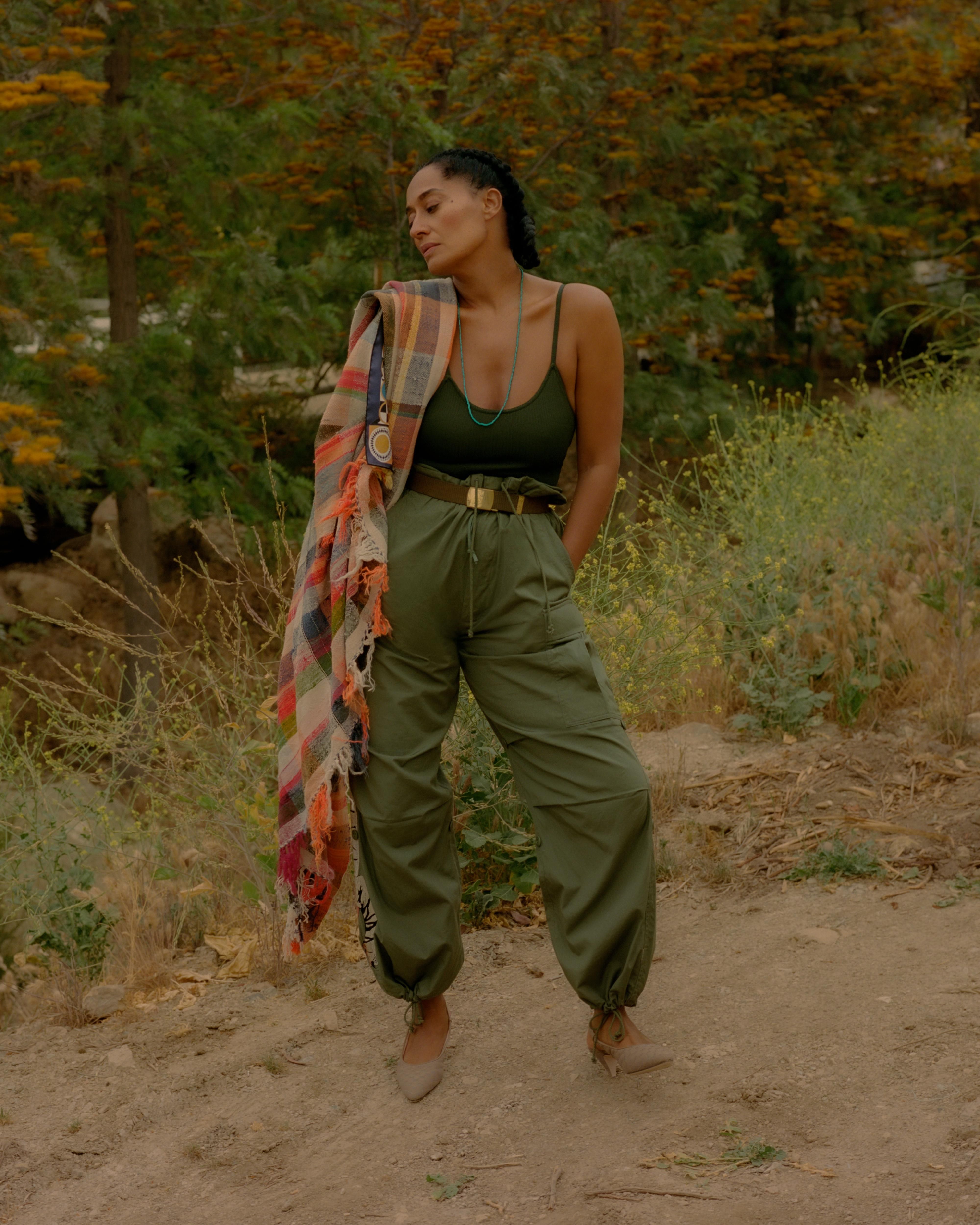 While dewy skin and flowy dresses are on her checklist for the summer months, Ross is most excited to embrace her friends and family with long overdue hugs. As is the season and the feeling of a loving hug, she describes summer energy as "sunny and joyful." She pulled out her phone to find two songs to describe what summer felt like, and she came to the conclusion of Silk Sonic's "Leave the Door Open" and Childish Gambino's "Summertime Magic." She scavenged through about two or three playlists and went on a Google search before adding "Too Good" by Drake and Rihanna to her list as well.
Summertime magic also includes lots of travel, but everyone knows that Tracee Ellis Ross is the queen of solo travel. Most of us in our twenties, including myself, are a bit hesitant about solo traveling to a foreign country or even domestically, but she's had it down since 27 years of age. "It is a regular occurrence for me. It happens at least once a year, if not twice. It's wander, ponder, be time," she added.
Ross can't even count the number of solocations she's been on, but acknowledges that it's not for everyone. While mastering the art of the solo selfie is Instagramable and iconic, she notes the importance of listening to your anxieties and fears ahead of travel planning. She first explores solo travel in places that she's been before with other people; that way she's familiar with the environment. For those who have never done a vacation by themselves, she poses the following questions: Have you ever gone to the movies by yourself? Have you ever gone to dinner by yourself?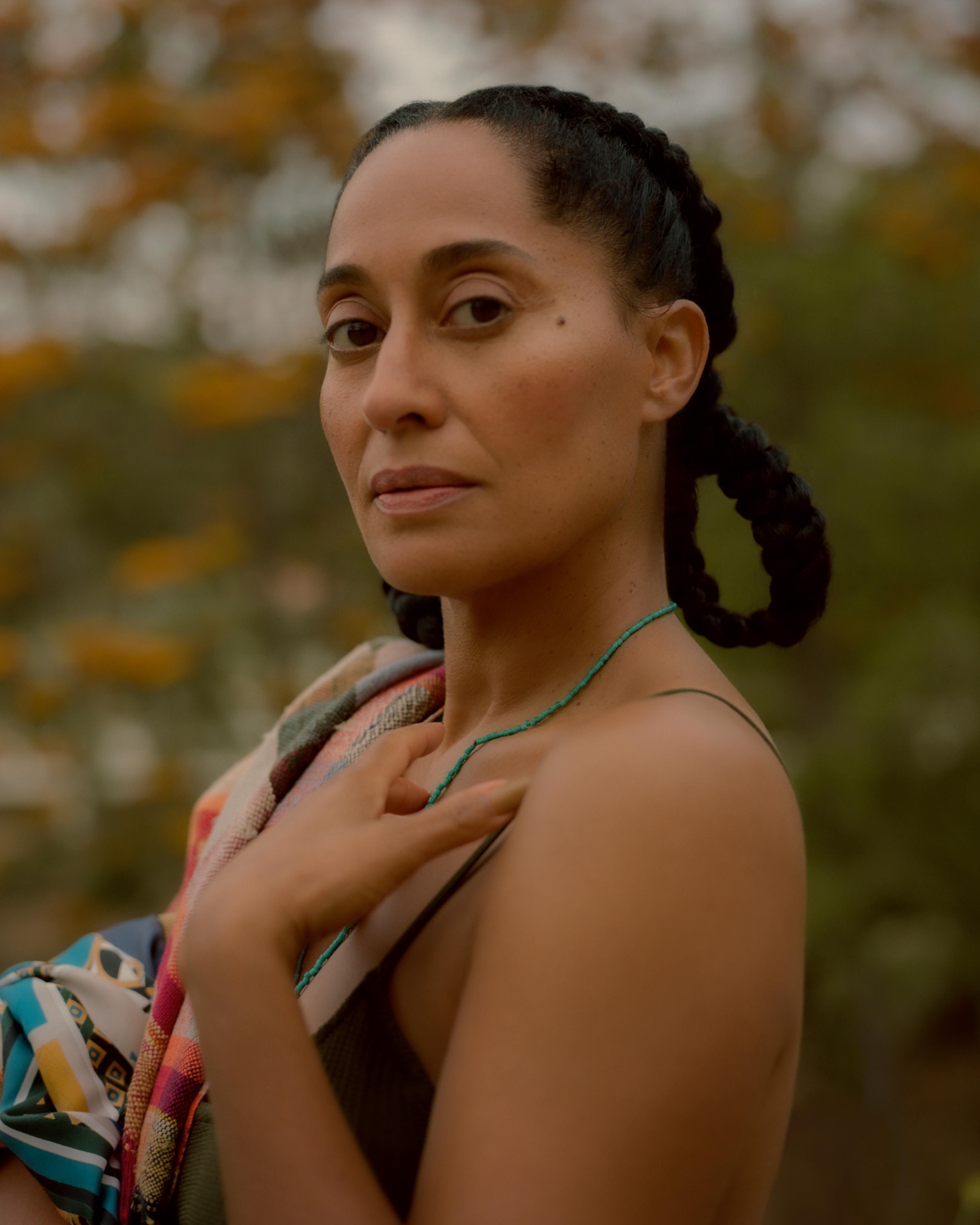 "The top line one is go for a solo dinner on a Friday or a Saturday night around seven or eight. It will help you look at what anxiety comes up for you about being alone. Whether it's the embarrassment, shame, or just 'I'm a woman alone.' What does that feel like?" she explained. "It'll start to inform you about some of the things to take into account when you travel."
In a career that she deems "full and constant," where she unzips and bares all to the world through her roles as an actress, entrepreneurial boss, and all-around doer of all things communicative, Ross enjoys her own company the most. While on a solo vacation, she can read a book, sleep as late as she wants, and catch up on TV shows without battling it out for the remote. "There's nobody going, 'I don't want to watch that.' It's like, 'Well, this is what I want to watch, and I'm watching it,'" she laughed as I joined in.
Ross makes solo vacationing look so desirable, but when asked why vacationing by yourself is a must for women, she strongly answered thusly: "I don't think any woman needs anything. It wouldn't be my place to say. What I think every woman needs is to listen to her own heart and herself." If you're called to do a solo vacation by a higher power, she encourages you to do so safely. If you're not, don't force it; listen to yourself and go when you're ready. Not every travel experience will be as picture-perfect as social media makes it seem, but be ready to ride the learning curve. "Let it be a learning experience for you, and know that everything in life is a mixed bag."
Photo assistant: Nik Williams; Stylist assistant: Andrew McFarland; Lighting assistant: Ricky Alvarez
Want more stories like this?
More Than a Mock-Up: How Janet Is Etching Her Mark on Hollywood
Justine Skye on Owning Her Image & the Path to Being Set Free
Sevyn Streeter Is "Guilty" of Style and Sonic Evolution