Interiors
Artist Mia Gholar on Cultivating a Meaningful Morning Routine
Jessica Levin
Samuel Lynn Davis III
There's a grounding moment just before sunrise when the sky is still an inky shade of black but faint bird song begins filling the air. It's this pre-dawn sweet spot—around 5:45 a.m.—when Mia Gholar rises. "I love waking up when it's still dark. To be able to rise with the sun feels like I'm in tune with nature and the cycles of the earth," she tells me over the phone.
It's two days after the spring equinox when we speak and Gholar is already busy planting seeds in her garden and reveling in the sounds of Woodpeckers and Robins. "I can't even believe I wake up that early but I've just gotten used to it at this point. It's also just a quiet time, before the cars are buzzing through the streets or kids are walking to school. It's before a lot of people are up and I think that's what I like about it."
Gholar is an interdisciplinary artist living in Chicago on the quieter outskirts of the city. She also works in arts administration at Chicago Hyde Park Art Center, is a yoga instructor, and is in the process of finishing her final semester of undergrad, where she is studying fine and studio art and fine tuning her senior thesis. "Art is pretty much my bread and butter," she says. And with a creatively demanding schedule like hers, it's not all that surprising that Gholar's morning routine establishes a calm, clear headed canvas to build upon throughout her day.
All mornings for Gholar begin in bed after a good night's rest. "I love the feel of it," she says in reference to her Avocado Green Mattress. "It's plush without steering overly fluffy." And beyond the tactile quality of her sleep, knowing that where she rests each night is crafted from organic materials makes the experience all the more rejuvenating. "Truthfully, I didn't realize mattresses could be organic, so it's been an amazing process learning about those design elements."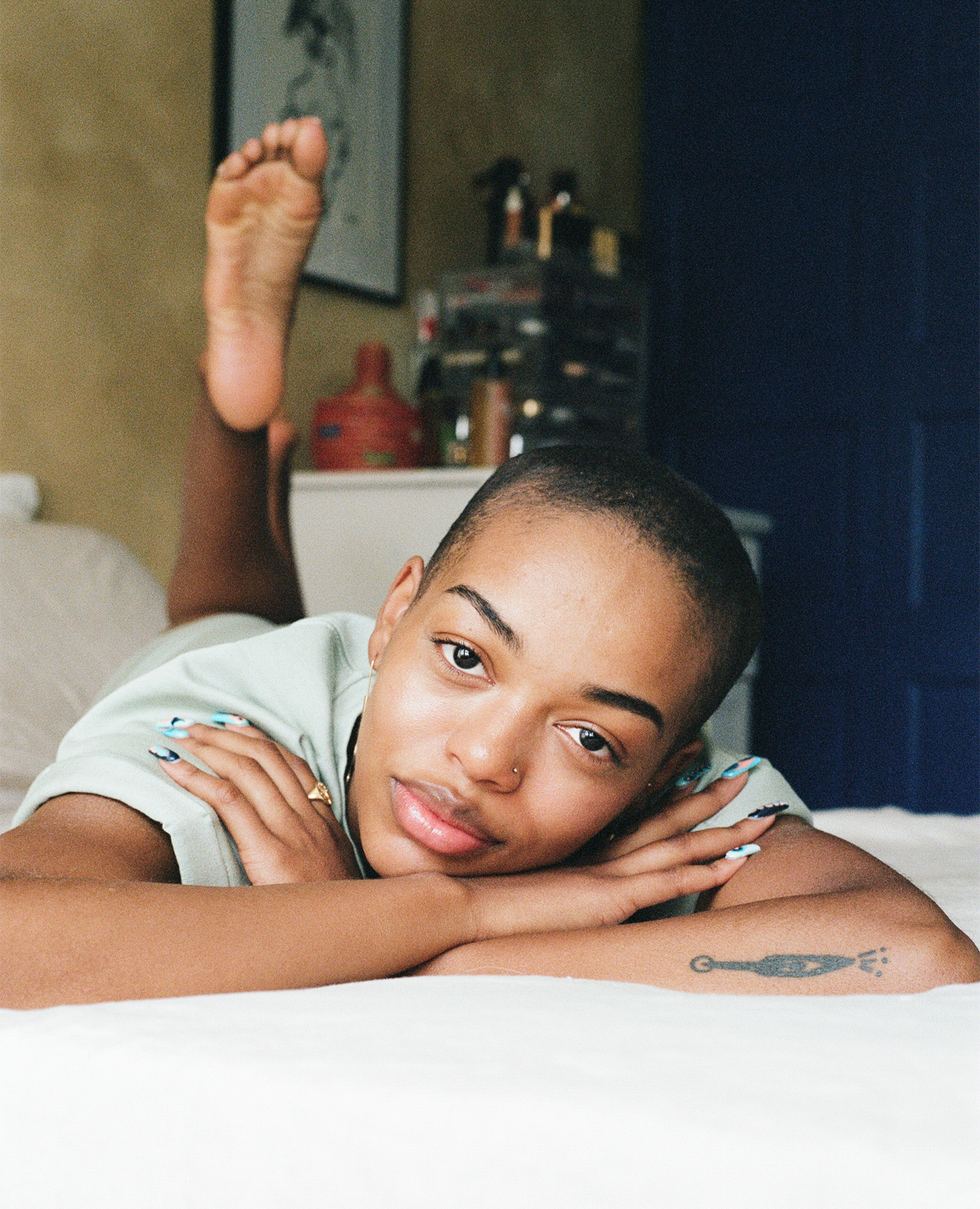 Once she's peeled herself out of bed, weekday mornings for Gholar always begin with tea. "Some people are big coffee people, I'm a huge herbal tea person," she says. "I have a lot of different herbal teas that I like but one that I go to a lot is a mix of chamomile, holy basil, and red clover. It's very calming and relaxes the nervous system, which helps me throughout the day."

Next is prayer and an anointment of protection oil on her head. "I say my morning prayers and ask God or the higher powers at be or my ancestors to protect me throughout the day," she explains. "That's one of my biggest routines—prayer is big for me."
She follows that up with her skin-care ritual. "I am a former nine-step routine kind of person," she laughs. "It's much simpler now, which makes things easier on me but also makes more sense for my skin." She cleanses, applies a face oil, and will sometimes use a facial roller or Gua Sha. "This wakes up my face. Plus, during the week, I don't really wear makeup so I try to do as much as I can to make my skin look good." She completes her skincare with Reed + Gwen's Grounding Dry Body Oil. "My boyfriend always makes fun of me for how much I put on but I really love to make sure I'm fully drenched," she says. "It's just a lovely part of a routine being able to let the products melt into your skin and having that moment to slow down and actually touch each part of your body."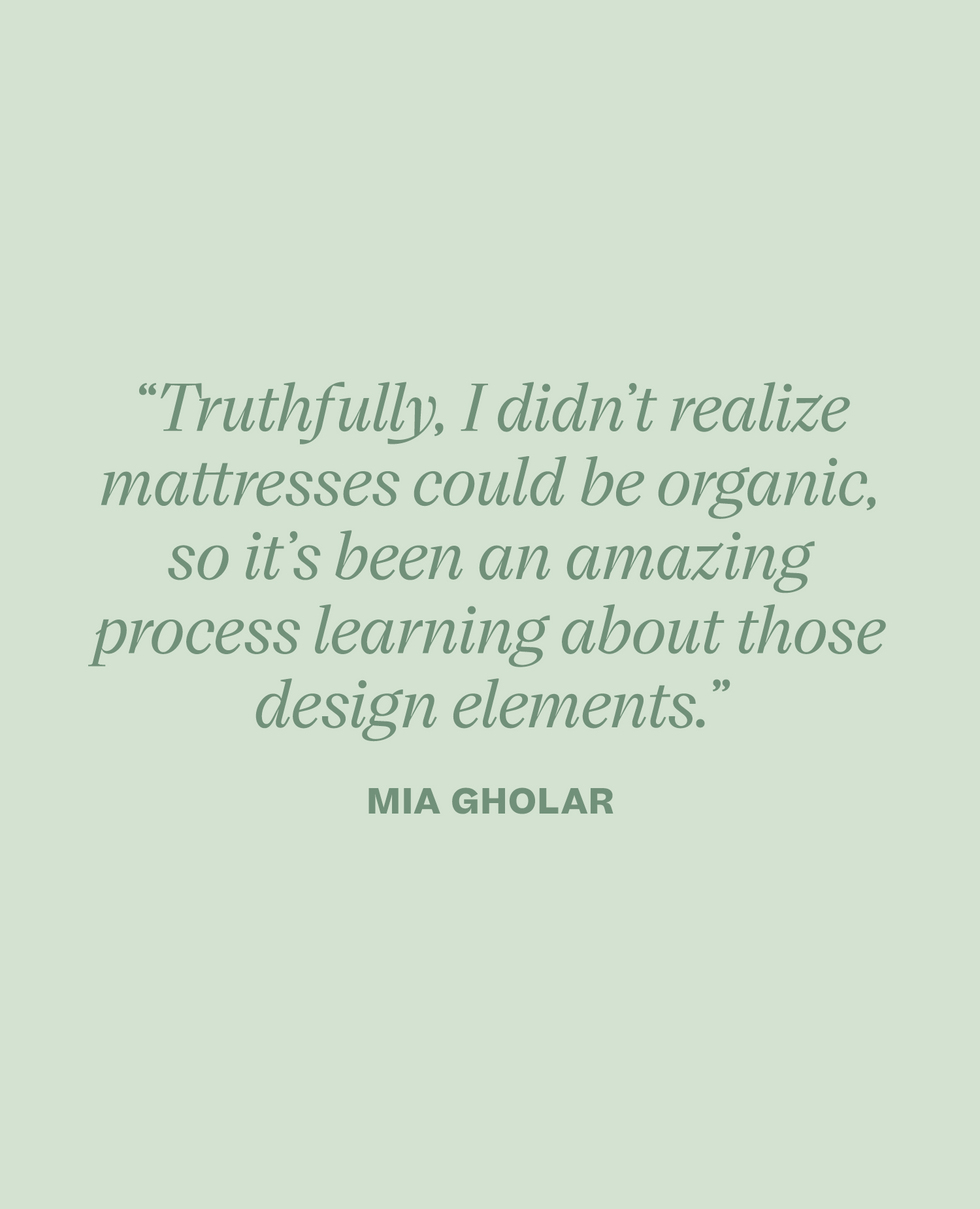 After that, she squeezes in some movement. "Being realistic, if I can at least do like 15 to 20 minutes of something on a weekday then that's perfect," she says. "I try to give myself grace on these busier mornings. And as a yoga instructor, I used to be hard on myself like 'you didn't do an hour of yoga this morning' but it's really just what works for your schedule. It's what I can do and it's still something to get my energy flowing and to become more connected to my body."
Once she's wrapped up a quick flow, she's out the door. And all of these morning rituals combined fold into a broader theme of sensory details that add a distinct element of presence to her mornings. "I hand select my tea and hand blend them, so it's a very hands-on, sensory experience in terms of touch and smell," she shares. "Also, sound is a very big sensory portion of my morning." Now that spring is finally unfurling, her mornings are spent with the windows wide open to allow nature's chorus to flood her home. "My neighbors that live down the road have a little mini farm so I hear chickens in the morning. I really like to hear the sounds of nature in the morning, even in my meditations or breathing exercises, the music I choose is typically a combination of nature sounds and Native American flute music."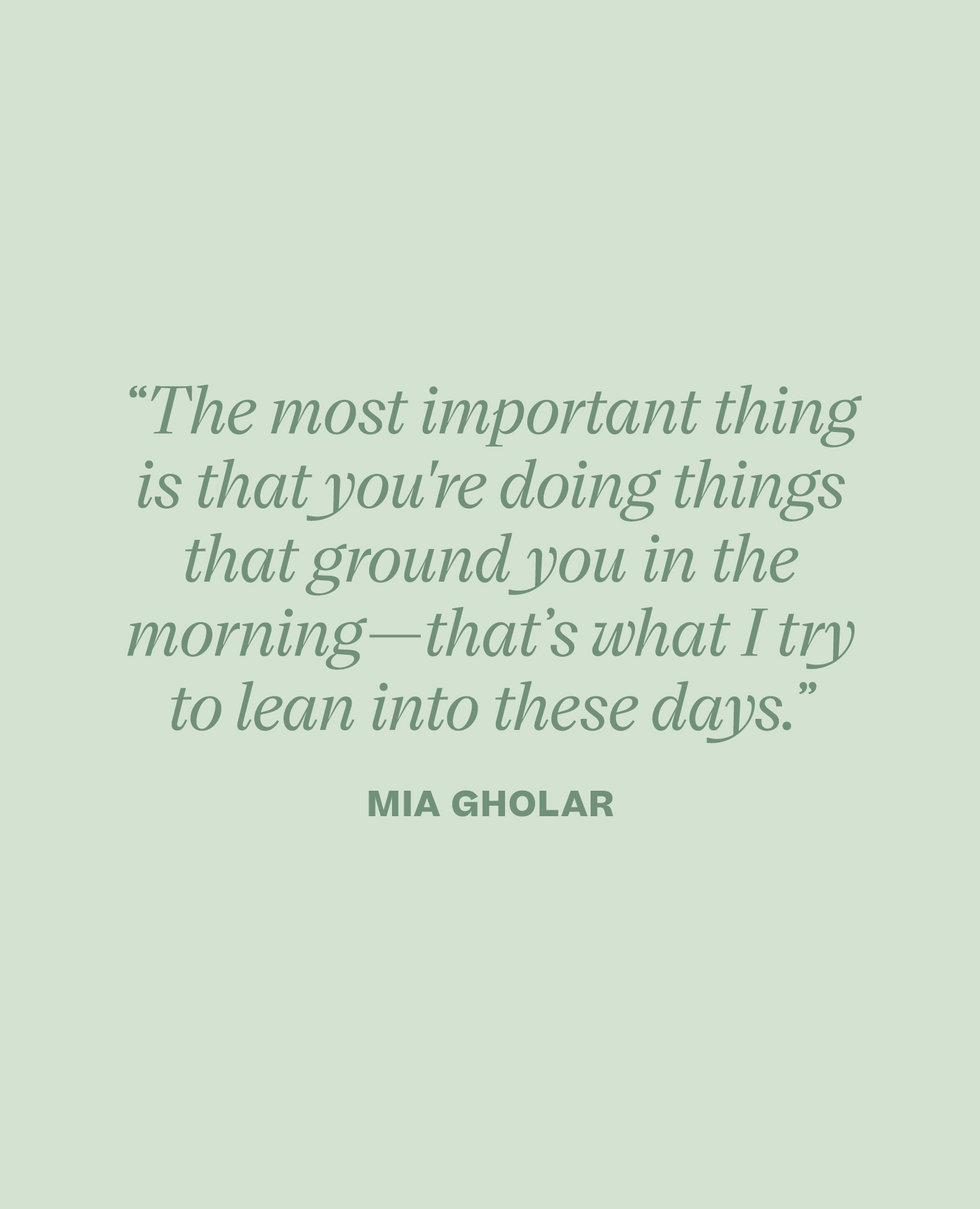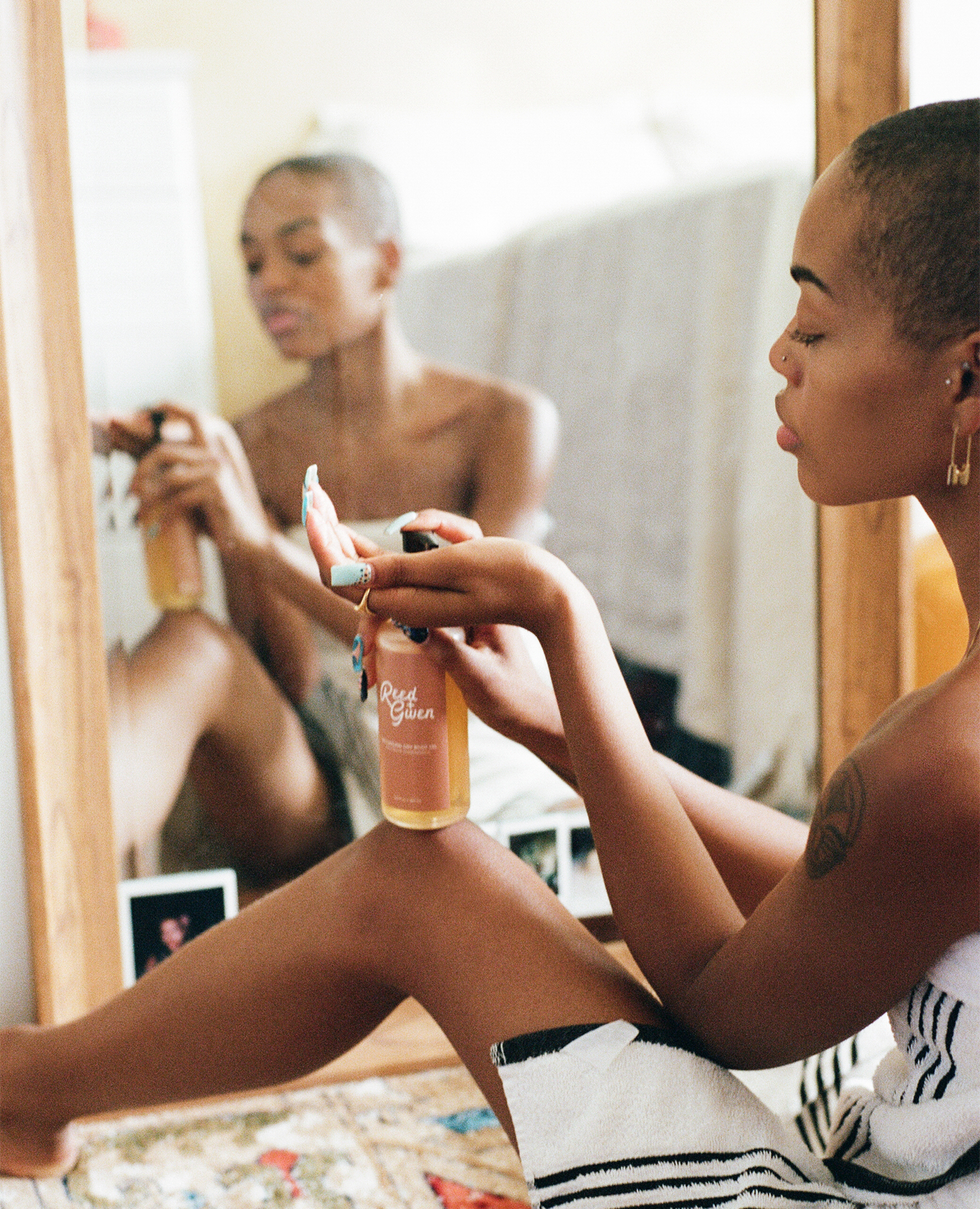 On the weekends, Gholar's routine relaxes a bit. For starters, no 5:45 a.m. wake up call. "I'm naturally a morning bird but I'm trying to give myself more time to sleep so I'll wake up maybe around 7:30 or 8," she says. "Then, honestly, I just love to lay in bed, it feels like a little oasis." She describes her room as a comforting space that she can occupy on the weekends while laying in her organic Avocado Green Mattress doodling on her iPad or simply slowing down and relaxing. "I love fashion but I also prioritize comfort," she says in reference to her Hass matching sweatshirt and shorts, slow fashion loungewear staples she's loving at the moment. "I value eco-friendly fashion and sustainable fabrics, but also embracing a less-is-more attitude," she says. "I prefer to have key pieces that I can re-wear versus building a huge wardrobe." With this repertoire of quality, eco-conscious staples she can rely on every day, it leaves space for Gholar to allocate energy on her early-hour tasks.
"I've always been a morning person in terms of waking up early but cultivating a meaningful routine is definitely something that I've had to hone," Gholar shares. "I give myself grace because I'm not perfect. The modern morning routine is often a culture of 'oh, look at me I have this most perfect A.M. ritual' but the thing is, we're all just trying to find what works for us and it's ok if that changes. The most important thing is that you're doing things that ground you in the morning—that's what I try to lean into these days."
Shop The Story:
Avocado
Reed + Gwen
Hass
Hass
Avocado
Avocado