Inside the Eclectic Home of a French Antique Dealer
A living space, storage unit, and showroom all in one.
Interiors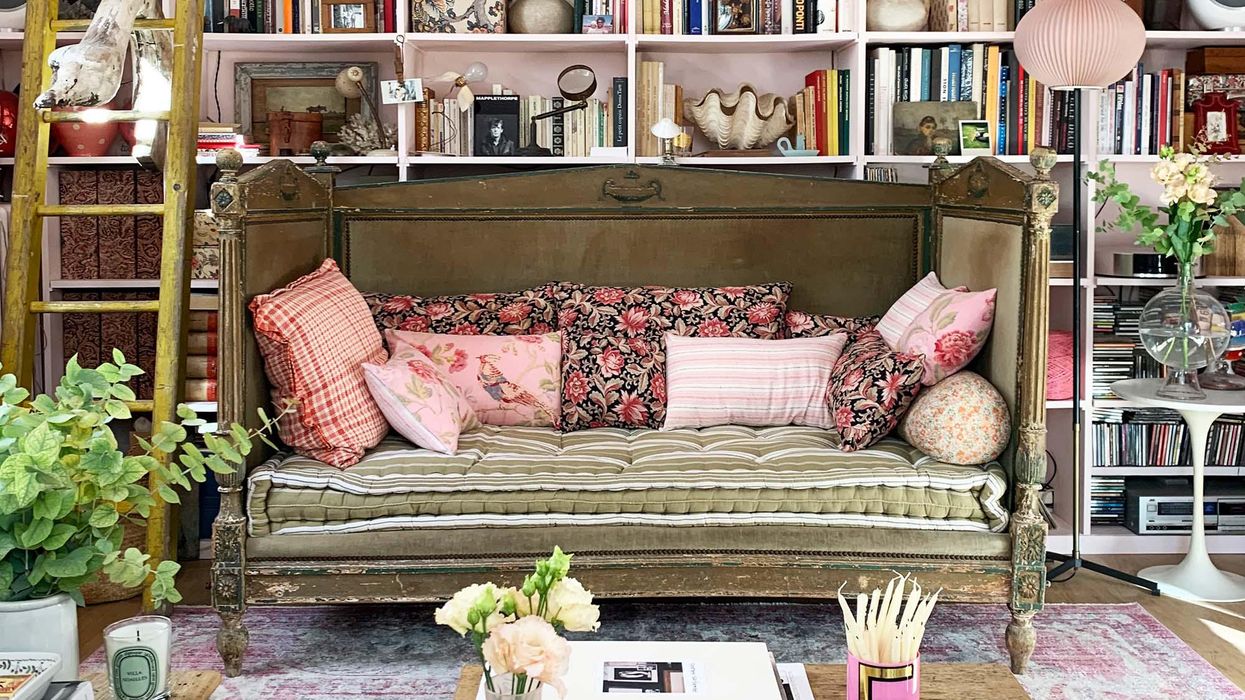 Photo: Courtesy of Fabienne Nomibis
"When I visited this house, the first thing that struck me were the original floors," says France-based antique dealer Fabienne Nomibis of the patterned cement tile and parquet wood in her three-story home. Nestled in the town of Reims (about an hour East of Paris), the structure dates back to the 1920s. "It was love at first sight."
Following some minor necessary refurbishments (including an electrical revamp), Nomibis outfitted the space with a mixture of old and slightly newer old pieces. In front of rosy-hued, fully-stocked, built-in shelves (which Nomibis installed herself!) in her living room, you'll find a regal settee framed by a distressed wood ladder on the right and a jazzy pink lantern and Saarinen tulip table on the left. A thread of dandelion yellow penetrates the kitchen's mostly white, traditional facade. A ceramic pot here, a pepper grinder there, and a vibrant neon sign exclaiming "LET'S DANCE" overlooks it all. Pay close attention to the back of that same room and you'll spot an assortment of disco balls that litter the top of an armoire.
Nomibis's home is her living space, but it also serves as a staging area, showroom, and storage unit for her antique business. "We live with these items until they sell and go to a new life with someone else," explains Nomibis. "That's why we only select things that we love."
Her art collection in particular highlights her favorite finds from years of scouring antique markets, flea markets, and auction houses across France, which she does in her truck. Of her seemingly haphazard placement, Nombis tells Coveteur, "There are no rules. I buy, I hang, I sell, I replace. I like to mix origins, periods, materials, and colors." One thing she won't be letting go of anytime soon is a collection of watercolor paintings uncovered 20 years ago. The paintings depict costumes for a theater performance of Don Juan in the 1930s. "I can't bring myself to sell them. The colors are sublime."
A unique snapshot in her treasure-hunt timeline, Nomibis's home likely won't look the same a year from now. Aside from the space's function as a rotating showroom, Nomibis gets bored easily and likes to shake things up. "Initially, we painted the kitchen and office a light gray and the living room a darker version with English green base and trim," she says. "Today, [both rooms] are white." This color shift happens on a semi-annual basis, so you'll have to check back in soon on Instagram to see what has become of the place. In the meantime, Nomibis walks us through the story behind her current home decor, below.
Shop the Story:
Anwio
Hawkins New York
Nomibis