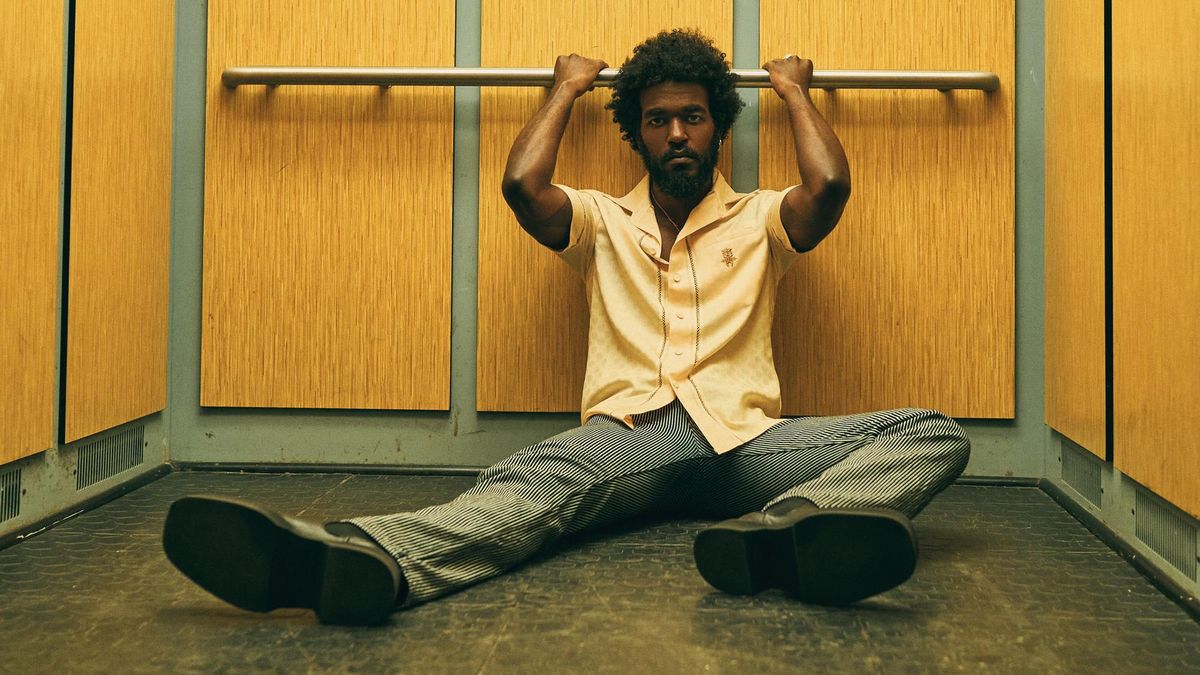 Photo: Ben Abarbane
Celebrity
Luke James' Definition of Black Music
The Chi actor on his growth as an artist and the importance of Black Music Month.
I was eager to chat with Luke James because his acting versatility has been boundless, as demonstrated in BET's The New Edition Story and The Bobby Brown Story as Johnny Gill as well as in Fox's Star as Noah Brooks. Not to mention, his musical abilities span far beyond the microphone, which started when he sang background for R&B singer Tyrese. From there, the NOLA native took off and penned hits for artists such as Chris Brown and Justin Bieber and eventually nabbed his first Grammy nomination for his critically acclaimed single "I Want You" in 2014.
Needless to say, the actor and alternative R&B artist born Luke James Boyd is working the industry—and working it well.
For anyone who knows me as a writer, you know that I am a stickler for a mental health check-in. Naturally, I asked The New Edition actor how his mental health was doing, and he gave me a sigh of relief followed by a brief chuckle before answering. "I'm clear. I can state that I'm very clear," James answered honestly and humbly. "It's a very unique question to ask. I'm in the midst of filming The Chi, so I'm in a different headspace, but I'm clear."
In the midst of filming the third season of Lena Waithe's iconic Showtime creation, James is also gearing up to release some highly anticipated projects in music and revealed to me how he has adjusted to the world being flipped on its head. As we spoke about how we've been doing during the pandemic, he told me his thoughts have shifted in the way we go about our day-to-day lives, inside and outside the music industry. "I say we shouldn't. We shouldn't go back to the way things were," James shared regarding his thoughts about the skewed definition of the new normal, so to speak.
Coveteur connected with the "Drip" singer about the importance of music within Black history and culture, his creative growth as an artist, and his upcoming projects to be released throughout the summer.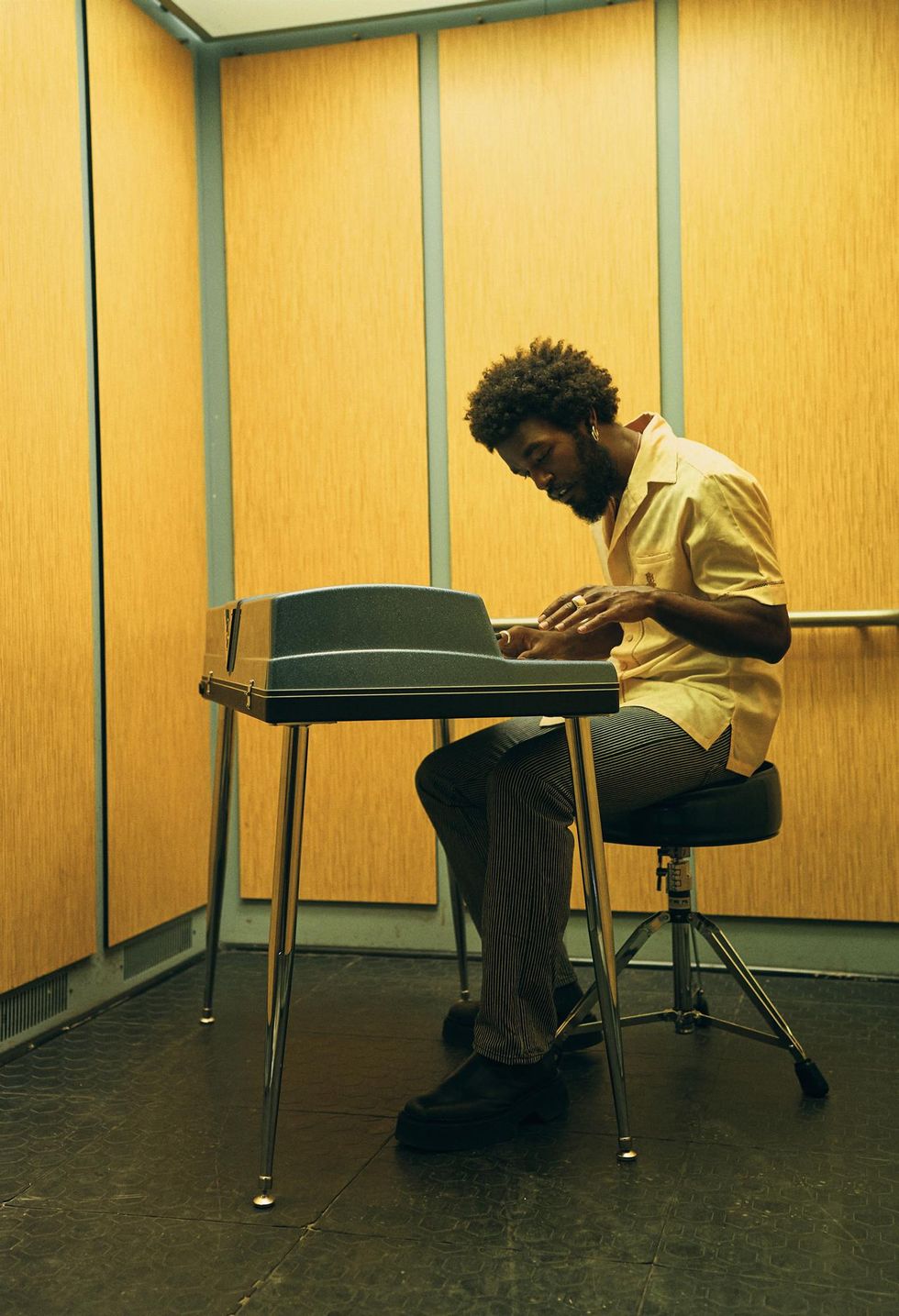 Photo: Ben Abarbane
As a Black man in this world, and as a public figure who's always expected to perform at such a high level of excellence, how does that impact your mental health? What do you make sure to do to take care of yourself?
"I have no problems disconnecting from everything, and I have many ways of doing that. Even when I'm working, even when I need a break in the midst of work, I have my mini treats. I love to work out. I love to go for long, long walks, get out in the sun, and let God shine on me. I have things like that and it brings me back to life and my gratitude."
When it comes to shows such as The Chi, what's the importance of these representations of our people as it pertains to the multi-dimensional presentation of the Black experience?
"It's a looking glass into the humanity of an array of Black people that are all different, that may live under the same sun, but we are looking at the sun from a different angle and experiencing it from a different angle. I think that's important all around for the world to be able to see and see shows like it. There are many shows out, especially now, that show what it looks like being Black from different points of view and experiences than that, which helps the world in general. We are many tribes, but we are tribes. We are very similar to each other. It helps build the empathy for humans connecting to humans—the human experience."
How has your unique experience helped you to tap into characters from Genius: Aretha to The Chi and Star?
"Immensely. I'm grateful for my life because I'm having a full-circle moment. Experiences I'm not quite proud of, but I'm grateful to have had to be able to convey such energy that needs to be seen, needs to be heard, that may not have been heard, and that may be looked at in a certain way."
Shifting over to your music, how have you grown as an artist throughout the past few years?
"I've gotten better. I think I've grown in the space of not giving a fuck. I've worked hard to get to a space where I can do things and create my own income. It's a matter of when I decided to wake up and do it and go create it. I'm blessed to have that. I'm blessed to be able to do something strictly off of a gift and talent that I've worked on all my life. I'm grateful to do what I truly love to do.
"Now, after years of doing it and having a few bumps here and there, I think I've gotten better at just being present, true, and doing things that really fulfill me and make me feel good while being of service. That truly ignites the feeling that I've been searching for pretty much all my life."
In your opinion, what's the importance of Black Music Month, and why is music so important to Black history?
"I get weirded out by the Black months and stuff like that, but I get it in such a country that thrives off of separation. I guess it's an act to humanize people for us to learn about each other. Music is a part of our struggle. Black people are music; all people are music. This whole entire planet is created by sound, so we're all waves of some sort. For people of color, our music somewhat tells our history and you can feel our lineage in the melodies. You can go on a history lesson just by listening to the music of a certain time."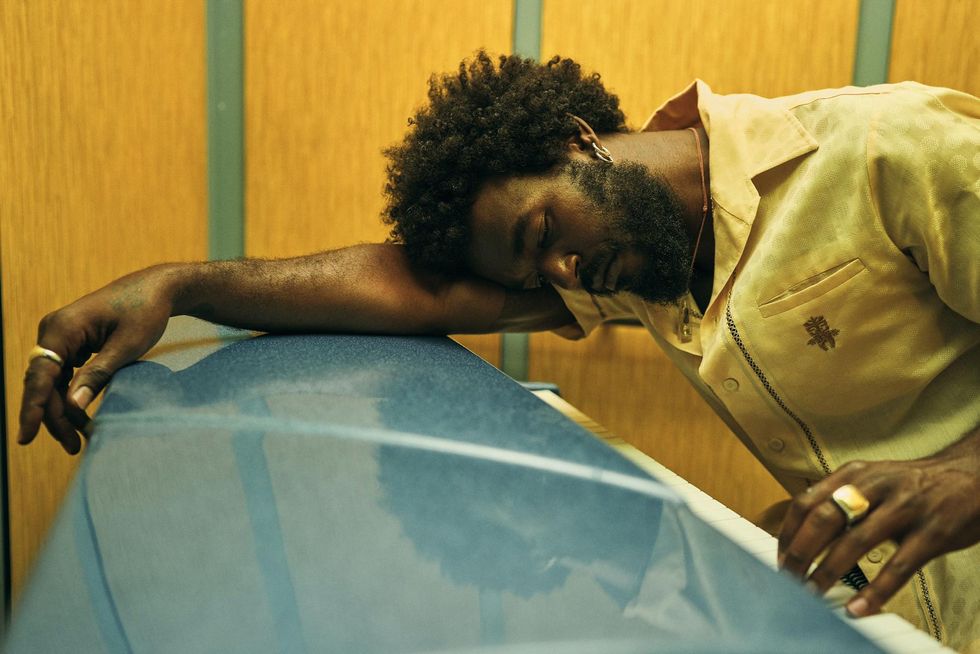 Photo: Ben Abarbane
Who are some key figures in Black music that have paved the way for artists such as yourself today?
"There are so many artists I can name, but off-rip Stevie Wonder, Marvin Gaye, Prince, Sam Cooke. These are people who, against all odds, didn't give a fuck, said 'fuck it,' and did what the spirit told them to do and not what some human beings said to do. By them taking that chance and taking the chances that they took, we have some sort of a better world. For me as an artist, I have confirmation, and it's a blueprint and a beacon of light for sure. Somewhat of a North Star."
How have you seen music be a place that people can lean on as a safe space, and how can music be used as a healing tool for the Black community?
"You talked about mental health early on. Yesterday, I was on IG looking at my big brother D-Nice and what he's been doing all his life, but god put him in the right space at the right time at the right moment last year. He saved a lot of people, and still to this day he's doing that. That's via music. That is the gift of music, that is his tool and, if you will, weapon of choice towards depression. That helped me, that musical escape, and in some ways it created a church."
How do you feel about the world opening up again—reaching out and touching your fans, performing things that you normally used to do?
"We need each other. We're all energies, and in a lot of ways we feed off each other. It's healthy. So I'm extremely elated to be able to perform in front of a full house. We can't do things the way we did before because it has to be smarter while keeping each other healthy and our society moving forward. We have to learn from our mistakes, and cleanliness is next to godliness. If that's really the goal, let's be cleaner and safer and we can really have a party and really have fun.
"I'm excited for the world to open up. I just want us to remember how we got here, and let's make the necessary changes and adapt to it because that's what we can do. We can adapt as human beings; we can adapt to mostly anything. Let's just keep the party going. It doesn't have to stop as long as we can respect, love, and really take care of each other. We need to care for each other in a deeper, healthier way. I'm excited for us to get back out together. I'm excited to be in the sun. I'm excited to experience festivals, the new way they would be. I'm OK with that, as long as it's happening. As long as people are feeling loved, fulfilled, and connected, then that's cool."
If you could tell yourself anything at the beginning of the pandemic about how to prepare yourself for a world that's about to be shut down, what would you say?
"I would tell myself, 'Go get your license fixed and buy a car.' I would tell myself, 'Man, get ready.' I was pretty much stuck because I don't drive. I have a car, but I don't drive it, so it's been sitting there pretty much kaput. In 2020, all things considered, in-home I was OK. I'm a homebody anyway, I'm a loner and pretty much to myself 24/7, 365 days, so it wasn't that hard for me. Sometimes we need to be able to escape, and as a piece of security, it's imperative to have a license and have a working car in case of a pandemic."
What can we expect from you now that we're in the summertime, and what projects do you have coming up?
"This summer I'll be releasing my live rendition of my last album, to feel love/d. This album is called to feel love/d live with the new deco ensemble and 30–40 piece string ensemble. Just a beautiful experience I had. We were able to record it, put it on laps, as the old heads say, and I'm looking forward to giving it to the world this summer along with the visual film, as well.
"I'm back in the studio creating music to give to the world. And what I'm working on outside of music currently is a new play coming to Broadway on October 1st. It's called Thoughts of a Colored Man, written by Keenan Scott II, and it's a beautiful play about seven different Black men exploring their lives together, revealing the deep human hopes, joys, sorrows, and fears.
"I'm really elated to reveal that this is my first stage production, my first Broadway production. I'm really scared as hell but excited to start up in the fire. I get to experience New York and when it opens up on Broadway and people are excited to come and see some plays and see art. I'm glad I can be a part of that, giving people those experiences they longed for and some new ones."
Photos: Ben Abarbane
Want more stories like this?
Olympian Allyson Felix on How Motherhood Pushed Her to Embrace Her Authentic Self
The Wandering, Wanderlusting Tracee Ellis Ross
Olivia O'Brien on Plastic Surgery & Self-Love