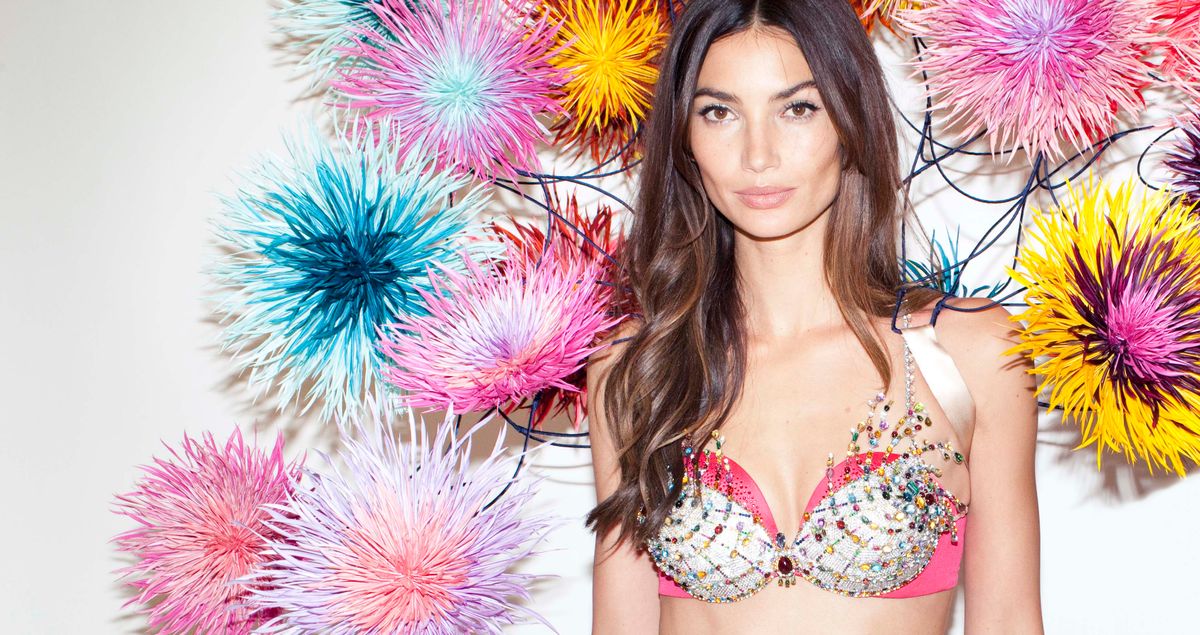 Wellness
Yes, it's that time of year again.
When you're asked to come photograph a supermodel in multimillion dollar under garments, you don't walk, you run to whatever location is on offer. Which is pretty much what we did when we were told that Lily Aldridge was being fitted for her honors as the official fantasy bra-wearer at this year's Victoria's Secret show. (As an aside, only a lingerie company as outrageous—in a good way—as VS could make such an honor an actual thing.)
 
And yet, there was Aldridge—like a figment of our T. Swift girl gang dreams come to life—with maybe 20 hands on her, fitting that $2 million (!!!) bra and accompanying wings onto her extremely fit frame. Just another day at the office, right? For Aldridge, it kind of is, and she was admirably zen about the whole thing. Zen enough to answer our prying questions (could a woman who looks this good really have a guilty pleasure?) and even pose for a portrait or two (there's going to be a lot more of these tomorrow, when we share the whole backstage extravaganza, just FYI). And in a couple minutes, it was all over: we were off to a party, and Lily, well, she was off to the gym. But, seriously, with just days leading up to walking in front of millions in mesh panties, where else would she be going?
---
Are you nervous for the show? 
"I'm not nervous; I'm anxious to get on the runway and excited."
How do you get pumped up and prepped before the show? 
"Just being in the room, and the energy of the hair and makeup and everything, gets you so excited and pumped up and totally ready to go. It's great vibes.
I usually try to workout the night before the show and the morning of. [Laughs] I usually will do Ballet Beautiful and then maybe some cardio."
What is your skincare routine before the show? 
"I try to drink lots of water, and sleep is so important—it's, I think, the most important thing. It keeps your body looking nice, it keeps your face looking nice, skin, everything."
What will you do after the show? 
"I will definitely celebrate! It'll be very fun, it always is. And then it's my birthday a few days later. So it'll be like my birthday week celebration."
That's a really good week.
"Yup! [Laughs]"
What's your definition of wellness? 
"Wellness is doing what's right for your body, whatever that is."
How do you stay sane while travelling?
"I think working out is so good for getting over jetlag. Or doing yoga or something like that."
If you cook for yourself, what's your go-to meal to make? 
"Roast chicken and sweet potato—it's delicious. It's from Gwyneth Paltrow's first cookbook."
What's your guilty pleasure? 
"Guilty pleasure…. does reality TV count? [Laughs] I love reality television!"
Are you an early riser or night owl? 
"Early riser."
What do you eat for breakfast? 
"Just eggs, avocado, bacon and PG Tips tea."
What are your favorite healthy restaurants? 
"I love ABC Kitchen, Sweetgreen and Pressery Juice."
How has your idea of being healthy or well changed through the years? 
"I've definitely changed. I used to be—I don't want to say unhealthy—but I thought healthy was like eating a lot of pasta or pizza, because I was always on the scrawny side. But then I met with a nutritionist, and he taught me about eating vegetables and eating protein, and that's better for your body. When I was younger, I didn't know about nutrition, so I'm very grateful to learn that."