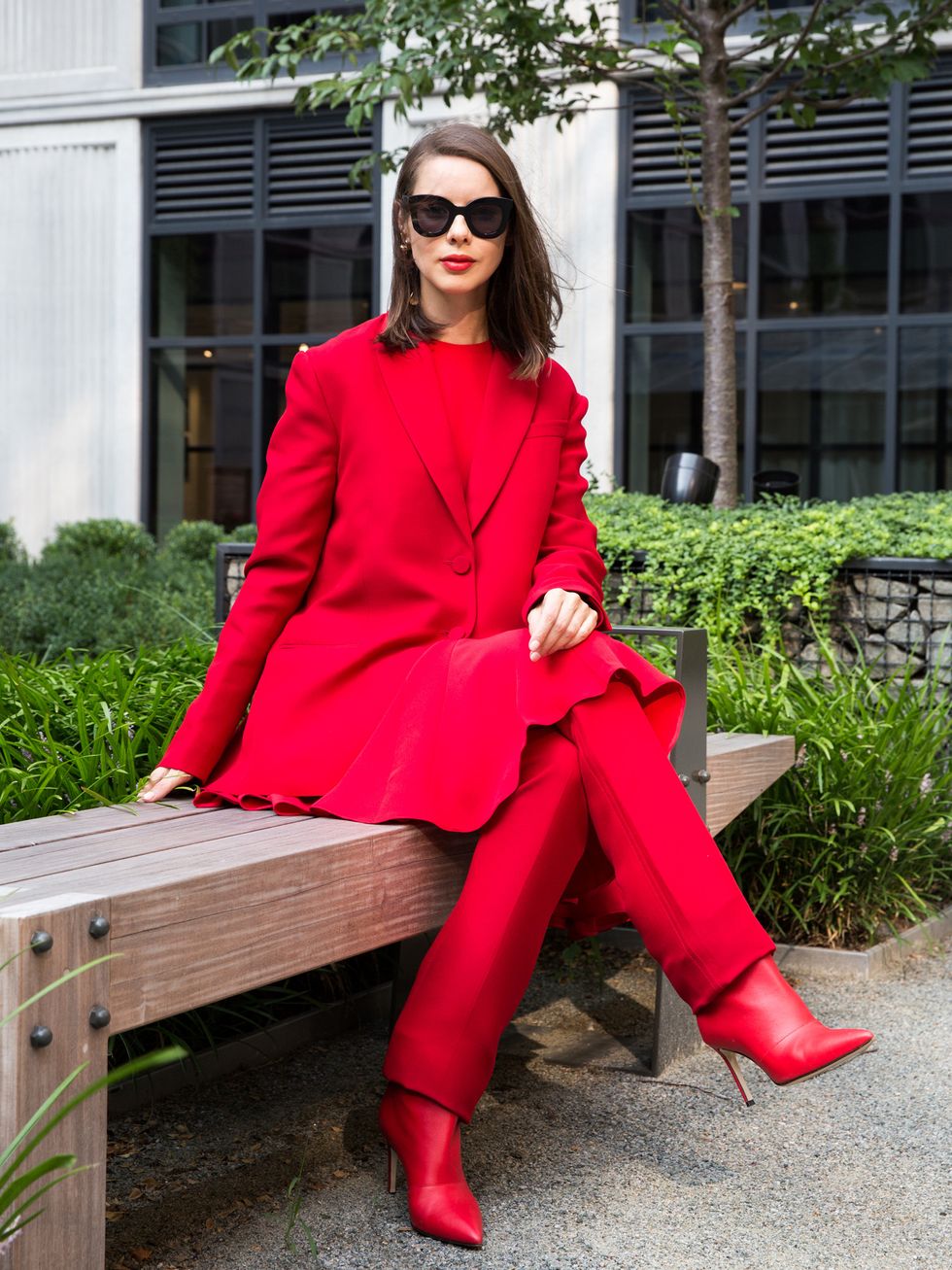 Closet
Marina Ingvarsson has the best suit collection we've seen yet. New York.
Alec Kugler
Hannah Baxter
The moment we step inside
Marina Ingvarsson
's Long Island City apartment we notice two incredible things: one, the floor-to-ceiling windows that line both her bedroom and living room (complete with views of her building's lush courtyard); two, the immaculate rolling racks and lines of shoes dotting every corner. "This is how I get ready," she laughs as we admire the orderliness of it all in the natural light. We wouldn't expect anything less from one of the industry's most prolific stylists. Between herself and her husband—photographer
Jens Ingvarsson
—they make quite the fashion
power couple
. The Ukraine native (and mom-to-be!) first got her start as a model slash style blogger, documenting her sartorial choices on Bon Au Petite!, her site for size-zero fashion. "I was called 'petite size' all my life," she explains as we explore the racks of Tibi suits, Les Coyotes de Paris
cashmere sweaters
, and Nanushka leather separates. "When I came up with this play on words, I thought it was kind of cute—'Good as petite.' A few native French speakers later explained to me that it didn't quite work the way I intended, but who cares. I really liked it back when I started my blog, although now I feel like I'm over it." These days Ingvarsson is kept busy styling editorials for various editions of
Vogue
, and getting snapped by
fashion week photographers
for her sophisticated street style looks. And although she's drawn to classic silhouettes, she's not afraid of a bold red lip or a statement thigh-high boot, either. With a penchant for luxe designer pieces, structural jewelry, and Audrey Hepburn-esque sunnies, her wardrobe possesses the sort of understated luxury we're always dreamed of embodying. Best of all, her abyssinian cat, Bailey, seems to have inherited her penchant for luxe design—after hiding under the living room couch for the majority of our shoot, she emerged to have her picture snapped in an emerald NO/AN bag. We love a woman who knows what she wants.
Click through to learn how Ingvarsson got her start in the industry, the five investment pieces she thinks every woman should own, and what it's like collaborating with her photographer husband on set. Plus, shop her closet here.