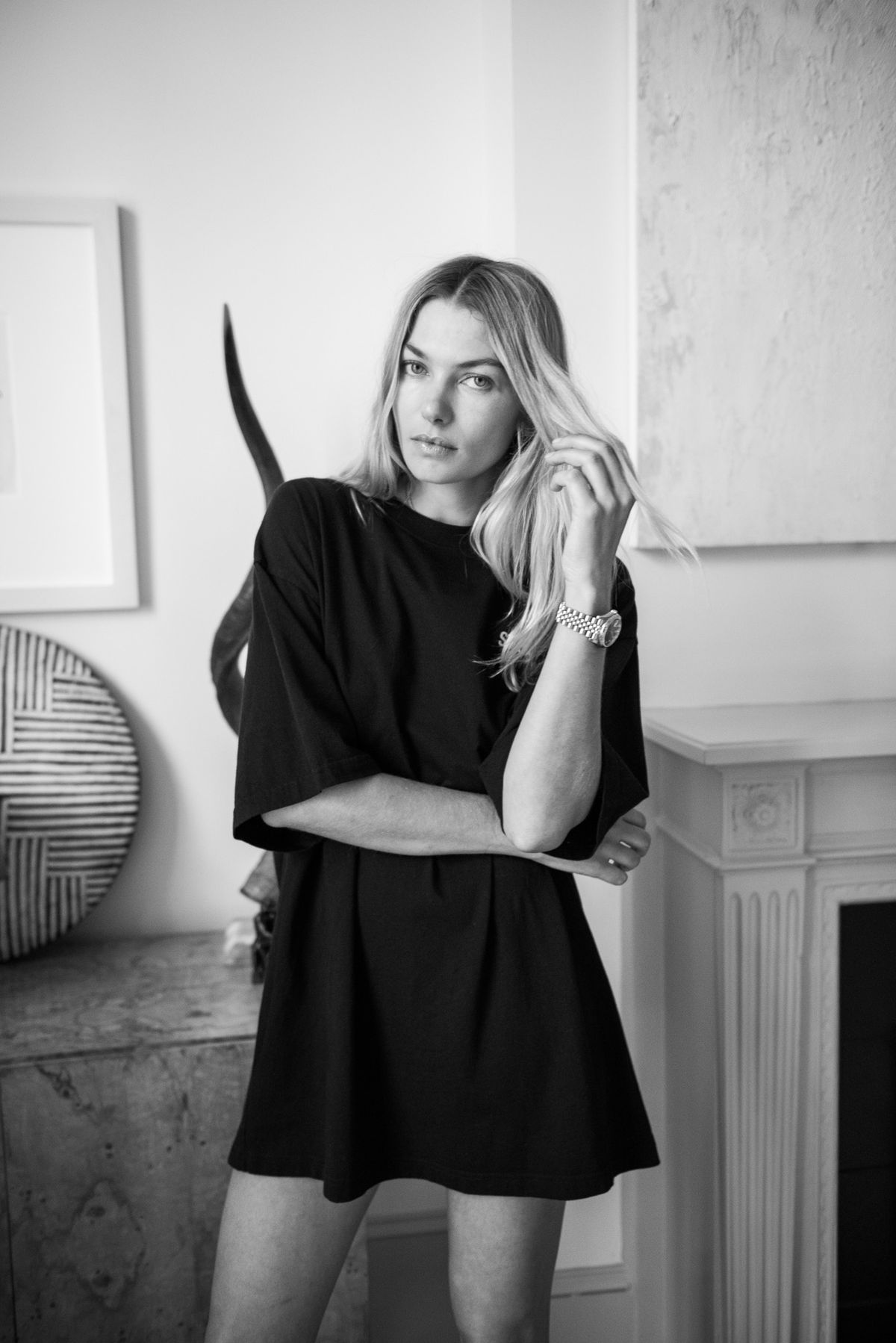 Closet
The model and LUMA Beauty founder also turned her bedroom into her closet. New York.
Hannah Baxter
New Yorkers are accustomed to making sacrifices when it comes to their
apartments
. Lack of square-footage and
minimal storage
means that sometimes you have to get creative with where you put your stuff. Remember how
Carrie Bradshaw
famously boasted that she stored sweaters in her stove? Well, she can't begin to compete with model and
LUMA Beauty
founder
Jessica Hart
, who turned the sole bedroom in her Gramercy Park home into a fabulous walk-in closet. "I was like, whatever, I'll sleep up there," she laughs, pointing to the narrow loft space overlooking her living room. We turn away from her spectacular floor-to-ceiling windows and notice the 13-foot ladder leading up to her bed, right next to one of two BMX bikes (gifts from friends). It's cozy, sure, but when you wake up to an unobstructed view of the park—and a closet you could turn cartwheels in—the trade-off doesn't seem so bad. We've stopped by to raid said bedroom-turned-closet, which is filled with custom-made racks of biker jackets, beaded dresses, and rows and rows of shoes. There's nothing like a shelf of crystal-embellished platforms to make a fashion lover go gooey. Plus, her collection of Olympia Le-Tan clutches, all designed with the covers of classic literature, is a true Coveteur first. Luckily, Hart knows exactly how to style even the most outlandish of pieces. Whether she's slipping into a pair of thigh-high Isabel Marant boots or rocking an emerald-green Cushnie statement coat with nothing but heels and a smile, there's no questioning why she has skyrocketed to the top of the industry. With her signature gap-toothed grin on display, the Aussie-born model reminds us that even if you're just going out to walk your dog (her adorable pup, Floyd, almost stole the show), you can totally have a major fashion moment even with the trash collectors in the background. Isn't NYC glamorous? Still, she attests that although her closet has plenty of dramatic evening looks, she's still a tomboy girl at heart (pun intended). "I always opt for comfort," she says, grabbing a pair of red-and-black
Nike Huaraches
to wear with some ruby track pants. "I couldn't [describe my style] because it's forever changing! Usually sneakers and a pair of leather pants." Given that she was able to make an arm brace look high-fashion (she broke her wrist roller-skating a few days before our shoot), we can attest that Hart is a true icon in the making.
Click through to learn how the model started her own beauty empire with LUMA, why she still wears a certain bridesmaid dress, and how she's blended her tomboy aesthetic with a new appreciation for high fashion.