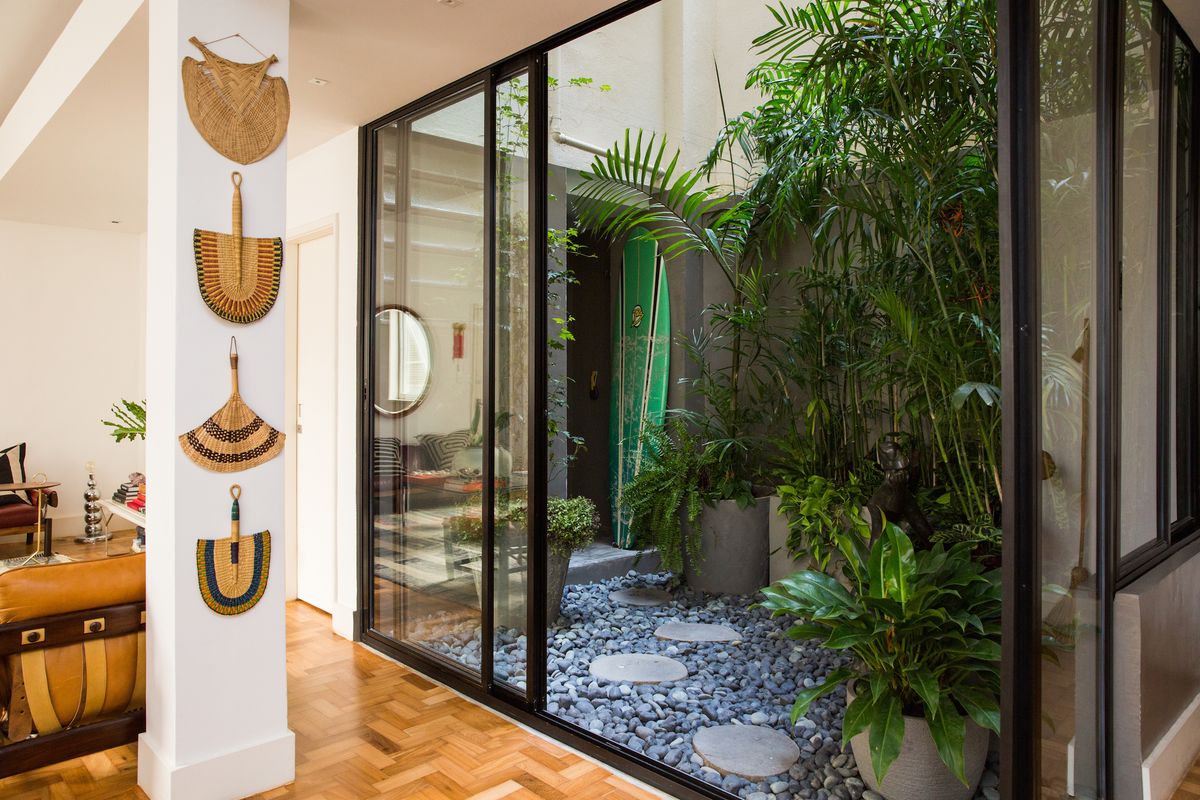 Interiors
It has an indoor patio and the most beautiful mid-century modern furniture.
Alec Kugler
Set one foot inside
Leo Neves
' Brazilian home, onto his herringbone parquet floor, and you can tell you're in a Rio de Janeiro native's (or "carioca," as the locals say) home. Neves, who is the designer and founder behind handbag brand 
Waiwai
, has renovated the apartment, giving it a comfortable, modernist feel complete with impressive leather furniture and Moroccan rugs. The apartment, which is located in Rio's Ipanema neighborhood, has a garden right smack in the middle. Floor-to-ceiling windows and sliding doors encapsulate palms and ferns, which at first glance almost appear to inhabit another room entirely until you notice the open sky above.
Turns out the apartment—which, by the way, has a bedroom fully decorated with chic palm tree wallpaper—also acts as a secondary office for the designer, as he
invites clients over
to preview the Waiwai collections right on his dining room table that he, of course, designed himself. A perfect addition to all of his perfectly crafted
Brazilian furniture
.
We truly thought we had seen it all until we entered the master bathroom, where a circular mirror hung above the sink framed by two industrial lights. All three hung against a large window that looked into an outdoor concrete alleyway complete with a large hanging plant. It was truly the bathroom—scratch that; apartment—of our dreams.
Click through the below gallery to read about a few of Neves' favorite Brazilian designers, where he goes vintage shopping, and what inspired him to start Waiwai.
---