At Home with the Couple Behind New York's Most Beautiful Spaces
They've designed homes for Gwyneth Paltrow and Ben Stiller, but their own downtown loft is perfection.
Interiors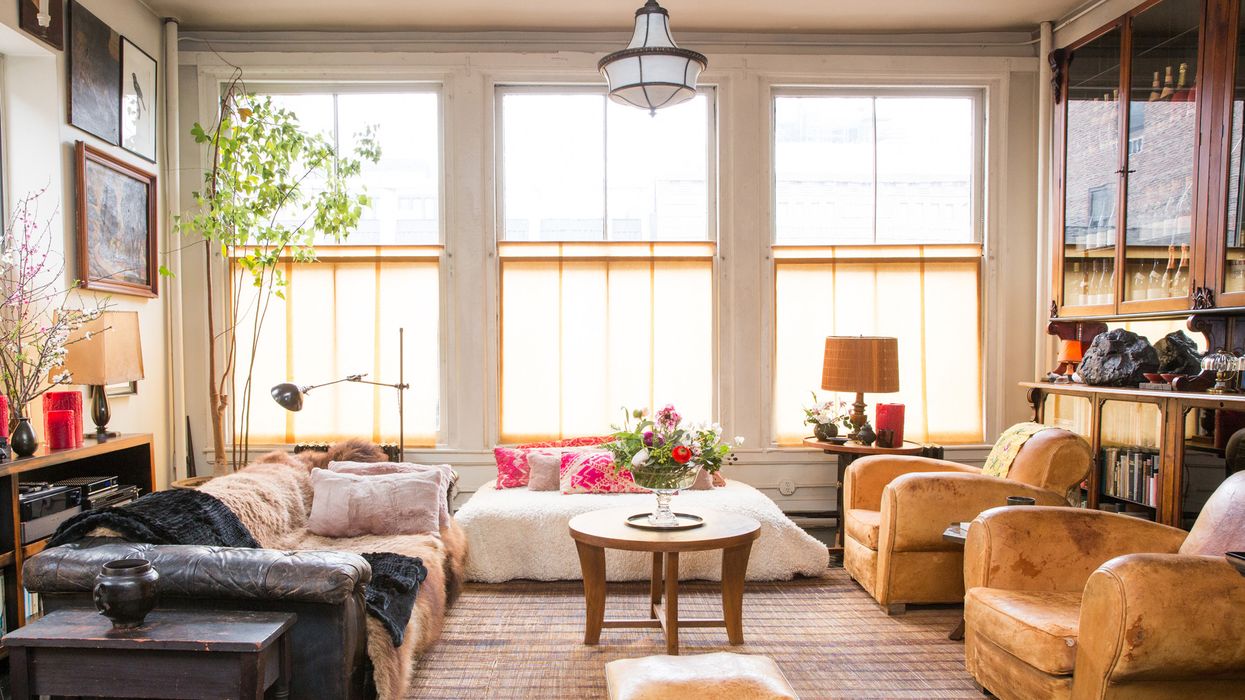 There have always been legendary New York spaces—especially party spaces. The Limelight, Studio 54, Gilded Lily, and the Top Of The Standard, née Boom Boom Room. Add to that list some of the most stunning dining spaces in the city, like The Four Seasons (blessedly recently reincarnated as The Grill and The Pool, and every bit as lovely as before), Le CouCou, Lafayette, The Campbell, and now La Mercerie, and a common thread emerges. Of nine of them, five were designed by the couple behind Roman and Williams, Robin Standefer and Stephen Alesch (Top Of The Standard, Gilded Lily, Le CouCou, Lafayette, and La Mercerie).
They've also had their hands in some of the most popular spaces in cities like Los Angeles, Chicago, and Paris, but who's counting! Oh, and they've designed homes for their pals Gwyneth Paltrow and Ben Stiller, and probably loads more marquee names they're too modest to mention.
But the best part of their world is that the driving force behind their design philosophy is generosity—they do what they do because they want people to have a great time and make memories. As we sat in their unbelievably gorgeous Noho loft, they jokingly compared themselves to a young "Mr. and Mrs. Claus" for their drive to make people happy—and as someone who has had many unforgettable nights and meals in their spaces, they're not wrong!
Most recently, they opened Roman and Williams Guild, and La Mercerie, which happens to be next door to Coveteur's headquarters, and also happens to be one of the coziest environments and neatest spaces in the neighborhood. It's a hybrid retail space, restaurant, and flower shop, and every single thing is available for purchase—and believe me, you'll want to buy into every aspect of their dream.
If you can't already tell, I fell into a little bit of a love spiral talking to them (at one point, Robin asked me, "Can I touch your jewelry?!" to which I said, "Yes! Can I touch yours?!" having spent the past hour trying to sneak a closer look at the gold and gemstone-studded jelly roll bangles around her wrist—hubba hubba!), and a lot of that came from being totally immersed in their own little universe of a home, and from having admired their work from afar for years.
So, without further ado, click through to see details of their flawless home (the kind of place where you're just as welcome to sit on an antique chair as you'd be to roll around on a carpet, and if you happened to break an antique, it would be totally nbd—more on that later), and hear all about their design philosophy and why holding yourself back is sometimes the secret sauce to success.
---