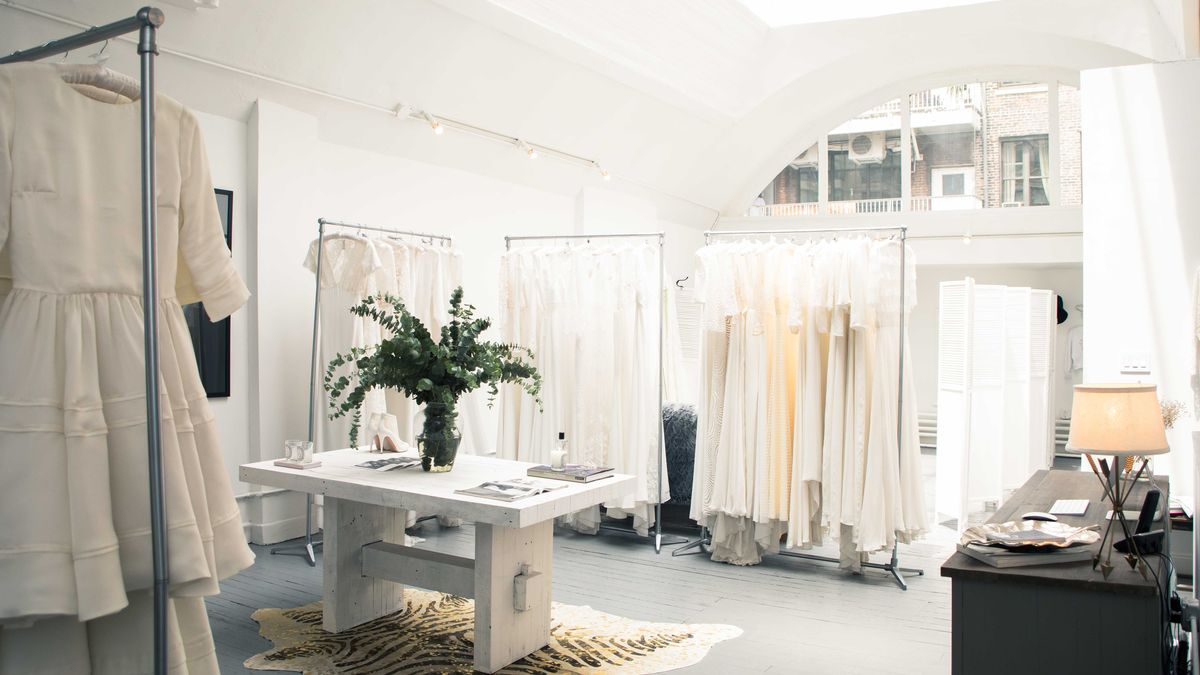 Weddings
10 things the French do to look *so French* on their wedding day.
Here we are yet again, talking your ears off about French-girl style (how could we not?). Only this time we're focusing on bridal style. Because, let's be real, if we're ever going to perfectly pull off a chic and effortless French look, we want it to be when we are walking down the aisle on arguably one of the most important days of our lives. Mother-and-daughter duo Gail and Lauren Crispin run The Mews Bridal, a bridal company that they started in England and now has shops in London, Bristol, and New York, carrying the likes of Rime Arodaky, Donatelle Godart, Delphine Manivet, and more. Lauren explained that her mother "started the company about ten years ago specializing in British bridal, [and] then I joined the company about five years ago, and that's when we started specializing in French [style]—to make things a little different and shake up the bridal industry a little bit." Shaking it up is exactly what they are doing, and now with a devoted following, Parisian expertise, and all of the latest and greatest styles. Herein, ten French-style bridal rules to follow in order to transform yourself into the most effortlessly beautiful French-approved bride.
---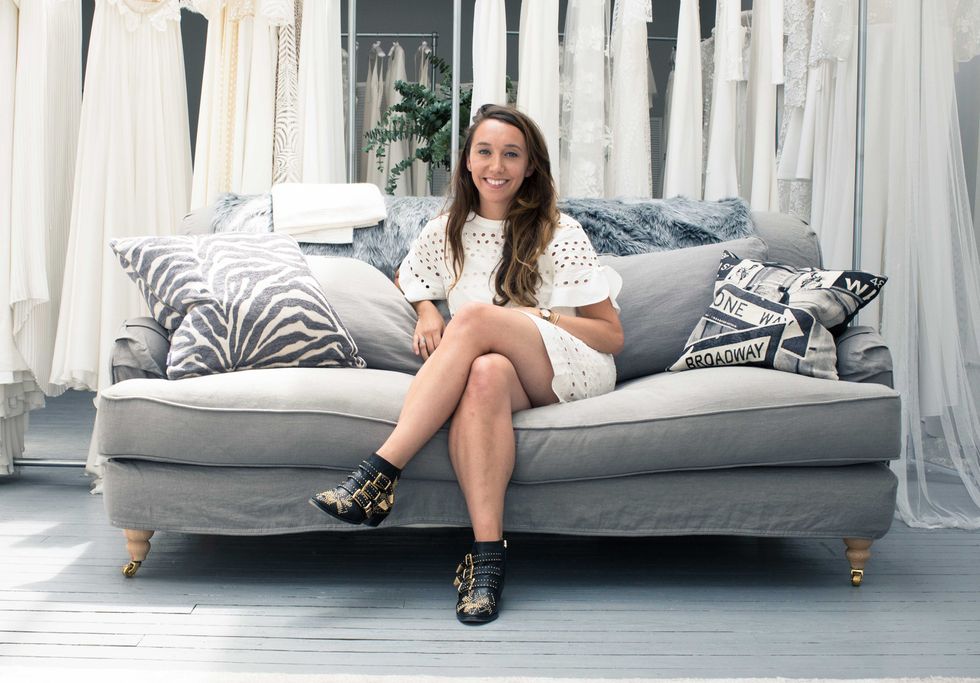 1. Less Is More
"I think a lot of girls are wanting to be slightly more traditional this year, [but] I still think they want to be more fashion-forward. A lot of girls are liking longer sleeves—less skin on show compared to previous years. [They are] leaning towards a fitted silhouette—the French love the tiny 1920s look, so [our clients] are definitely steering towards the fitted, especially for the new collections that are coming in."
2. It's About Balance
"A lot of our dresses [have] long sleeves but they still have their back on show. It's just making sure there is balance rather than having everything on show and not leaving much room for the imagination. You know, something they'll feel comfortable in, and they'll look back in ten years' time and still love the dress rather than being like, 'What was I thinking?'"
3. Two Pieces Are Better Than One
"The French are very good at the two-piece. It's actually a very chic style—I'm a big fan of it. It's a little bit different, and the brides love that they can wear the top again. A lot of our tops look great with skinny jeans, I would say. I do like the idea of being able to wear it again, like on anniversaries or honeymoons, things like that."
4. Jackets Are the Newest Accessory
"[The lace jackets are] definitely more rock-'n'-roll-cool bride. It has been quite a popular one—I think it's very much due to city weddings; you can kind of throw it over a dress if it's a bit colder in the evening. It is a cool accessory that we will probably be exploring more in the next season."
5. Veils & Trains Aren't Going Anywhere
"We have veils here, but we keep them very simple because we don't want to distract from the dress, so [we carry] very kind of simple, beautiful veils. We have a few head pieces; again, they are more modern and go with the aesthetic of our style.
"I always say you don't get to wear [a veil] every day, so you might as well wear it [on your wedding day]. But I do think that it is very personal, and some girls are really against a veil. I do like a train and a veil—you take the veil off after the ceremony and photos, and then you can hook up the train for dancing so it always gives you two looks, the ceremony look and then the reception and party look."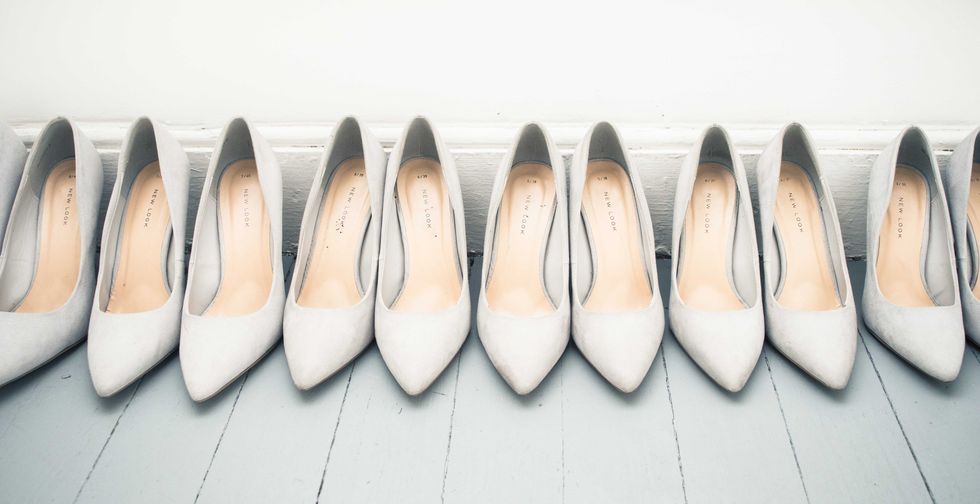 6. Strapless Is Out
"We don't have any strapless [dresses] here. The strapless is the tricky one, I think—I feel like you should look like yourself on your wedding day and wear something similar to what you would normally wear. Obviously you need to look like a more polished you, and I don't think many people wear strapless in everyday life, so for me it just doesn't really make sense. None of the French do strapless at all; they're all about feeling comfortable and looking effortless. I do know some French designers that do have the structured strapless dresses, but I think more of the younger, more modern designers that are coming up are steering away from that style, definitely."
7. Comfort Is Key
"[Our dresses are] all really comfortable—they don't have any corsets or any boning. You know, it's a long day, so our designers have really thought about how comfortable the dresses are and how you can just enjoy the day without worrying about anything else."
8. The Dress Truly Becomes the *One*
"If they're going to buy a second dress, it's for the rehearsal dinner or for an event the day after the wedding, whether it's a bridal brunch or barbecue or something. Not many of our girls change for the evening just because the dresses are so comfortable. I always say it's a bit of a shame, you know, if you're going to spend so much money on the dress, you should love it and not want to change out of it. As long as it's comfortable, practical, and you can dance in it, then that kind of meets [all] criteria."
9. The Rehearsal Dress Is Kept Practical
"Most of them are going for a shorter wedding dress or a high-low: something a little bit more fun [that] kind of has an element of bridal, but obviously [doesn't] upstage their actual wedding dress, so [it's] a little more understated but still reminds people that they're the bride and it's their weekend."
10. They Keep It Effortless (Of Course)
"I just love how effortless and chic [French wedding style] looks. You don't have to put too much with it, you can just put the dress on and go, and you don't have to [use] too many accessories, you don't have to do too much with your hair. The dress does everything for you without too much going on."