WWWRN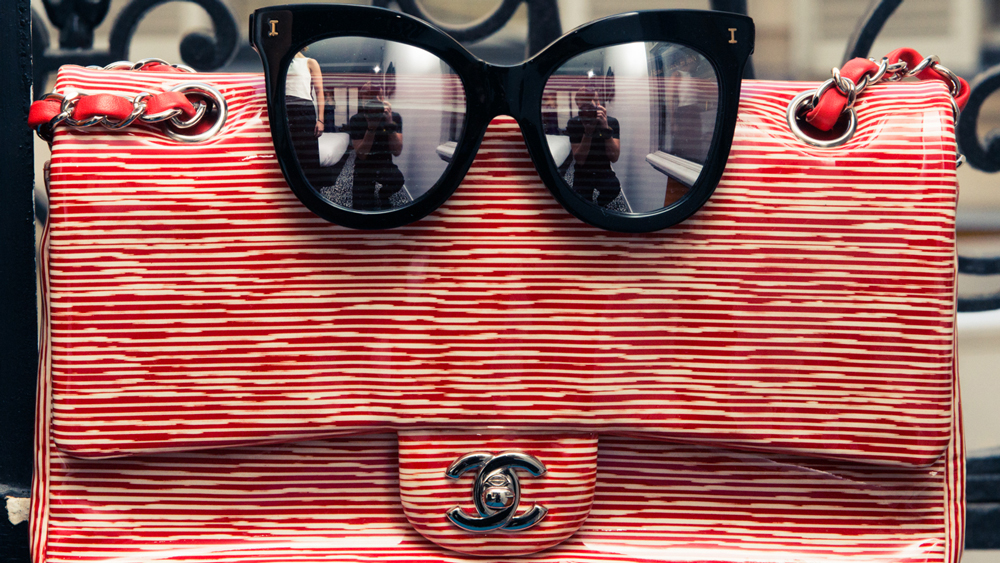 How to Channel a French Girl like a Fashion Editor
It's Bastille Day, so grab a baguette and a beret, and pretend to speak French.
It's Bastille Day! Which means it's about time to start pretending you're French (as if you probably don't already...). As much as we want to roll our eyes at the whole thing, we also completely get the French-girl fantasy. In honor of the holiday, you'll find us at Cov HQ tying a black bow in our hair to look like Brigitte Bardot and toting around a straw bag like Jane Birkin. And for those who need some reassurance that French-girl chic is attainable even if you weren't born in Paris, consider this: Anna Karina, one of France's most famous movie stars, is actually Danish! She moved to Paris speaking little to no French and then became an icon for French New Wave. So we're hoping if we shop try hard enough (and eat enough croissants and drink all of the red wine), the French language will just come to us. That's how it works, right?
---
Laurel Pantin
Editorial Director
1. Chance Striped Top: Nothing says French Girl like a striped top! Chance's super-soft but super-sturdy ones are my favorite. 
2. Daily Sleeper Loungewear Dress: Though technically sleepwear, this linen dress makes me feel like I'm living my best life in Provence, à la Jamie Beck. 
3. Odièle Rose Sérum: This all-natural rose facial oil is handcrafted by a French makeup artist, and it erases the sins of last night's rosé-and-baguette feast. 
---
Tara Gonzalez
Assistant Editor
1. Jacquemus Pleated Canvas Skirt: If I could wear Jacquemus every day forever, I would. I'm in love with the shapes, the buttons, the colors—the feeling of it all. This skirt is everything I want, and although I'd like to picture myself in the South of France wearing it while eating a croissant or doing something equally French, it also reminds me of where I'm actually from (Spain!) with the fan details trickling down the legs. I need it!!!
2. Aurore Van Milhem Théia Shirt: I found this brand on Instagram late last night, which perhaps doesn't sound very French (women in France just seem to have everything find them) until you read Aurore Van Milhem's Insta bio: "Poetry clothes made in Paris produced in limited quantity with quality in heart." I have no idea what the description says for this shirt, but it has a plunging neckline, low-cut back, ribbons, and lace. That's all I really need to know.
3. Bobbi Brown Long-Wear Gel Eyeliner: The ultimate French girl to me will always be Anna Karina. She was Jean-Luc Godard's film muse and is my current everyday muse. Whenever I sit in a cafe, I fantasize about standing up and dancing alongside two Frenchmen like she did in Band of Outsiders. I have her to thank for my daydreams, the bangs I had for seven years (while still keeping my hair long), and my unwavering dedication to a strong cat eye. French-girl beauty isn't always minimal, and is there anything more otherworldly than a girl singing in French with eyeliner drawn on so sharply it could cut? Non! I always have my Bobbi Brown eyeliner on hand, so now all I have to do is learn French...
---
Noah Lehava
Senior Editor: Health & Wellness
1. Rosetta Getty Knotted Dress: What I love about the French sartorial mentality is that there actually doesn't seem to be too much thought behind any outfit—it just feels inherently elegant, yet cool and sexy. I don't know how they do it, but this dress gives me all those aforementioned vibes so I can try to embody it myself. 
2. Le Specs The Last Lolita Sunglasses: These have been on my wish list (literally, they've been sold out on and off for months) since there was still snow on the ground. They're drastically cat-eye and pitch-black, which I love.
3. Caudalie Beauty Elixir: I think we all agree that although cliché, "less is more" is pretty indicative of French beauty. I can totally get behind it and will happily swap my foundation for a spritz of essential oils on my skin.
---
Hannah Baxter
Assistant Editor
1. Nars Velvet Matte Lip Pencil in Dragon Girl: A bold red lip on a bare face is the epitome of French-girl beauty to me. I usually pull my hair back in a low chignon to let this ruby red color really shine, and walk out the door. Easy!
2. Equipment Signature Slim Silk Shirt: The second I shimmy into anything silk, I automatically feel like a slinky Parisian heroine. Equipment's shirts are classic and the perfect degree of fitted, which is why I have three stashed in my closet. A hint of lacy black bra underneath completes the look.
3. Chloé Wide Leg Jeans: Jane Birkin was the queen of chic, casual denim, and Chloé's extra-wide-leg jeans are so cool it hurts. These pair perfectly with everything from an oversized angora sweater to a satin camisole. No clue how to keep the hem clean, but I'm channeling Jane, who wouldn't be bothered anyway.
---
Jodi Taylor
Assistant Editor
1. La Ligne Cabana Dress: What else would one wear in Cannes all day and night? Though it's a New York brand, this dress—the stripes, the color, the silhouette—take me straight to the South of France.
2. Terry de Gunzburg Flagrant Délice Eau de Parfum: The French-born makeup artist famous for inventing Yves Saint Laurent Touche Éclat came out with fragrances a few years ago under her eponymous brand. I took a tiny little travel spritz of this fresh figgy one with me to Paris so I will think of the City of Light when I wear it.
3. Christophe Robin Regenerating Mask with Rare Prickly Pear Seed Oil: If I want to wear my hair with its natural curly texture—très French—I must nourish it with a deep conditioner, like this one from the famous Parisian hair colorist Christophe Robin.
Part of the series:
WWWRN