Class of 2021
Eloghosa Osunde Isn't Playing by Your Rules
The writer and visual artist on her creative process.
Graphics:
Ashley Combs
Like any conversation between two writers, my interview with Eloghosa Osunde gradually and then suddenly turns to the topic of process. For Eloghosa, darkness is the starting point. Her writing brain doesn't work the way she needs it to during the daytime; rather than opting for a nocturnal lifestyle, she uses blackout curtains and controls the lighting in her bedroom or her living room to stimulate nighttime for an entire day. "It helps me forget that I'm there," she tells me over a Zoom call. "I'm not looking at myself. I'm not looking at what I'm wearing. It doesn't matter; my body becomes unreal. It's almost like I can hear my head better." You could consider it a noise-canceling tool for the senses. For Eloghosa, when she's working on a story or an essay, she needs to focus on the matter at hand: her laptop screen. "If I keep touching the keyboard, I won't lose track of what I'm thinking." It's an escape hatch from her current reality into a world populated by her characters. It's fitting, given the fact that in a previous interview, she said that "books were my most reliable way to get somewhere else, and somewhere else is where I wanted to be a lot of the time, so I read way too many books to count." Language became an impenetrable space in which everything and anything was possible.
It's an artistic technique that's scientifically proven. By shutting the blinds and flipping the light switch off, the brain's blocks out visual stimuli, removing distractions and heightening our other senses, like sound, which is especially important for Eloghosa's process. The character arrives first. She sits with them, asks them questions, and listens for their answers. What do you like to eat? How do you speak to your friends? What are the things that you are repressing? Her curiosity drives the line of questioning and brings her that much closer to the story she is attempting to share with the world.
An escape from the work itself is also necessary. "Distractions are very useful, actually, for me, because I can get my brain focused on something else," she says, "so when I come back, I'm going to feel a little starved of the story. I feel a little starved and I want to go harder." So, Eloghosa makes two to-do lists: one for work, one for the distractions. Tasks on the second list include: listen to a Rihanna album, go for a two-hour drive. Being intentional with these distractions is something Eloghosa talks about at length in a Substack from May 2020: "I'm starting to see that being overwhelmed isn't always because I'm doing too much. Sometimes, it's that I'm planning work with more intention or seriousness than I am joy."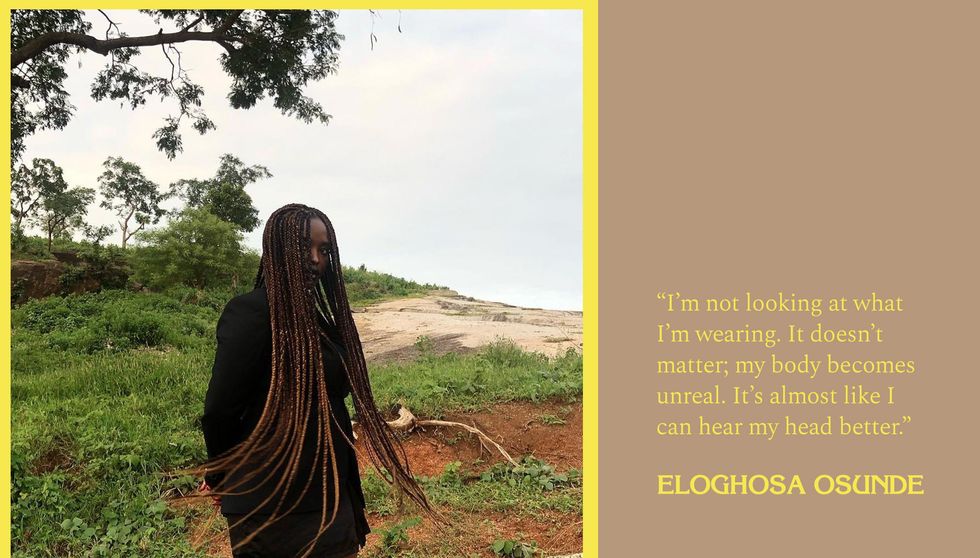 'Good Boy,' Eloghosa's short story published in The Paris Review earlier this year features a narrator whose distinct personality produces a voice that is unwaveringly his own. Rendered in sharp-edged prose, the story covers an enormous amount of real estate in very little space with the narrator reminiscing on his past without dragging down the high-velocity narrative pace and while simultaneously living vicariously in a constantly unfolding present. Eloghosa sentences push subtle yet poignant emotional shifts within the story and the reader, adding another layer of texture to the text. The traditional gay coming of age tale centers the parent and their reaction; 'Good Boy' upends that formality, letting the character tell his own story on his own terms. Eloghosa says she didn't craft the tone; she listened to it. The last sentence came to her first when she sat down to write this piece, then the first sentence arrived shortly thereafter. The rest of the piece was written in the span of one evening, in her bed. In April, it was announced that Eloghosa won the 2021 Plimpton Prize for Fiction for 'Good Boy,' an award that celebrates "an outstanding story published by an emerging writer in the magazine in the previous calendar year."
Eloghosa's foray into writing began as all good stories do: with an Instagram DM. The year was 2015 and she was close to graduating with a degree in Industrial Economics from the University of Nottingham; the next step was a career in management consulting. When a friend sent her a link to a writing workshop in Nigeria, she was interested but remained hesitant. She procrastinated on the writing sample until the last day and then finally sent in a piece she wrote in two hours. Eloghosa didn't think much of the submission; she finished her exams then booked a post-grab celebratory trip with her best friend to Spain. After the tickets were bought and amidst the outfit planning, she got a call: she'd been accepted into the workshop. And as appealing as a summer beach vacation to Spain was, Eloghosa chose to fly back to Nigeria for the workshop, and it was there that she realized that it was possible to have a career as a writer. "The workshop changed everything for me," she says. "I realized that I could use this thing that I'd always loved in practical ways that could also support my life." Those workshop discussions brought up important questions that Eloghosa continues to explore in her stories today, one of them being who deserves to be centered in a story? "I think it helped loosen something up in my mind," she says, describing her experience in this workshop. "It made me realize that as much as there are many people in the world writing, my perspective is mine. It was the first space I've been in where I felt encouraged to infuse my Nigerian-ness into my storytelling."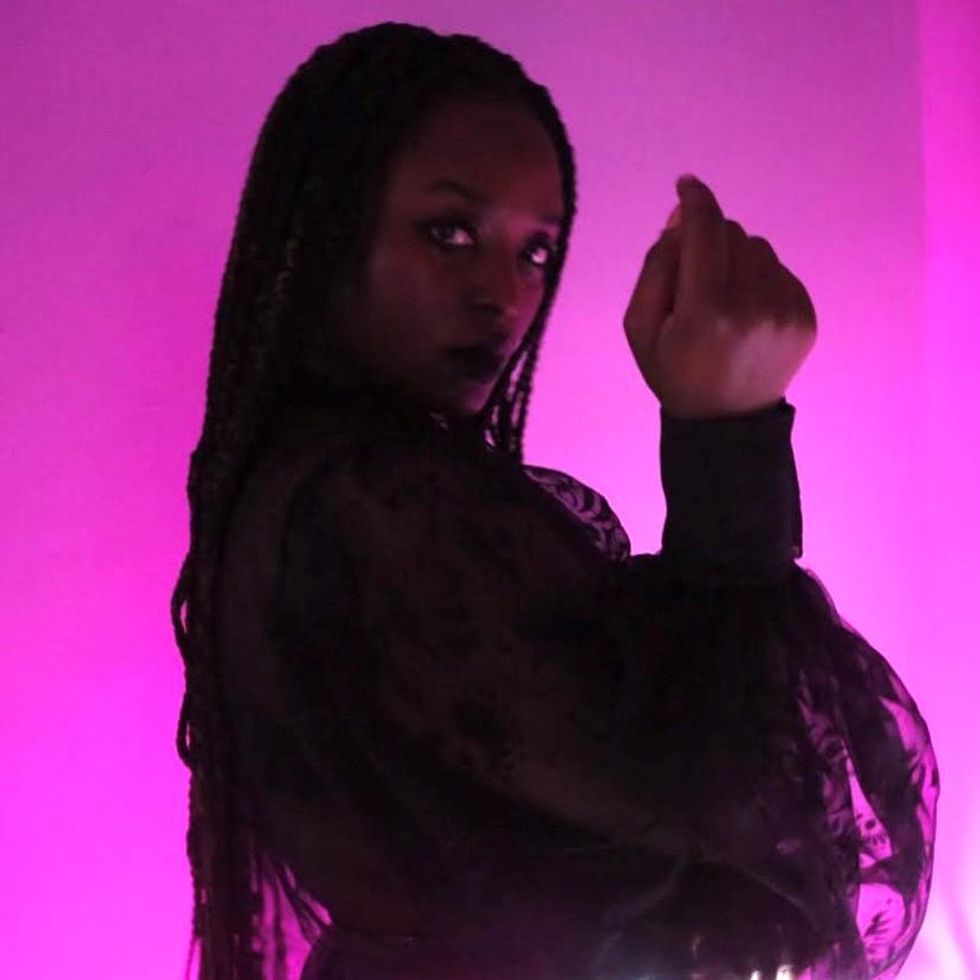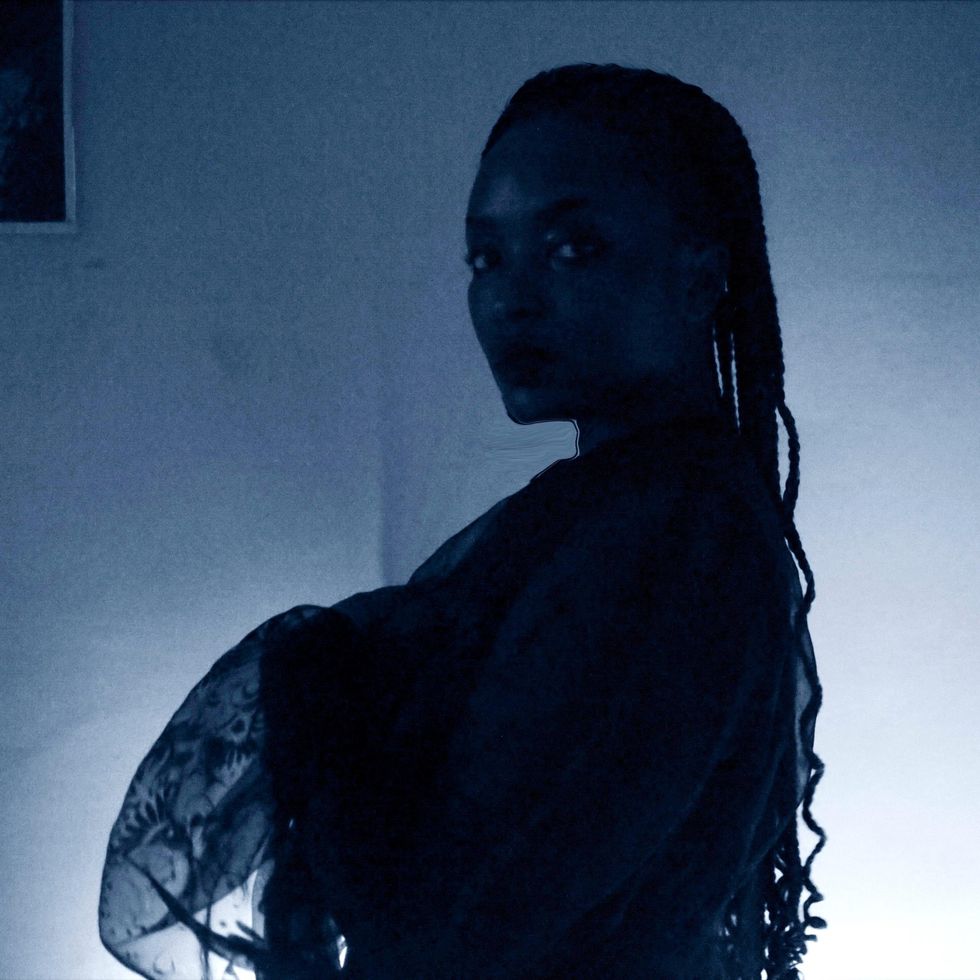 That distinct point of view is exactly what captured my attention when I came across Eloghosa's short story 'Night Wind' several years ago. The voice is all her own and the narrative is undeniably West African. I'm not just talking about the Jollof rice reference in the opening paragraphs of the piece, but the central theme itself: the devil. Stories about the devil—who was in cahoots with him, how to avoid it, accusing him for one's own actions—were a mainstay in my Ghanaian household growing up. The culture of assigning fault to the devil also had a hold on Nigerian culture. "It actually started with a conversation with my best friend. We talked about the culture of blaming the devil for everything," she says. "And then I thought, what if you play on that a little? What if you use the devil to achieve a righteous outcome? I think that's the thing that makes people uncomfortable."
Here's a list of things that bore Eloghosa: well-behaved stories, safe stories, respectful stories. Anything that follows the conventional rules of fiction. Think: show don't tell, no adverbs, active tense over passive tense. She wants stories that move her, that shift her way of seeing the world. "I think stories have their own internal rules," she says. "The story is its own world with its own personal language. People speak to themselves and each other in specific ways that aren't universal to every piece that you write." Poetry is more of a guiding light for her. There's less of an emphasis on specific forms and the absent pressure to feel the need to explain yourself. Eloghosa is interested in stories on a sentence-level; "I just think to myself about what the language needs," she says. "It's something I learned from poetry." However, there are still fiction writers who encouraged Eloghosa to abandon structure, forget the rules, and start telling the truth through her work. She rattles off the names of authors who helped show her what was possible in fiction: Jamaica Kincaid, Marlon James, Carmen Maria Machado, Taiye Selasi, Bryan Washington, and Akwaeke Emezi.
In fact, Eloghosa thinks that reading as widely and as often as possible is the most important thing to do in order to develop your voice. "I know a lot of people don't agree with this, but I actually don't believe you need to be trained in writing. I don't think you need to learn the rules," she says. "Anytime a young writer reaches out to me and asks, 'Oh, do I need to go into an MFA ?' I say no, you need to read more. And you need to know what you like in what you're reading. And then when it's time to sit down and write, you need to trust what you're hearing from your mind." She back-pedals a bit to clarify that educational structures can be beneficial; they give you time, connections, and feedback from people who are just as intense about sentences as you are. She contemplated the "Should I get an MFA?" question herself. But then these ruminations lead her to this realization: she already knew what she liked in books and she already knew what type of writing she wanted to do. She already had a group of friends, from her previous workshop experiences, who would provide feedback on work. What did she need the program for? "I just needed a consistent practice and self-discipline," she says. "I needed self-trust more than anything."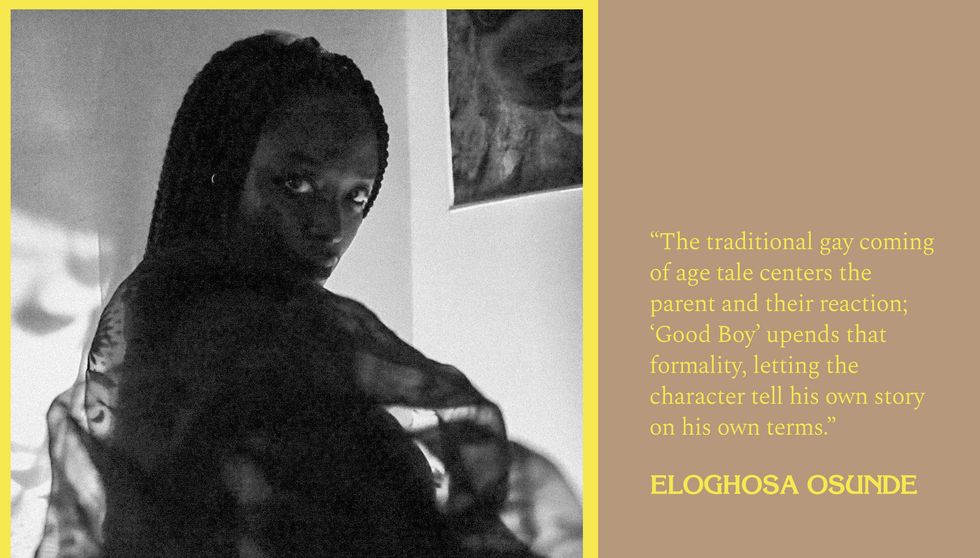 For Eloghosa, everything begins with writing. She's a multidisciplinary artist, using photography, fashion, and short films to explore the themes central to her fiction; like relationships, how we navigate identity and the limits of reality. Her visual art was most recently on display at the National Museum in Lagos and she worked on Orange Culture's spring/summer 2020 collection, which showed in New York and in Lagos. Right now, she's deep in the post-production process for her debut short, so her days are filled less with writing and more with editing and working on a film score. The short film, a series of vignettes, is based on her debut novel Vagabonds! that will be published in March 2022 by Riverhead Books, an imprint of Penguin Random House, in the United States. "After I finished writing the book, it didn't feel correct to immediately throw myself into finishing another book," she says. "So, I decided to explore the stories through another medium."
The novel draws its title from the Nigerian constitution. The Penal Code in Section 383 defines a vagabond as beggars, prostitutes, cross-dressers, and anyone who has sexual relations with the same sex. Those who break the law and behave as vagabonds are punished accordingly. "The book centers specifically on anyone who's an outsider," says Eloghosa. "Anyone who's an outsider, anyone who's a wanderer. It includes spirits, queer people, trans people." Setting, more specifically the bustling metropolis of Lagos, her hometown, is at the center of the novel. "Especially growing up in Lagos, I know that there is no such thing as just one Lagos," she says. "My Lagos is not my best friend's Lagos and it's not the security man's Lagos. So, I like to focus on my character's relationship to place." Rather than focusing on two or four or six people, Eloghosa decided to populate the world with a caste of distinct characters. Most novels are written in one single braid; a single story, from beginning to end. "I just learned that I can't think like that," says Eloghosa. "And when I tried to do that, I couldn't finish my work. I learned that it's okay to respect the way I think. I don't think in linear time, it's just not my reality."
The concept of time and reality is at the center of 'Melting Clocks,' Eloghosa's column for The Paris Review, and it's also how we started discussing The Power of Now by Eckhart Tolle, a book that I'm sure you've seen somewhere on your Instagram feed. The book's main thesis is the idea that only the present is real; the past and the future do not exist. "There's so many different ideas of time, and I think that whatever idea a society believes about time, it affects how they move," she says. "I find that when you shift away from the idea that time can be exhausted or that time happens in one direction, you touch parts of life that you would never have seen."
"Our lives are just richer when we realize that time happens in a stack as opposed to a straight line," she says. "I think the past is stacked on the present, which is stacked on the future. And all of it is running parallel at the same time. When I stopped engaging with time in that way, as if it's a scarcity good, I stopped hurrying." It's this definition of time that allows Eloghosa to escape into her work. "...everything is fiction and all of my fictions can be made tangible. It all already exists...Nothing is real. Everything is real. We can go anywhere," she writes in one of her Paris Review columns. Like any true fiction writer will tell you, it is by making up the truth through which one is able to see the truth. Sit still, get comfortable with darkness, and if you listen closely, you may be able to hear it, too.
Memorial
A Brief History of Seven Killings
The Icarus Girl
Her Body and Other Parties