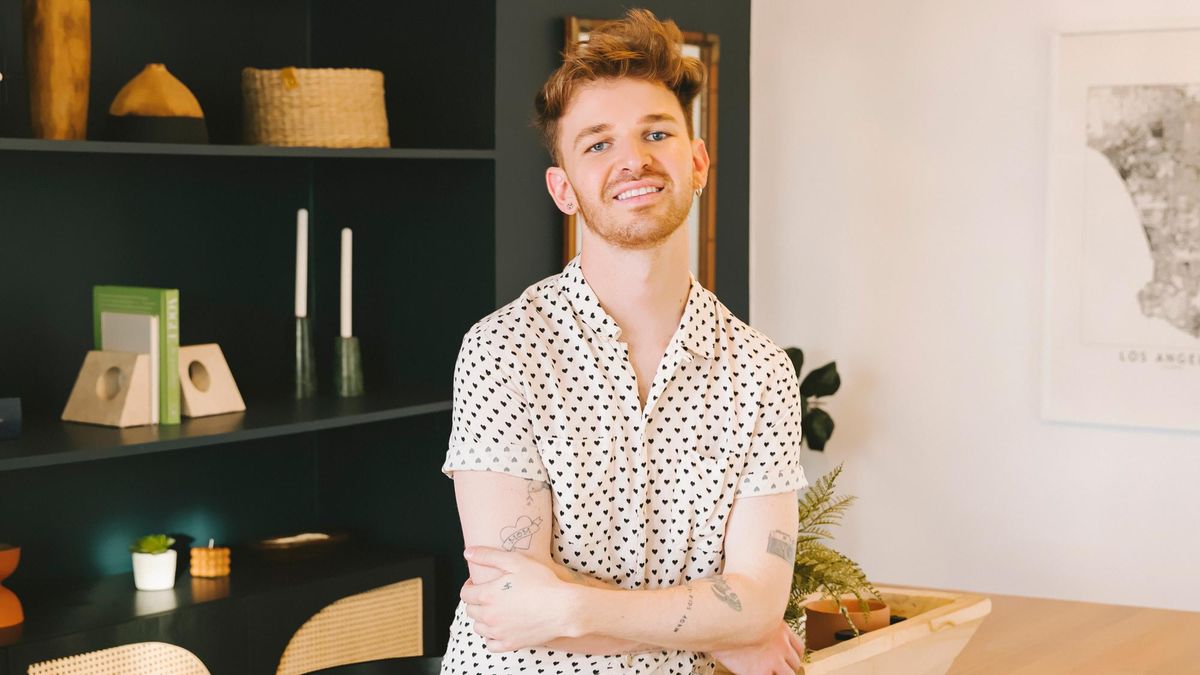 Decor
Lone Fox's Drew Scott Shares His DIY Secrets for Interior Decor
Everything to keep in your kit and a few projects to get you started.
Lone Fox's Drew Scott—not the Property Brother—is part of a new wave of interior designers bolstered by social media who are carving out a space in the industry for the realm of 20- and 30-somethings who perhaps rent their spaces and operate on a smaller scale financially. This untapped market segment is reclaiming their sector of the industry that previously overlooked them (and doing so on a budget). Scott, like many of his youthful counterparts, does not look at the prospect of decorating a new space with the same notion of logistical or financial barriers to entry that many of us do and instead favors a solutions-based approach—if you can't afford it, simply do it yourself.
On Scott's Youtube channel, which boasts over a million subscribers, you'll find in-depth videos that detail at length the process behind his favorite DIY projects alongside his favorite decor tips and tricks. He takes inspiration from pricier items at some of your favorite home decor retailers and recreates them at a much lower price tag, often adding his own twist in the process. The results are typically rather impressive, and Scott even champions the perception that his projects may sometimes appear homemade—that's what makes a space interesting. "No one else is going to have that piece," he explains. "It's your own custom item you created." If this appeals to you, we've asked the up-and-comer to divulge everything you need to know about DIY projects, from what to keep in your kit to knowing when it's time to concede and buy the original item.
Perks of doing something yourself:
"I personally like making things myself because it's normally cost effective. Second of all, it's one of a kind. No one else is going to have that piece. It's your own custom item you created. With DIY pieces, you can typically kind of tell it was handmade unless you do a really incredible job, and I like that factor. I think it adds a little personality to your space and doesn't make everything look store bought—prim and proper and too perfect. I like the mix of handmade against items with that store-bought vibe."
You can always DIY:
"Throw pillows and, honestly, a lot of decor and wall art, as well. Almost all wall art that I ever use is DIY because it's really easy to paint an abstract painting or create something with a punch needle tool—same with throw pillows. I love just getting simple blank throw-pillow bases at Ikea for $3 or $4 and stitching a design on it or tie-dyeing them. I've done a ton of tutorials on that in the past. A lot of small pieces—which is why I'm saying throw pillows and decor—are the ones I think you can save a lot on. I also feel like those are things people really like to change a lot. People don't really change their bed or their nightstands all the time, but people really like switching up their decor and their pillows and wall art. Those are easy things to incorporate new colors or new, trendy styles with."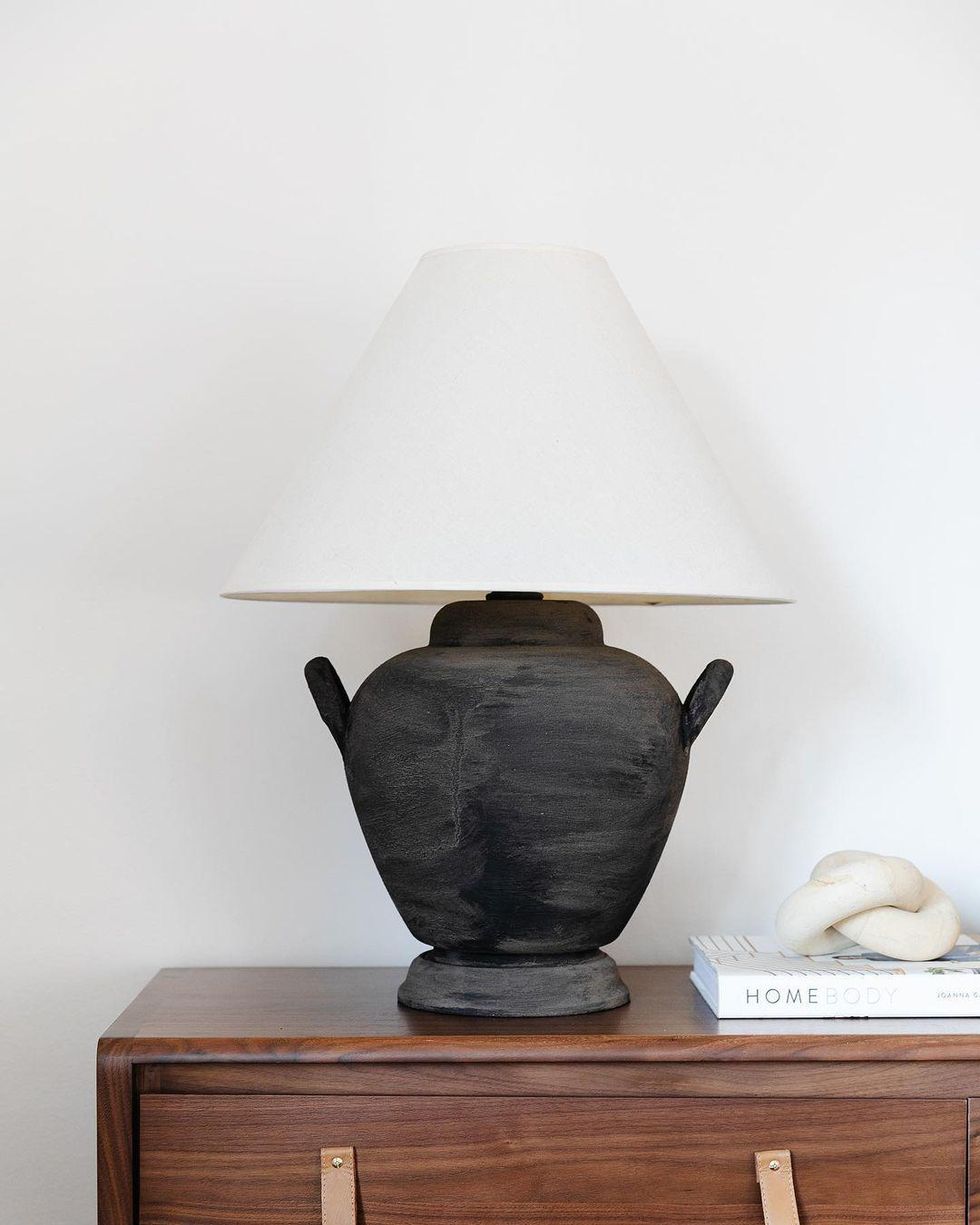 Photo: Courtesy of Drew Scott
Where to splurge:
"Good-quality paint. I know that is not a decor or furniture piece, but it is really the base to any space, so I think it's worth the splurge. Any form of timeless furniture piece—a good-quality sofa or a mattress you're going to be on all the time—are good things to splurge on. Also, curtains are something else I think people should splurge on or simply make sure that they're the proper length, they're hung correctly, and they're a nice quality fabric to block out the light. It's going to look nice and it's also more functional for your space."
Biggest decor/DIY mistakes:
"Just overdoing a project. Over the past year, I feel like I've really learned how to edit my style and create projects that look like something you would find in a store. This goes hand in hand when decorating, as well. Sometimes you just need to edit a space, remove or add accessories, and let them live for a couple days. Let the project really marinate, so you can get an idea for what you really like or dislike."
Easy things to recreate:
"Anything painted. I think paint is really easy to get a hold of and it can totally transform something, whether it be brass spray paint or a matte black if you want that farmhouse look. I think paint is probably my number one thing I use in DIY on small to large furniture pieces and really everything in between. I use a lot of cane and rattan. I have easy access since I have a basket supply store right by my house lot, but it's not always a super easy thing to obtain."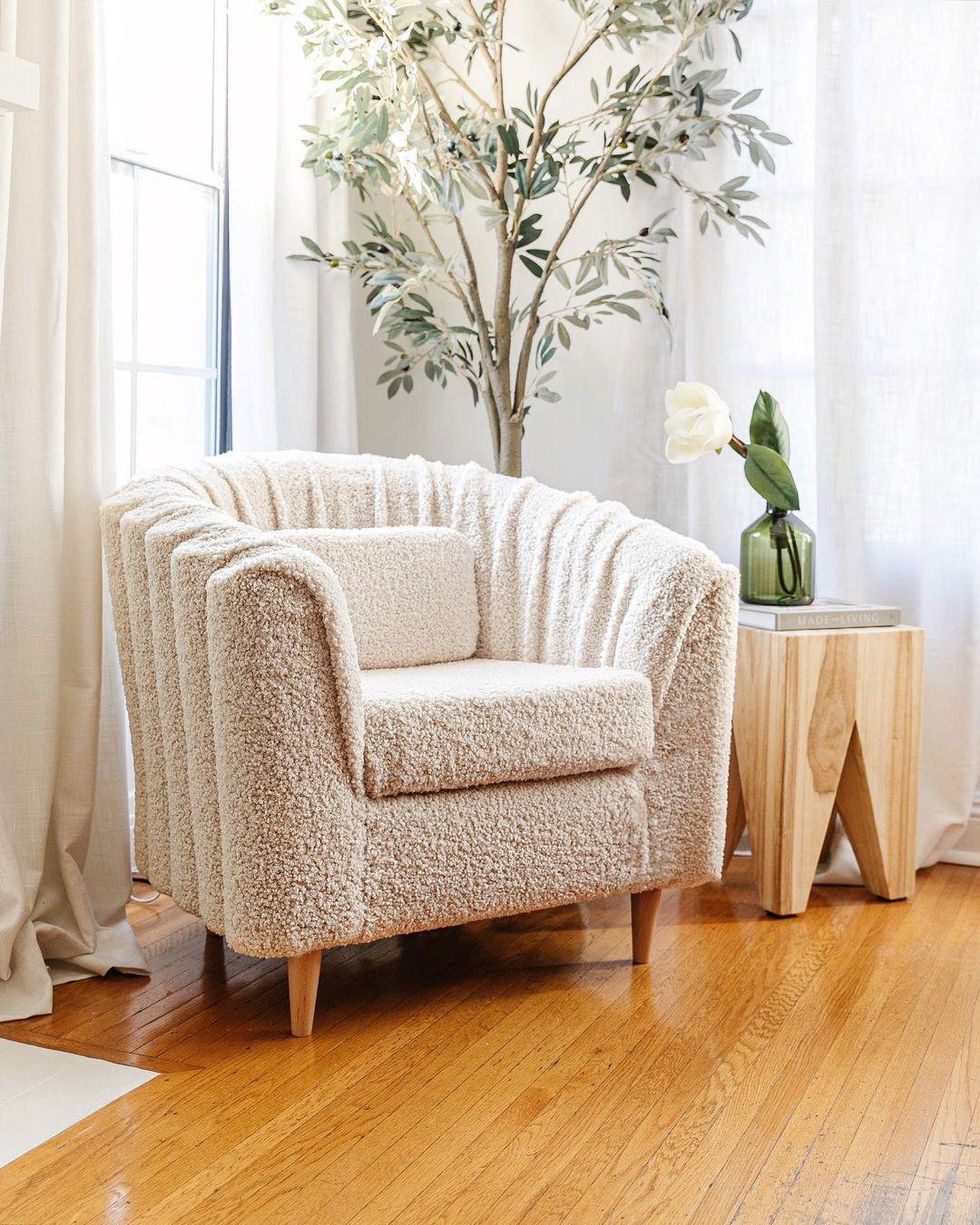 Photo: Courtesy of Drew Scott
How to avoid overspending:
"Honestly, that just sometimes happens. There are projects where I'm trying to recreate something that was $600 for under $300, and then it literally costs me close to $500. I saved $100, but I could have just bought it and it would be perfect. If you run into that issue, I think maybe just try to repurpose your supplies on other projects or to rework them in a new direction. Adding up the cost prior to purchasing or just researching a tutorial on something and seeing someone else create it, how much they spent or how much supplies they ended up using—just trying to factor that into how much it's going to cost."
Materials he's been gravitating towards:
"Lately, I've really been liking a lot of macrame. I've also been loving a lot of linen and boucle or more neutral or creamy-toned fabrics. I've been using a lot of that paint trend where you mix the baking soda with the paint. You can really incorporate it in so many different ways. I've done vases. I did a whole stool that made it look like a ceramic stool emulating what I saw at Target. I use a lot of peel-and-stick—peel-and-stick contact paper, marble contact paper. Resin's a good one, too."
What to have in your DIY kit:
"I personally find myself shopping a lot online for my supplies, as they are easily accessible and you get to see a lot of options in one central location. My beginner DIY kit would consist of a good pair of fabric scissors, paper scissors, hot glue gun, high-quality hot glue sticks, an assortment of paint brushes, sand paper, spray paint/paint, marking utensils (pens and pencils), and your basic power tools (a drill, electric sander, brad nailer)."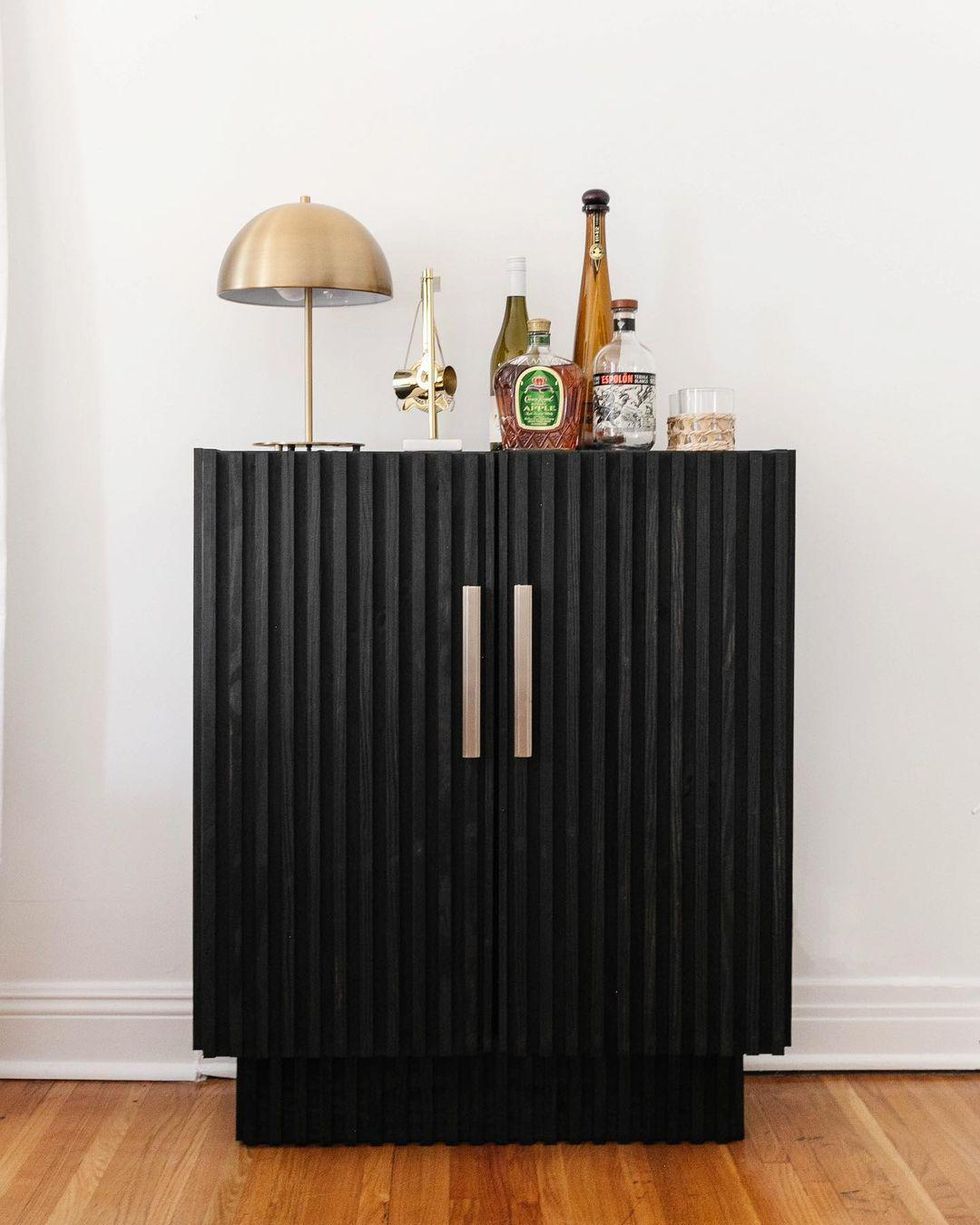 Photo: Courtesy of Drew Scott
Best projects for beginners:
"A few easy DIY projects for a first-timer can actually be found on my channel. I created a video sharing 100 projects that are super simple and easy to recreate with a very minimal amount of supplies."
DIY projects that don't require many tools:
"I'd have to say that a lot of my wall decor/art projects require a very minimal amount of tools. I have created a couple videos (here and here) that share five different wall decor projects that can be customized to fit your personal space."
Best projects for hidden storage:
"When I was living in a dorm room, I realized how much you can truly store under a bed. I popped my bed up on some chic bed risers and used apple boxes under my bed as a makeshift dresser. Over the past two years on my channel, I have created a few Ikea hack videos where I share how to transform basic storage units into beautiful home furnishings. This rattan bookcase project is one of my favorites on my channel because it gives you an elevated look while allowing you to hide away your personal belongings on the inside."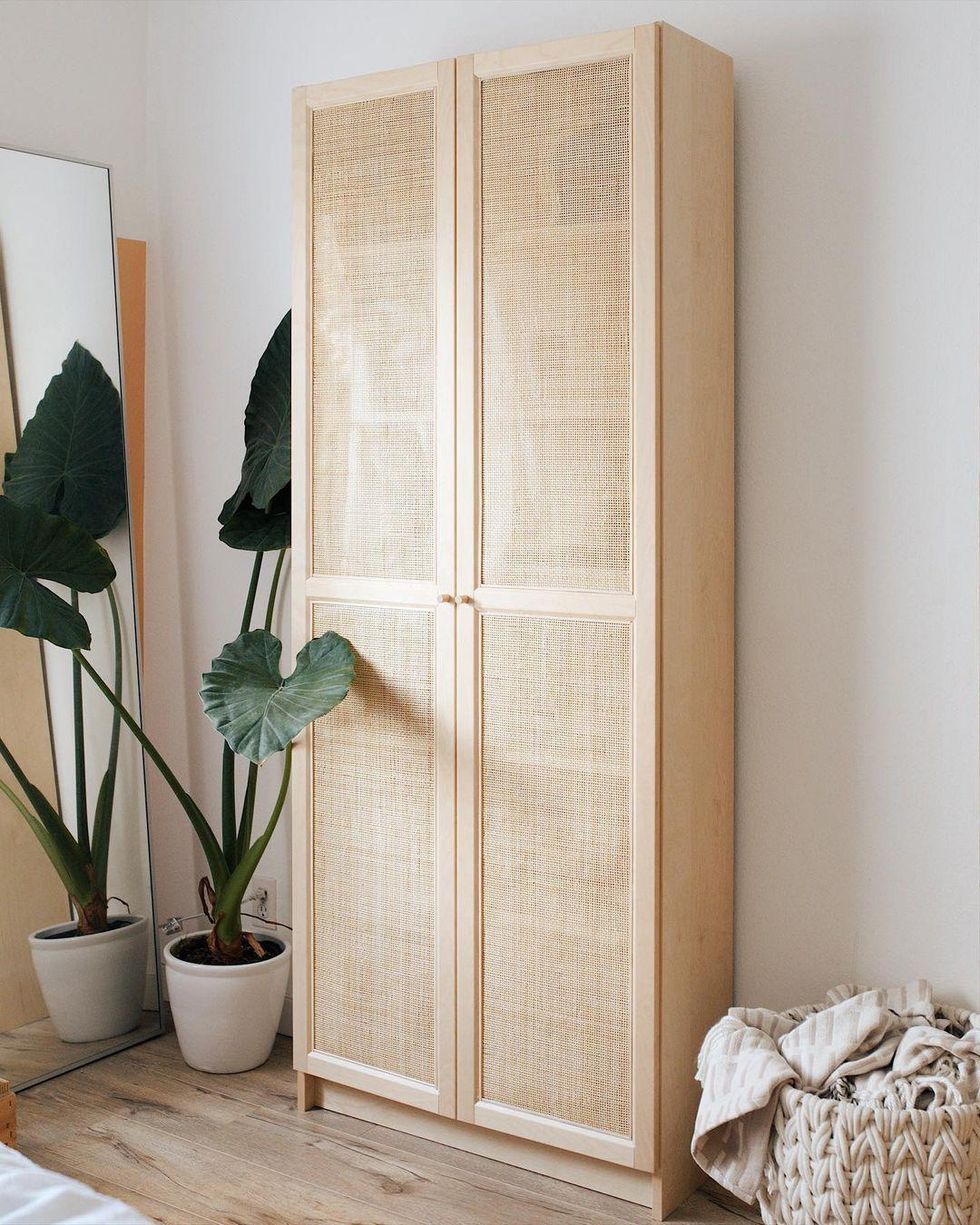 Photo: Courtesy of Drew Scott
Best Adhesive:"I love using the Gorilla Glue hot glue sticks and Fabri-tac adhesive when it comes to fabric projects."
Best Grout: "I really love the Mapei premixed grouts because they come in a variety of colors and it's already mixed and ready to use."
Best Electric Sander: "I feel like a lot of electric sanders really do the same thing, so I have this inexpensive one from Black and Decker that I've used for years."
Favorite Paint Brand: "My favorite brand of paint for interior walls is Benjamin Moore! I feel like their paint consistency is really thick and covers a lot better than other paints I have used in the past. In terms of acrylic paint, I stick with the Americana brand from Michael's or Joann's. However, I do splurge on the Golden brand Carbon Black paint because it is truly the most opaque shade of black."
Best Paint Brushes: "To be honest, I always purchase the assortment packs at the craft store for $5 because I go through brushes like crazy! I've also purchased these packs from Amazon in the past that work really well for paint projects."
Best Spray Paint: "My top three favorite spray paints are the Bright Coat Rustoleum in Gold, terracotta finish spray paint, and the matte farmhouse black spray paint by Rusteoleum."
Additional Recommendations: "A tool that is not necessary but really helps when you have to apply multiple coats of paint is a heat gun! I have a really old heat gun from back in my scrapbooking days, but this one would be amazing to set your layers of paint between coats!"
Gorilla
Beacon
Black + Decker
Artlicious
Rust-Oleum
Rust-Oleum
Rust-Oleum
Seekone