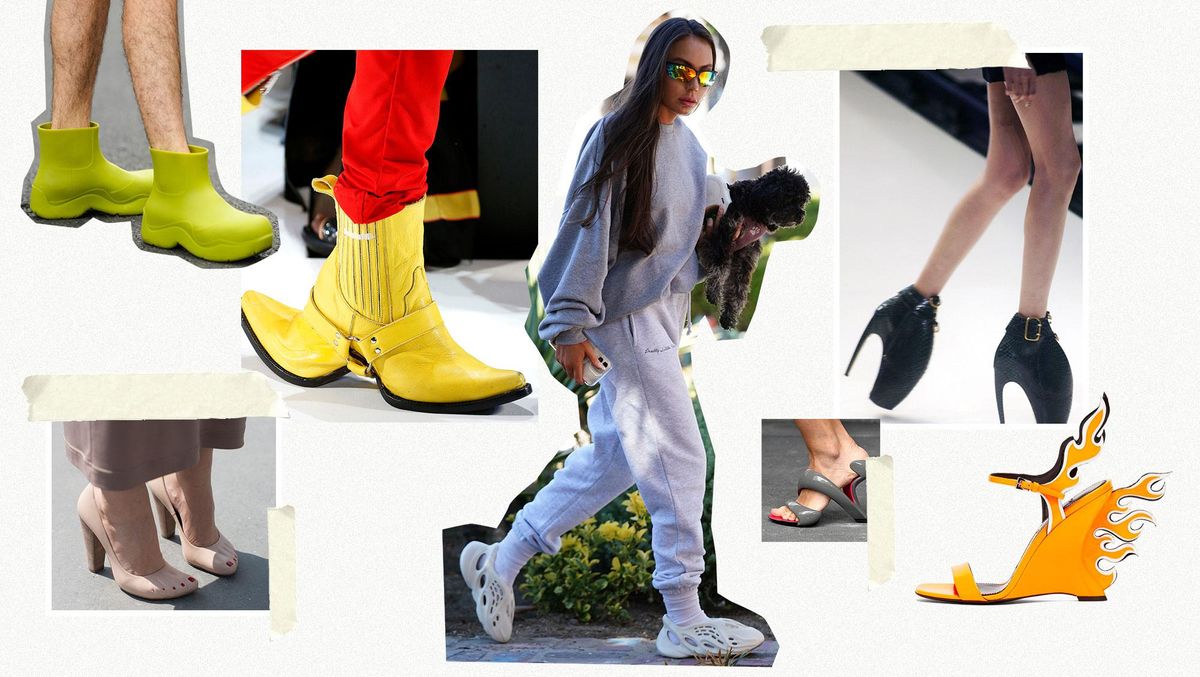 Shopping
When Did Crocs Become a Metaphor for Shifting Societal Norms?
An ode to fashion's weirdest and wackiest footwear.
Graphic:
Ashley Combs
Fashion has a penchant for the weird. The runways serve as a breeding ground for fetishes and perversion to intermingle with art in the form of clothing. Another fashion accoutrement, specifically shoes, provides a medium for designers to flesh out their deepest fantasies beyond the hindrances of ready-to-wear. Footwear has a particular affinity for the strange, and a quick glance at the arc of weird and wacky shoes reflects, as fashion so often does, shifting societal norms.
Due to its structure, footwear offers a different materialistic medium than its ready-to-wear counterpart. Creative director and senior curator of the Bata Shoe Museum in Toronto Elizabeth Semmelhack argues that shoes have served as art ever since hemlines rose above the ankles in the 1920s, though real experimentation began with platforms in the '30s and later the '70s. "Footwear is similar to architecture. Unlike a dress or a blouse that requires your own physical body to be the armature for it to take form, footwear really does stand alone, so it's already got a kind of sculptural presence that I think you see some designers really beginning to play with."
Look at the high heel, even in its simplest form—wacky, to say the least. Semmelhack, who points to its equestrian origins, says that off the horse, the women's heel "makes no sense." This superfluous design, sculptural in essence, offers a ready vehicle for artistic expression. Designers have taken this as an opportunity to push the limits of podiatric expression.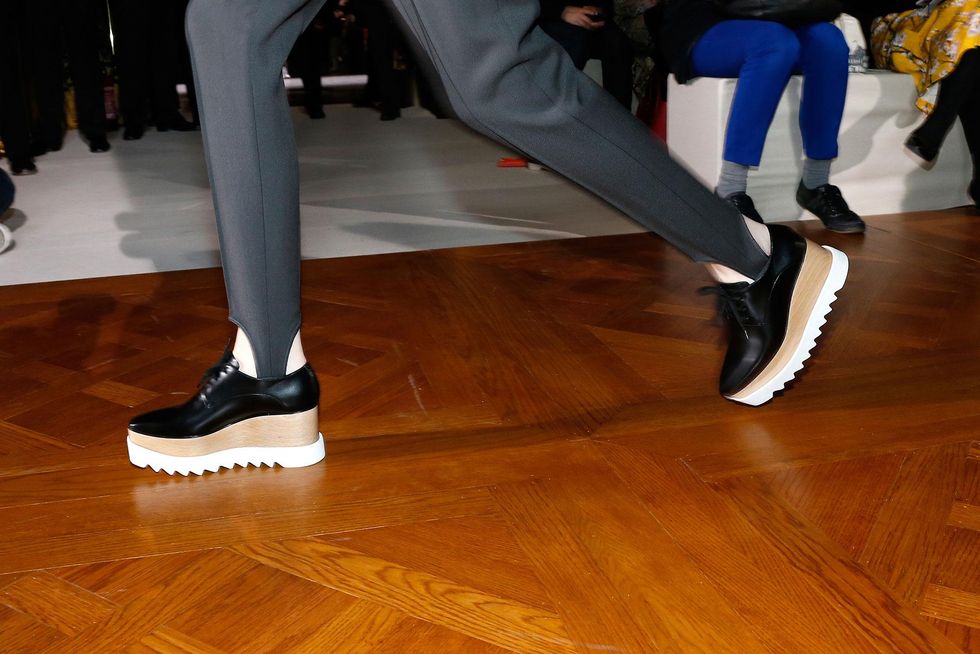 With his "Plato's Atlantis" collection in the spring of 2010, designer Alexander McQueen famously, or rather infamously, debuted his "Armadillo" boots, rounded, sky-high heels made possible only by a hidden platform that sent models teetering precariously down the runway. Miuccia Prada favored an incendiary approach in 2012, depicting flames leaping from the heels of wedges. Even feminist champion Phoebe Philo experimented with modern renditions of a high heel at Céline—one particular 2013 pair featured toenails painted on its exterior.
The exaggerated high heel emphasized a prominent though rather antiquated trope of femininity. What could be a stronger statement of wealth or status than possessing shoes that hinder the wearer from simply walking? Though wacky footwear has previously served as a bourgeois statement in its emphasis of a lack of functionality, a more modern, crazy sneaker merges the artistic with the practical—a shift literally depicted in Stella McCartney's wedged tennis shoes and Raf Simon's sneaker-heels for Dior.
Thanks to Virgil Abloh and his contemporaries, the functional shoe in its more eccentric forms now drives much of the fashion conversation. Not only does the sneaker skew artistic in appearance, but artists themselves have gotten involved. "Tom Sachs, Takashi Murakami, Daniel Arsham, Chantal Martin—they're all artists who have begun to focus on both the physical structure of a sneaker and what can be done with it." Take for instance the artistry of the Dave White Jordan 1s or the sartorial perplexities of any sneaker collaboration with Sacai involved.
These outlandish sneakers signify a big change in not only menswear, but fashion in general. Once European men decided that rationality equated masculinity, they renounced fashion and adopted a uniform-like dress code. Beginning in the 1980s, sneakers loosened the screws in that facade. "It is where a lot of men take their greatest sartorial risks," explains Semmelhack. "They might wear relatively conservative clothing but will be willing to wear footwear that is more exaggerated, makes a greater statement, and is linked directly to the fashion industry."
Though sneakers brought men into the fashion conversation, when I ask her which shoe has signified the most seismic shift in culture over the past two decades, her answer surprises me. "The Croc," she announces confidently. Worn by everyone from Nicki Minaj to Brooke Shields to Justin Bieber, the rubber clog is having a moment in the zeitgeist. Salehe Bembury, previously the vice president of sneakers and men's footwear at Versace, recently teased a first glimpse of his collaboration with the nostalgia-inducing brand, depicting a painterly take on the classic, albeit cringe-y, silhouette. Kanye West's Yeezy foam runner nods aesthetically to the Croc. Even the rubber Bottega Veneta puddle boot isn't that far off.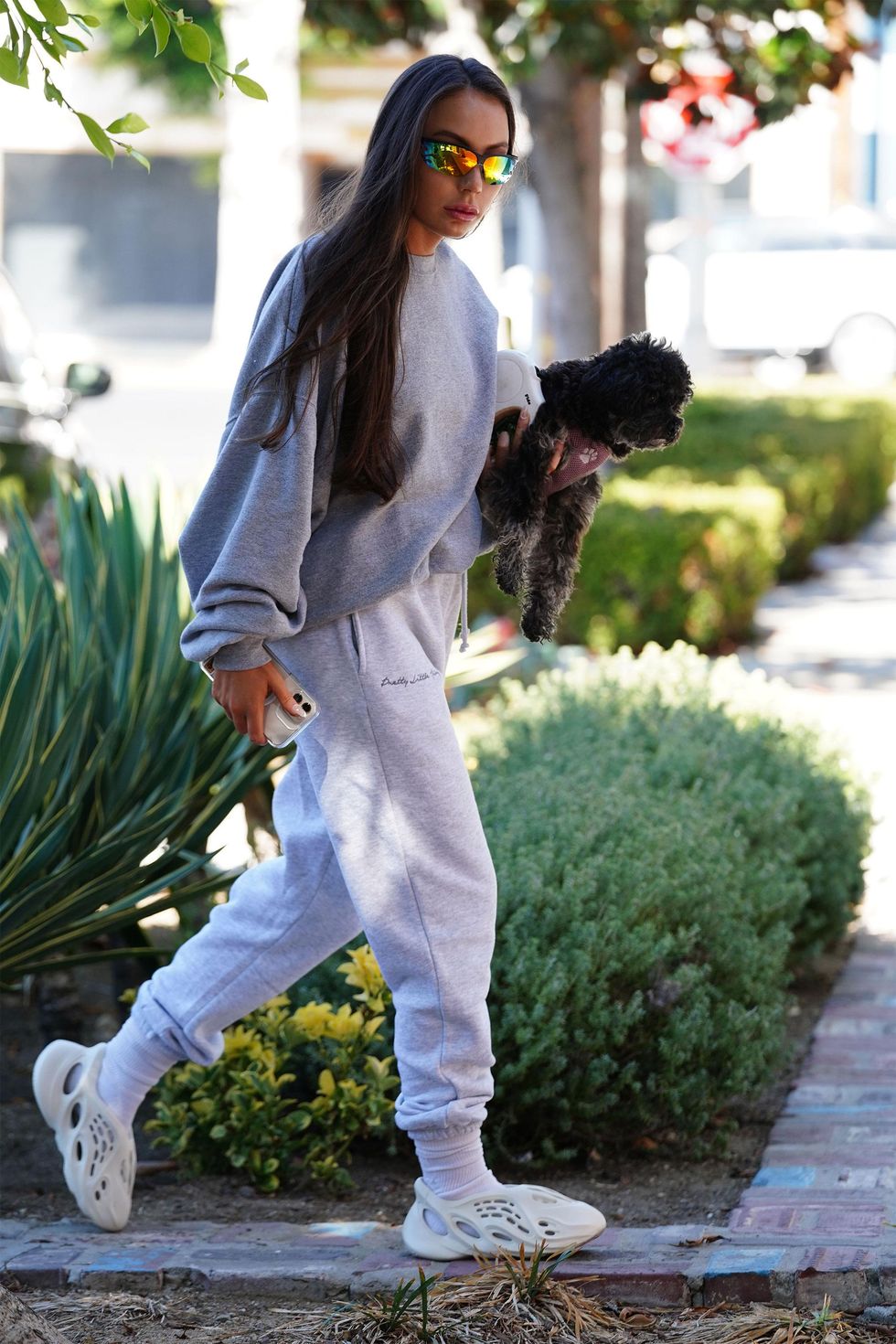 "They are all very sculptural. You can see both designers and consumers sort of being willing to embrace a very unconventional silhouette." Semmelhack continues to cite Crocs' material, color, murky gender specifications, and ability to be customized as features to be desired today. Namely, they are comfortable. I myself cannot recall ever seeing an Armadillo Boot at the airport, but the Yeezy foam runner? More than once.
In alignment with the pandemic-induced Gorpcore movement in fashion, modern footwear, even in its absurdity, is utilitarian. Sneakers, Ugg boots, Crocs—all subvert the norms of shoes yet remain wearable, or at least in relation to a six-inch heel. "Even if it's a phenomenal, sculptural, and beautiful object, the stiletto, as you and I well know, isn't the easiest to wear," she continues, "whereas a pair of sneakers allows you to make a fashion statement with a level of comfort."
As we saw hats lose their prominence in the 20th century and superfluous "it" bags begin to feel the bitter pangs of rejection—farewell, Le Chiquito—footwear becomes the optimum accessory for artistic expression. While you may not teeter down 14th Street in a pair of Thom Brown's dolphin-like high heels (if you can even call them that), try a pair of Balenciaga toe booties, and at least you'll make it where you're going in a timely manner.
Below, we've rounded up fashion's wildest footwear from 2010 on.
Gucci
Bottega Veneta
Yeezy
Martine Rose
Prada
Ugg