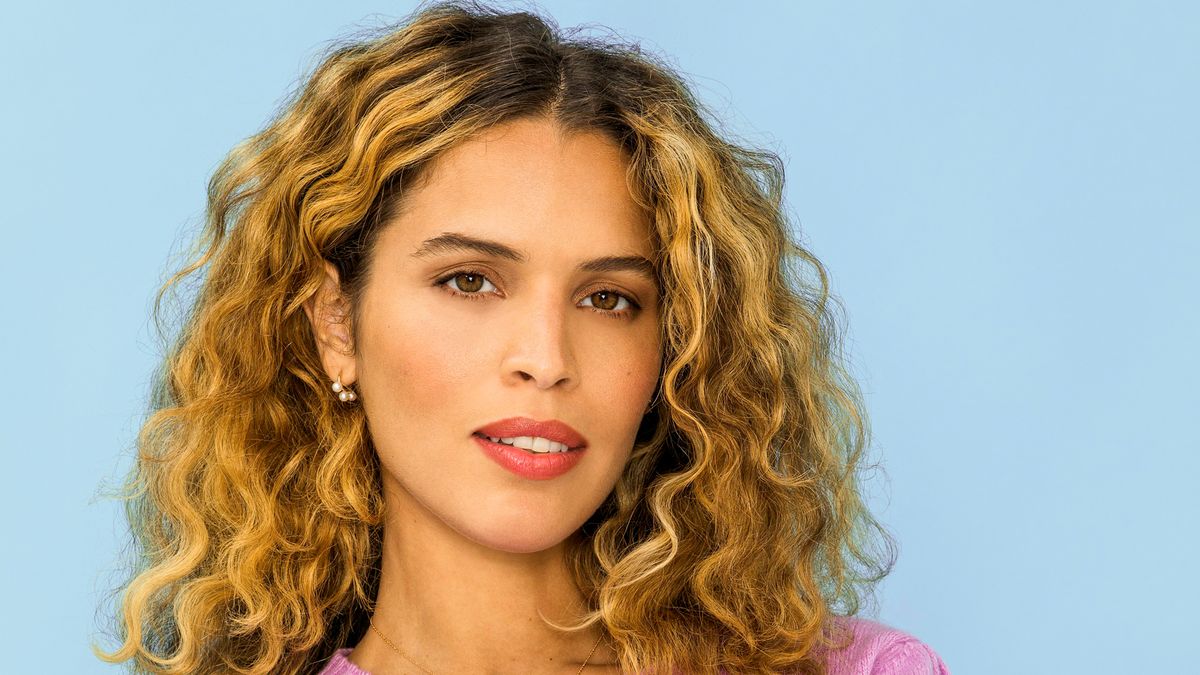 Living
Plus, the one thing she absolutely needs in her self-care routine.
After waiting on the conference line for a few moments, I heard a chippery, light-spirited voice enter into the virtual room. "I'm as good as can be, I guess. I don't even know if 'good' is a real answer anymore for anyone,"
Cleo Wade
told me transparently before we dove into a deeper conversation about our current mental health states. "I think that if you're doing 'great' or 'fine' during quarantine, you're probably not being honest."
Fortunately, best-selling author and community builder Wade has recently released
Heart Talk the Journal: 52 Weeks of Self-Love, Self-Care, and Self-Discovery
just in time for us to all start managing our mental health and self-awareness a little bit better. Though the journal includes prompts and words of encouragement, this is a guide for everyone to personalize their own journey over the course of 52 weeks while reflecting on the wellness of the mind, body, and soul.
Coveteur connected with Wade about the importance of radical imagination and creativity in her writing, how a simple bath is everything she needs in her self-care routine, and disrupting the narrative of Black people not showing up to the polls during election season.
---
How would you describe Cleo Wade if people didn't know who Cleo Wade was?

"I am a poet, a writer, and I'm one who makes things with love and words."

How did your upbringing and adolescence years inspire your love for writing?

"I have always found the feeling in writing, even when I was a little girl in poetry camp, of freedom. I had a poetry teacher when I was growing up at summer camp, and she would say, 'I just want you to write something that you've never seen before. I want you to think of every bird you've ever seen in every color. Now I want you to write the one bird you've never seen in the color you've never seen it in.' I thought that it was so freeing to approach what the world could be and to approach the world with this kind of radical imagination and creativity infused into the reality of my life with my hopes and dreams. That kind of fundamental learning early on helped me even today. When I look at the world, I always look at the imagination of what I hope it could be, and I think that has a lot to do with growing up writing. Yes, sometimes writing things as they were, but a lot of the time allowing how I wrote to be a place where I could dream and dream of my own healing and freedoms I was looking for. I have a very healing relationship with writing."

What do you find the most beautiful about poetry?

"That anyone could do it and there's not really a wrong way to do it. As long as it's emotional and it's you, it can't be wrong."


How do you implement self-care into your day-to-day routine?

"I think self-care is how we prove how much we love ourselves, and it can be, but isn't exclusive to, a face mask or something like that. It's kind of having this intimate relationship with yourself where you can say 'What would make you feel the best right now that's also a sustainable, energy-filling, replenishing moment you could have?' Your self-care routine is a direct reflection of your vastness of self-love you could have for yourself.

"For me, one of the things that's really important in my self-care is probably long baths. I just like to take time away from the world to listen to a podcast, or sometimes I'll put on a playlist, sit in silence, or listen to a book. It's nice to take 40 minutes and soak my body in different minerals to just spend a chunk of real time alone. I'm in a house and I've got my baby. One of my parents doesn't live with me but is in [Los Angeles], so I have a lot of moving parts to my life. I find that I'm able to show myself self-love the most when I just have moments where I slow down and say, 'OK, what do you really need in this moment? Do you need silence and a place to drop your shoulders?' I try to give myself that however I can, and my ultimate way is probably with that one bath."

Talk to me about the inspiration behind Heart Talk the Journal: 52 Weeks of Self-Love, Self-Care, and Self-Discovery. How will this book assist with the transformation of the audience's self-love and self-help journey?

"I did see there was something going on with Heart Talk where there was already igniting a space of self-reflection and I think a desire for collaboration with my readers. With the journal, I was like, 'I really should give more space to this because I do think that people really want it.' When I was about eight months pregnant, I finally sat down to organize it, and I thought of the three main things I would want out of a journal because there's so many kinds of journals. You could have the ones that are really creative; you could have the ones that try to get you to be a writer, ignite a story out of you and ask you tons of questions that are personal but not too intimate. I was thinking of what was a journal that I felt really didn't exist, and if I was going to do a journal, what would I want out of it? I would want it to be a space where I dedicated myself to self-love, self-care, understanding what my self-love and self-care looks like right now, and what is there to discover within me in the realm of both of those things and beyond them.

"I remember writing in Heart Talk that some people are just looking for a safe space to be themselves, and I know that's true. I've seen it on my book tours, I've seen people come just to have a safe space to be, and I also know being a kid who grew up as the only Black girl in most spaces in New Orleans, and going back and forth in divorced homes with my parents. I know what it feels like to be like, 'I think I'm the only one who's gonna have the emotional space to make myself happy and I'm the only one who's going to be able to make myself feel safe.' Those kinds of things I focused on being able to do so early in my life, and now that we're in this quarantine era, if you don't have that skill set or tool box, this is going to be so much more challenging. I know what it's like to have to be the one that makes yourself feel safe, and I wish everyone could have those tools, that space or desire, because it's game-changing in your life."


Speaking of game changing, we're coming up on a game-changing election, and unfortunately, that's rocked the world of our mental health. As a Black woman, what are your thoughts on the current state of the Black culture and the importance of being involved in this upcoming election season?
"American culture is Black culture. There is no culture in America without Black people having created it and specifically Black women. When I consider this election, a couple of the things I'm very conscious of and protective of is how people will treat and speak of the first and only Black woman who will hopefully be our next vice president. I am very conscious of people acting as if this race is completely dependent on Black people and Black communities, which it is in ways, but people forget that Black people, Black women specifically, always show up to the polls. It's really interesting because everyone looks for the 'Black women to save us' narrative while we don't have the policy that saves Black women in return. There's only two people running, Joe Biden and Kamala Harris, who are even open to listening to policy for Black Americans, specifically for Black women, so they're the only option in my mind. In that, this time has really proven just how much Black people are the heartbeat and center of this nation."
What's the importance of women's empowerment and solidarity during this time? How do you personally embody women's empowerment through your writing?
"I wrote this maybe four years ago, but I wrote, 'The future of feminism is only as powerful as the future of anti-racism.' When I think about female empowerment, I link it as braided into anti-racism. Just like I couldn't separate being Black from being a woman, I couldn't separate being feminist from being anti-racist. In this era, I look forward to more people embracing that intersectionality through how they approach the issues and the solutions."
How do you think we can use social media as a way to fellowship, to build community and find solidarity?
"If you use social media for exactly those things, then it's a tool. If you use it for anything else, it's probably a weapon. Social media is as positive and useful as you make it, and I think it's as dangerous as you make it, as well."
Top photo: Rony Alwin
Want more stories like this?
Christian Combs Is Coming for His Father's Crown
Instagram Queen Cipriana Quann Shares Her Unexpected Oasis
SET Active Founder Lindsey Carter on "Brain Breaks" & Building a Business from Your Dining Room