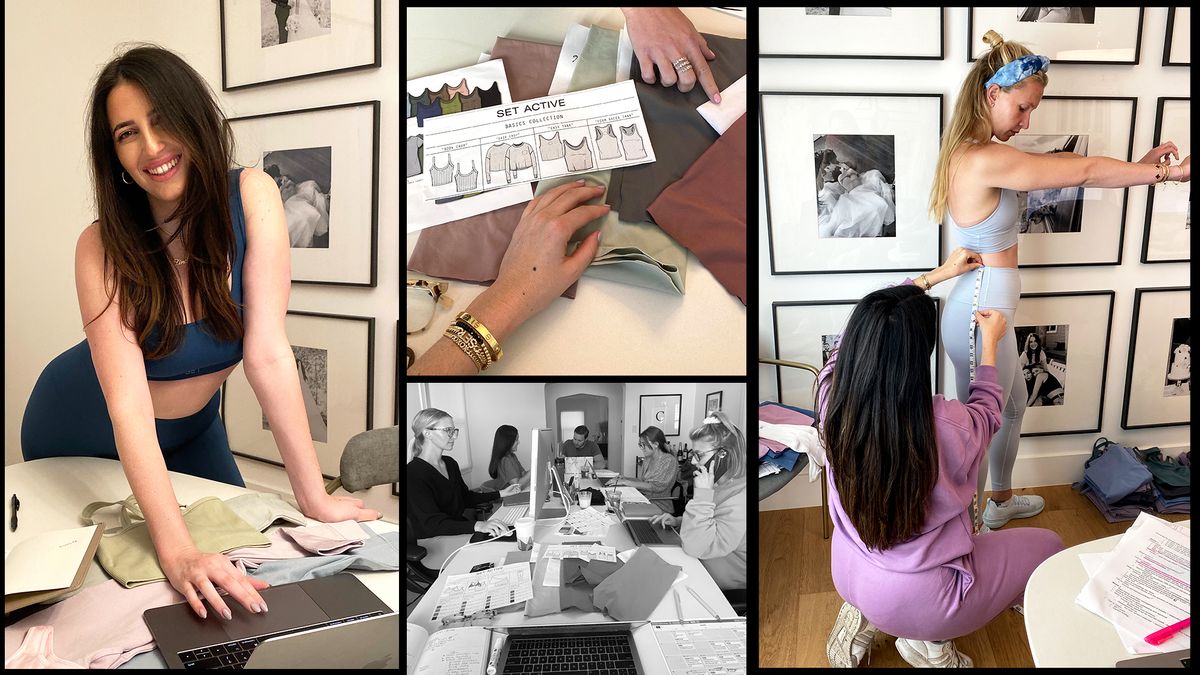 Career
SET Active Founder Lindsey Carter on "Brain Breaks" & Building a Business from Your Dining Room
The power of transitional athleisure.
Graphics
Rachel Pickus
Each week we're checking in with friends to see how they're finding balance, working from home, and generally evolving and advancing their careers. This week we chatted with Lindsey Carter, the founder and CEO of SET Active—she's the woman making us ditch our leggings and hoodies for something a bit more fashion-friendly. Read below on how she's making moves, sparking up romance, and designing for all.
---
How do you start your days?

"No fancy morning routine for me—I always start my day by checking my calendar while I'm laying in bed with my dog, Leo. Then I'll browse SET's Instagram to get a pulse on how our customers are feeling. After that I need coffee—can't start my day without it. Once 9:00 AM hits, I'll connect with our director of operations, Ally, for a quick run-through of what we have going on that day."

Are you incorporating movement or exercise into your routine? If yes, anything you're loving at the moment?

"Since the beginning of this year, I've been loving trying to walk 10k steps per day. I wish I could say I've been doing more, but ironically, my days are so busy running an activewear company that by the time the day ends, I'm pretty wiped. We're still such a small team, which means I wear a ton of hats—I love the energy and excitement, but I'm also grateful that we're in the process of hiring so I can make more time for self-care."

Talk to us a little bit about your work environment right now. Are you back in the office, or working remotely from home?

"We currently have our tiny team working out of my dining room at home, which we've happily called our HQ for the first two years. I'm so excited because we actually just finally found the perfect office for SET, and I can't wait to fully design the space for our team. It's a little bittersweet, and I don't think I can ever look at my dining room the same again—we've created so much all working together from one giant table that I think I'll weirdly miss it."

What are the most critical things needed for creativity and to survive a workday?

"Brain breaks, for sure. My brain works in sprints—when creativity hits, I am working a million miles an hour, and then I need a little breather to recharge. Sometimes that means fully disconnecting, or sometimes that means browsing social media to help spark a new idea. I also can't live without my notebook, which I use to jot down random ideas I refer back to. I've had so many fun ideas that we don't always have the bandwidth for at the time, so now that we're growing our team, I love looking back to see if there's something to pull from."


How do you stay focused and motivated throughout the day? Any tricks you can share?
"Whenever I'm feeling unmotivated, I'll actually hop into SET's DMs and see what kind of conversations are happening. Ninety-nine percent of our DMs are customers telling us how much our product has changed their life and made them feel confident in their skin. I think doing something that brings you back to your purpose can be really energizing. Those DMs really remind me how lucky I am to get to do what I do, and it inspires me to keep going."
It's a tricky time in our world, and economically speaking, it's unclear what the future holds. How do you foresee this time impacting your industry?
"The impact of COVID-19 on the entire world has been huge, and I think we have yet to see what the full ripple effect will even look like for fashion. In the immediate sense, we've seen a huge increase in online shopping behavior and in the demand for athleisure or transitional pieces that make sense for working from home, so we've gotten lucky there. Our production facilities and our ability to create content have definitely taken a big hit. I know there will be bigger long-term effects for the fashion industry as a whole, but for now I try to keep my head down and stay focused on the present."
From a creative standpoint, who or what has been your biggest influence?
"There are so many designers and entrepreneurs that I look up to, but at the end of the day, I create our product with the everyday woman in mind. My biggest influence has been the desire to make transitional athleisure that feels approachable, comfortable, chic, and flattering for everyone."
Tell us a little bit about your style right now.
"My style is SET—literally. The best feeling is when I'm out running an errand or grabbing a coffee, and nine times out of ten someone will stop me to ask me about my outfit. I love wearing samples that haven't come out yet, too. My current go-to is a sample of our
cropped half-zip sweatshirt
with
matching leggings
and a fun sneaker. It feels super sporty and chic. I also love getting creative and dressing SET up for a night out. I recently went on a (socially distanced) date with my husband and wore a sample of our new
Form Tee
with jeans, a cute belt, and some slides. The Form Tee is so flattering, and my husband loved my outfit—major plus."
Set Active
What's your go-to uniform?
"Did I mention that I'm always wearing SET? Haha. Our Crewneck is a staple in my closet. I have it in every single color; it looks good with leggings, but it also looks good tucked into some jeans with a belt and a sneaker. When it's warmer out, I love wearing our new Easy Crop. It's the perfect cropped tank to literally pair with anything."
Let's switch gears for a minute: Are there any beauty products essential to your day-to-day?
"
Dr. Lancer's Polish Scrub
is a 10/10 holy grail for me. I feel like it gently exfoliates my skin in the shower and preps my face to absorb all the serums and moisturizers that I'm about to put on after the shower.
Tarte also has a lip balm
that is absolutely amazing. I think I've gone through seven tubes just this summer alone. The texture and subtle color are insane in the best way possible."
How do you unwind at the end of the day? Cocktails? Recipe, please!
"Ugh, I wish I could say I was the type of person who could pour myself a glass of wine to unwind, but I'm really not a big drinker. It definitely triggers more anxiety for me. My favorite thing to do at the end of the day is order delivery, get cozy on the couch, and binge
Love Island
. Not exactly sexy entrepreneur-type stuff, but sometimes trashy TV is the only way my brain will really quiet down. Dream night is ordering a lettuce-wrapped burger and sweet-potato fries from Belcampo, and catching up with my husband about our days over a sunset walk around the neighborhood."
Lancer
Tarte