Beauty
The path to the pulpit was my first runway show.
Producer:
Jessica Sisco
Hair:
Makeup:
Glamour is housed within the bullet of the lipstick my mother would glide across her mouth on Sunday mornings. A clean, blood red that blurred and blushed and drenched her lips; a hard-edged femininity that remained non-threatening. Though I couldn't yet partake in the ritual, I achieved fluency in the language at a young age. There was nothing more thrilling than the realization that a red lip could forge a path forward, that it could transform you into the woman you wanted to be.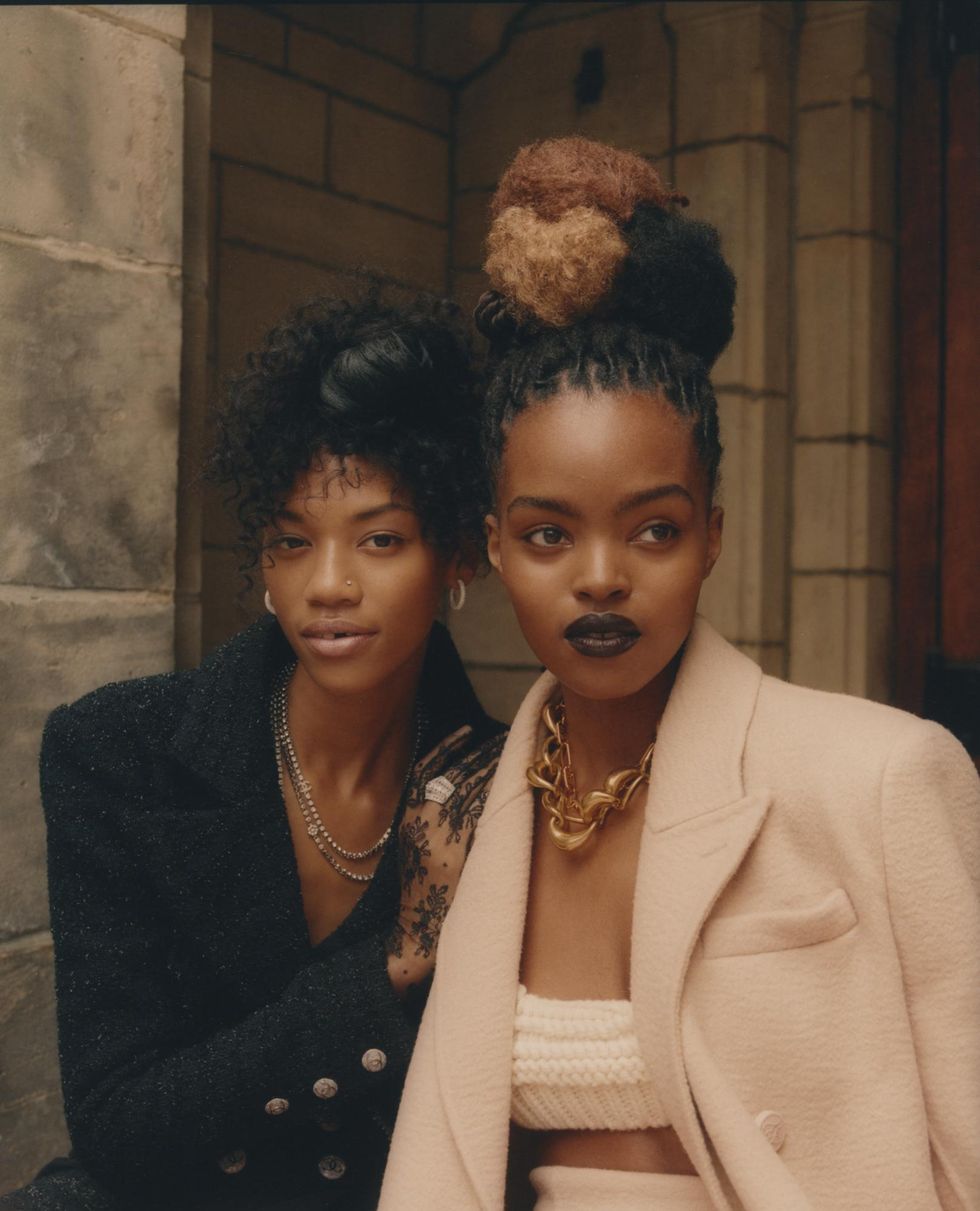 Symone Lu wears CHANEL top, bodysuit, skirt, and necklace; Roger Vivier shoes; Eriness earrings; Swarovski rings; Gloves are the stylist's own. Marianne Taylor wears Fendi top, skirt, necklace, and coat; Dinosaur Design necklace; Jimmy Choo shoes.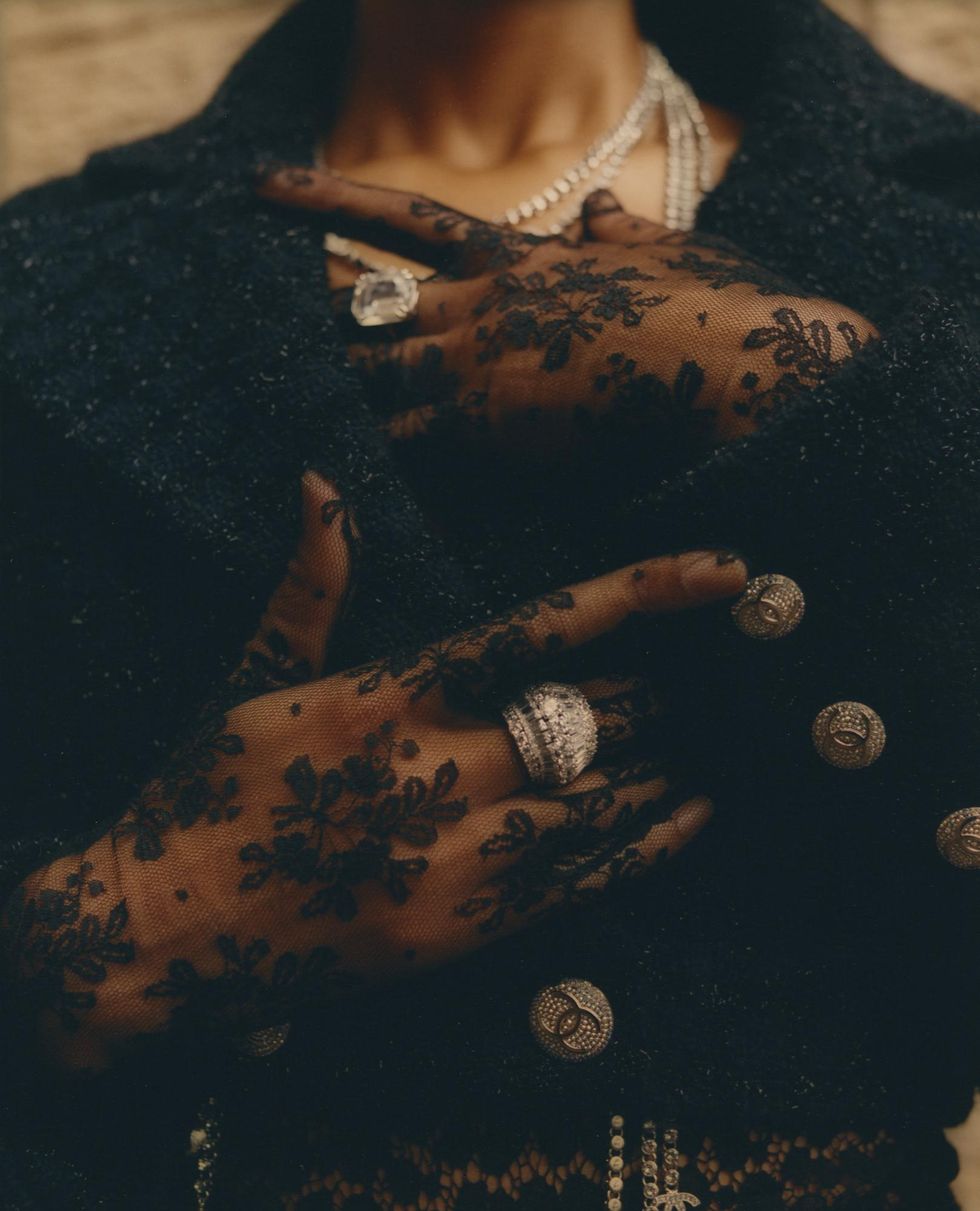 On Sundays, women made the journey from the church parking lot to the church doors adorned in pearls, feathers, dresses trimmed with eyelets, elaborate and colorful and wide-brimmed hats, two-piece tailored suits that hit right above the knee, and deep-red lips. There was not a single hair out of place. Us younger girls had our own aesthetic dialect as well: black vinyl shoes, lace-trimmed ivory socks, iridescent hair bobbles. Saturday afternoons were spent preparing for Sunday mornings. We'd sit on the floor in between our mother's legs as she used a rat-tail comb, or her own two hands, to part sharp and crisp lines through our thick curls. Like Moses parting the sea.
The runway show was only a piece of the pageantry: you had the long-winded pastor who would break into song at random, extending the already-lengthy service; there was the spirited organist whose fingers slammed down onto the keys to generate notes that echoed off the hallowed halls; and then, of course, you had the members of the congregation who caught the Holy Ghost.
I would watch as waves of ecstasy crashed into them. It was a mix of euphoria and revelation that I'd only experienced a handful of times, one of them being the last few moments of a football game in 2013. Head coach of the No. 1-ranked and two-time defending national champion Alabama Crimson Tide Nick Saban sent his kicker out to attempt a 57-yard field goal with one second left on the game clock. My brother and I held our breath as we watch the football fall short of the goal posts and into the arms of an Auburn football player by the name of Chris Davis, who tip-toed along the left sideline as his teammates cleared a pathway for him to score a touchdown, and my brother and I let out the bubble of air that had been expanding in our chest and we screamed while jumping up and down. David beat Goliath. Verne Lundquist's words roared from our television: "Touchdown, Auburn! An answered prayer!"
Symone wears Prada dress, stole, and shoes; Eriness earrings. Marianne wears Christian Dior top, skirt, shoes, and bag; Versace scarf; Chanel necklace.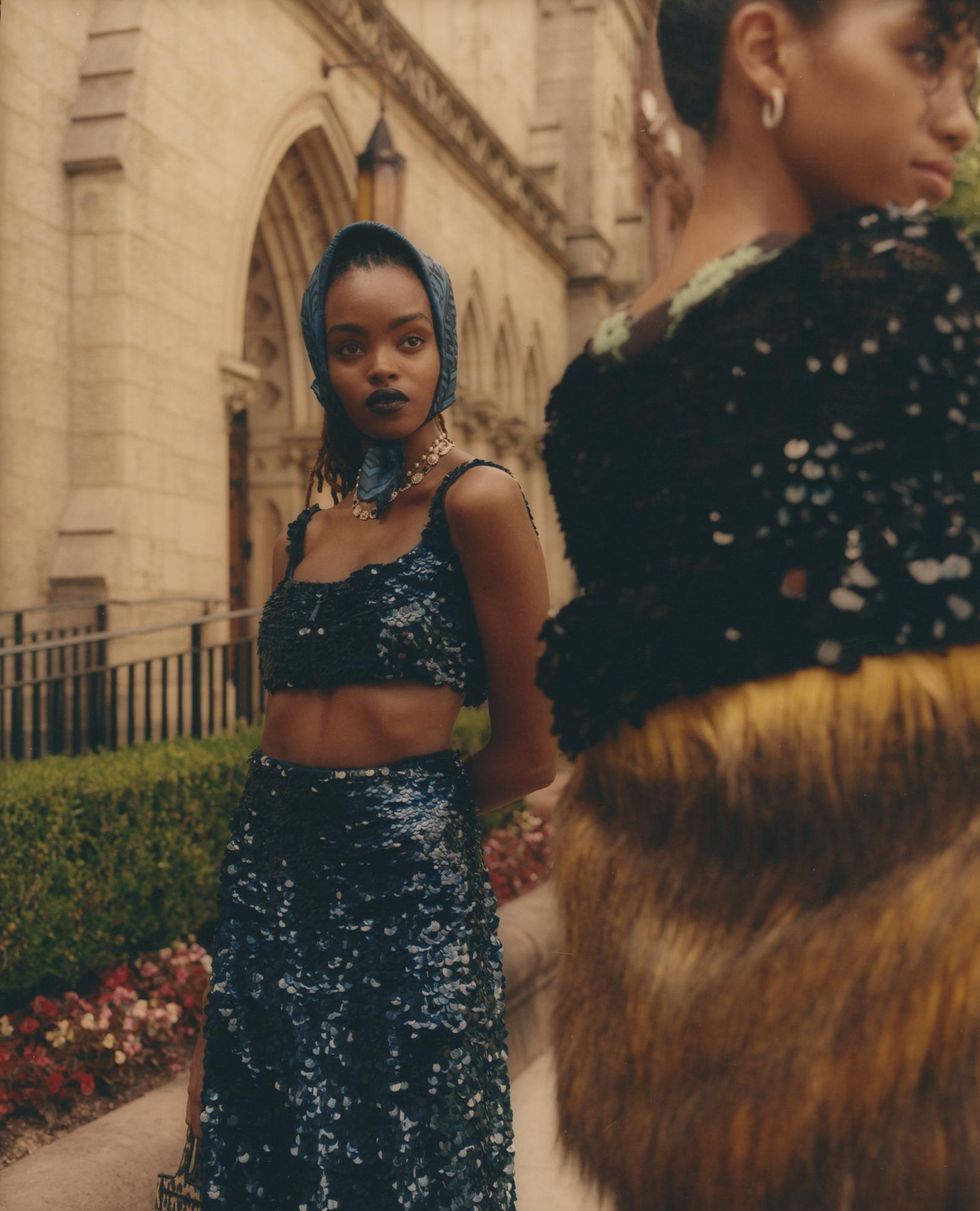 When I asked my cousin-who's-not-my-cousin, Gabby, what she remembered about our Christian childhood, "messy, lowkey shady aunties" made it onto her list of memories. Church aunties always came correct in the presence of the Lord. They know how to dress and, along with my mother, they were some of my first glimpses into how you could imprint a visual vocabulary onto your appearance to signal to others that you were an honest, God-fearing woman who knew how to keep it all together even if your world around you was falling apart.
Aunties were women who believed that they were ordained with the right to tell other people's children how to behave, and you wouldn't dare question their authority. They could speak a mile a minute without making a sound; the look on their faces said it all, loud and clear.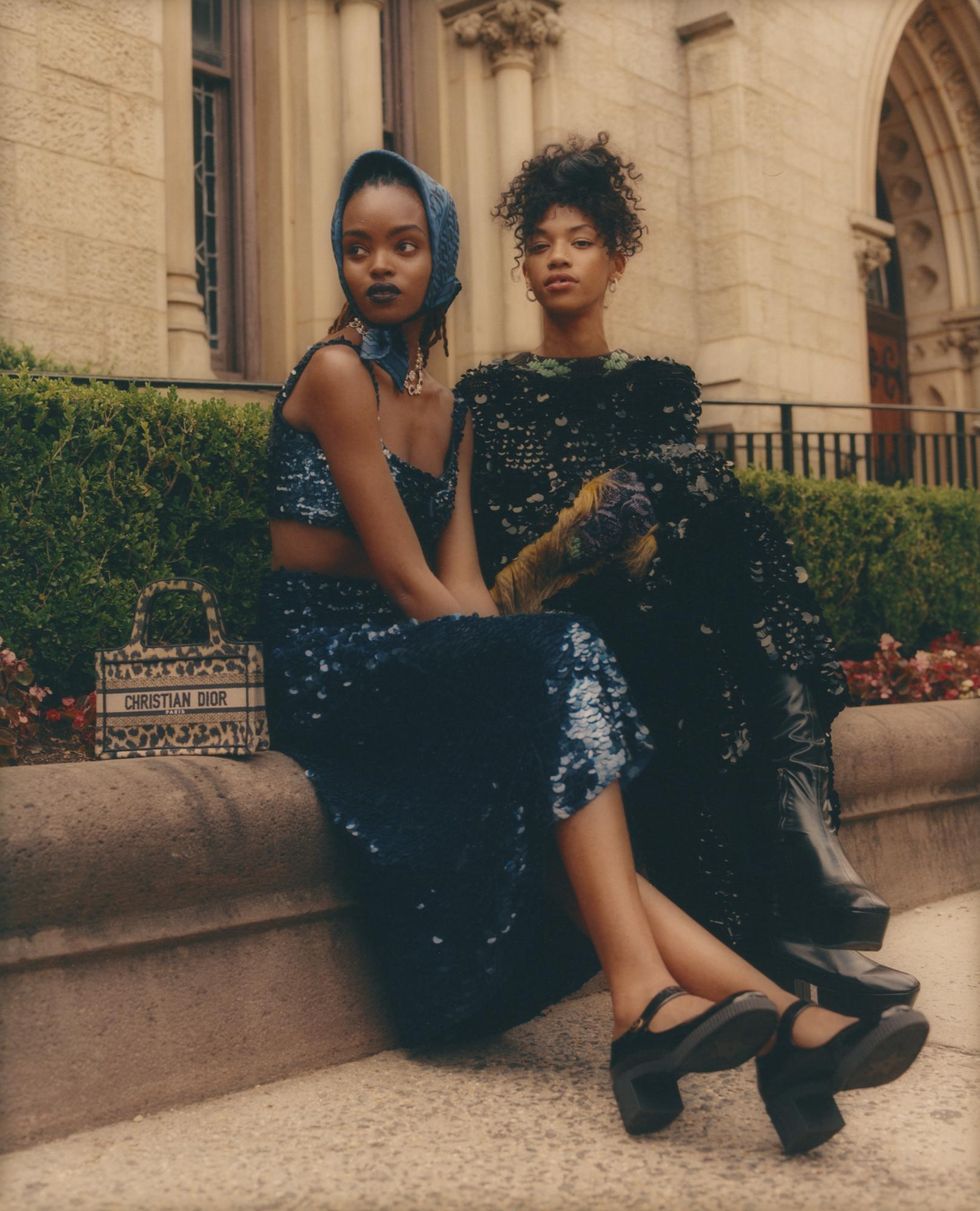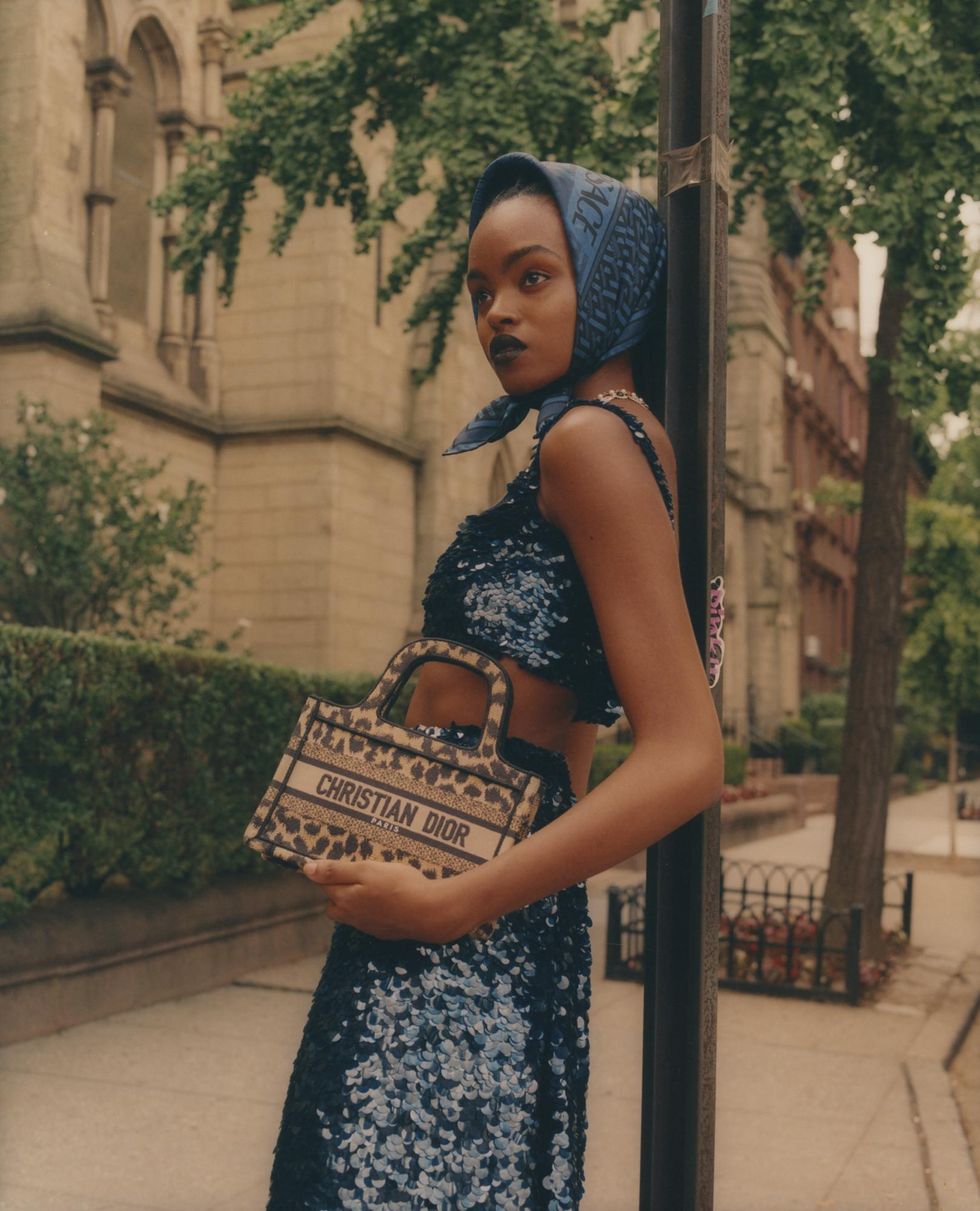 I remember waiting after services with my brother, for what felt like hours, as my parents mingled with their friends. The sun was beating down on me and the white hat that my mother placed on top of my head to hide the fact that there hadn't been time the day before to run a hot-comb through it did very little to provide solace. While holding a white styrofoam container packed with food in both hands and with beads of sweat beginning to fall onto my yellow and white floral skirt, I leaned back against the door of my father's 1995 chestnut-hued Toyota Camry and turned my gaze upwards. "Dear God, please, please, please tell mommy and daddy to hurry up so we can go home. Amen." My prayer must've taken a minute to reach the Lord. You know church folk love to talk.
Marianne wears Paco Rabanne dress; Dior shoes and earrings. Symone wears Miu Miu dress; Swarovski necklace and earrings.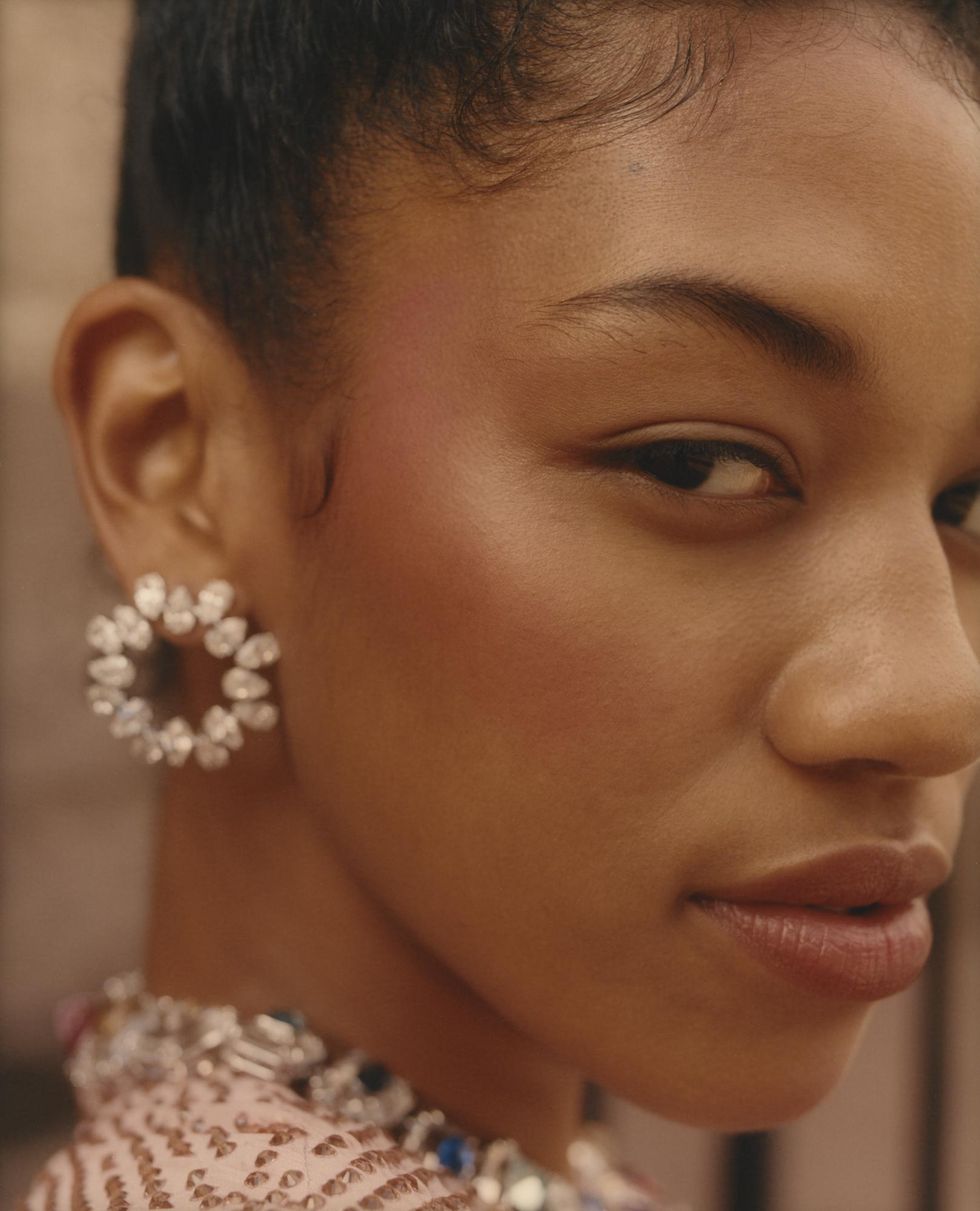 Throughout lockdown, I would swipe on a red lip. Or I brushed out my brows. Or I dabbed the doe-foot applicator of a concealer underneath my eyes. Putting on a face for the day propelled me forward and grounded me in a familiar ritual. Our future was opaque, but I had ample experience placing my faith in the unseen. As all church girls know, you may leave the church, but the church never leaves you.