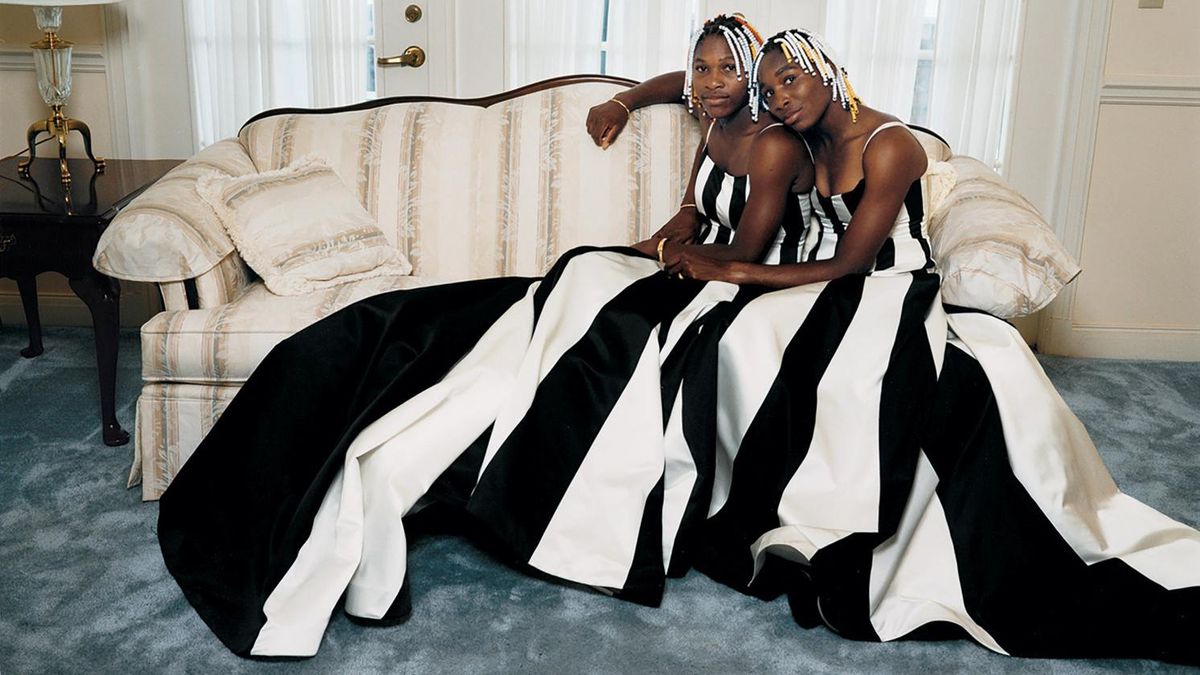 Fashion
An Ode to Carolina Herrera's Most Iconic Looks
Many of which she wore herself.
Graphic:
Ashley Combs
The name Carolina Herrera conjures up a particular look in the brains of those that study her. This ensemble is one composed of a crisp white shirt and a full ball-skirt, often sectioned off with a solid-hued belt. Classic, understated, elegant. Though this high-low, casual-meets-formal look has since been commercialized by the Jenna Lyons of this world, Herrera revolutionized New York society with her new interpretation of casual glamour.
Sure, this look made its appearance on the designer's runways—specifically her finale show for Fall '18—but more than that, it is an emblem of how she herself dressed. "In that respect, you could compare her with Chanel," explains Dr. Valerie Steele, the director and chief curator of The Museum at the Fashion Institute of Technology. "The Chanel look, that was [Gabrielle] Chanel and the Carolina Herrera look, it is Mrs. Herrera." This moment of admirable reflection that naturally occurs in tandem with the house's celebration of its 40th anniversary reveals a weak delineation between Herrera's personal style and her design sensibility.
Designers often separate themselves from their collections cultivating iconic uniforms that recede into the background of their designs—Michael Kors, Tom Ford, etc. We've even noted that designers such as Phoebe Philo exude a personal style that exists entirely outside their work. In what Steele refers to as both a strong combination and surprisingly uncommon, she recounts that in the cases of both Chanel and Herrera, "Each of them had a very strong personal style that they were then able to turn into a fashion business precisely because people wanted to look like them."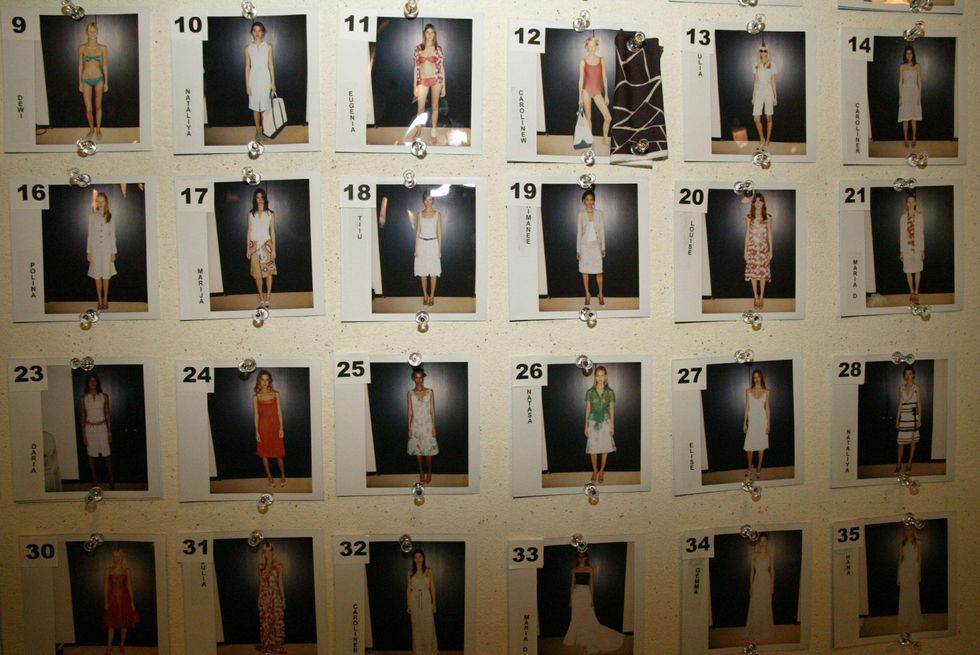 Backstage at the Caroline Herrera show spring 2005;
Photo: Getty
So, what exactly was Vanity Fair's Best Dressed Women of All Time selling? "I think she is someone who has really merged an aristocratic Euro-Latina style with the kind of casual glamour of New York society," explains Steele. The designer, who debuted her first collection in 1981, embraced the opulence of the '80s as she experimented with volume alongside the likes of Jean Paul Gaultier, Vivienne Westwood, and Christian LaCroix. "She did big skirts, she did lots of embroidery, she did big sleeves," says Steele. The people even referred to her as "Our Lady of the Sleeve."
Staying in the realm of the upper body, Steele also notes that Herrera often toyed with capes and capelets as yet another sartorial opportunity to frame the face. "Going through the collection the other day, I was astonished. I hadn't really quite grasped how many capes she made."
By creating signature elements out of oversized sleeves and capes, Herrera cultivated a sort of modern regal sensibility that her clients consumed vehemently. She turned a crisp white shirt into an evening gown and reinterpreted South American silhouettes into formalwear. The Venezeulan-American creative translated the haute couture fashion energy of Europe for the Studio 54-goers of NYC.
In the '90s, she diverged from the flamboyance of the '80s without fully signing onto the minimalism that dominated fashion throughout the era. "She talks about how she found minimalism boring, but [her clothes] become more sleek," reiterates Steele. "There's continued emphasis on detail." For example, black and white sheath dresses, which were photographed on the Williams sisters by Annie Leibowitz for Vogue in 1998 are simple in essence. However, the pattern creates something of an optical illusion for the viewer, flipping the idea of black-and-white minimalism on its head. She often favored this idea of tricking the eye through graphic prints, such as stripes and polka dots (another favorite motif of hers).
In our conversation, Steele repeated the defining words joyful, provocative, and glamorous numerous times. Despite necessary modernization, that same idea prevails throughout Herrera's almost 40-year sartorial tenure. Though her successor Wes Gordon, who will be honored with the award for artistry in fashion at this year's Couture Council of The Museum at FIT Luncheon, infuses the line with saturated hues and a youthful exuberance, he continues to pay homage to her aesthetic prowess with new takes on patterns like the polka dot and that same feeling of New York elegance.
While those in the public eye ranging from Jacqueline Kennedy Onassis to Renee Zellwegger repeatedly championed her classic looks, Herrera herself was the ultimate brand ambassador. According to Steele, Gordon notes that when he attends dinner with his predecessor, "everybody is looking at her. I think that this is something which you have only to spend a small amount of time with her in public to realize that she just attracts attention just compellingly." Below, Steele takes us through many of the designer's most iconic looks, many of which appear on the shoulders of Herrera herself as she conflates personal style and design in an unprecedented fashion.
Carolina Herrera
Carolina Herrera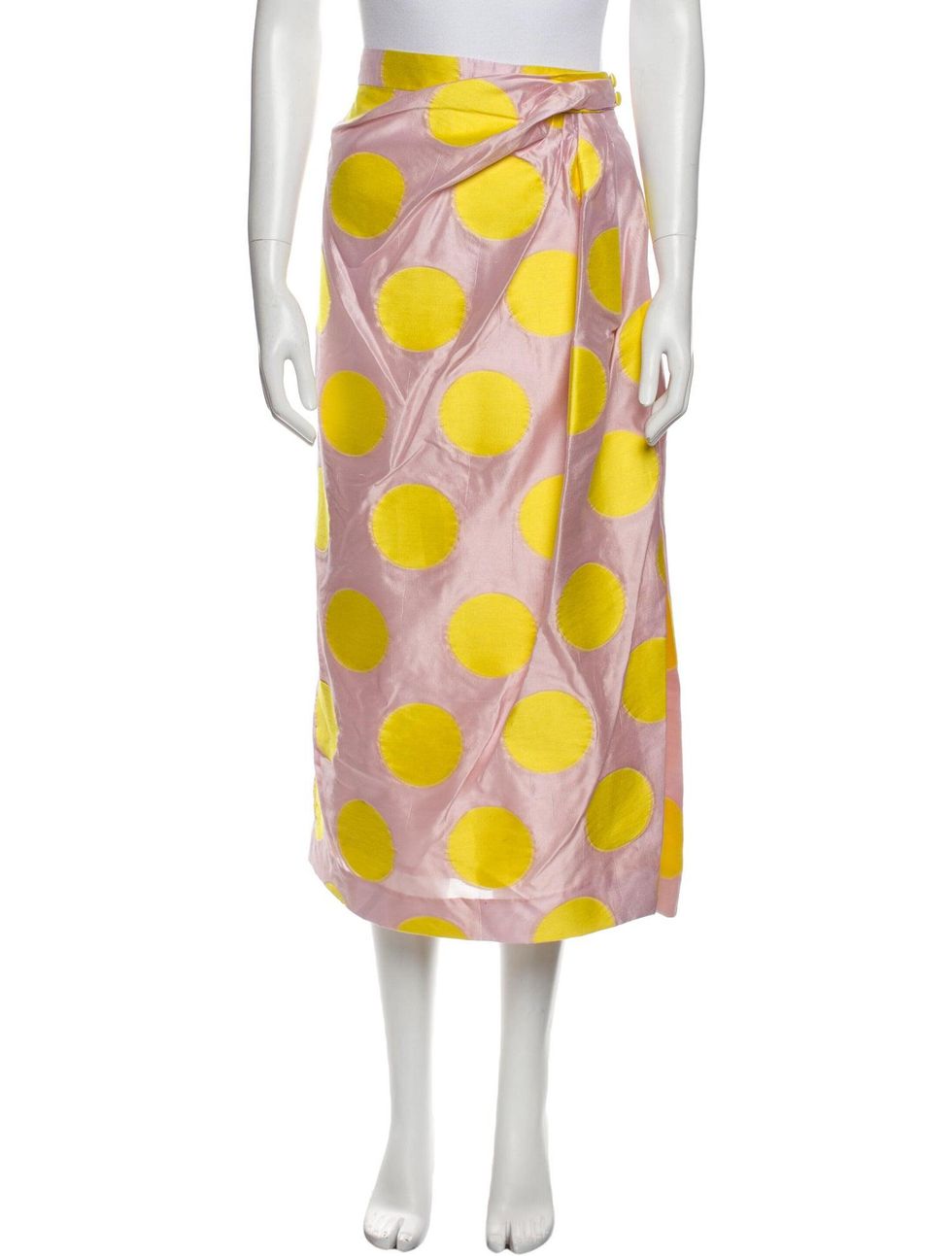 Carolina Herrera
Carolina Herrera
Carolina Herrera