An Ode to Jenna Lyons' Iconic Personal Style
She presents us with a viable solution for post-pandemic dressing.
Shopping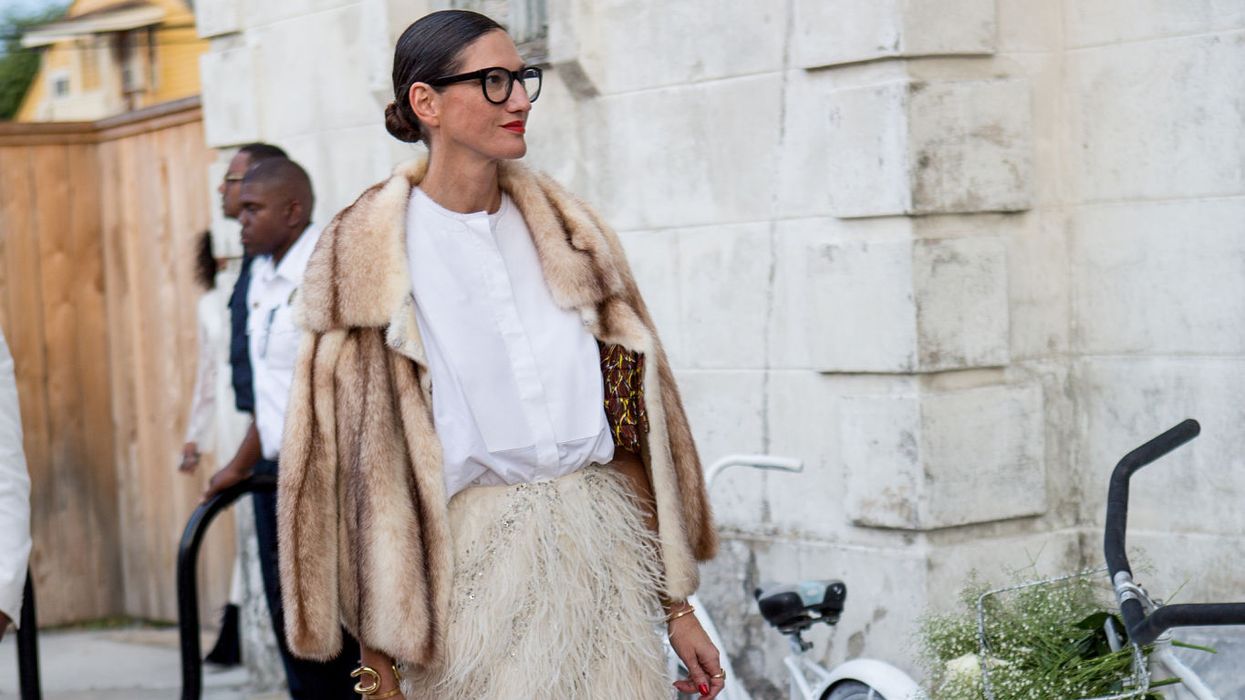 Jenna Lyons
resurfacing was one of the *few* perks of 2020. This decade's version of Lyons' public persona highlights an array of her many talents. Aside from her new TV show, so much of Lyons' welcome-back 
coverage
shone a light on the beauty space via her new lash line
LOVESEEN
, which she founded to combat being born with very few lashes or eyebrows. Despite all this, the reason this multifaceted woman originally caught our eye was her indelible sense of personal style.
And that's exactly what it was: style over fashion. On their own, the items she wore were nothing groundbreaking. The magic lay in how she combined pieces which were categorically incompatible. She aptly blended casual wear with formal wear in a way that hadn't been done before. Through her controversial style choices, Lyons found a way to change the narrative around "dressy" clothes, lacing them with a newfound layer of approachability, pushing the boundaries of antiquated fashion rules. She then lent that style to
J.Crew
, where she served as creative director, and it trickled down to the masses from there.
---
What now seems intuitive was groundbreaking back in 2010. Sneakers with trousers? Denim with tailoring? A t-shirt with an evening skirt (lest we forget her iconic
look
from another sartorial star, Solange Knowles', wedding)? A layering aficionado, Lyons would combine unlike items, opting for a printed top worn over a striped button-down or a sharp blazer over a relaxed sweater—she actually donned a sequined skirt, button-down, and sweatshirt to the
Met Gala
, of all places! This high-low mix also implied a mix of price points—even if that was not the case. The result being the fancier items no longer looked so pristine as the lines between polarized categories such as gender, price, and formality blurred.
For the past nine months, the more, shall we say, flamboyant items in our sartorial collections have gathered dust in the corners of our closets. A trip down Lyons' fanciful memory lane presents us with more than adequate solutions for how to work those now intimidating items back into our daily rotations—in other words, a real way to wear something. Not only did she show us how to use casual pieces in formal settings, but she provided examples of ways to wear formal items on an average day, sprinkling a tongue-in-cheek layer of joy over even the most mundane of situations.


Here's How to Get Her Style:
A layering staple, a striped button-down could be worn under dressier tops, but also clash it with printed pants.
Lyons appreciated traditionally "fancy" items and understood how to dress them down. To complete the look, opt for a white oxford shirt worn underneath and distressed jeans, of course.
An icon of the 2010s, the tailored pant adds polish to any casual item. For a Lyons-esque touch, pair yours with sneakers.
A t-shirt can be paired with just about anything, but we love how the softness of the oversize silhouette contrasts with a tailored trouser.
We highly doubt anyone reading this article has not owned a pair of these at some point, but we encourage you to indulge in a bit of nostalgia and cycle them back into your collection (with tailored trousers always).
Though Lyons often paired her denim with stilettos, we think a dressy flat would suffice.