Inside the Art-Filled Abode of Two Eyewear Designers
This Brazilian home has the essence of an art gallery.
Interiors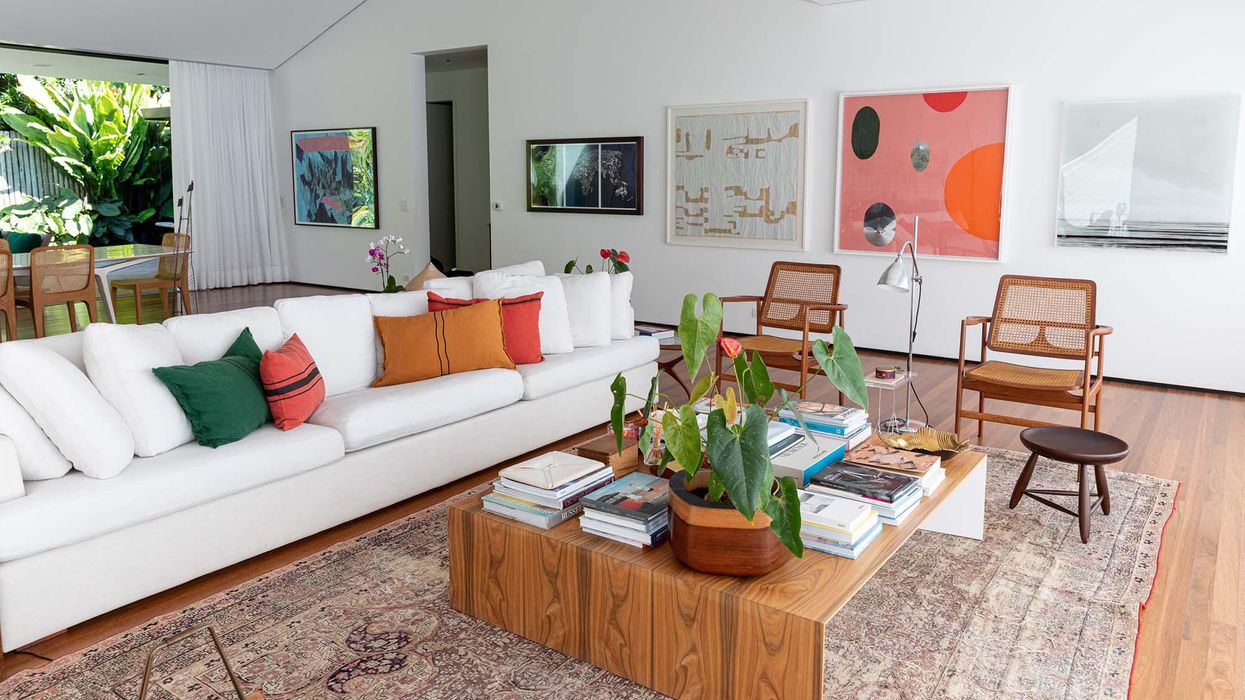 When the design duo behind Brazilian eyewear brand Lapima, Gisela and Gustavo Assis, purchased their current home, it had all the makings of an art gallery: expansive blank walls and sleek wood floors. So, they treated it as such. Gisela tells me they always loved art from afar, but "having a space with a lot of white walls, it was possible to start purchasing it." The home itself lacks color. That comes instead from the vivid pinks, deep emeralds, and of the paintings and photographs.
Gisela and Gustavo collect art as a hobby regardless of financial worth. Aside from a heavy dose of sentiment, the common thread running through the assortment is the artists' locale. "Different styles, different artists, but people that really touch us," says Gisella. "And are Brazilian." Their favorites include works from Janaína Tschape, Luiz Zerbini, Carlito Carvalhosa, Vic Muniz, and Fran Chan.
"When we were designing the house, there was so much wood and white and we were like, oh my God, where is the green going to come from?" laughs Gisela. About an hour's drive outside São Paulo, the relaxed town of Campinas inspired them to essentially erase the boundaries between the structure of their home and the outdoors. Huge sliding glass doors wrap the home so that even when closed, light beams through. "From six until midnight," says Gustavo. "When we are awake, [the doors] are open." Aside from a sleek wooden deck and pool, their outdoor space is characterized by lush greenery evocative of the Brazilian rainforest.
When we spoke it was 30 degrees in New York and summer in Brazil, a difference not lost on me as they described how their kids liked to run straight out of bed and into the pool. Continue scrolling to discover how the duo outfitted their home to frame both the art collection and the plant life. Fair warning if you live anywhere cold, this might have you hopping a flight to Brazil stat.