Inside the Surprisingly Neutral Home of Schumacher's Creative Director
Dara Caponigro prefers her personal collections to make statements in design rather than color.
Interiors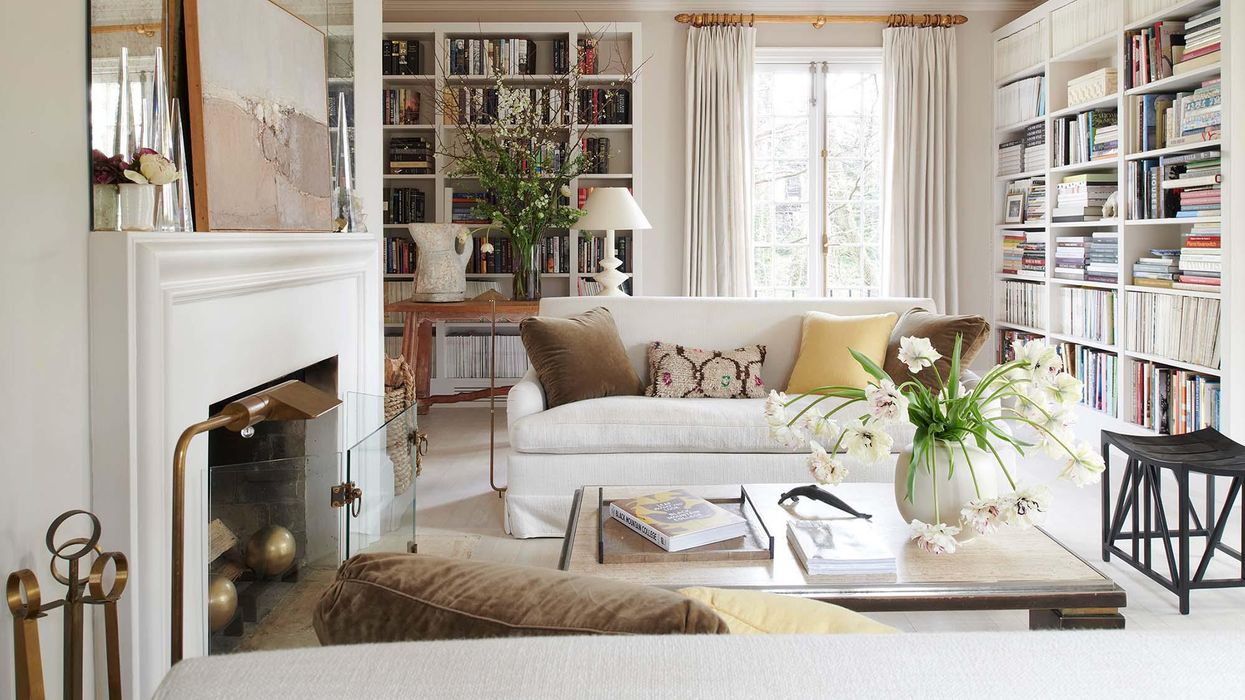 There's an initial contrast between the chinoiserie, toile, chevron, stripes, ikat, and more present at Schumacher, originally a fabric house that cultivated a following for its expertise in all things print and pattern, and the seemingly neutral home of its creative director Dara Caponigro. But that's only at first glance. Spend more than a few moments in the editor-turned-creative-director's Bronx home, and you'll realize that minimalism exists only in color palette. "I love objects that have a soul," explains Caponigro. The rooms may be bereft of print, but the items themselves—through their history, texture, and design—have lots to say.
After multiple decades in Manhattan, Caponigro found herself disillusioned with the city. To her surprise, a charming home in the Bronx quickly caught her eye. "An English Georgian house is not really my thing," she says of the almost quaint structure, "so I created this fantasy around it." Piecing together the appearance of a modern English home, Caponigro began with the work of her favorite English designers (who, in her case, are often also friends): Veere Grenney and Ilse Crawford. That translated to traditional sofas rendered in crisp white fabric or wraparound, floor-to-ceiling shelving to house her and her husband's immense book collection. "I think it was that familiarity mixed with something modern that I was trying to get," Caponigro muses.
Caponigro has spent decades honing her eye with a résumé that boasts stints at House Beautiful, Elle Decor, Domino, Veranda, and her current placement at the helm of Frederic. She spent the '80s coming to terms with not only her own taste but the idea that good design exists outside the reins of one particular sense of style. Her own interior sensibilities are restrained but impactful, a "rawness" as she calls it. The creative director mixes pieces that might not seem to "go" together but clash beautifully. In her windowed sunroom, a Noguchi lantern perches above an almost Middle Eastern–looking Robsjohn-Gibbings table, framed by a creamy set of traditional chairs. The common thread in materials is a "rawness" as she calls it; the wood is often unfinished, the fabrics textured, and the mirrors antiqued.
Throughout this process of mixing and matching, Caponigro definitely subscribes to the Coco Chanel mantra that insists you take off one thing before you go out. "Whether it's a layout or a story or you're styling something, if you take something away, it always feels better." This is the home of an editor. Every item was placed with purpose and, though sparingly, sentiment—a product of both her own shopping practices and the trade as many designers and dealers are also her friends. And on the flip side, "I had bought these lamps at one point that were from a shop where I didn't really like the person who owned the shop," she laughs, "and I had to get rid of them."
Though the design savant's collection may be precious, her lifestyle is much more realistic. "I wish I were more practical." Caponigro has a husband, kids, and dogs (one of whom, Vicky, is perched on my lap for the entirety of this interview). Though the photos reveal a sunny European-looking terrace, the yard was blanketed in snow for my visit. And she works from home part of the time, which, as many of us know, means an excess of stuff. But hey, at least she has more room than a Manhattan apartment.