Inside Our Beauty Editor's NYC Apartment Transformation
Ama Kwarteng walks us through the redesign.
Interiors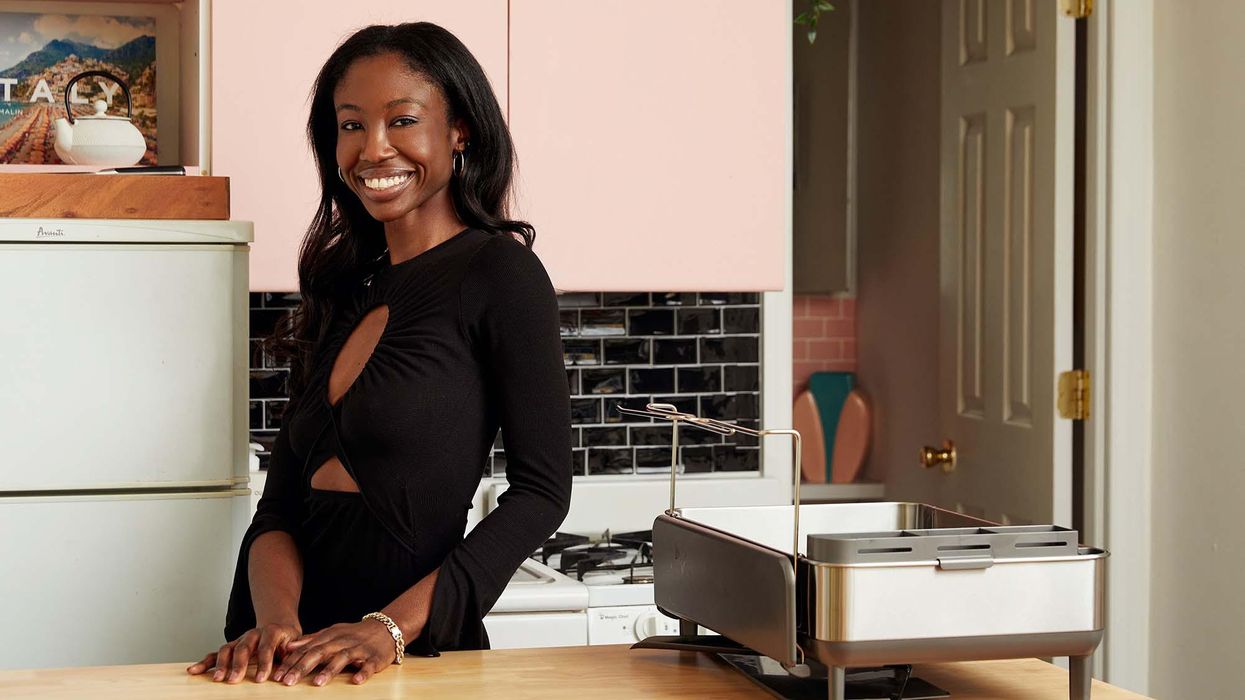 Last year, our own beauty editor Ama Kwarteng found herself ready to level up in a manner New Yorker's (myself currently included) only dream of. In an act synonymous with adulthood in every sense of the word, she set out to ditch her roommates and secure her first solo apartment. "I was coming from the East Village where I'd lived for three years and I just needed a change of pace," she says. "I woke up one morning and was like, 'I can't live here anymore,'" and subsequently turned her attention to quieter neighborhoods uptown.
With the help of the elusive no-fee broker, Kwarteng managed to find an unlisted, under-$2,000, true one bedroom apartment—no studios, please. The new spot was spacious in the New-York-City sense of the word and in true beauty-editor-fashion, the triple medicine cabinets in the bathroom sold her. "I didn't even see the place [in-person] and I was like where do I sign?"
The transition from living with roommates to living without gave her a sense of control aesthetically she had yet to experience. "I didn't really care how my space looked to be honest. I viewed it as kind of temporary," Kwarteng reflects. "It's hard I think when you have roommates with different tastes to invest in your space. This is my first real apartment and I wanted to create a space that felt cozy and comfortable and that I would walk into and be de-stressed immediately."
Amidst the chaotic state of the world, the 26-year-old wanted a home. And she didn't want to wait for it. So she enlisted interior designer Melanie Whyte to speed up the process. "I have a very strong aesthetic but when it comes to interior design; I really wanted someone who could help me envision the space and see all the different uses for it in ways that I couldn't," she adds. Whyte, an interior designer to the common man—yes, they exist—charged roughly $1,300 per month and focused on sourcing pieces and arranging them in the space.
Initially, Whyte created a moodboard to guide the vibe and a tentative floor plan. Working with an interior designer allowed Kwarteng to realize how much her rental small space could actually hold. "She really saw that I could have a dining area and a living area and a kitchen all in the same space," says Kwarteng. They used colors and furniture as blockades to divy up the space. The dining nook is set in front of a green accent wall (a color dubbed "ugly" green), the added island sectioned off the kitchen (a space defined by the pink-painted cabinets) and the sofa siphoned off the living area. "A lot of people make the mistake of pushing a couch up against the wall," adds Whyte. "Actually keeping it in the center allows you to have a little vignette versus using up all the space." Her bedroom houses a reading nook, a vanity, and of course the actual bed.
From there came the element of personalization. This is where Whyte and Kwarteng got creative (both aesthetically and fiscally). They framed previous editorial projects Kwarteng feels most proud of and commissioned works of art from her artist friends. Her extensive book collection, whose shelves bookend the television console, serve as both decor and a testament to her personality.
"It just would have taken me longer and I wouldn't have pushed myself as much I think, aesthetically," Kwarteng tells me when I ask whether hiring a professional was worth it. "It's nice to have someone to bounce ideas off because sometimes I'm like, 'Is this crazy?' And she's like, 'No,'" she laughs.
"When we did our consultation and were talking about how we wanted the space to look, I was like, 'I am not into the instagram, all-white, minimalist look. No shade, but I just wanted my space to feel like me, not to feel like an algorithm so I relied on my own taste." Kwarteng and Whyte thrifted most of the furniture. "When you're bringing in pieces that you have literally a physical reaction when you see them," says Kwarteng, "it changes up your mood when you enter your space."
"At the end of the day, you're creating a space where you feel comfortable and you can host your friends in," she says on a windy February evening, before adding "I just want it to feel warm."