Photo: Getty Images
Makeup
Lash primer is the underrated MVP in your beauty regimen.
Who doesn't want longer lashes? When the pandemic first hit, I was a lash extension enthusiast. After tons of trial and error with extensions that were too thick, too long, or too fan-like, I had finally found the perfect tech who gave me the natural-looking lashes of my dreams. When her studio shut down, I felt naked. How could I possibly go back to my regular ol' natural lashes? I was desperate to add a bit of oomph to my mascara and scratch the itch that my extensions left behind, so I started experimenting with lash primers.
Lash primers first came onto my radar during one of my many makeup tutorial wormholes, where I heard one beauty guru geniusly describe primers as "weave for your lashes." I was instantly intrigued. And when I saw the before and afters, boasting maxed out length and mega volume, my "yes" turned into a resounding "hell yes!" I couldn't help but wonder why everyone didn't have lash primers in heavy rotation. When I finally got my hands on Milk Makeup's KUSH Lash Primer, it didn't disappoint.
But if you're already enamoured with your mascara, why incorporate an extra step? Celebrity makeup artist Jamie Greenberg primes her clients' lashes because "primer helps make the lashes pop to their best ability and last even longer than regular coats of mascara," she tells Coveteur. The key to primer is that it can mimic the texture of lash hair. "It thickens and lengthens them before mascara is applied."
"A good way to imagine it is like spackle or plaster on a wall," explains Toronto makeup artist Ashley Readings. "It builds up the surface before you cover it in paint." For those with shorter or finer lashes, this is clutch. "We forget that just like the hair on our head, our lashes can be sparse or the individual hair can be quite thin and delicate. Primers will help build those fine hairs up and unlike layer upon layer of mascara, won't get as clumpy or flakey," Readings adds. Below, Readings and Greenberg break down why lash primer deserves a spot in your beauty routine.
How Do Lash Primers Work?
Though different formulas take different approaches to boosting the effects of mascara, the magic of most lash primers is in how they fortify lash fibers. "Depending on the formulation, lash primers work by giving mascara something thicker and longer to hold on to than your natural lash," Readings explains. "Some contain oils or keratin to protect or treat your lashes when they are on."
Will Lash Primer Make My Mascara Clumpier?
Not necessarily. To keep the application slick, it's truly all in the application. Greenberg says that best practice is applying lash primer in small, slow strokes to ensure that the wand is touching each individual lash. "Focus on the tip of the lashes, not the base," Readings adds. It's also best to practice restraint. Even if you like to double or triple coat your mascara, a single swipe of primer will suffice. "One coat is enough," says Readings. "And if you find the wand has too much product you can wipe some off on a tissue." For the cleanest possible finish, Readings also glides through lashes with a lash comb in between coats of primer and mascara. "It makes a huge impact for keeping lashes separated," she says.
How Often Should I Replace My Lash Primer?
"The best thing we can do for our lashes is to replace our mascara regularly; three months max once it's open, regardless of how often you use it," Readings says. "That keeps the formulation fresh, the brush clean, and our eyes healthy—and that's so much easier when you've spent $8 versus $30." Because of this, she sticks to more affordable lash primers and mascaras from the drugstore. Keeping a fresh primer on-hand also keeps clumping at bay. "This is also more likely to happen if you are using an older tube of primer or mascara," Readings adds.
Shop Lash Primers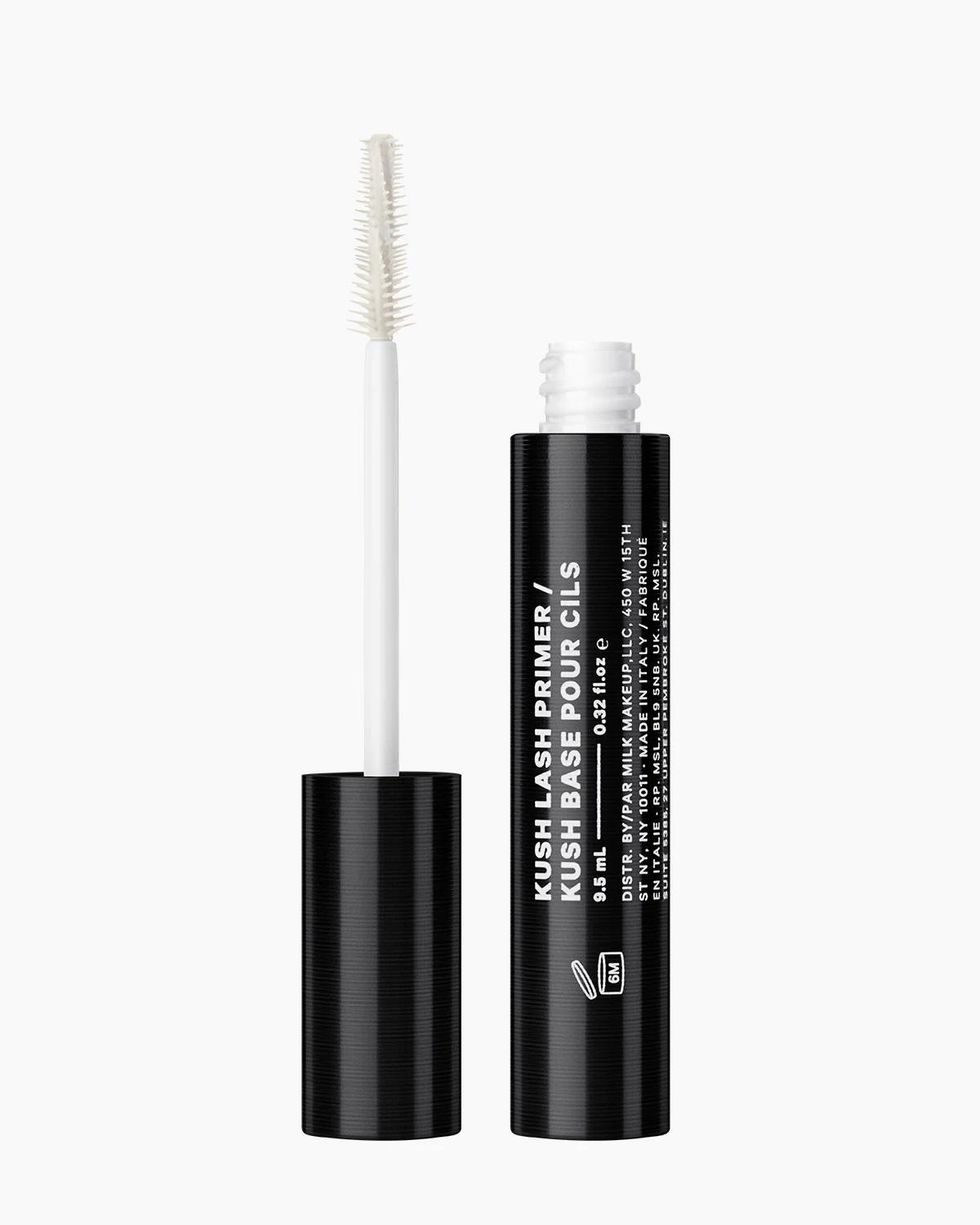 A swipe of Milk's KUSH Primer coats lashes with cannabis oil for a finish that looks thicker, but still feels super lightweight. Seeing the IRL before and after of this primer was a sliver of joy that I'll never forget.
Milk Makeup
"I love PÜR's Fully Charged Mascara Primer because it's clean and it goes on almost a clear white," Greenberg says. "It isn't clumpy and looks fantastic. The magnetic technology adds a sheer layer under mascara to boost volume, length, and hold lash curl while delivering lash-nourishing ingredients."
PÜR
This primer is one of Readings's go-tos thanks to the applicator. "The brush on Voluminous is unparalleled," she says. As an added plus, the formula gently conditions lashes, so regularly pairing Voluminous with your mascara should lead to softer, more fluttery, "come hither" lashes.
L'Oréal
If clumpy mascara is your sworn enemy, you'd probably be impressed with this L'Oreal primer, which is only $12. "The formulation of Lash Paradise is perfect for maintaining separation," Readings says.
L'Oréal
It doesn't get more convenient than Honest Beauty's double-sided primer-mascara. Before swiping on a coat of the brand's lengthening mascara, you can simply glide on the primer on the other side of the tube.
Honest Beauty
A swipe of this primer-serum hybrid is like taking your mascara from regular font to bold font. The formula uses cornflower floral water to dial up the volume on your mascara's color, intensity, and shine.
Dior