Art-Themed Day Trips to Take From NYC
Your design-filled city escape awaits.
Living
Photo: Iwan-Baan
It's summer, it's hot, and if you're a resident of New York City, it's about time to escape the city. While the beaches of Italy, museums of Paris, and quaint churches of Greece that are likely flooding your Instagram feed all seem like great options, they're not always feasible. Travel time, expensive flights, and a lack of vacation days tend to hinder many of the trips we daydream about. However, all is not lost. Venture less than two hours outside of the city in nearly any direction and you'll stumble upon a hidden cultural gem of New York. Better yet, the vast majority of them have art collections you can't find across seas.
Here's your cue to pack a day bag and grab a pal—the best artistic city escapes are just a train ride away. Below are some of our favorites.
A fixture by Formafantasma hangs over a dining table in the main house.
Photos: Courtesy of Manitoga
A cozy nook in the upstairs level of the main house.
If you're into architecture, lush greenery, or mid-century design, look no further than Manitoga in Garrison, New York—just one hour and 20 minutes outside of the city by car or train. Designed and lived in by American industrial designer Russel Wright, this private home and studio that's been transformed into a National Historic Landmark is not to be missed. It's one of the few homes with original landscaping that's open to the public. Better yet, the Russel Wright Design Center does collaborations with other artists and museums, and the one on display this season is pretty fantastic. In collaboration with Magazzino Italian Art, the "Formafantasma" exhibit displays a selection of works by the Italian design duo Andrea Trimarchi and Simone Farresin throughout the house and studio, exploring the relationship between design and the natural world. The exhibition is on through November 14.

The exterior of Magazzino Italian Art, designed by Miguel Quismondo.
Photo: Courtesy of Magazzio
Magazzino Italian Art is a nonprofit museum that advocates for Italian artists with a wide range of practices—from traditional painting to light installations and beyond. The architecture of the building itself is quite stunning and designed by Spanish architect Miguel Quismondo. It now serves as a cultural hub within the Hudson Valley (just an hour-and-a-half outside of the city) focusing primarily on postwar and contemporary Italian art. If you're not already sold on the art and architecture, there are also several donkeys on the premises, with sculptural feeders and troughs to boot.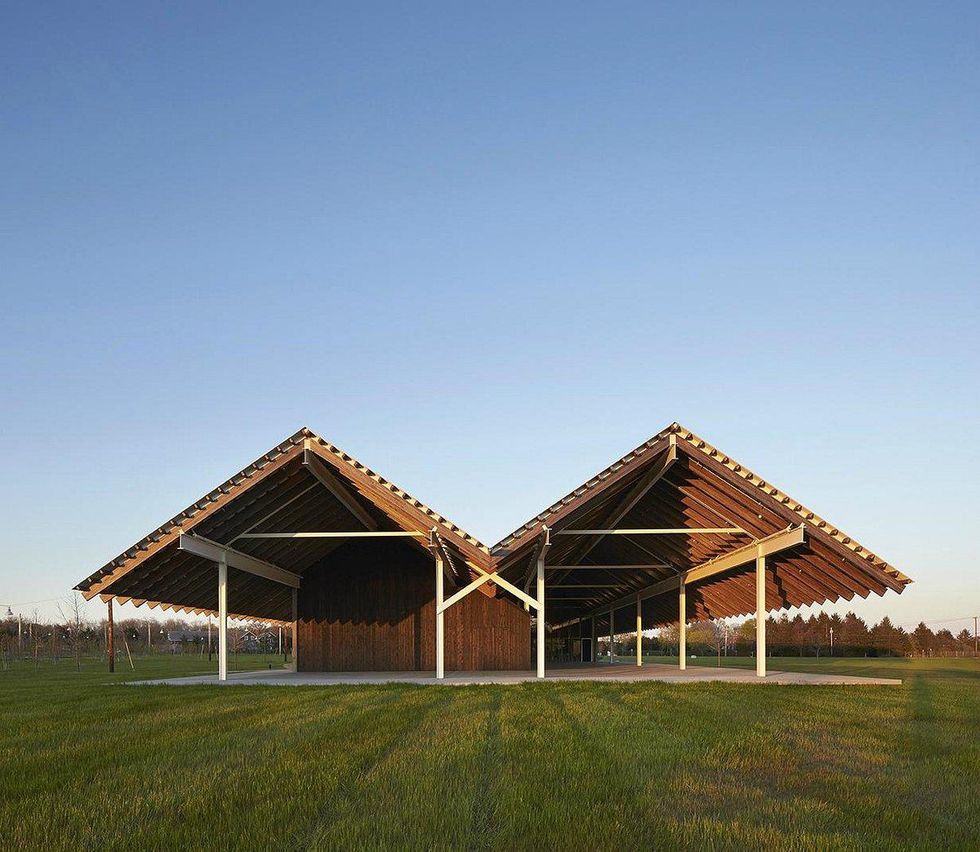 The exterior of Parrish Art Museum, designed by Herzog & de Meuron.
Photo: Courtesy of Parrish Art Museum
While most head to the Hamptons for some vitamin D and R&R, a day at the Parrish Art Museum rivals any beach day. Located two hours outside of the city in Watermill, the museum presents 15 exhibitions each year and has its own collection of more than 3,000 works of art. They also produce public programs including film, music, and panels, and offer an impressive schedule of classes and workshops. The architecture of the building is "inspired by the light, water, and sky that create the unique atmosphere of the region," according to the museum, situated on 14 acres of land, and built by the acclaimed architectural firm Herzog & de Meuron.
Art at the Storm King Art Center.
Photos: Courtesy of Storm King
If you want to add a little culture to your weekend but don't want to spend the day indoors, Storm King is the perfect solution. Located an hour-and-a-half north of the city on 500 acres in the Hudson Valley, the sculpture park boasts pieces by some of the most renowned modern and contemporary artists to date (think: Alexander Calder and Richard Serra). Pieces range from large-scale sculptures to site-specific works. Each one is a new and welcomed discovery along what is already a pretty idyllic walk.
An art installation at Dia Beacon.
Photo: Bill Jacobson Studio
If you're looking to choose just one day trip that perfectly combines great art, better architecture, and beautiful natural surroundings, Dia Beacon is your best bet. The Nabisco Box printing factory-turned-art museum showcases both a permanent collection, as well as special exhibitions and public programs. The small town of Beacon, an hour and 45 minutes north of the city, also adds some charm to the trip, with a beautiful river running through it and a few cute stores and restaurants to make a pit stop in when you're done wandering the museum grounds.
The shingled Dan Flavin Art Institute, which was once a firehouse as well as a church.
Photos: Bill Jacobson Studio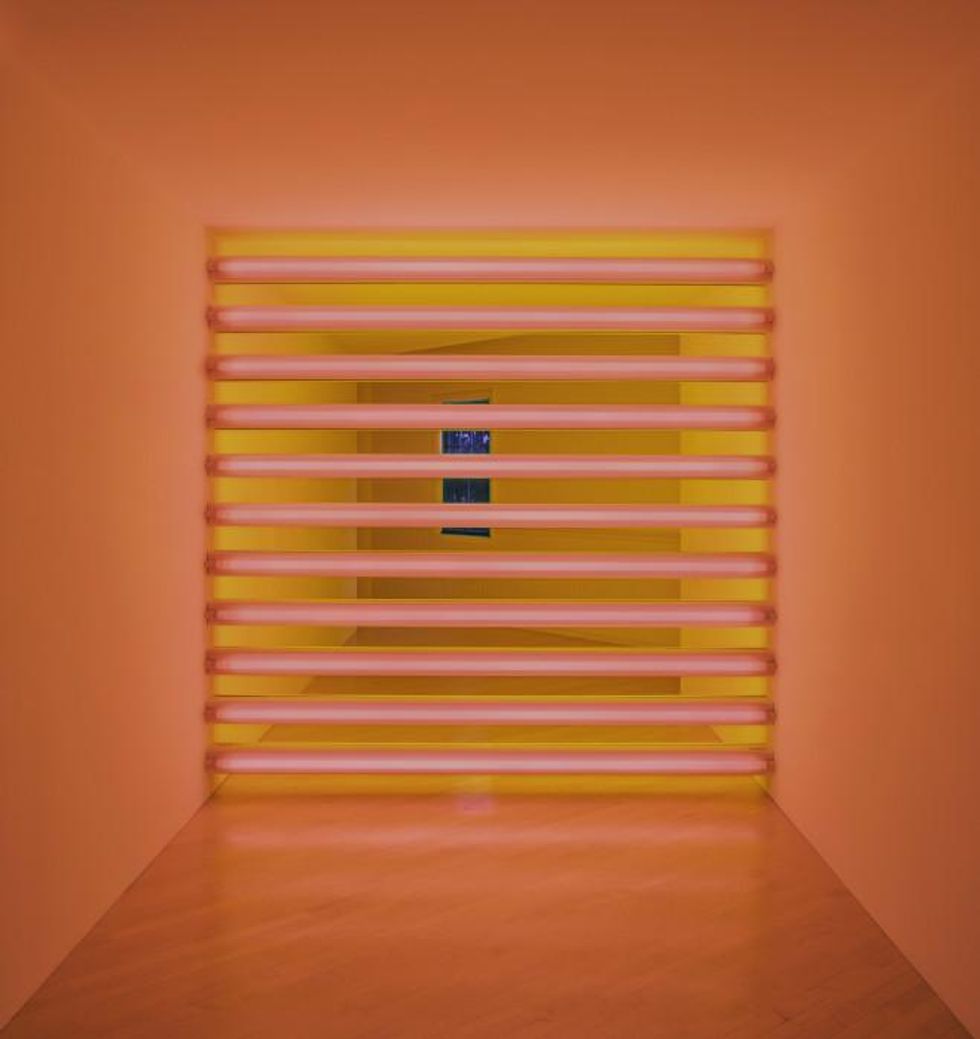 A Dan Flavin installation inside of the institute.
Established by the Dia Art Foundation in 1983, the Dan Flavin Art Institute is just that—a house full of works by artist Dan Flavin. If you're not familiar with the neon glow of his fluorescent light installations, a trip to the turn-of-the-century shingle firehouse-turned-church-turned-museum (a mouthful) is the perfect way to get acquainted. The house also has a few temporary exhibitions as well as annual exhibits by local residents residing or working on Long Island. The foundation is a two-hour-and-15-minute drive outside of New York City, so add it to your bucket list (especially if you plan to spend time in the Hamptons).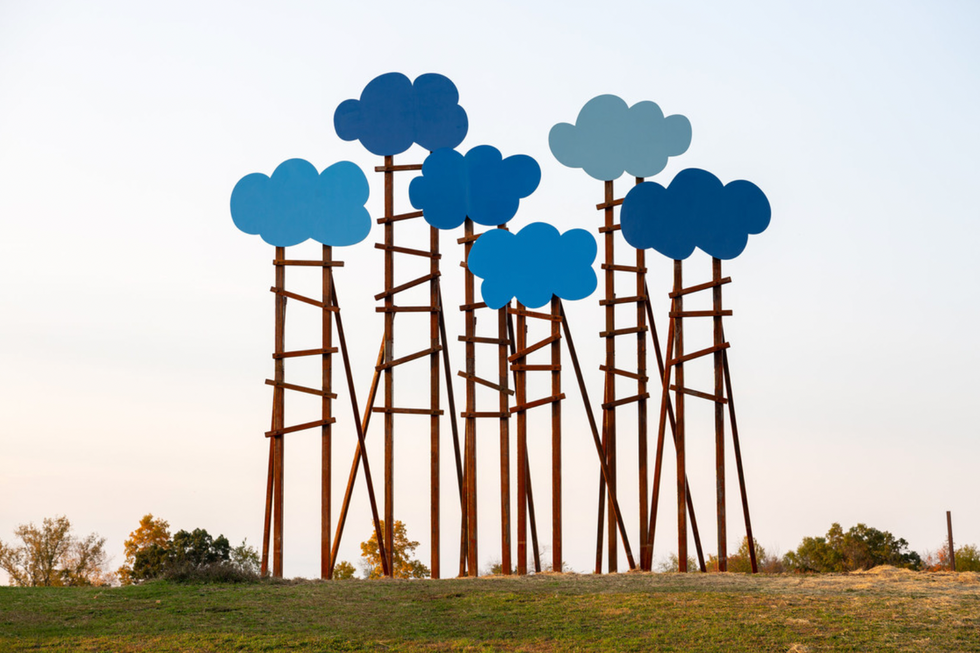 An art installation at Art Omi.
Photo: Bryan Zimmerman
Think of Art Omi as the younger sibling to Storm King—the same concept, but a bit less established. The nonprofit sculpture park prioritizes creative expression in every way, shape, and form, with residency programs for artists, writers, musicians, and dancers. The park is two-and-a-half hours north of the city and situated on 120 acres in the Hudson Valley. It hosts works by contemporary artists of all backgrounds and experiences.