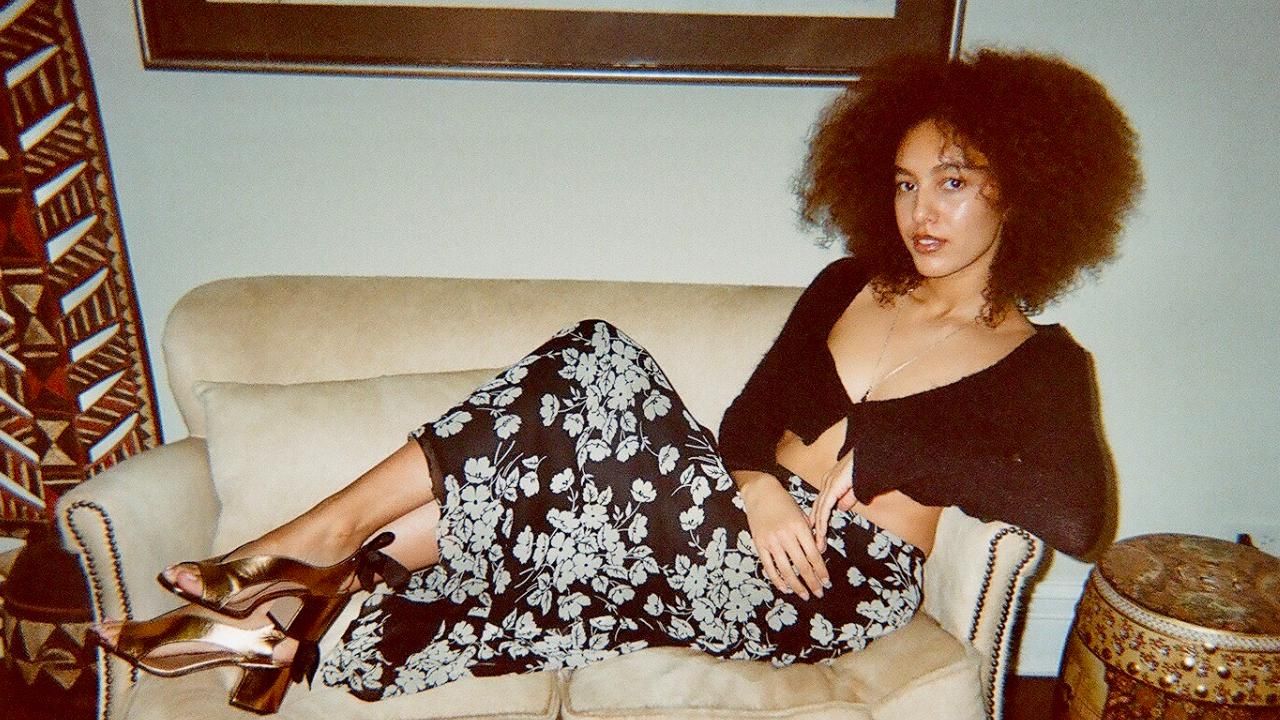 I Swear by This
Writer Akili King on the Curly Hair Rituals She Swears By
"Once I accepted my texture and embraced it, I found beauty in the perceived 'imperfections.'"
Welcome toI Swear by This, an interview series where we chat with our favorite fashion and beauty insiders about the beauty products they use down to the last drop. This week, we asked Akili King, a journalist and the associate manager of digital content at Rose Inc, to take us on her natural hair-care journey, from how she discovered a routine that works for her to all the products that she's loving right now.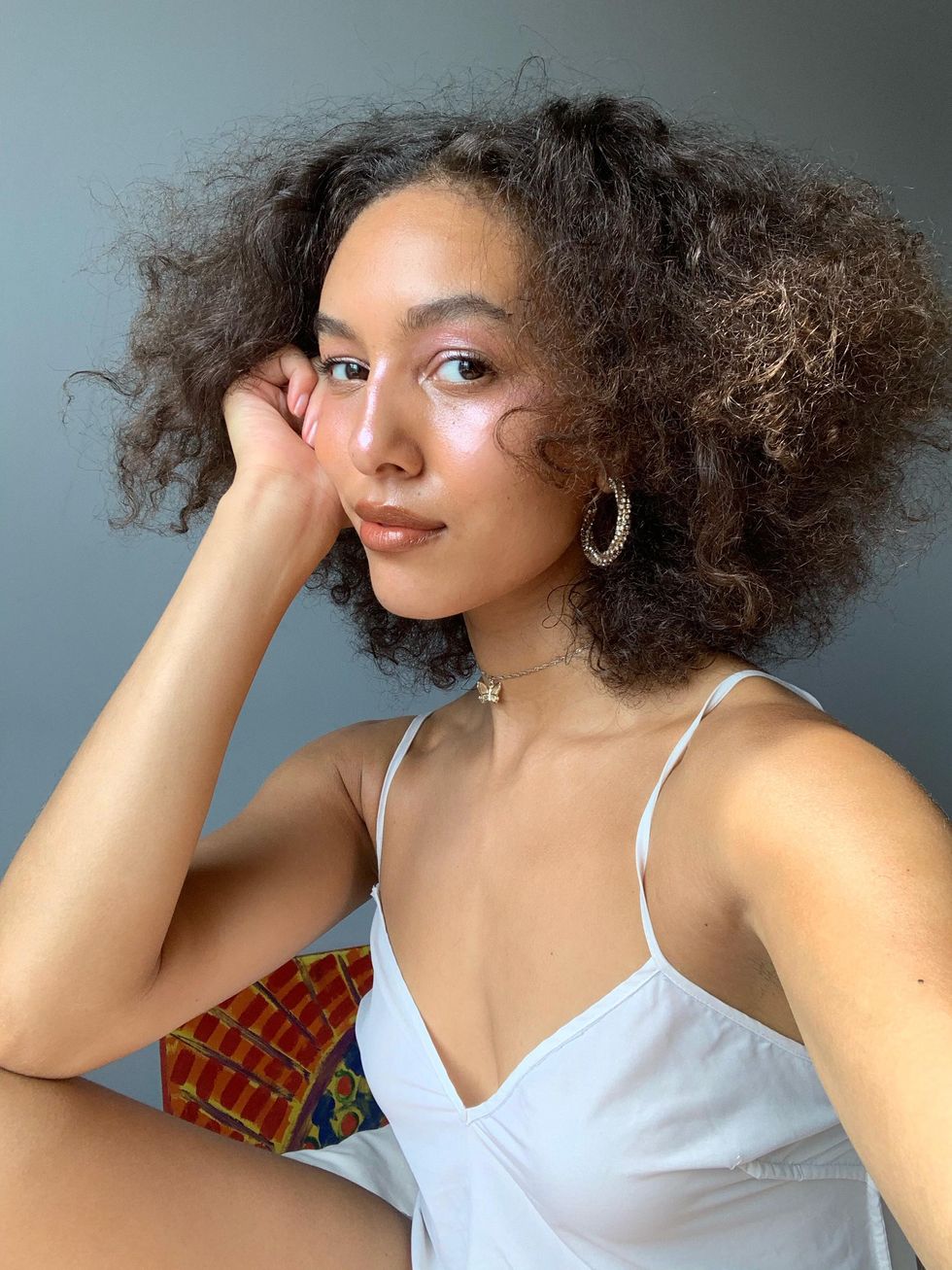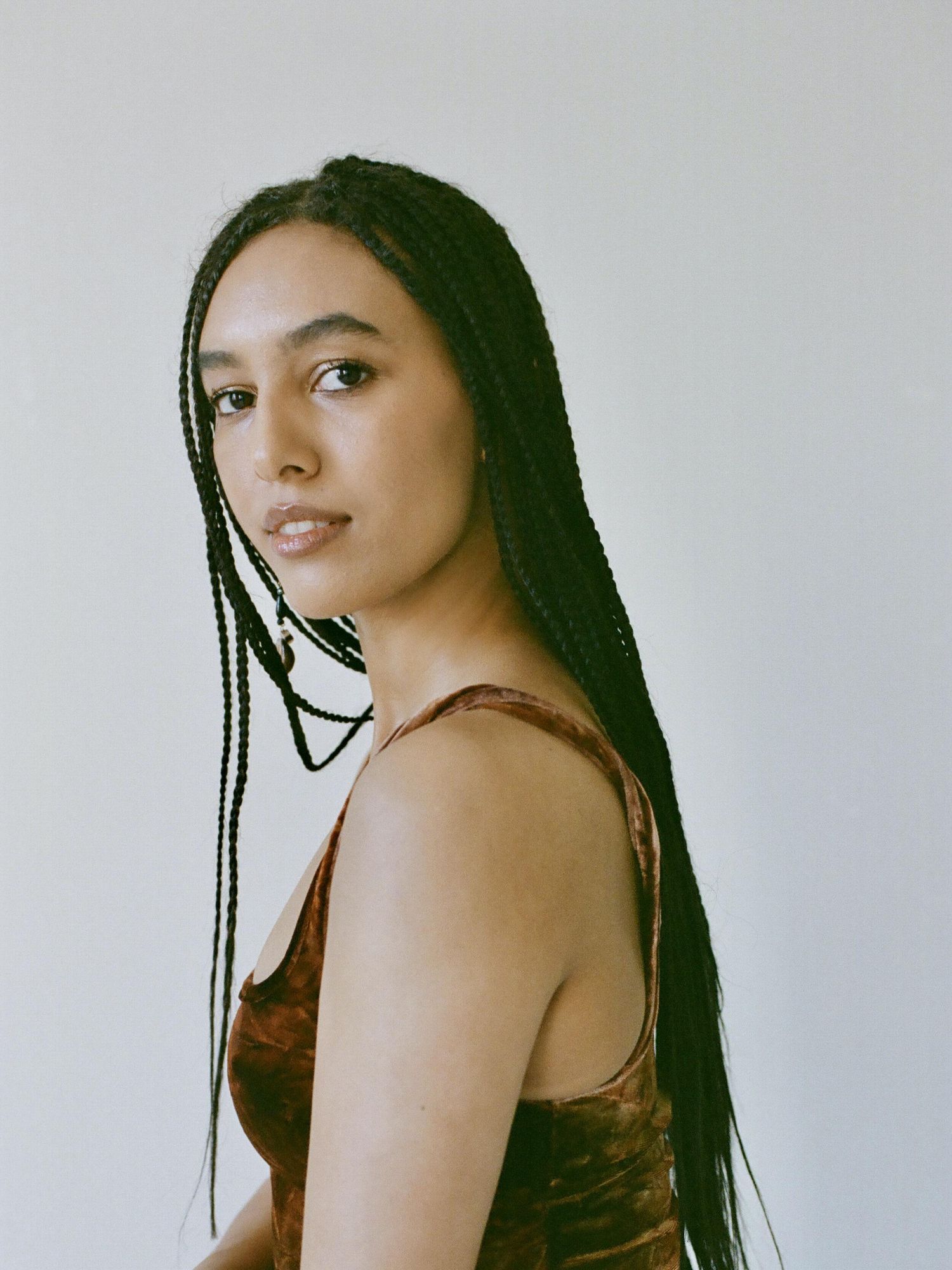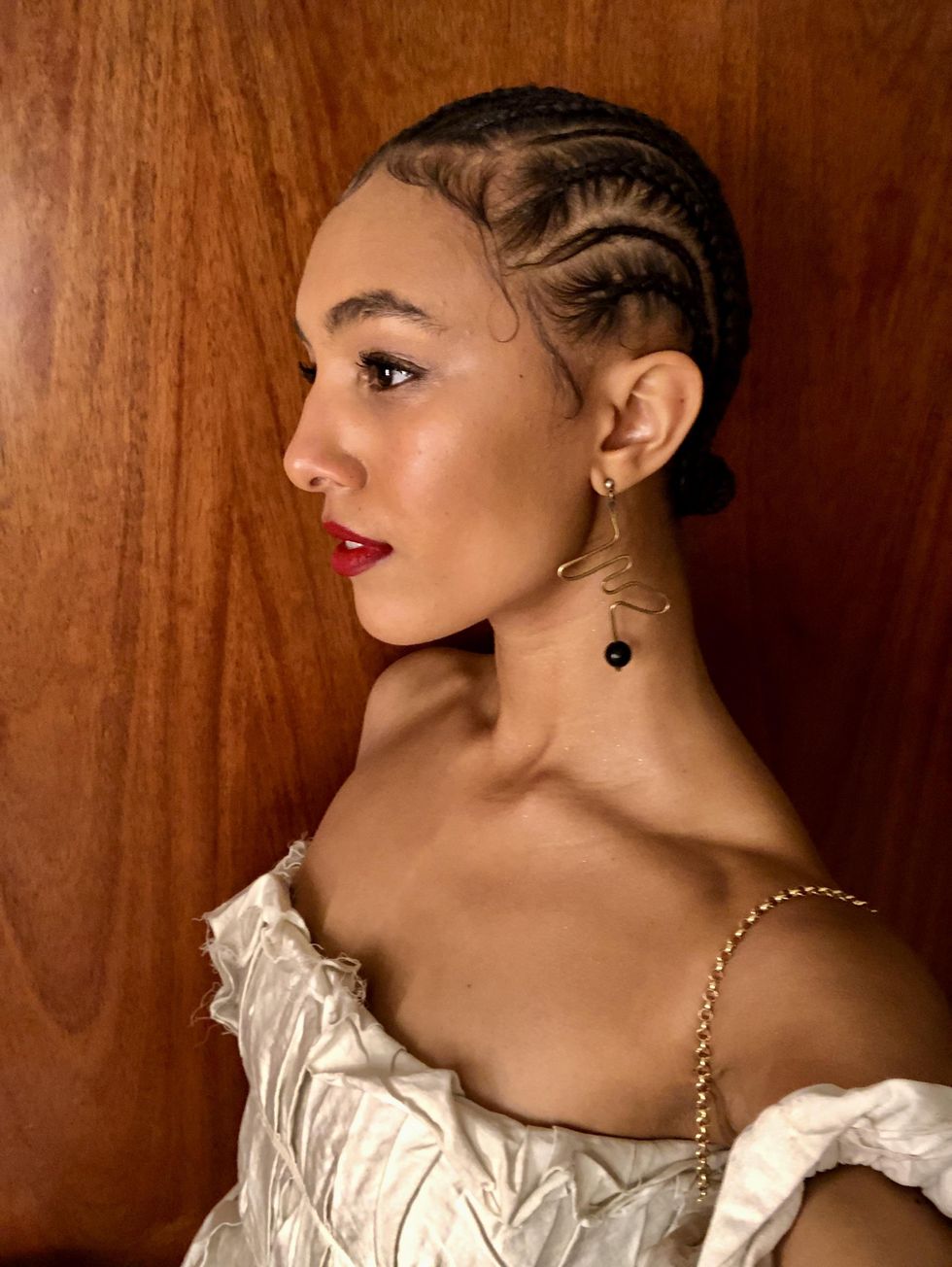 When it comes to beauty, writer Akili King embraces the fact that everything is always in flux. "I try to be very intuitive with beauty and self-care," she says. "I recognize that my routines won't work all the time because I'm constantly changing. I like to examine what's changing in my life, whether it's my skin, my hair, or my stress levels, and figure out what the root cause of it all is, and go from there." She takes the same approach with her hair care, too. The only day my hair takes me a longer time is on wash day, which is about once a week," she says. "The other days are just about maintaining the moisture in between wash days and listening to what it needs. That usually involves a refresher spray of some sort and sometimes a light gel."
However, when you're just starting out on your natural hair journey, trusting your intuition can be difficult if you don't have a grasp on it in the first place. The amount of trial and error involved when it comes to testing out oils, creams, and gels in order to discover the perfect combination of products that work for your specific hair type can be exhausting. So, we spoke to Akili in order to gain insight into her process. Below, she details her natural hair-care journey and how she figured out what worked best for her curls. Plus, she shares the six hair-care products and tools that she's loving right now.
How long did it take for you to find a curly hair routine that worked for you?
"It's taken me pretty much my whole life to find the perfect cocktail, minus when my mom was doing my hair when I was little! But of course, like many little girls, I wanted to do my own hair. I feel like over the quarantine I really had time to get to know my hair in a new light. I realized that wash day doesn't have to be dreadful; it can be really meditative and pleasurable. I feel like as Black people we've been conditioned to believe our hair is unmanageable and unruly, but it's truly not the case. It's beautiful and glorious, and such things just require patience and kindness.
"I've been really into hair care since I was little, but it bloomed out of a place of not feeling confident in my hair after growing up in predominantly white spaces, and trying to figure out ways to fit in or tame it. My hair was super heat-damaged from high school and I spent so much of my young adult life undoing this. I still am passionate about hair care, but instead of it being because I'm trying to 'tame' my hair, it's because I just enjoy the process, I enjoy taking care of myself, and I have learned to love my hair in all states.
"Realizing that I have low-porosity hair really changed things for me. Now I do a once a week steam session on wash day, which really helps hydrate my hair. Plus, getting regular trims and deep conditions at a place I really trust—Spiral XYZ salon—has been a game changer."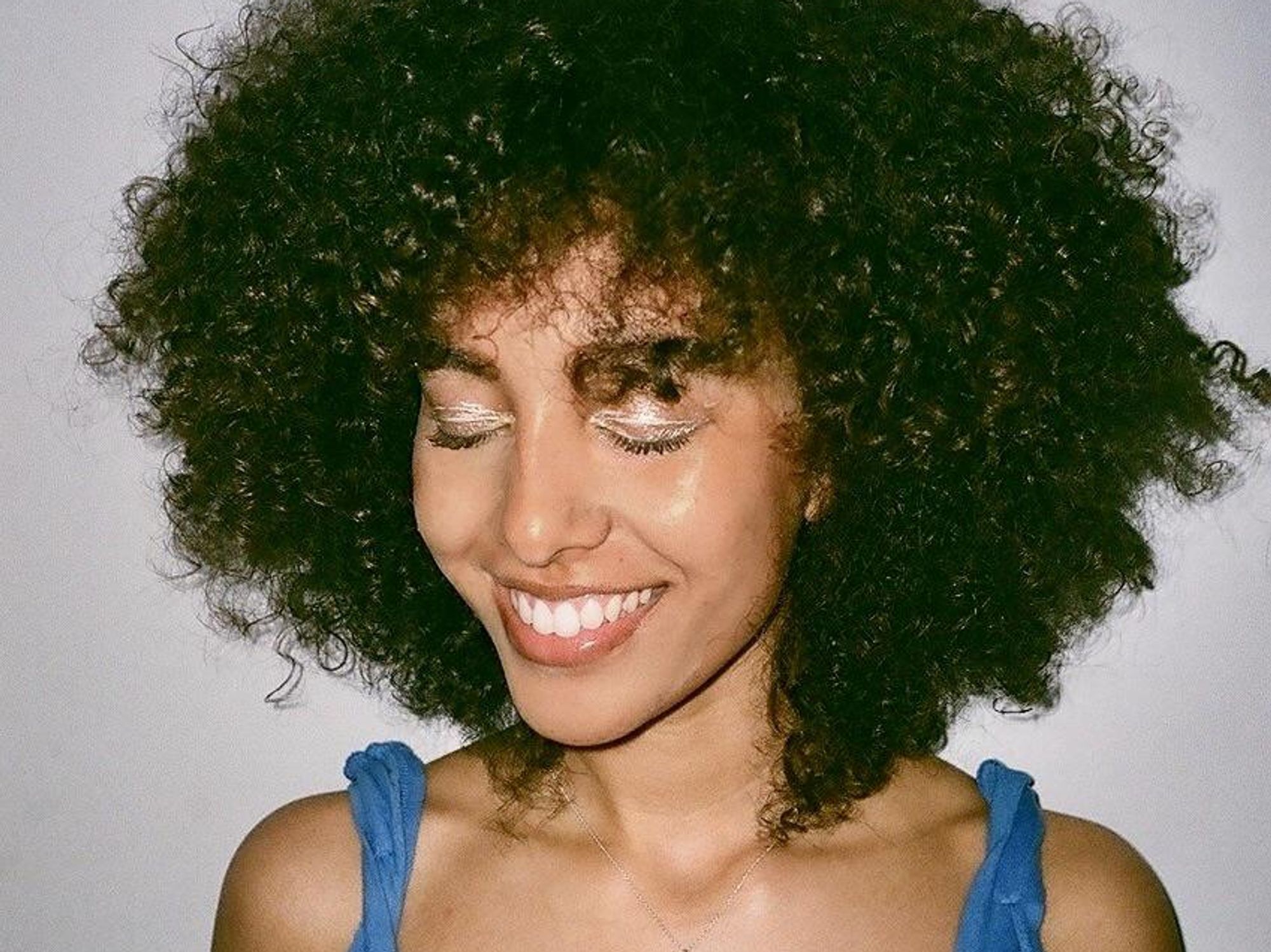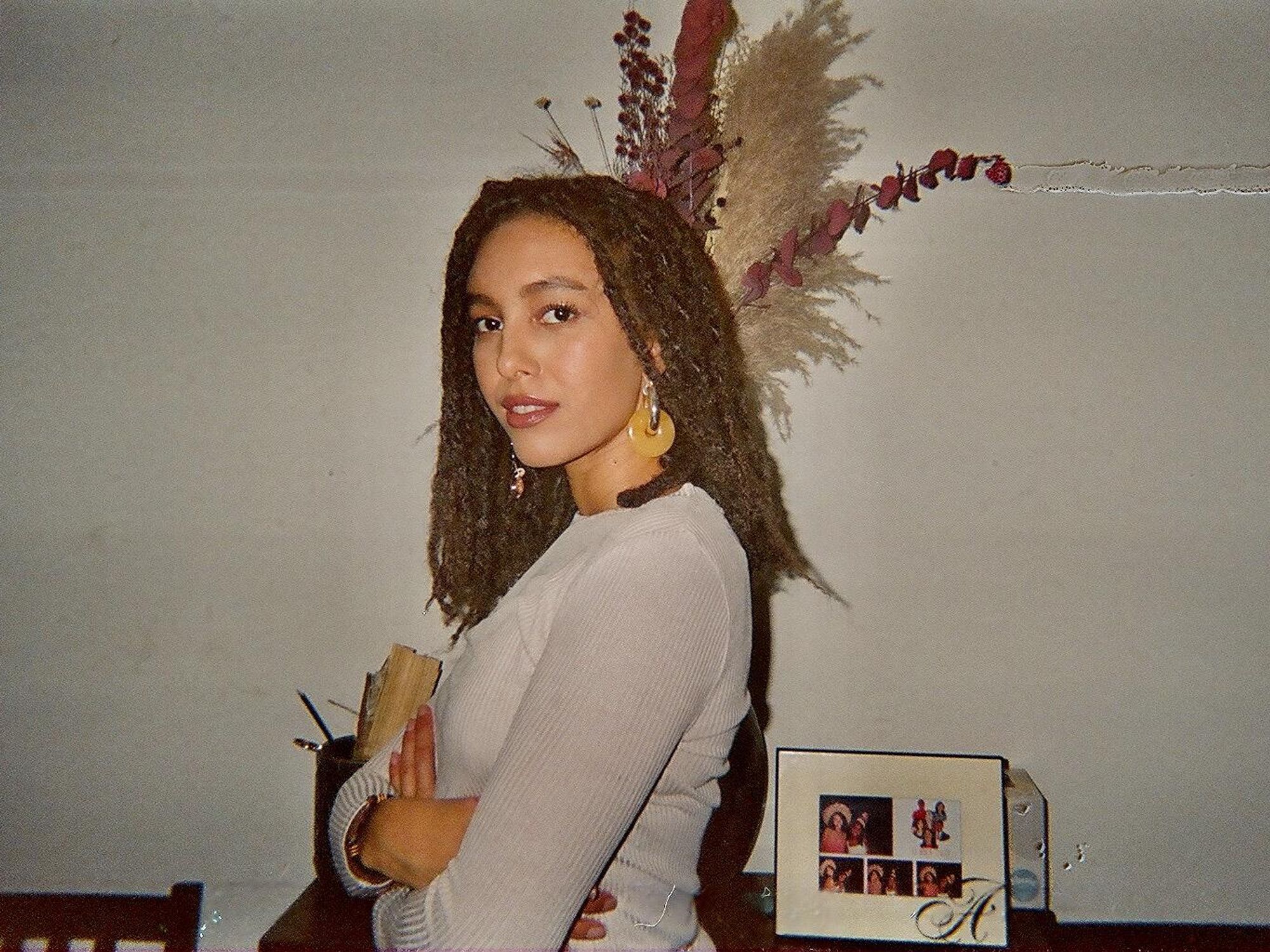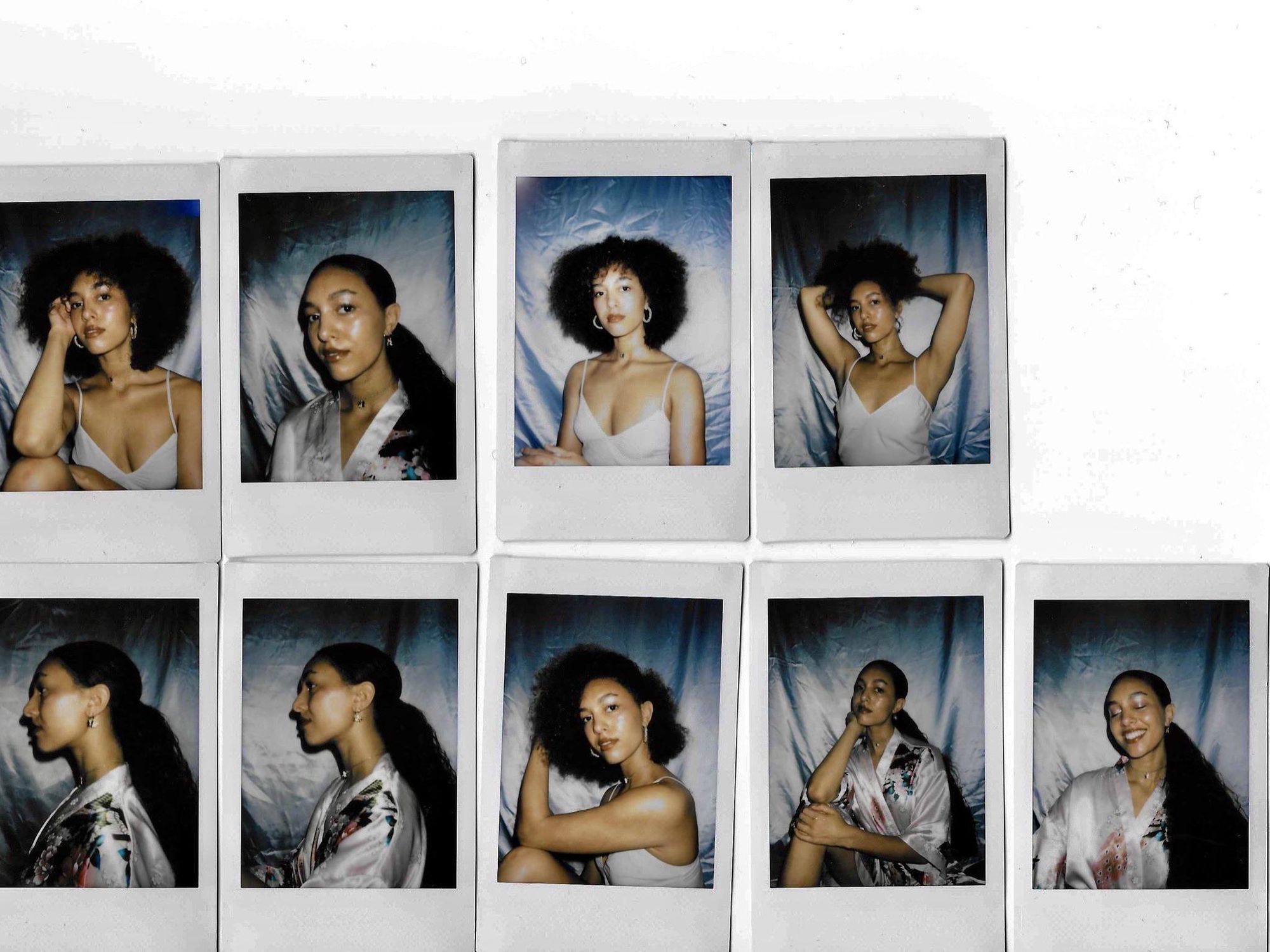 What's a piece of advice you'd give to someone who's in the process of discovering what works for their natural hair texture?
"To have patience while trying different things out for their hair. Your hair journey is a very personal one. There are so many videos out there that can help, but also recognize that what works for others may or may not work for you and that's okay. There's no need to compare! Don't give up also because there will be a day where you find the sweet spot of your hair routine and it will be a routine that brings you joy, so let that be your motivator. Get trims when you need to and just have fun with it! Our hair is magic and we can do so much with it: braids, blow outs, wigs, or you can just leave it alone! The world is your oyster.
"Another thing is, don't try to make your texture what it's not. I spent a lot of time trying to over define my hair and make it look 'perfect' and that took up a lot of emotional energy. Once I accepted my texture and embraced it, I found beauty in the perceived 'imperfections.' The bigger the better, honey!"
"I love this because I love shampoos with nozzle applicators—it better penetrates the scalp."
Carol's Daughter
"I also just tend to love anything with aloe in it. The conditioner is also really great."
Carol's Daughter
"I love using a pre-shampoo treatment to protect my hair shaft from getting stripped. This Olaplex treatment also rebuilds damaged hair follicles, which I really love!"
Olaplex
"I only use this once a week or less because I try to use as little heat on my hair as possible. But I feel like this diffuser really protects my hair from heat damage unlike many other ones I've used in the past. It's also just lightweight, which is great!"
Dyson
"I love to do weekly steams to really help my hair retain moisture. This is handheld, which makes it really easy to control where the steam is going. It also detangles as it steams, which is dope."
Q-Redew
"I absolutely love this for refreshing my hair in between washes. It immediately redefines, nourishes, and smooths my hair. I don't even have to re-add water and it dries pretty quickly, which is nice. It also smells heavenly!"

Eden Bodyworks
"I've been really loving this lately because, again, I love aloe and flaxseed as natural curl definers. Sometimes I honestly just use straight up aloe on my hair from the plant and it's really great. I honestly want to start making my own flax seed/aloe gel at home—maybe I'll practice perfecting it over the holidays. I've also been watching a lot of videos on TikTok from @camillejanaehair, who's a texture hair specialist; she's a big advocate for a simple hair routine: shampoo, condition, gel, diffuse, for all curly/kinky textures, so I've just been trying to find natural gels like this Aveda one!"
Aveda