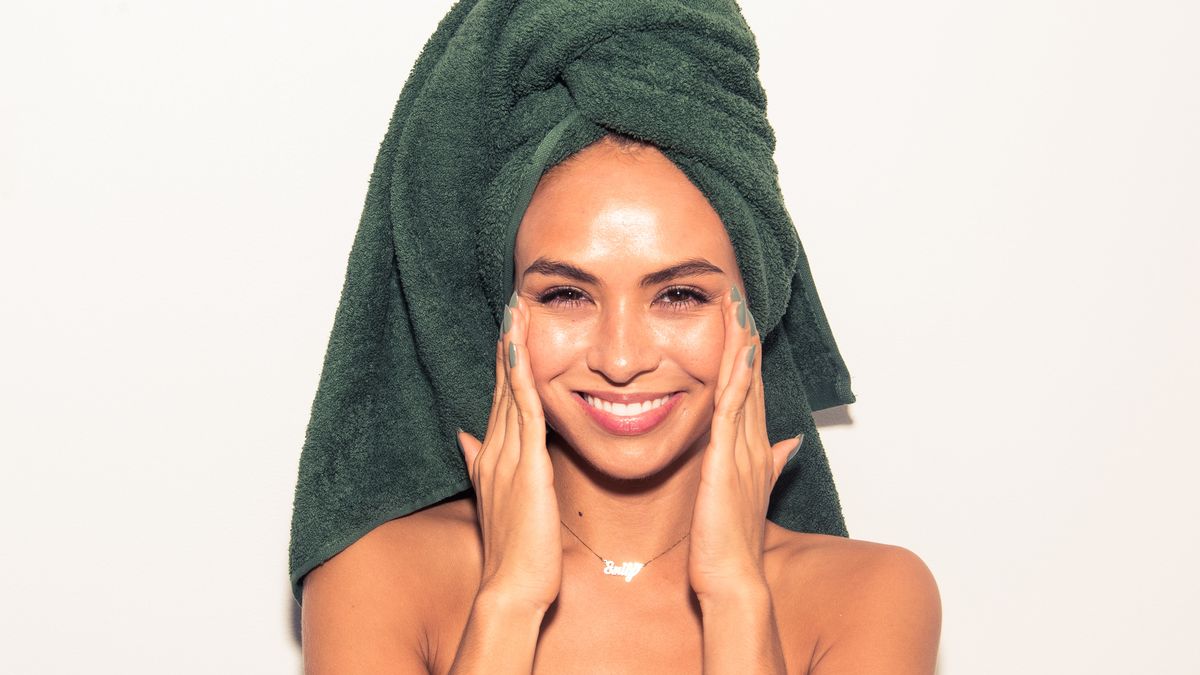 Skin
Meet Silymarin, the New Hero Ingredient for Oily & Acne-Prone Skin
It can control oil production, improve skin tone, and target breakouts.
Those of us with oily skin are a special kind of breed—no matter what the weather brings us, chances are we already look like glazed doughnuts by mid-afternoon. And for those who have the combination of oily and acne-prone skin, finding products that address both issues is even trickier. Well, that was before we discovered a new, trendy antioxidant on the block.

Silymarin has recently popped up in the skin-care scene, and it's a clear winner for battling issues like sebum overproduction, signs of photoaging, acne, and much more. For more info on this promising new skin-care ingredient, we tapped board-certified dermatologist Dr. Dendy Engelman for the full scoop.


What Is Silymarin?
While you might never have heard of silymarin before, this ingredient is a derivative of the
milk thistle
plant, a popular additive in skin- and body-care products. Dr. Engelman notes that milk thistle is mainly used in
traditional Chinese medicine
for its holistic benefits like liver detoxification, but
research shows
that silymarin also has numerous skin-care benefits.
"
Dr. Sheldon Pinnell
, who's kind of the pioneer of antioxidants in skin care, patented this ingredient years ago and has found that it is very protective for ultraviolet radiation and factors from the environment like pollution," she says. "It also helps to reduce sebum production, and it's really good for oily skin, where typically a lot of topical antioxidants were not ideal for use."
What Are the Skin-Care Benefits?
According to Dr. Engelman, silymarin comes with a copious amount of skin-care benefits, but its ability to regulate oil production while simultaneously providing protection against ultraviolet radiation, pollution, cellular damage, and
free-radical damage
is the most notable. It's also
non-comedogenic
, meaning it won't clog your pores—a factor that often leads to breakouts. That will allow people with blemish-prone and oily skin types to still benefit from an antioxidant without worsening their breakouts (which can sometimes happen with other antioxidant ingredients, like vitamin E).
"There's a huge subset of the population that's been underserved in the antioxidant category, and now I love that there's something that we can offer for those who are oily or blemish-prone, which we know is
50 million Americans
, a very high number," she says. "And with the rise of
maskne
, people are breaking out even when they didn't before."
But overall, no matter what your skin is going through (other than dryness, which we'll get to in a second), Dr. Engelman says you'll likely see positive results from incorporating silymarin into your routine. "Every metric that you're going to measure for your skin improvement, whether it's evenness in tone or radiance or skin texture, all of that is improved aesthetically," she says. "It's kind of a win-win. It's good for you, it makes your skin look better, and it's not going to break you out."
Incorporating Silymarin Into Your Routine
Before you get to slathering silymarin all over your face, it's important to note that it does have a fickle relationship with other active ingredients in your skin-care routine. "The only thing that I would say is to cut down on nightly AHAs or BHAs," says Dr. Engelman. "They don't have to be fully eliminated, but just divided as far as morning versus night. I would say to use silymarin in the morning and then use your acids on nights you're not using your retinol. I also wouldn't combine it with other antioxidants."
Now for some good news: Silymarin plays very well with
hyaluronic acid
, retinol, and sunscreen.
"If we think about layering, we typically put antioxidants on clean skin first, then your moisturizer," she says. "Most people who are going to be using this product are probably going to go for a hyaluronic-acid-based moisturizer with a cleaner, not-so-greasy formula since they are acne-prone and innately more oily. And if you are prone to breakouts and want some kind of
vitamin A
derivative, it's totally fine to use silymarin in the morning and your retinol at night."
Dr. Engelman stresses that although silymarin does have protective properties against ultraviolet radiation, that in no way means that it can replace your sunscreen. Instead, she recommends using them in tandem with one another to boost their benefits—and therefore, brighten and even out your complexion.
Who Should Use Silymarin?
Overall, silymarin is a great skin-care ingredient for a variety of skin types thanks to its non-comedogenic properties, but Dr. Engelman does note that people on the drier or more mature side of the skin spectrum should opt out of using it. But that doesn't mean you should do away with antioxidants altogether—Dr. Engelman says that there are other options that will be more suitable for you, where you'll get the other benefits that silymarin provides, but not potentially the drying effect.
Vitamin C
is still the industry's gold standard for protecting against free-radical damage as well as lightening hyperpigmentation.
Where Can I Find It?
Silymarin itself is pretty hard to find in skin care, but there is one new serum on the market that contains this skin-care wunderkind: SkinCeuticals' new
Silymarin CF
, which includes the star ingredient as well as
vitamin C
,
ferulic acid
, and
salicylic acid
to give your oily and acne-prone skin the pick-me-up it needs.
"Vitamin C and ferulic acid are very potent and beneficial for protection as well," says Dr. Engelman. "[Silymarin CF] also has 0.5 percent salicylic acid, which is anti-inflammatory and helps to refine the appearance of skin, so it helps with those who have acne."
So far SkinCeuticals is the only brand to have a product with silymarin (it owns Dr. Pinell's patent); however, there are a few skin-care products with milk thistle in them, like the
Tammy Fender Plant Milk
and the
Edible Beauty Glowing Skin Smoothie Serum
, which will provide your skin with similar benefits. If you're struggling with acne and/or oily skin, and your mask is only exacerbating the problem, it might be worth it to try out this new ingredient for yourself.
---
Skinceuticals
Tammy Fender
Edible Beauty