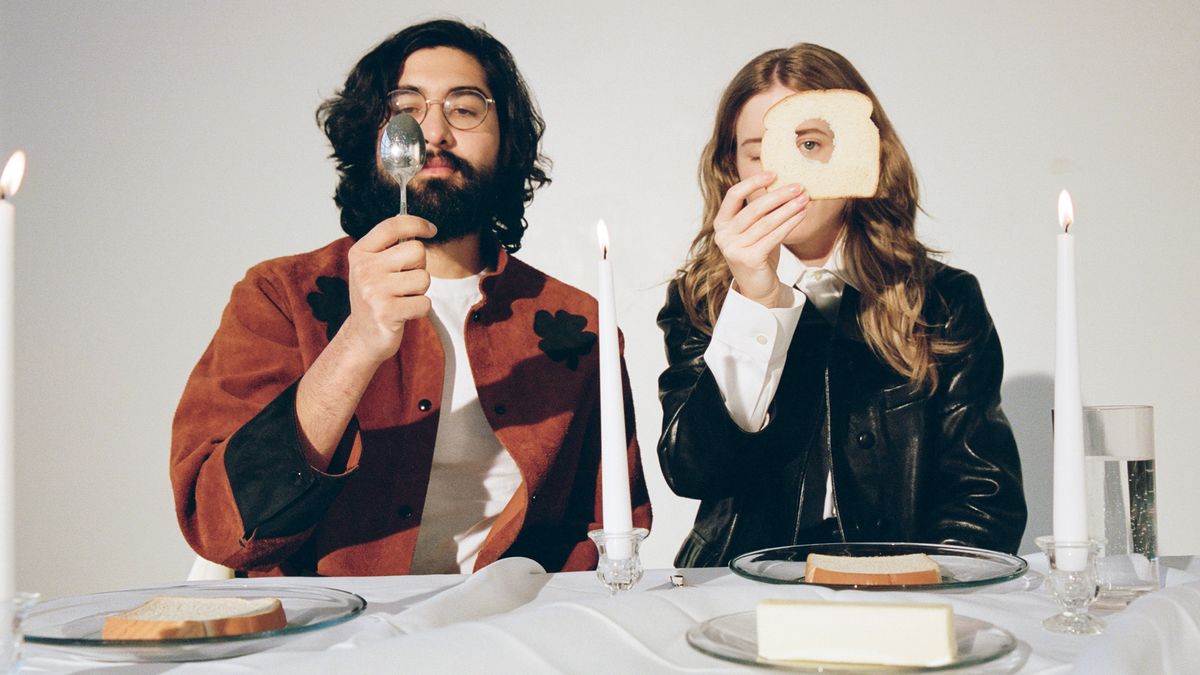 The Way We Love
What constitutes modern love in a romantic relationship?
Chloe Horseman
Alexis Badiyi
Glam
Mical Klip
Producer
Rachel Pickus
Welcome to the Way We Love, a series where we investigate modern love in all its embodiments, whether that be of a romantic relationship, best friends, or family. This Valentine's Day, we are speaking with four sets of people who experience love in different ways, in different parts of their lives, to better understand why all forms are so vital.
Our first couple is
Haley Nahman
and
Avi Bonnerjee
, who are in a romantic relationship. Haley, 31, is a writer with her own newsletter and podcast dubbed
Maybe Baby
. Avi, "a young 34," is a business analyst, a musician and illustrator in his free time, and the author of a weekly newsletter on his Instagram. They live together in Bed-Stuy, Brooklyn, in a one-bedroom apartment.
---
How they met:

Haley Nahman: "That's kind of a fun story because we met as random Craigslist roommates five years ago. When I first moved to New York I was looking for a place to live, and I got paired up with three other people for a four-bedroom in Bushwick by a woman named Gift—for real, her name was Gift. We all got along really well, but Avi and I...I think we had a special connection, but just as friends at first."

Avi Bonnerjee: "It was an interesting setup with roommates because we all had our own individual connections, but Haley and I...there was something different about it."

HN: "It wasn't until we had lived together for about six months that something started to develop. We all went out to a bar in Bushwick one night. We were dancing and a really good song came on. For some reason Avi and I just felt compelled to make out. It just happened, without us talking about it. It was just a classic dance-floor make-out."

AB: "It was a bit like a rom-com. There was just something in the air."

HN: "Our roommates' jaws dropped because they had no idea there was anything between us. We kind of didn't really, either. It was almost unspoken. Then it kind of kicked off after that."

HN: "I think after the end of that year, we were like, 'We can't live together.'"

AB: "So I moved out."

HN: "He got an apartment like, down the street."

AB: "I moved a couple blocks so we could actually start dating in earnest. I guess there's no real blueprint for it because we were roommates."

HN: "We went from friends to making breakfast in our pajamas every day. It really felt like we were suddenly in a relationship and we were like, 'Wait, wait, we probably should actually do this right.' It felt surprisingly good. It was sad to move apart, but then it felt really fun to do it properly."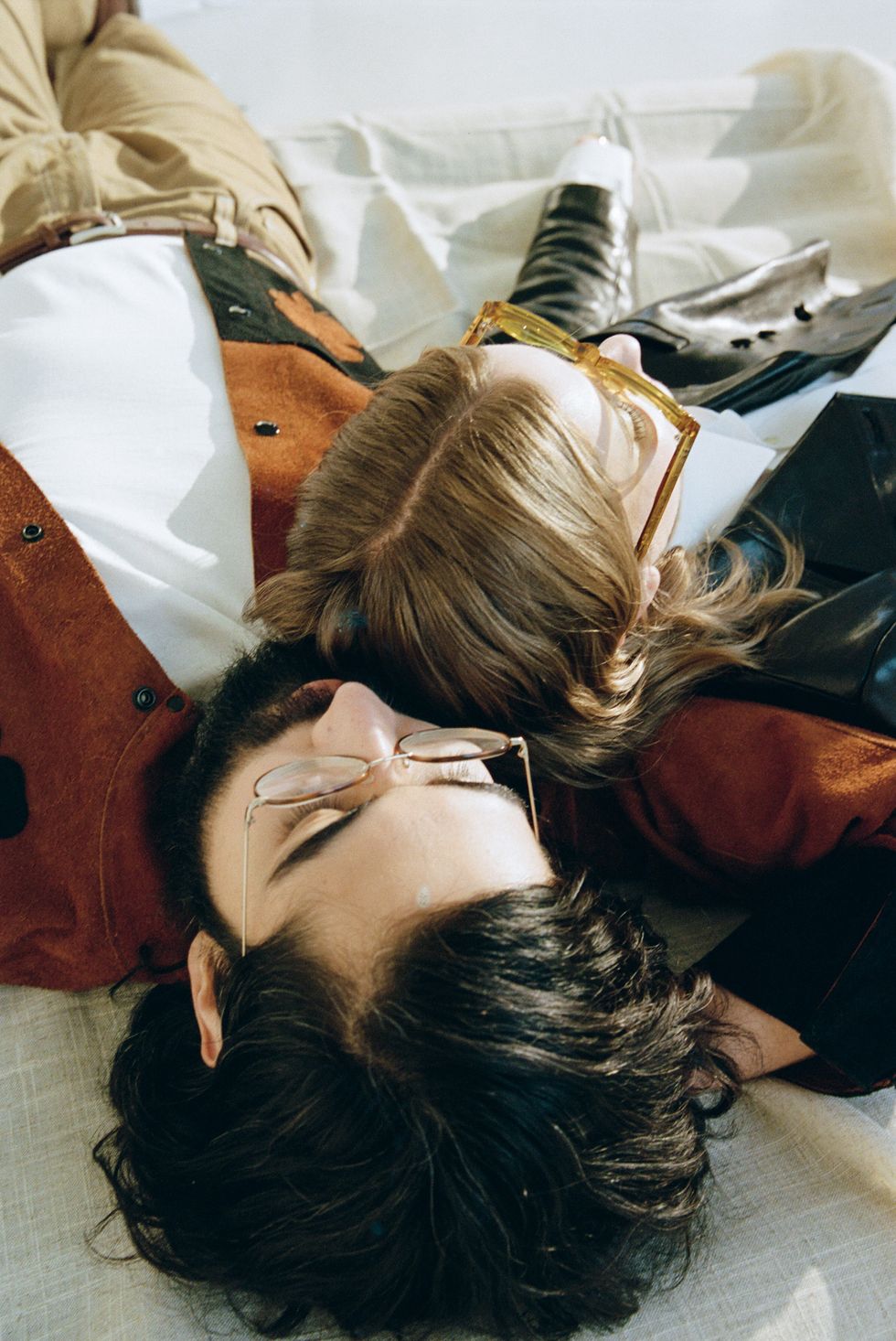 When they knew it was love:

HN: "I felt really different about Avi from the beginning. I feel like everyone thinks that when they fall in love, but I really felt differently. I'd just gotten out of a five-year relationship that had really clarified what I wanted and needed, to be very cliché. We fell in love really hard and fast."

AB: "I think I was a little faster."

HN: "You think? Oh, that's right. Avi told me he loved me first, and I didn't say it back. That must have been February, and we had first kissed in October. I think I was in love with him for sure at that point. I was just really nervous because I'd recently gotten out of that relationship. There was a hesitance in me that wasn't actually reflective of how I felt about him."

AB: "I mean, it makes sense."

HN: "Once he moved out, it got really serious really fast because it felt more real, suddenly."

AB: "I think part of the reason it felt so strong to me in the beginning—just like what Haley mentioned earlier—the intimacy of living with somebody, it kind of amplified certain parts of it. She was always there. We were clowning around. We were watching TV together with the roommates and cooking together and being hungover together and going out to bars together and stuff. Our lives were already so knitted together."

HN: "I had such a crush on him before, too, like secretly. I remember writing some crazed journal entry being like, 'This can't happen.'"

AB: "Also, athleisure was in full swing and it's a look that really works for me."

HN: "He's like, 'Wow, you're fine with me wearing sweatpants all the time?' I was like, 'You look pretty good.' So yeah, it was pretty fast. We kind of knew right away that this was going to be a long thing."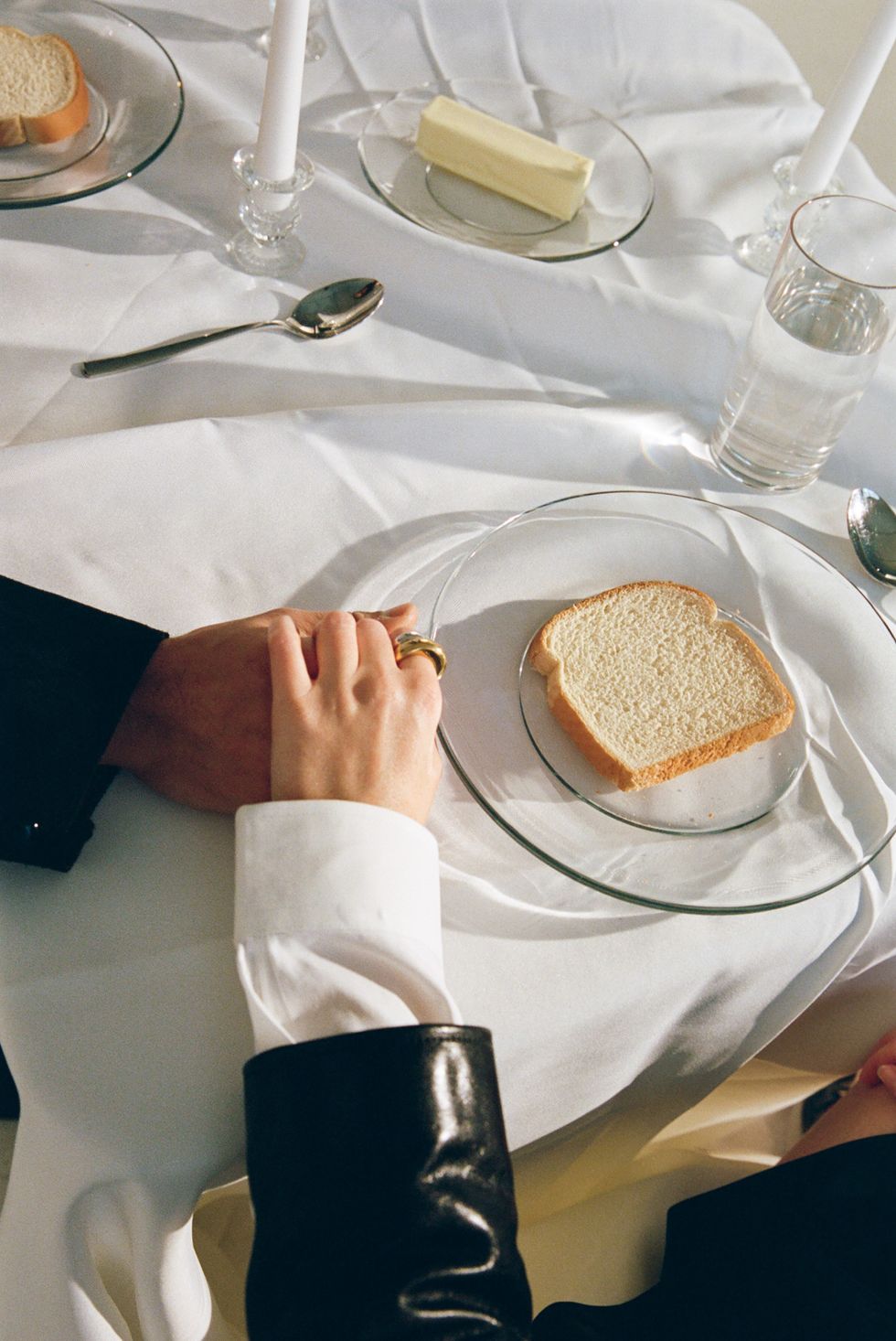 The decision to move in together:

HN: "After he moved in down the street, we considered moving in together. We almost did. We were getting really excited about the idea."

AB: "We were looking at places."

HN: "Yeah, we were even looking at places a little bit. I had this dream of living by myself and I was finally in the financial position to do it for the first time in my life. I felt torn between the two options, one that was really romantic and exciting and one that was a little bit more of a lifelong dream that didn't really have to do with Avi. I was really torn, and I remember kind of deciding to live with him and then him saying, 'I know that we decided to do this, but you can change your mind. It's OK. Just keep thinking about it if you want to.' I remember feeling like he really understood me in that moment because I had put the idea aside, but I do think there was still a part of me that felt a little regretful about it. Within a few months, I decided to live on my own instead."

AB: "We also wanted to make sure that we were being correctly ponderous and that we weren't doing it because we wanted…"

HN: "Cheap rent?"

AB: "Yeah, cheap rent, because that seriously comes into play with a Brooklyn romance."

HN: "I think we were both kind of sad but also relieved. You were really supportive. I ended up getting a place in Bed-Stuy, and he got a place in Bed-Stuy that was, again, down the street. We had a really nice year. We walked back and forth to each other's places. I got to live by myself and really loved that. Then, a year later, he moved into my place. That was a much easier decision."

AB: "Well, for me it was like things were going so well, too. It was like, 'When are you going to have that opportunity again?' If things continue to progress, it's not like you'd be like, 'Let's take a step back and move to separate apartments.'"

HN: "Until we get rich and we have two connecting apartments."

AB: "Connecting? We're going to be bi-coastal."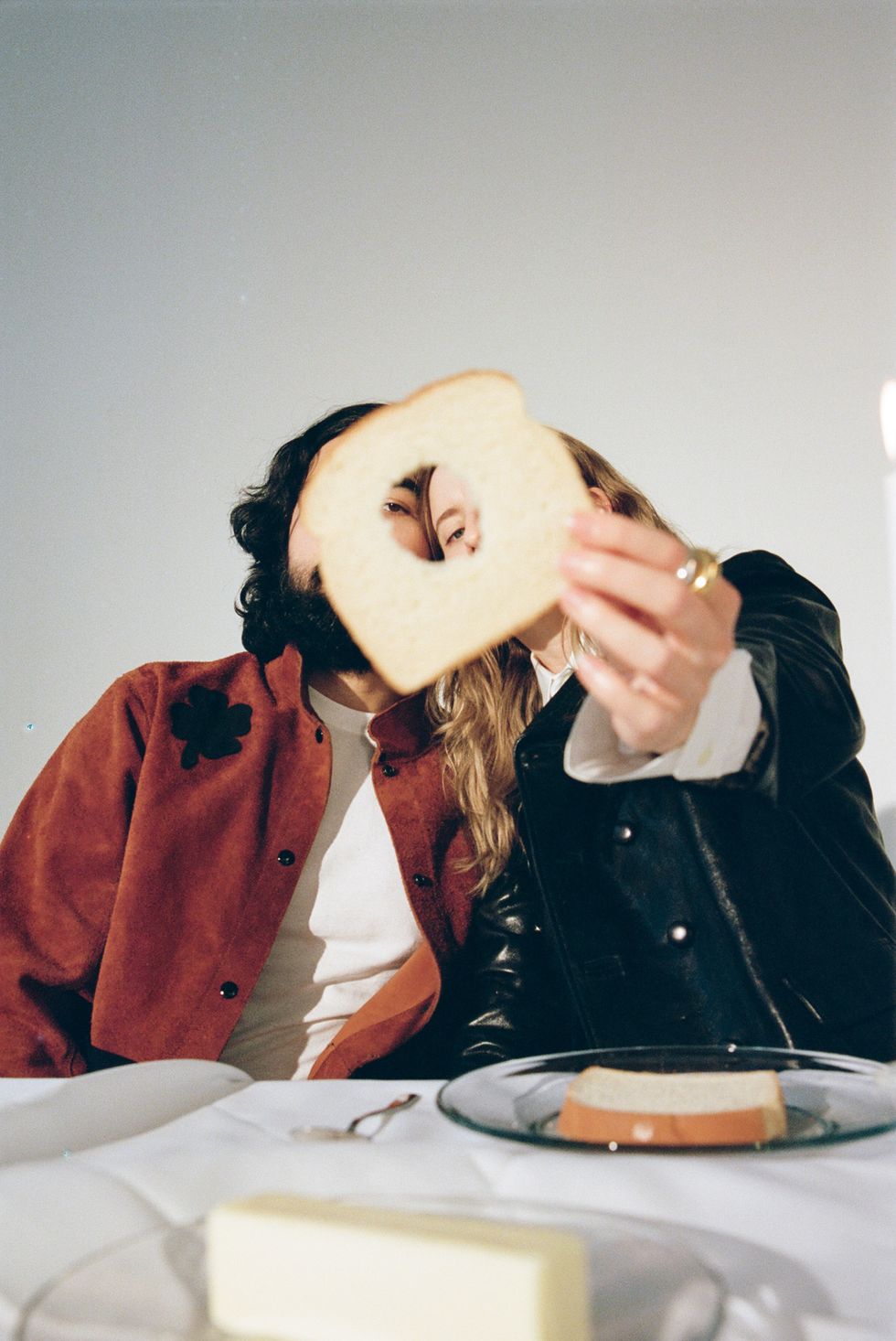 Can you put the way it feels to love and to be loved into words?

AB: "I'm sure there's a German word for it that I can Google for you."

HN: "I feel like in this relationship, to love has meant an interest, desire, and commitment to truly see another person, to understand and accept them. I say interest because I actually want to. It doesn't feel like an obligation. It also is a commitment. That means even when it's not easy, I'm committed to it. Something that I feel with Avi that I haven't in the past is just a sense of knowing that I want it, and that part just goes unquestioned even when things are hard or bad. That confidence is something I was looking for a lot in past relationships and couldn't quite access, a low-humming confidence that isn't really questionable. I think to be loved feels the exact same way. That's an easy answer, but I feel like he gives that exact same interest and commitment back to me."

AB: "I don't know, I've always been a little bit like an outsider or something. I was one of the art kids in school. There's just a sense of being known and knowing somebody else, even in the more frustrating moments. I think what really brings us back together is the fact that I can truly believe she can see things through my eyes and vice versa. It's this level of intimacy in getting to know a person so thoroughly and understanding them. Yeah, I guess my answer about feeling love and giving love is also pretty similar because I think it is this very mutual thing."

HN: "A give-and-take. One thing I'll add, though, is I think we both understand and want independence from each other. We have an understanding that we don't completely know everything about each other, and that's not a bad thing, either. The reason we check in all the time is because we're still learning things, even though we're so close and know so much about each other. I think that's kind of fun. I see it as more exciting than threatening to know that there are parts of him that I'm still learning and that I want him to be a separate, independent person from me."

AB: "Getting to know someone means that you want them to foster love for themselves, too. I want her to be her own person. I think that's one of the challenges of the pandemic. One of the things our relationship was predicated on was us going out, doing some shit, then coming back and telling each other about it. We weren't always joined at the hip. Granted, some of my best times in New York are just us walking around Central Park doing the New York Times crossword together, not to be too much of a cliché."

HN: "Yeah, recognizing that we have needs that each other can't always meet, and that's an important part of a life well lived. I think we've always respected that about each other, but it's obviously hard in these conditions."

AB: "I feel like I keep coming back to being seen and seeing someone. There's also a very romantic part that is just a warmth or something, but I can't recite poetry so I can't tell you about it. The third part is combining Netflix wish lists."

HN: "One that we actually struggle with at times."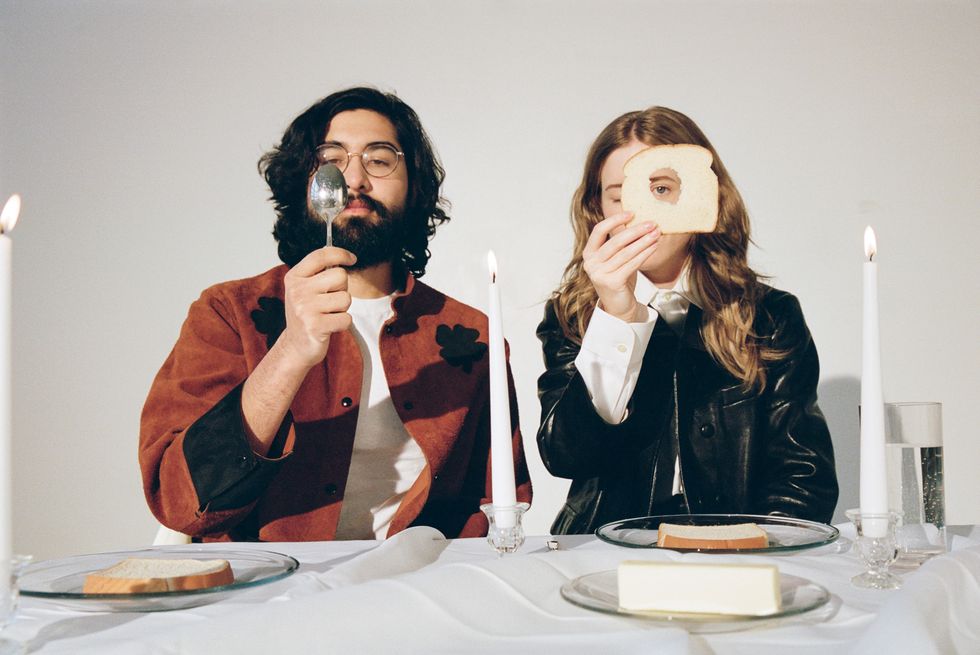 Paint us a picture of your quintessential Haley-and-Avi hangout:
HN:
"I feel like one of our classics is walking around New York all day. We'll leave with a crossword, sometimes we don't even end up doing the crossword, but we just take it and we'll go and get breakfast somewhere and walk around the neighborhood. We'll find a park. We'll sit in there. We'll go walk to another neighborhood and just be gone all day. That's one of our favorite things to do on the weekends."
AB:
"It's sort of like, not to bring him up, but a Woody Allen title sequence. Black-and-white, there's someone playing jazz on a saxophone, and we're just improvising something. We're going around trying to find out what in Manhattan is charming us at that moment."
HN:
"Yeah, improvising is a good word, just making it up as we go along. We both just love New York so much that I feel like that's what we started doing. Especially because we started as roommates, so to have alone time, you have to leave. We would just leave for hours together and just walk around and have no plan. I feel like that's still a really important part of our relationship."
Photo assistant: Emerald Layne; Stylist assistant: Rashonna Duett; Hayley wears full Gucci look, Gucci Loafers, Vintage glasses, Ming Yu Wang ring, and Young Frankk ring; Avi wears Bode Jacket, Hanes T-shirt, AG pants, and his own shoes.
Want more stories like this?
Everything You Need to Know about the Age of Aquarius
8 Must-Have Vibrators to Make 2021 a Little Less Stressful
Friends of Coveteur on the Anti-Resolutions They're Carrying into 2021