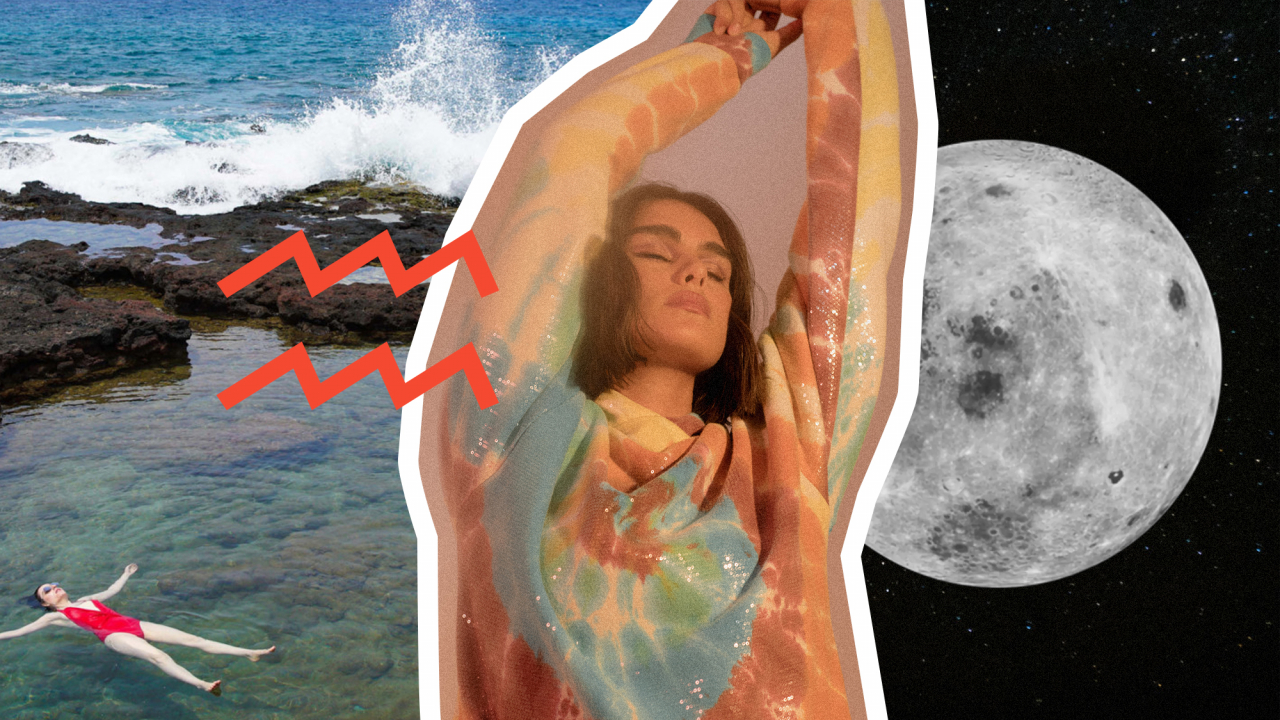 Everything You Need to Know about the Age of Aquarius
Change is on its way.
Welcome to the age of Aquarius. While there's been a lot of controversy around using the phrase "the age of Aquarius," that hasn't stopped astrologists like Lisa Stardust from using it. What's all the fuss about? The quarrel is regarding the way the earth is tilted and when the age of Aquarius versus when the age of Pisces begins.
According to Stardust, this February will bring a lot of planets into Aquarius, with many transits happening in this sign. The initial major shift started when Jupiter and Saturn both entered Aquarius with the Great Conjunction on December 21st. "Jupiter and Saturn made one of the most gorgeous visual conjunctions since the medieval times. And they're making a conjunction in the tropical sign of Aquarius at zero degrees of Aquarius," explains Chani Nicholas, astrologer and founder of Chani, a new astrology app for self-discovery, mindfulness, and healing.
We've been moving through a dark period colored by COVID-19 and more, and Nicholas sees a collective feeling of hope rising. "Aquarius is very interested in the collective and in the systems that we live in and how to innovate and update those systems if they are outdated or insufficient or unintelligent." So if something doesn't make sense, Aquarius pushes us to consider "Why are we doing this?" Nicholas says there's a feeling of needing an update at large.
Come February, there will be six planets in Aquarius. At the beginning of February, we're going to have a new moon in Aquarius, which is when the sun and the moon conjunct in Aquarius. Mercury will be retrograde in Aquarius. Venus will be in Aquarius, and Jupiter and Saturn will be in Aquarius. The new moon will begin on February 11th. "New moons are new beginnings. So that's going to be a really potent time," Lisa says. But it's not necessarily going to be a new beginning; it might instead be a new version of a past situation.
This is a very big time (yay!) and we're going to see a lot of shifts that are happening in our lives—there is going to be a lot of Aquarian energy. "As an Aquarius yourself, you are going to feel the shift like, majorly. It's going to be a big energetic shift," she explains. "Aquarius is the planet of innovation, technology, humanitarianism, different mindsets. It's going to be all about community, protesting, freedom of speech, friends, goals, hopes, and this will be even greater because all of these planets are coming together in Aquarius and bringing their own energies to them."
While Jupiter in Aquarius is about people coming together and uniting, Saturn in Aquarius, she says, is "like, no, no, no, change all the way." Saturn deals with structure and being logical. "So when you have all of these different energies coming together, plus the new moon, it really creates a lot of juxtaposing feelings," says Stardust. The astrologer thinks the way we relate to each other more is going to evolve and there's going to be more compassion, more understanding, and more of a humanitarian, goal-focused mindset.
The modern ruler of Aquarius, rather the traditional ruler of Aquarius, is Saturn. "Saturn is really going to have more of an authoritarian spirit where society is changing the rules and the structures. Because Saturn represents structure and Aquarius is like society," Stardust says. "There are going to be a lot of major shifts that happen and some that we may not like but that are necessary." People are speaking up, and we're taking control back.
During this time period, we're going to see a lot of things free up in the world. We're in the middle of getting the COVID vaccine, and things will start to feel more optimistic (thankfully). There will be change on a granular level. Specifically, on February 17th, June 15th, and December 24th, we will feel the pushback against authority. "We're going to see a lot of things change in the way that we relate to the government and the way that we relate to authority figures," says Stardust.
We will see things more clearly this year, but we won't really feel change until Aquarius moves into Pluto in 2024. This is because Pluto is a planet that changes and transforms, and this will be when structures really crumble; there will be upheaval in society, and finally, we will see real change implemented in society. Saturn will be in Aquarius for the next two and a half years, so get ready. "I think that the next few years are going to be a really exciting time to be alive," Stardust says.
Want more stories like this?
Everything You Need to Know about Your Twin Flame
Everything You Need to Know about Saturn Return
Nneka Julia Odum Was Born to Be a Storyteller