How This Beauty Entrepreneur Keeps Her Cool and Stays Focused
Lots of hydration and daily walks are a must!
Career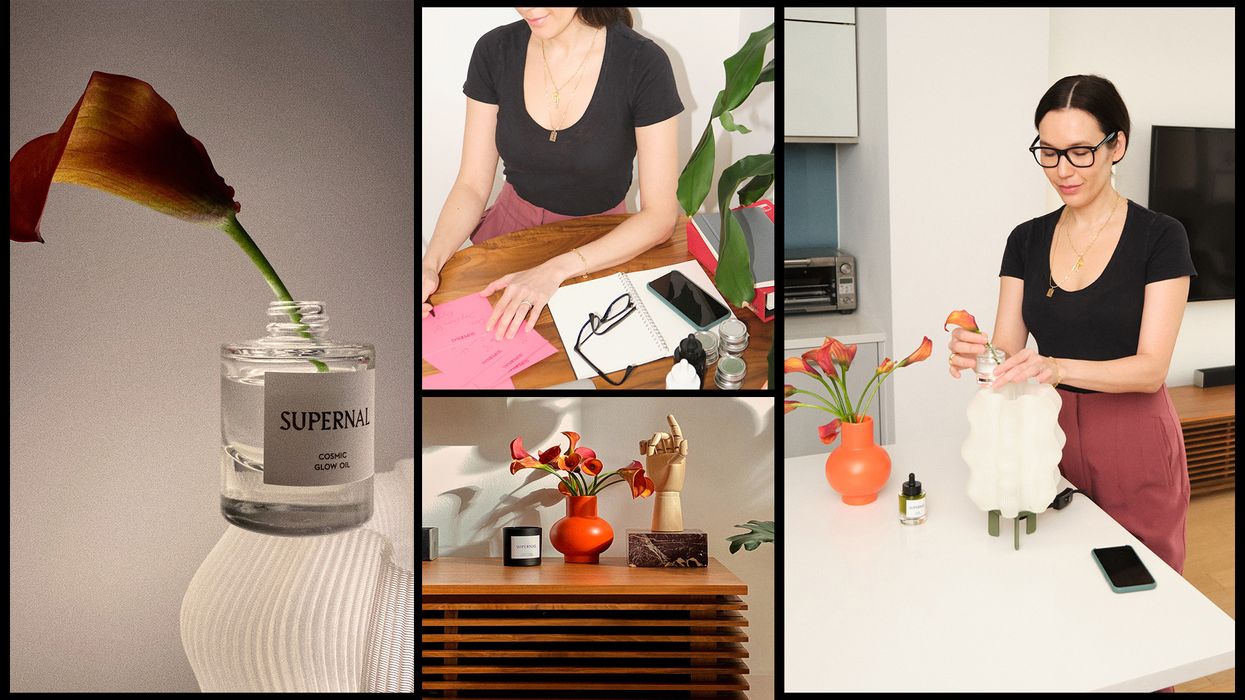 Each week we're checking in with friends to see how they're finding balance, working from home, and generally evolving and advancing their careers. This week we sat down with Melissa Medvedich, the creative director turned beauty entrepreneur who launched her own luxury skin-care label, Supernal. Read below to learn how this skin-care guru maintains gratitude, seeks inspiration, and finds the time to take daily walks through her neighborhood.
How do you start your days?
"I usually wake up around 7:00 AM and do a few minutes of Vedic meditation, followed by a superquick shower to wake myself up, and a large glass of water (the first of many!). I'm not a big breakfast person, but I like to get a little something in my stomach before I pour coffee on top of it—usually some oatmeal or yogurt. A morning coffee is one of my favorite things (preferably
Partners
), which I savor while catching up on emails and news."
Are you incorporating movement or exercise into your routine? If yes, anything you're loving at the moment?
"I have never been consistent with in-studio workout classes or a gym, but I have always loved walking as far as my feet will take me—and time allows. At the moment, though, that's usually a trip to the post office or local shipping center. During the height of the shutdown in NYC last spring, I started to feel really sedentary and tried a few at-home YouTube workouts for the first time and really enjoyed it. I also recently discovered
Holly Dolke
, who has quick videos that I have been trying to do once a day."
Talk to us a little bit about your work environment right now:
"Since leaving my last full-time role at the end of 2016 for freelance and to launch
Supernal
, I've either been in the studio or working from home, so not much has changed. With the exception of my husband, who helps out anywhere I need a hand (when he's not at work in his studio), and the amazing duo that is
Note PR
, the company is still pretty much just me, so I'm very much used to physically working alone. If I'm not making
Cosmic Glow Oil
or working on new formulations, I'm either packing orders or sitting at the computer. That said, I tend to move around from spot to spot to keep it interesting!" 
---
What are the most critical things needed for creativity and to survive a workday?
"A
humidifier
, lots of water, and getting outside to stretch my legs, even if it's just for 15 minutes."
How do you stay focused and motivated throughout the day?
"I always think about and am immensely grateful for the trust my customers put into me. I don't take that for granted, and that is my daily motivation to focus on delivering a high-quality product and experience. I truly love what I do, and it's really an honor to help someone care for their skin."
It's a tricky time in our world, and economically speaking, it's unclear what the future holds. How do you foresee this time impacting your industry?
"There is so much uncertainty across the board as so many industries have been impacted and are re-evaluating their business models and offerings. Consumers, myself included, are being more mindful than ever with their discretionary spending money. Despite the uncertainty, there is so much creativity and innovation in the indie beauty community, and I foresee and am rooting for that to continue."
From a creative standpoint, who or what has been your biggest influence?
"My husband, Tom, who is a tremendously talented and hardworking photographer, and my incredible and entrepreneurial friends whom I have been lucky to cross paths with over the years and have in my world. Visually, color has also been a huge influence, specifically mid-century hard-edge paintings. Symmetry of shapes and the saturation of color fields are like a meditation for me."
Tell us a little bit about your style right now. What is your go-to uniform?
"In my fashion fantasy daydream, I wear just a single different color every day. All red or all fuchsia or canary yellow! In reality, I gravitate towards black and comfortable pants in any color, or denim overalls. I also really enjoy and feel great in a good jumpsuit, even though they can be challenging with how hydrated I like to be."
Are there any essentials you rely on for your fall/winter wardrobe?
"I love yellow gold and jade jewelry all year round—it completes and complements every look for me. This past Christmas, Tom gave me a tiny articulating vintage abacus charm sourced by our friend Joanna at
Fortunebaby
. Growing up, I went to my grandparents' and mom's laundry business every day after school and on Saturdays till I was 14 years old. Each afternoon I would watch my grandfather do accounting on his wooden abacus, so this charm has become a very special and sentimental daily talisman I wear on an heirloom chain from my grandmother."
Are there any beauty products essential to your day-to-day?
"I'm always testing new formulations for future offerings, but
Cosmic Glow Oil
is my desert-island staple product. With winter weather and drying indoor heat, I always have a hydrating mist handy. Depending on how my skin is feeling, I have been alternating between
Pratima's Ratrani Rose Replenishing Mist
or
Tower 28's SOS Daily Rescue Facial Spray
. With daily protective mask wearing, gentle and soothing facial masks have been everything! I am the biggest fan of
Golde's Clean Greens Face Mask
and
Klur's Supreme Seed
, both are heaven on your skin and smell incredible. I'm also loving
Crown Affairs's Renewal Mask
and the
Manta brush
for my hair."
Supernal
Pratima
Tower 28
Golde
Klur
Crown Affair
How do you unwind at the end of the day?
"I love a glass of wine or occasional bourbon, but my evening shower and nighttime practices are how I really unwind and power down for the day. I always dry-brush my body before the shower with my favorite
tool
by
Bathing Culture
, and after I get out I apply
Monastery's Lapiz Matte Body Oil
, which has a beautiful texture and calming aroma. A few months ago, I met the founder of
The Sleepful
over email, a site which explores nightly sleep rituals and tips for better rest. So many of the people featured swear by acupressure mats that I decided to try
one
, and it was one of the best purchases I made last year besides my Dyson Airwrap. Ten to 20 minutes on the mat really helps me unwind and get my body into relaxation mode."
Monastery
ProsourceFit