How Skater Briana King Subverted the Boys Club
Get to know the anointed queen of NYC's femme skate scene, whose TikTok tutorials are opening up the sport.
Living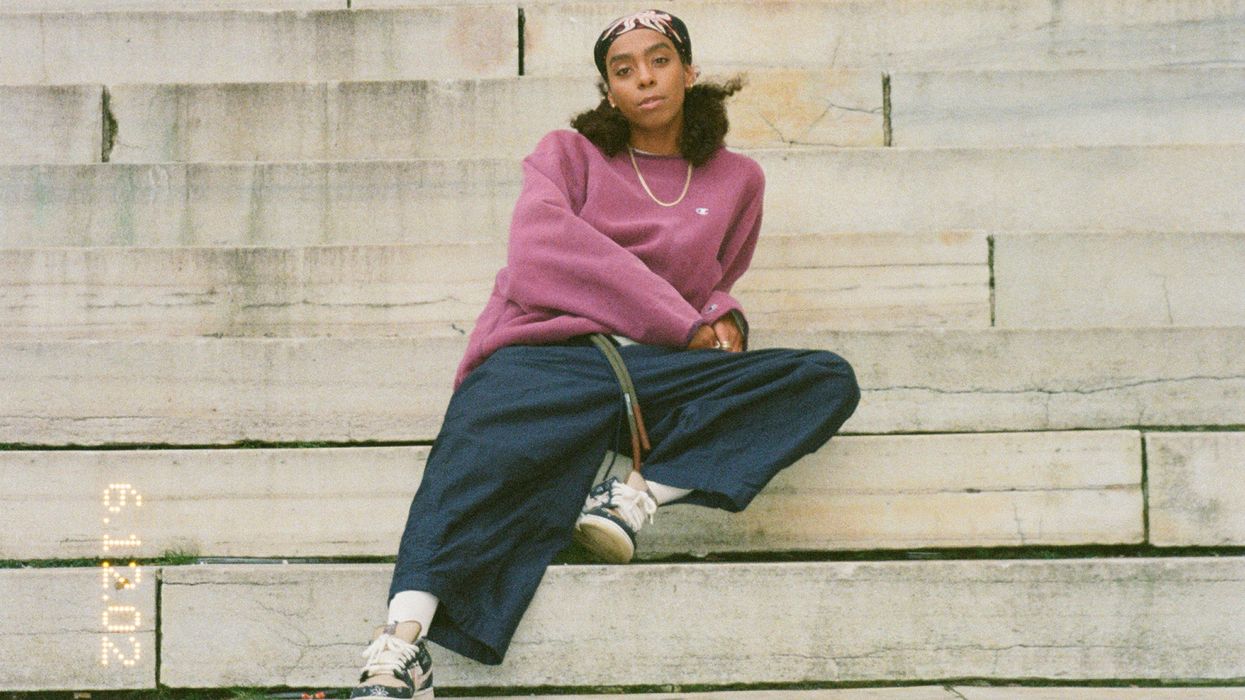 "Who's this chick?" said A$AP Rocky. "She's not a skater."
It was 4:00 AM in a New York warehouse, and
Briana King
had been cast as the sole female skateboarder in Rocky's "
A$AP Forever
" visual. It didn't faze her—King was accustomed to feeling like the odd one out. Growing up in East L.A., she'd been pushed out of the skatepark by territorial boys who demanded she perform a kickflip. When she moved to the Southern Hemisphere to model, King was often fetishized as the sole Black woman on set—her face often caked in bronzer by apologetic makeup artists as a substitute for darker foundation. New York's mainstream skate scene was mostly pale and male when King immigrated to the city, but for seven hours every day for a year, she found her feet on a board. Now a rap superstar was demanding she justify her skating presence on his set: "Do a kickflip," he told her.
"I wouldn't do it," King recalls. "As a model I would do whatever the hell they said, but skating brought me confidence. It was like, I've already shown you what I'm capable of, so don't make me do more just because I'm a woman on a skateboard."
That confidence not only impressed Rocky (who then requested she appear in another scene), but inspired an ever-growing number of disciples. When she was unable to find a community within New York's skate scene that catered to femme and queer skateboarders, King figured she'd create one. Enter:
Display Only
—a skate group that attracts the best female skaters in the world as much as 40-year-old mothers learning alongside their four-year-old daughters. For those of whom the skate park was just another societal structure to feel ostracized, King facilitated a safe space. 
---
It's perhaps for that reason the 28-year-old finds it easier to embrace the title "community galvanizer" than she does "professional skater" (unsurprisingly, the latter ruffles feathers in pro-skate boys clubs). Nonetheless, King certainly enjoys the perks of the skating elite...and shares them. While most skateboarders stockpile their free merch, King has made a name for redistributing resources to aspiring skaters who attend her sessions with hole-ridden shoes or broken boards. Reebok and Vans have provided hundreds of pairs of
sneakers
. Most recently, JBL partnered with Briana King for their
newest collection
of True Wireless headphones, in exchange making both product and monetary donations to her chosen non-profit: a
free skating program
for young girls. King's friends behind the charity called her crying.
"The fact that companies want to support that I'm a Black female skater... I finally felt human, not a piece of meat or a hanger," King claims. "The only job I ever had was a model, that's the value I thought I had. It's so freeing to know I could get hit by a car on my skateboard and still work."
As a mixed-race Black woman modeling in Australia, King's look was so distinct that she booked national campaigns almost upon signing—modeling for six years without attending a single casting. Of course, the flipside wasn't as pretty a picture. The skater tries not to cite discrimination when she references her arrest in Australia upon arriving on a tourist visa (TSA agents found an email on her phone offering cash-in-hand modeling work) or her five-day subsequent detainment in a detention center and deportation.
Touching down in New York was both a relief and rude awakening. Here, she was finally
"
normal,
"
but normal connoted
"
common.
"
When beautiful women of all nationalities could be found in abundance, Briana King would not only have to
"
try," but booking a job would mean the well-trodden POC trauma trap as testimony to a company's "wokeness
"
: usually a video component wherein she explained her hardships as a Black woman.
"I didn't want to do it anymore. Modeling had hurt me at that point. I just wanted to skateboard until I had zero dollars, and I did. It was one year until I ran out of money. Then I was booked to skate and model together, which changed everything."
Other female skateboarders regularly remind King how much she and her friends
'
attractiveness has contributed to their success as skaters as well their crossover into other realms—entertainment and fashion, specifically. Element flew King to Colorado to skate with a group of pros who each had at least 10 years of experience on her. She
modeled
for Justin Bieber's skate-centric brand Drew House and
appeared
in a Doja Cat video. Calvin Klein even
recruited
 King for a perfume campaign. It might look like pretty privilege, but in reality, Briana King the skater gave Briana King the model an edge...and vice versa.
"I used to feel so guilty," King admits. "Like I was only being treated a certain way because I looked a certain way. I would turn down opportunities for a while, but it only made me work harder and be more intentional."
During her time overseas, King would spend days off at various local skate parks. The prospect of actually stepping on a board in front of the white boys was too intimidating, but she would sit and study the way their bodies moved: how knees bent and shoulders squared. In New York, her education continued with the Black women who took her under their often-bloodied wings.
Now, between teaching classes and scheduling Display Only meet-ups, King has taken her expertise to
TikTok
. Her 400,000 followers can learn how to ollie, grind, and catch the board, all in less than 10 seconds. A standout clip is a tutorial for a trick that's all too familiar, one that served as a litmus test for King's skating legitimacy across decades: the kickflip. She fails numerous attempts. Then, just as hope is ebbing, she lands. The glorious split second of hyper-coordination is the meeting point of talent, hard work, and most important, confidence. And just like that, all the frustration feels worth it.
"Skating will never feel like work," she says. "If I feel weird and uncomfortable on set, the second I'm on my board I'm back. I'm just me again."
Want more stories like this?
A No-Nonsense Conversation Between Bree Runway and Rico Nasty
Take a Dip Inside the Thought-Provoking Mind of Kiersey Clemons
How Elsa Majimbo's Quarantine Carved Her Place in Comedy