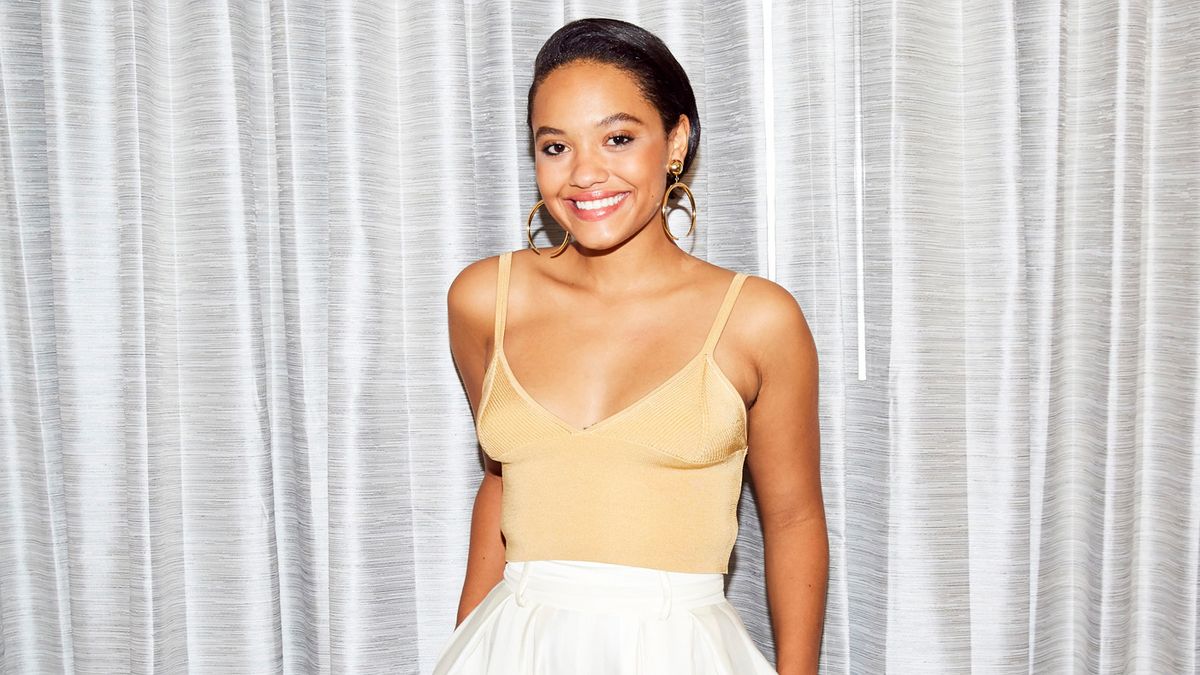 Celebrity
Take a Dip Inside the Thought-Provoking Mind of Kiersey Clemons
The Antebellum star opens up on Hollywood's tokenistic attitude, Black Lives Matter, and more.
It was a grey morning when I answered
Kiersey Clemons
' call, with fall's first leaves and splashes of rain tapping my window as we counted another day of quarantine down in the books. "It's gloomy over here too, because of the fires," she softly coos over the phone, referencing the California wildfires that are
currently still going
. "The sky, it looks like it's going to rain, but it's not. I'm not one of the victims of it, so I'm lucky, but the air quality is bad and we're all just sitting inside. I've watched
Hamilton
on Disney five times. I'm just trying to keep it cool."
Keeping it cool seems to be embedded in Clemons' DNA. She describes her "inconsistent" style as "preppy, but a slob," noting her identity in clothing and expression of self as "drastic" and influenced by Telfar Clemens ("I just bought a Telfar bag, and I'm telling everyone we're related," she giddily says), Julia Roberts à la the '90s, and her friend Bryant. Yet she isn't afraid to admit that, like all of us, she's been wearing the same shorts and t-shirt on repeat while she stays indoors quarantining.
"I use
Surreal Skincare
and
Dayle Breault Goddess of Skin
," she continues, elaborating on her minimalist beauty routine. "I don't really experiment with other brands. I like clean, effective, safe ingredients and to know who made whatever I'm about to put on my face, which also ends up in my bloodstream! I trust the folks who make these products, and that's the most important."
But, while we all love talking about clothing and face cream, Clemons would rather push the surface-level small talk aside and take a headfirst dive into what
really
matters in the grand scheme of things. "I always want to talk about these things, but everyone is like, 'What's your favorite lip gloss?'" she says. "I really appreciate the opportunity to say things that are always on my mind."
So what's lingering in Kiersey Clemons' mind? For starters, if you follow her on Instagram, you may know that she's rightfully vocal about the Black Lives Matter movement for
all
to embrace. With protests still going strong, I question whether she's just as scared as I am of "allies" going MIA after they've had their social-media-induced fill.
---
"I think that the reason people have those concerns around Black Lives Matter is because it happened in real time," she says. "Black Lives Matter isn't a new movement. The folks behind Black Lives Matter have been doing this work for years, for decades. It's been a lot of colorism, and that's around the world. Colorism does come into play when you talk about Black Lives Matter and the way in which it's been made so mainstream, and we've put light-skinned folks at the forefront of that conversation, and you can kind of see it happening in real time, the way in which Black Lives Matter has been turned into something that maybe it inherently is not."
And when it comes to key (white) players in Hollywood and their tendency to be performative for just a moment in order to avoid "cancel culture"? While she knows her white colleagues have, for the most part, good intentions, Clemons says we have to go above and beyond black squares on Instagram feeds and apology videos.
"It can work against itself when Hollywood does get involved," she says. "I think Hollywood, a lot of times, the intent is to help. All of the folks who did the '
I Take Responsibility
,' video, all of those things I think—although have good intentions—are not well thought out because they lack effect. Right now, we need direct respect. It used to be about 'let's ignite a conversation.' But we're beyond conversation. What do we do now? How do we put money in black people's pockets? What about reparations? Where are the solutions at?"
"We can't just put Black women—or, specifically, light-skinned Black women—on the cover of magazines and call it a day and call it change, because it's not," she says. "It only perpetuates colorism and privilege, and it perpetuates this idea that [only] light-skinned women are...worthy of protection. It can be harmful when Hollywood gets involved. It's difficult because I don't have all of the answers. I am also just a person that's a part of this industry that's demanding more, but also my head is spinning.
"I'm like, 'What do we do? Where do we go?' At that, I'm not at the top of the food chain. I definitely can only take responsibility for myself and be a conscious thinker and always consider how much space I'm taking up. I try to always be a critical thinker and consider, what ideas am I feeding white people by existing in this space, and what can I validate in Black folks by existing in this space? I think everyone just needs to think about things a bit more, a little bit deeper."
Although she may not label herself as "top of the food chain," it's impossible to deny Clemons' mainstream success in roles such as the critically acclaimed film
Dope
, Netflix's
Easy
, and her latest political thriller
Antebellum
. With her track record of hit flicks, it's easy to say that Clemons is on the right track to becoming one of the film industry's biggest names—but that doesn't mean the road to get there was smooth sailing.
"I think it's important to talk about what I deal with in Hollywood because that's the only way that things can change. I recently have been feeling like maybe I should be calling people out. Should I be partaking in cancel culture? To this day, at this very moment, there are still white men doing things in this industry. Their actions are so violent and loud, and it's disarming and confusing because I'm looking at them like, 'Aren't you afraid?' Even I have a Twitter account. I can go on Twitter and destroy you, right? But these people feel so powerful to the point that that's not even a threat because it's ingrained in them to believe no one's going to listen to me anyway.

"It's difficult because a lot of Black actors, very few of us are hired, for one, and paid appropriately, for two. It's hard to risk it all because you really are risking it all when you speak up," she says. "But I've been on sets where a white director's son was just on set visiting, and he told me while I was working that I was there because his dad asked him, 'Who's a cool Black girl to put in a movie?' And he said me. It just completely destroyed why I thought I was there. I thought I had earned this job, and [came] to find out I'm just, to this director, a Black girl whose name his son threw out.

"I've been on other sets where, when my deal was getting done, I was told I'm not going to be paid appropriately because I'm lucky to be there. On the same set, I was sexually assaulted by a crew member, and then, to top it off, my name was spelled wrong in the credits of the movie," Clemons continues. "It is so wild the things that are happening right now in Hollywood that no one knows about, and it's worse than the stories that I'm telling you. It felt like, for me, for a bit, I'm new to the industry. I don't have a family member in the industry. I was like a virgin to all of it.

"It is abuse… It's abuse," she sighs. "It's abuse because if at any point I'm taking on something that hurts me and is traumatic to me because you're paying me, that's abuse. That's an abusive workplace. I think that it's overlooked in Hollywood because we're the people with all of the privilege, and people assume that we have all of the money and the access. But the reality is that a lot of folks are struggling not only financially, but mentally and physically. It's inexcusable."

After her own harrowing ordeals with the toxic, blatantly racist culture within Hollywood, Clemons has had enough and is ready to pave a path for equality and respect for not just herself, but for the future of other Black and BIPOC actresses.


"It was years and jobs back-to-back where I was taking a lot of shit that I shouldn't have been taking. Now I'm so conscious about who I work with in a way that I wasn't before. I'm also a person who's in a position to be that conscious. A lot of Black folks are under-booked, underpaid, underwhelmed, quite frankly. I feel like I have a duty as a person who is being booked and is now appropriately being paid—sometimes—to be smarter about who I work with. I'm basically condoning someone's actions when I work with them. It's like 'Can I take pride in standing next to that person?' If I work with that person, basically telling the next Black girl that it's fine to work with them, and I have to keep that in mind, if that makes sense."

However, many of the victims of Hollywood's cruelest have been far from silent. There's been a reckoning of "cancel culture" going on for years, which has brought us quite a few C-suite executives and high-profile names being thrown out for a discriminative track record, lest we not forget Harvey Weinstein being rightfully kicked off his golden film pedestal and going down in history as one of Hollywood's biggest predators via the #MeToo movement.

But, though she acknowledges all the good that has come with speaking up about menacing individuals within the industry, she also admits that cancel culture isn't necessarily appealing to her.

"I have friends who have been canceled, and I think that I see how it affects someone. That's really a traumatic experience, I have to say," she says. "To wake up and realize that thousands or millions of people are talking about you online, that's a terrifying experience that I don't think many people can actually relate to and fathom. Of course, naturally, I'm turned off by it because I see people that I love get hurt by it. These aren't folks who are sexually assaulting people. I'm not defending anyone like that. You can burn.

"Cancel culture, it's people having a conversation about right now because everyone had all of this power at their fingertips to call someone out that did them wrong and did them dirty. I think now we're all actually looking at our power and thinking about how we use it. We have to kind of, over time, adjust and be like, 'Wait. Am I that power hungry and am I doing this for an actual effect, or is this a journal entry?'


"But I definitely believe if someone is in a position where they're harming people and they need to be brought down, you have no other option but to take it to a platform like that," she continues. "You should wake up in hysterics because people online are talking shit about you if you have abused or been violent towards someone. You deserved it. You have to be called out. You have to know that you're causing trauma to people and you don't deserve that position of power anymore and it's not going to be upheld. It's not a [black-and-white] thing, especially because we don't all agree on what is violent and what's not. But I think there's definitely some people that I could cancel. There's definitely some people where I'm like, 'I will cancel you one day if you don't cancel yourself first.'"
So, rather than turning to cancel culture, Clemons has decided on taking another route to change the world for the better: channeling her drive for proper representation and equality through her work, especially through her latest film,
Antebellum
, which explores slavery—and our modern social climate, to say the least without spoilers—at its most gut-wrenching.
"I decided to do
Antebellum
because I read the script and I loved the way that the acts are written. I loved that you start out in this movie thinking that it's kind of the slave movie that we've seen so many times, and then you get this big moment of relief in a second act, and the third act closes this chapter of violence against Black folks and takes all of this power back," she says. "I thought it was brilliant storytelling. I never thought that I would play an enslaved person. I was never interested in those roles. I always refused to audition or turned down the part. It just wasn't a portrayal I was interested in, but this script made me feel like it'd be taking up in a new direction that we deserve to go in. I had to do it. I had to be a part of it."
Though Clemons isn't saying that art will cause everyone to peacefully hold hands and chant summer-camp songs together, she does note the undeniable impact all mediums of art, whether that be music, film, or even this article, can have on the conscious
and
subconscious mind for the better.
"You need art. You need music and you need novels and non-fiction and fiction. You need movies to penetrate the subconscious and undo all of that work that's been done," she concludes.
Want more stories like this?
Ryan Destiny Is Breaking the Rules for Young Black Girls in Music and Hollywood
Why Jidenna Believes Pan-Africanism Is More Important Than You Think
Kendrick Sampson's Fight for Justice Is Only Getting Started