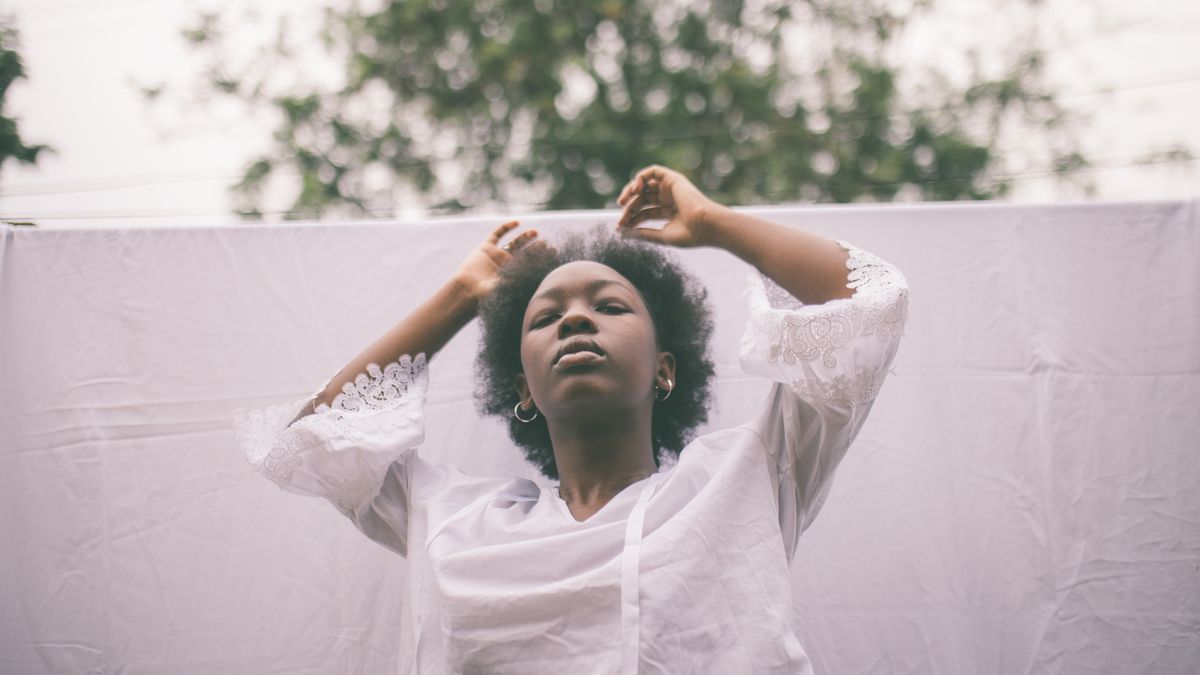 Culture
The Nairobi native catapulted to mega fame in a matter of months, so what now?
Three months ago,
Elsa Majimbo
direct-messaged one of her new followers on Instagram. "Hey, girl," the Kenya native wrote, "is that really you?"
"It's really me," Chrissy Teigen replied.
Although 19-year-old Majimbo's quarantine has mostly resembled that of many others—online classes, surplus screen time, lots of leisurewear—the Kenyan must now contend with a very different post-pandemic existence. You see, while locked down in her Nairobi home for months on end, Elsa Majimbo has become mega famous.
The online comedian's recipe for success is a curious one. In a series of quick-cut close-up clips, Majimbo hyperbolizes her prosperity and popularity for the camera—punctuated with the crunching of potato chips or the donning of small-lense sunglasses. The gag is that, more often than not, Majimbo appears intentionally dishevelled via low-quality visuals, making for content that contrasts starkly to the hyper-filtered, often over-edited offerings of other social media sensations. It's undiluted creativity served with a healthy helping of self-awareness.
"[My process is] all in the moment," Majimbo explains. "I ate chips once by mistake, and since then, if I do one video without the chips, it's like,
Where are the chips?
I rely on my brain, but I never worry about ideas running out. I've done so many videos that I'll go to the bottom and start posting them again in the same exact sequence."
Despite sharing Vine-inspired videos to Instagram since 2016 (the app was banned in African countries, so Majimbo inhaled Vines posted to other platforms), it was in the early months of 2020 when Majimbo noticed a significant uptick in engagement. Almost overnight, the comedian's 10,000-strong fanbase doubled, then tripled. Within a few months, Majimbo was flirting with seven figures. "It reached this point of 
Oh my god, people love me!
They found me relatable, like I
get
them."
---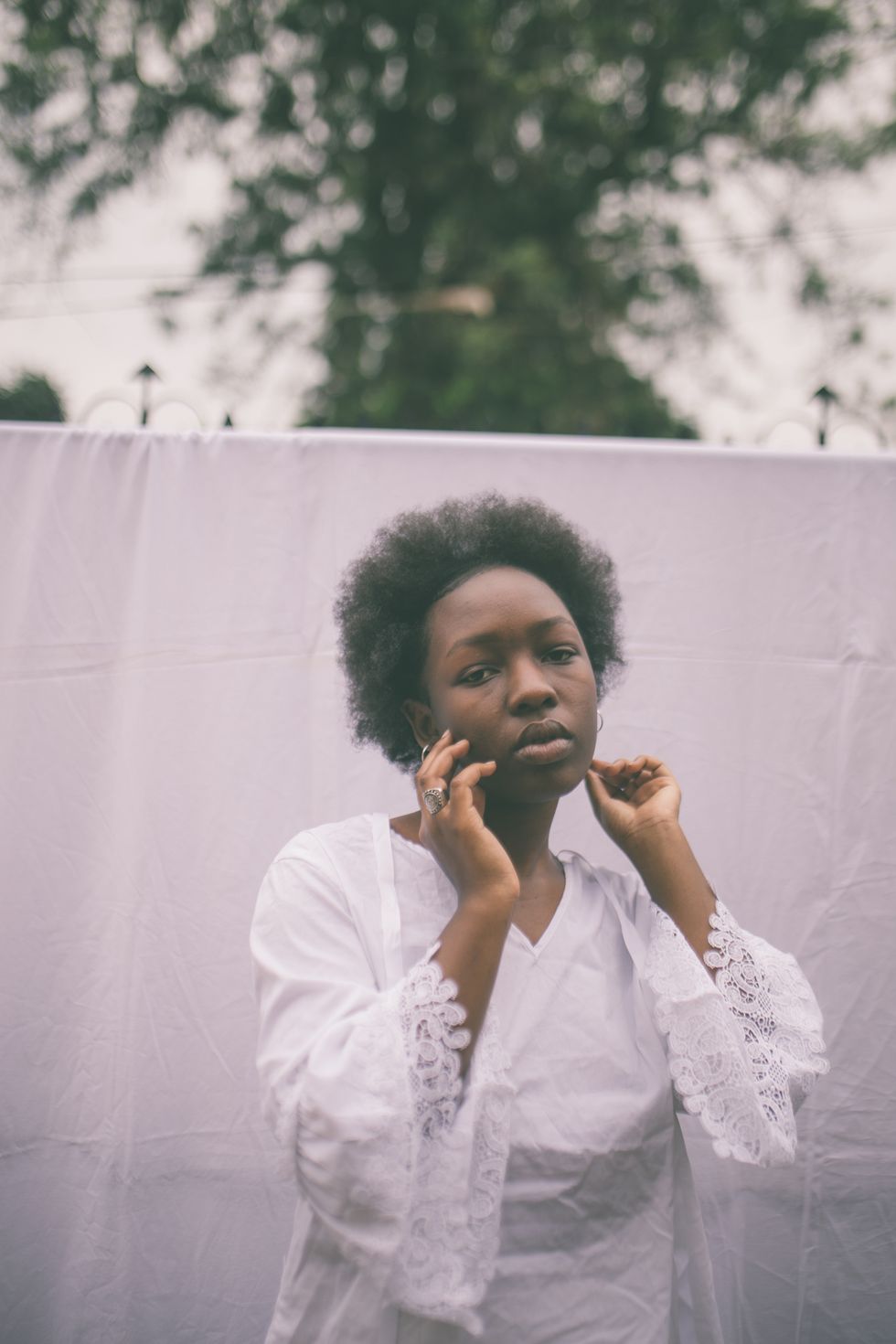 Photo: Nigel Akala
While Teigen was perhaps her first A-list celebrity fan, it was superathlete Usain Bolt that affirmed Majimbo's fast track to success to the creative's family. "Angel, this is not how Christian girls behave!" Her father scolded as Majimbo's account began to gain traction. She blocked his friends and kept posting. However, when Bolt was revealed to be a Majimbo devotee, Dad changed his tune.

"Now he says, 'You make us so proud,'" she laughs.

Majimbo hasn't managed to convert the rest of Kenya's male population, despite her stratospheric rise. Kenya's rampant chauvinism means women still hold second-class status, and she understands her father was worried how she might be perceived by his peers. As an example, Majimbo recalls high-school lessons where she and her female classmates were taught to be "obedient wives." Majimbo's Kenyan critics continue to claim she is just not funny, but she's unfazed by the backlash, adding that the fact there's a peanut gallery dedicated to pearl-clutching over her success brings her "pure f**king joy."

"Men here make women feel like they are less," Majimbo claims. "As I'm speaking right now, there will be someone saying something negative about me. Kenyans that initially didn't like my content are upset that I went and found another audience. They're like, How dare a woman come in and be successful? It got a lot of people mad, and I'm so happy."

For the first time, Majimbo is comfortable revealing on record that she's left university, where she was previously studying to be a journalist. The announcement coincides with the premiere of her own online talk show, Bedtime with Elsa, where she interviews major celebrities before she goes to bed.

"School wasn't a fit for me, but it has been strange because I never reached the point of learning how to interview people and being in front of the camera, and now it's happening—now I get to meet really, really cool people that I love and adore."


Photo: Nigel Akala
Majimbo laughs that she "blacked out" while chatting with her first guest on the series, Jorja Smith, asking Smith to take a beat while she consulted her notes. Nevertheless, learning on the fly has become something of a specialty for the comedian. Her growth is "way faster" than she ever anticipated, but even in the early days of a few hundred followers per week, she predicted her online presence would manifest in a career as an entertainer.
"I literally thought to myself,
You need to work hard on this, Elsa, because this is your ticket out
. And I loved doing my videos. I thought,
Oh yeah, I can make money from this, I can take the bag and run with it
."
"The bag" is certainly within her grasp. The star is approached with brand deals daily, has starred in a Fenty campaign and secured a MAC ambassadorship. Now she's recognized in Nairobi even when frequenting "restaurants for middle-aged tourists" in a hoodie, sunglasses, and a mask. Although, maintaining fame takes expert navigation. Majimbo admits it's still difficult for her to turn down a paid opportunity for the sake of her brand—especially when one US dollar equals 100 Kenyan shillings.
"I'm this broke student, and here are people offering me five or ten thousand dollars for a campaign," she says. "I could be swimming in cash, throwing money in the air, but now I'm seeing the big picture."
The comedian admits carving a place on Instagram amid millions of competitors feels like "the Olympics," thus she has no interest in cultivating a community on other social media sites. YouTube, she says, is the most difficult platform to crack, and one she has no interest in. The comedian has better things to do than tell someone to watch her latest video—she'd rather be "eating and watching Netflix." And don't get her started on the fruitlessness of TikTok.
Instead, Majimbo's goal is moving into more traditional forms of entertainment. She sees herself as a comedian, actor, and writer living in Los Angeles, where she already has a strong network of celebrities offering to show her the ropes. While Nairobi to California may not be a well-worn track, if Elsa Majimbo can make it onto Chrissy Teigen's radar with a packet of chips and cheap sunglasses, you can put money on her making it just about anywhere.
"L.A. feels like a good place to grow," Majimbo says with an aged certainty. She pauses, briefly, before giggling mischievously. "But I can't wait to make enemies."
Photos: Nigel Akala
Want more stories like this?
24 Years Later, The Craft's Legacy Is Looking Brighter Than Ever
Cleo Wade on Digital Wellness & American Culture as Black Culture
Meet the Woman Leading the Charge for More Intersectional Environmentalism