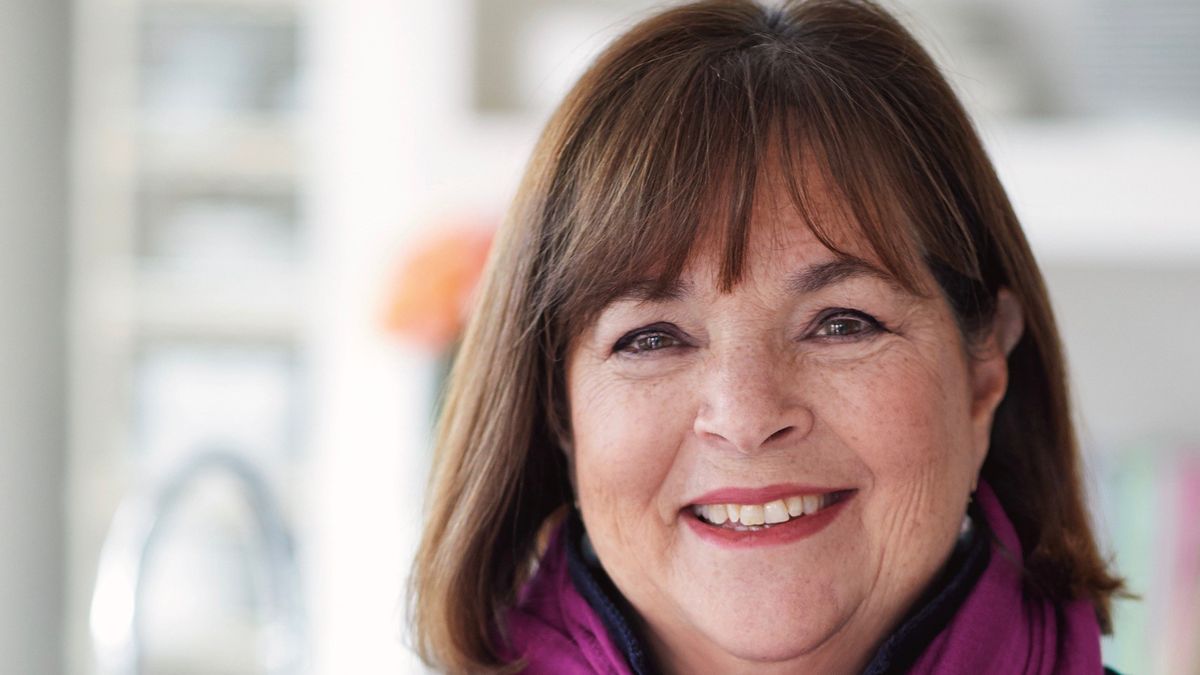 Food
Ina Garten on Thanksgiving Traditions & the Secret to Easy Entertaining
The Barefoot Contessa shares what she's serving up this Thanksgiving.
"I'm not a confident cook," says
Ina Garten
, 12-time cookbook author and star of the Emmy award-winning show
The Barefoot Contessa
on the Food Network, now in its 26th season. "In a funny way, when I first started this, I thought, 'What makes me think I can write cookbooks?' But as time went on, I realized my anxiety is actually just like everybody else's. Cooking is hard! I've never worked on a line in a restaurant, I didn't go to culinary school, and in fact, I think that's actually helped my cookbook writing because if a recipe is too complicated or takes too long, I'm never going to make it again, and I think other people feel the same way."
One certainly doesn't expect to hear one of America's most beloved, James Beard Award
–
winning cookbook authors, aka 
The Barefoot Contessa
, say she's not a confident cook. Or, for that matter, that cooking is hard. But that is the secret sauce to her great success over the past two decades—she is a student of her own at-home cooking education, just like most of her adoring fans.
"Sometimes you'll spend a weekend doing a project and bake bread," says Garten, who has joined me via Zoom from her picturesque kitchen in East Hampton wearing her signature button-down shirt. "But most of the time you just want to get dinner on the table."
Garten has been feeding her fans exactly that for decades—recipes that are approachable, comforting, and most importantly, delicious. They're straightforward and exacting, meticulously tested, and don't require 1,000 different ingredients from various specialty shops. If you pick up one of her books having never cooked anything in your life, you could fairly easily try one of the recipes and finish with something delicious (provided you follow all the steps, of course). It all started with her popular Hamptons food store, The Barefoot Contessa, where locals relied on her for turkey meatloaf, barbecued chicken and orzo, and banana muffins.
Her latest cookbook, titled
Modern Comfort Food
, was released on October 6th—not coincidentally, it was just in time for the presidential election. In the introduction, she writes, "During times of financial and political stress, there's something about a hamburger and Coke or a big bowl of beef stew that makes us just feel better. They're not fancy—in fact, quite the opposite. They're familiar, delicious, and soul-satisfying. In other words, they're comfort food."
Modern Comfort Food
is filled with just the kind of food you want to eat and drink in these unsettling times, like grilled cheese and tomato soup, beef stew, pizza, and giant chocolate-chip cookies. Garten toyed with classic, familiar flavors and put her own updated spin on them. The creamy tomato bisque, for example, has just a hint of saffron that brings an ever-so-subtle heat to the dish that's a bit unexpected. And the grilled cheese ("the ultimate comfort food," says Garten) isn't simply white bread with cheddar; it's extra-sharp white cheddar with mango chutney. The nachos in the book get an upgrade with jumbo lump crab meat.
And, of course, there are some excellent, stiff cocktails in there, as well. Though she nearly broke the internet in the early days of quarantine with
her Instagram post
featuring an extra large cosmopolitan, which provided some much-needed levity for people during some very dark times (and resurfaced again during election week), she's traded out her cosmos as of late for something a little different.
"Wasn't that funny? Everybody just went crazy when I posted that," says Garten during our interview on November 5th, when Americans were still glued to CNN waiting for a final election result and relying on cocktails and comfort food for some much-needed solace. "I love the pomegranate gimlets in the new book. They're kind of autumnal because of the pomegranate, and they are just so good."
Never one to stay idle, she's already in the middle of her next cookbook (due out in 2022) and a memoir (due out in 2023) and hard at work on a new design book as we speak.
"I just remember after the first book came out, I thought, 'Well, that's it. I'm done. That's all my recipes," says Garten as she flashes that signature, apple-cheeked warm smile, and we both have a good laugh.
Here, Garten chats with Coveteur about what food is comforting her most right now, entertaining in the time of COVID (when in doubt, order pizza delivery!), and what she's cooking up for Thanksgiving with her husband, Jeffrey.
---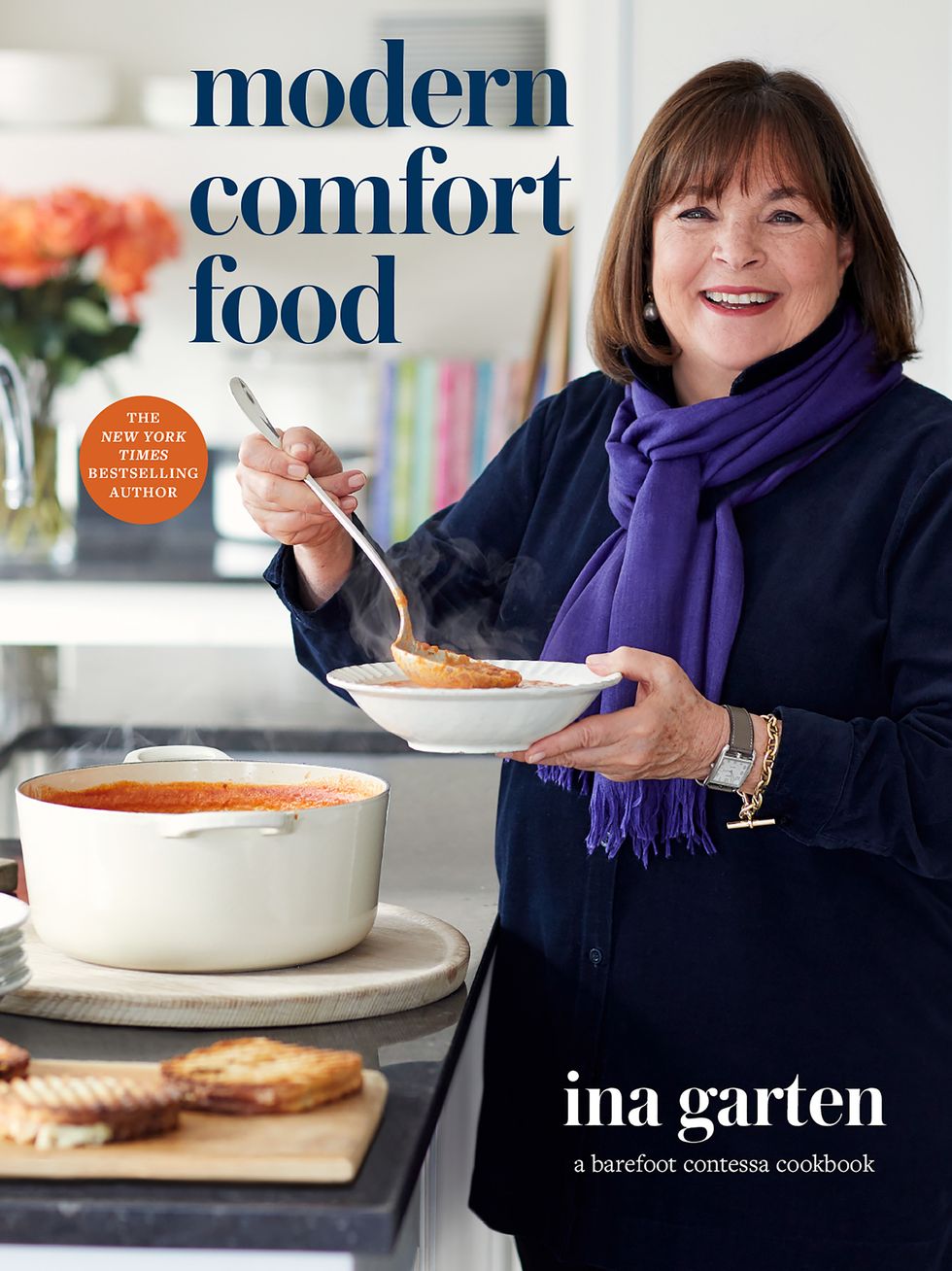 Photo: Quentin Bacon/
Modern Comfort Food
We have all needed comfort food to help us get through this week (election week). What food has been most comforting to you?
"I'm always making all kinds of things. It's funny, this morning when the power was out, I was like, 'What am I going to do with no power?' And I thought, 'I have cranberries, apples, and oranges!' and I took everything that I had and I made chutney out of it (because I could turn on the stove). I like stews, like the ultimate beef stew [in the book], or the red-wine-braised short ribs from my last book, 
Cook Like a Pro
. I've been making a lot of soup, like butternut squash and apple soup. I did the same thing you did and went to the apple farm and got all kinds of apples and made all kinds of things with them."
In the book, you mention split pea soup is a favorite comfort food because your mom used to make it for you. Are lots of the recipes in here inspired by nostalgic memories?
"It's funny, my mother was a kind of serviceable cook. She didn't take any pleasure in it, and it wasn't something that she loved to do. When she would make dinner, she would cook just to get dinner on the table. And I think as a kid, I was searching for flavor, and I think that's what my whole career has been about. So I'm not sure, except in kind of a reverse way, it came out of my childhood. As a kid I always wanted to have peanut butter and jelly sandwiches, and she never would let us. It had to be a vegetable thing—she was all about nutrition."
What recipes from
Modern Comfort Food
should people try first?
"The ultimate thing is grilled cheese sandwiches and tomato soup. It's so easy to make, and the soup has a little bit of saffron, which is really nice. Also, the black-and-white cookies. Everybody knows them from a package, and they're just so good when they're homemade. And I think one of my favorite things is the pizza carbonara—it's so good. It's just a pizza dough, which you could actually get at a pizza shop, then it's just shaved brussels sprouts that you put through the food processor, and then it's a carbonara sauce, parmesan cheese, and pancetta."
The ultimate beef stew also seems to be a hit. I have seen a lot of people making it on Instagram already!
"Oh really? That's great! What you serve it on also makes a difference. Like, I made the red-wine-braised short ribs and I served them on blue cheese grits, which was so creamy and comforting. I like to make beef bourguignon, and sometimes I like to serve it on a grilled piece of bread, which the beef stew would be good with, too, just to have some other texture."
Do you ever have Jeffrey test recipes for you?
"He is terrible! Do you mean test the recipes you made to make it? Yeah, I don't think he'd have a clue where to start if he had to make them. But as a tester, he likes everything. He goes, 'Oh, this is the best thing you've ever made!' He says it all the time. [
Laughs
]"
What are you two doing for Thanksgiving? What are you cooking up?
"Hopefully, it's a nice day and maybe I'll find two people who are out here and not with their families, and I'll invite them over for a socially distant Thanksgiving. Thanksgiving for me is just the classics. There's a Tuscan turkey roulade in the new book that's boneless turkey and herbs, and it's great that you don't have to carve a turkey. Don't you hate it when you're all dressed for Thanksgiving and then you have to carve that turkey in front of everybody? I think maybe I'll do the chipotle smashed sweet potatoes and the broccolini with melted cheddar from the book. I tend to make a bread pudding rather than stuffing, like a sausage and herb bread pudding. And for dessert, the Boston cream pie from the book. It's kind of like classic American, but with a twist."
It looks like you've been doing some intimate, outdoor entertaining. When you're crunched for time, what's your go-to move in terms of the food?
"It's harder to entertain outside because you're running in and out of the kitchen and outside, and you have to set the table and the heaters... There's so much going on. I do this a lot—just get a pizza from a local place (I like
Sam's
in East Hampton...it's really good)—and I make a Caesar salad. I make the dressing way in advance and just cut up the lettuce and toss it together. I make affogato for dessert, which is vanilla ice cream with espresso. I mean, it's like the easiest meal on the planet, and we have a wonderful time! Everyone is stressed enough these days, you don't have to go crazy with the cooking."
What are your go-tos for tableware/linens/entertaining decor pieces?
"Locally, there's a place in Sag Harbor called Bloom that I go to and it's just so good. It's really just so edited with beautiful, simple, and accessible things. And the other place I go to a lot in New York is
Roman and Williams Guild
(they also have a really great restaurant inside called
La Mercerie
). Gorgeous linens! And, frankly, Crate & Barrel and Williams Sonoma. I think the simpler things are the best. Right now, I am just using big pumpkins on the table, candles, and orange napkins. And, maybe some dried hydrangeas from the garden! It's simple and looks really great."
What NYC restaurants have you been ordering from or going to lately?
"I've been getting a lot of things sent out, which is amazing. Russ & Daughters has that smoked salmon and bagel, so we can feel like we have a treat. And Lilia—Missy Robbins is my favorite, I think she's just extraordinary. She's delivering all over to New Jersey, Connecticut, and Long Island. This week I got fresh pasta, sauce, and a porchetta, which was just amazing. It's kind of like dining out at Lilia without going to the restaurant. Baldor is sending out extraordinary ingredients, but as soon as the pandemic is over, I'm going straight to Lilia."
You've been hard at work on your memoir. How's that going?
"It's actually surprisingly interesting because I never look back, I always look forward. It's really kind of forced me to connect with people I knew in high school and hadn't talked to in a long time. That's been much more fun than I thought it would be; to kind of connect the dots between what I did when I was 20 and now is very cool. The woman helping me with it was doing some research about some science prizes I won in high school and how interested I was in science, and I think that's kind of like what I'm doing now, except that you end up with a Boston cream pie instead of gibberellic acid… [
laughs
]"
Cheddar & Chutney Grilled Cheese
Isn't a really good grilled cheese sandwich the ultimate comfort food? This isn't Wonder Bread with some mystery cheese inside—it's bakery white bread piled high with extra sharp cheddar and savory chutney to brighten the flavor. A bowl of Creamy Tomato Bisque (page 83) to go with it wouldn't hurt either.
Makes 6 Sandwiches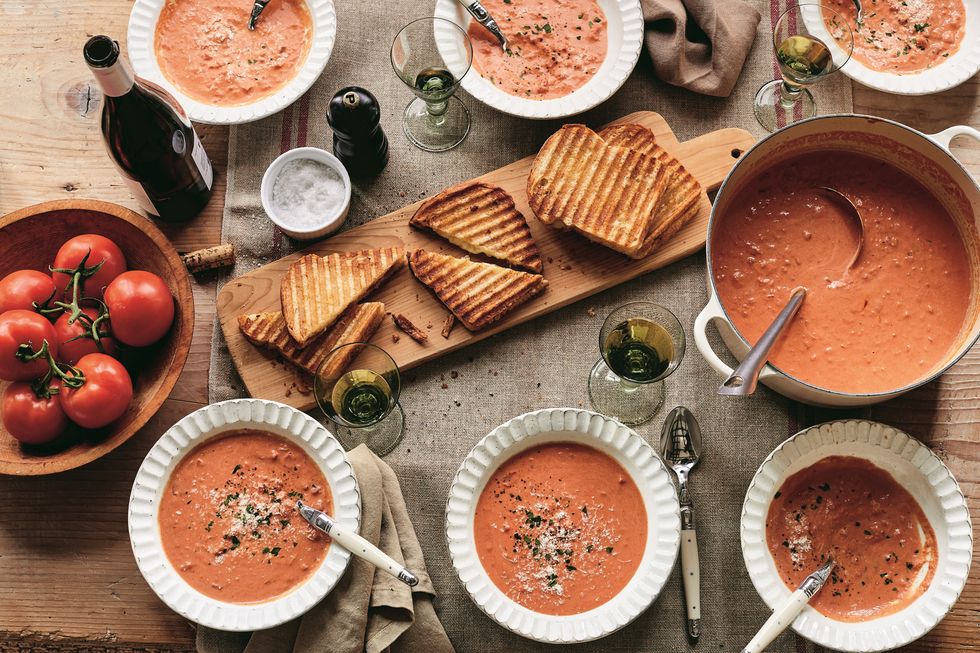 Photo: Quentin Bacon/
Modern Comfort Food
Ingredients:
12 (¼-inch-thick) slices good bakery white bread
¼ pound (1 stick) unsalted butter, melted
1 (8.5-ounce) jar mango chutney, such as Stonewall Kitchen
3 cups grated extra-sharp white cheddar (8 ounces) (see note)



Directions:
1. Lay six slices of the bread on a cutting board and brush each slice generously with the butter.
2. Turn the slices over and spread each one with 1½ tablespoons of the chutney.
3. Place ½ cup of the Cheddar evenly on each slice and place the remaining six slices of bread on top of each sandwich.
4. Brush the tops generously with melted butter.
5. Heat a panini press (see note) and grill the sandwiches according to the directions for the machine until the bread is nicely browned on both sides and the cheddar is starting to melt.
6. Place the sandwiches on a cutting board and cut each one in half diagonally. Serve hot.
Note:
Grate the cheddar in large shreds on a box grater, as you would grate carrots. For a large amount, you can use the carrot grater blade of your food processor. If you don't have a panini press, you can make these in a sauté pan with a small skillet on top
Creamy Tomato Bisque
Isn't a steaming bowl of tomato soup the ultimate comfort food? While heating up a can of tomato soup may do in a pinch, the real thing is so much better—with slowly sautéed onions and leeks plus good Italian tomatoes and a hint of saffron. You'll never go back to that can again!
Serves 8
Ingredients:
3 tbsp unsalted butter
good olive oil
1½ cups chopped yellow onion (1 large)
¾ cup chopped shallots (2 large)
1 cup chopped leek, white and light green parts, spun-dried
3 (28-ounce) cans crushed tomatoes, preferably San Marzano
4 cups whole milk
2 cups heavy cream
½ tsp saffron threads
¼ tsp crushed red pepper flakes
kosher salt and freshly ground black pepper
grated Italian Parmesan, for garnish
minced fresh parsley, for garnish



Directions:
1. Heat the butter and one tablespoon olive oil in a large (11-inch) pot or Dutch oven, such as Le Creuset, over medium-low heat.
2. Add the onion, shallots, and leek, and sauté for eight to 10 minutes, stirring occasionally, until the vegetables are tender.
3. Add the tomatoes, milk, cream, saffron, red pepper flakes, one tablespoon salt, and 1½ teaspoons black pepper. Raise the heat, bring to a boil, then lower the heat and simmer uncovered for 30 to 40 minutes, stirring occasionally, until the flavors are blended and the soup is slightly thickened.
4. Off the heat, stir in one teaspoon salt and ½ teaspoon black pepper. Serve hot, sprinkled with the Parmesan and parsley.
Make ahead:
Prepare the soup completely and refrigerate. Reheat over medium-low heat, adding milk or water as needed to make the soup the desired consistency.
Black & White Cookies
Black-and-white cookies came to New York City with immigrants from Eastern Europe. They're actually more like tender little cakes than cookies, and they're always iced with vanilla and chocolate frosting. Be sure to turn them over and glaze the flat bottoms, not the rounded tops. These are my favorite black-and-white cookies ever!
Makes 10 Large Cookies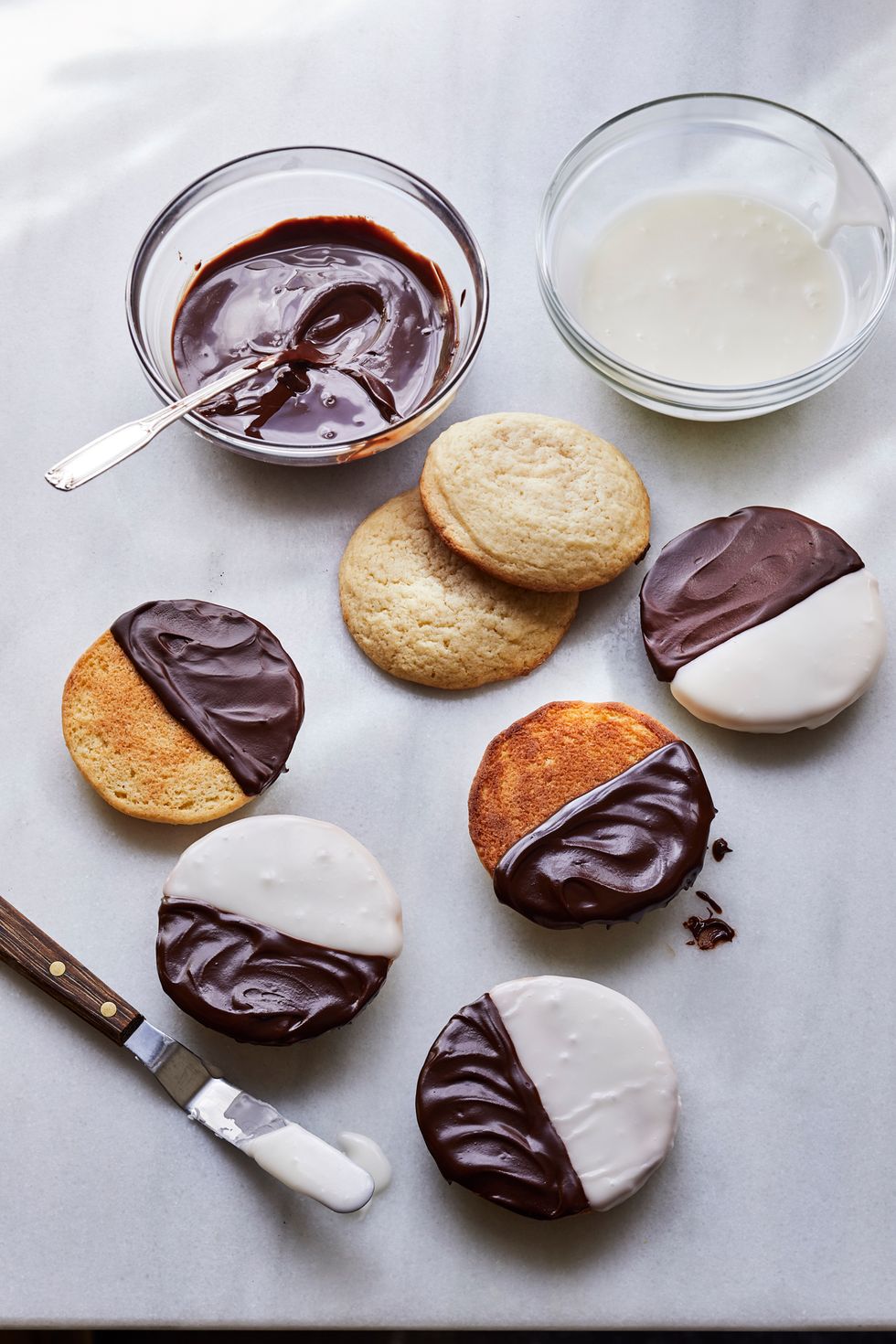 Photo: Quentin Bacon/
Modern Comfort Food
Ingredients:
10 tbsp (1¼ sticks) unsalted butter, at room temperature
1 cup granulated sugar
1 extra-large egg, at room temperature
2 tsp pure vanilla extract
1¾ cups all-purpose flour
½ tsp baking powder
¼ tsp baking soda
½ tsp kosher salt
¹⁄₃ cup sour cream


For the glazes:
4 tbsp (½ stick) unsalted butter
5 ounces good semisweet chocolate, such as Lindt, roughly chopped
½ tsp instant coffee granules, such as Nescafé
2 cups sifted confectioners' sugar
2 tbsp light corn syrup
½ tsp pure vanilla extract
2 to 3 tbsp heavy cream



Directions:
1. Preheat the oven to 350 degrees. Arrange two racks evenly spaced in the oven.
2. Put the butter and granulated sugar in the bowl of an electric mixer fitted with the paddle attachment, and beat on medium-high speed for two to three minutes until light and fluffy.
3. With the mixer on low, add the egg and vanilla and mix well, scraping down the sides with a rubber spatula.
4. Sift the flour, baking powder, baking soda, and salt into a bowl.
5. With the mixer on low, alternately add the flour mixture and sour cream in thirds and mix just until combined. Stir with a rubber spatula.
6. With a standard (2¼-inch) ice cream scoop, place five level scoops of batter two inches apart on each of two sheet pans lined with parchment paper.
7. Bake for 10 minutes, then rotate and switch the pans from the top to bottom rack to bake the cookies evenly. Bake for another six to eight minutes until the edges are lightly browned and a cake tester comes out clean. Don't overbake them! Cool on the pans for five minutes, then transfer to a wire rack set over a sheet pan to cool completely.
8. For the chocolate glaze, place the butter, chocolate, and coffee in a heatproof bowl and microwave on high for 30 seconds. Stir the mixture and continue to microwave in 30-second increments until the chocolate is almost melted, allowing the residual heat to finish melting the chocolate completely. Stir the mixture vigorously until smooth.
9. Turn the cookies so the flat side is up. Hold the cookie in your hand and, with a spoon, carefully pour the chocolate glaze on half of the cookie, forming a straight line down the middle. Allow the glaze to set for 30 minutes.
10. For the vanilla glaze, whisk together the confectioners' sugar, corn syrup, vanilla, and two tablespoons of the cream, adding drops of cream until the glaze is smooth, thick, and barely pourable.
11. Holding the cookie in your hand, with a spoon, pour the white glaze over the unglazed half of each cookie right up to the chocolate glaze. You can smooth it out with an offset spatula if you need to. Allow to set for 30 minutes. Serve at room temperature.
Note:
Instead of using a sifter, I place dry ingredients in a coarse wire strainer set over a bowl and tap the side of the strainer with my hand.
Recipes courtesy of
Modern Comfort Food: A Barefoot Contessa Cookbook
. Copyright © 2020 by Ina Garten. Photography by Quentin Bacon. Published by Clarkson Potter, an imprint of Penguin Random House.
Want more stories like this?
The 15 Snacks That Get Coveteur Staffers Through the Workday
In the Kitchen with Purely Elizabeth Founder Elizabeth Stein
Brain Fog? These Foods Will Help Declutter Your Mind