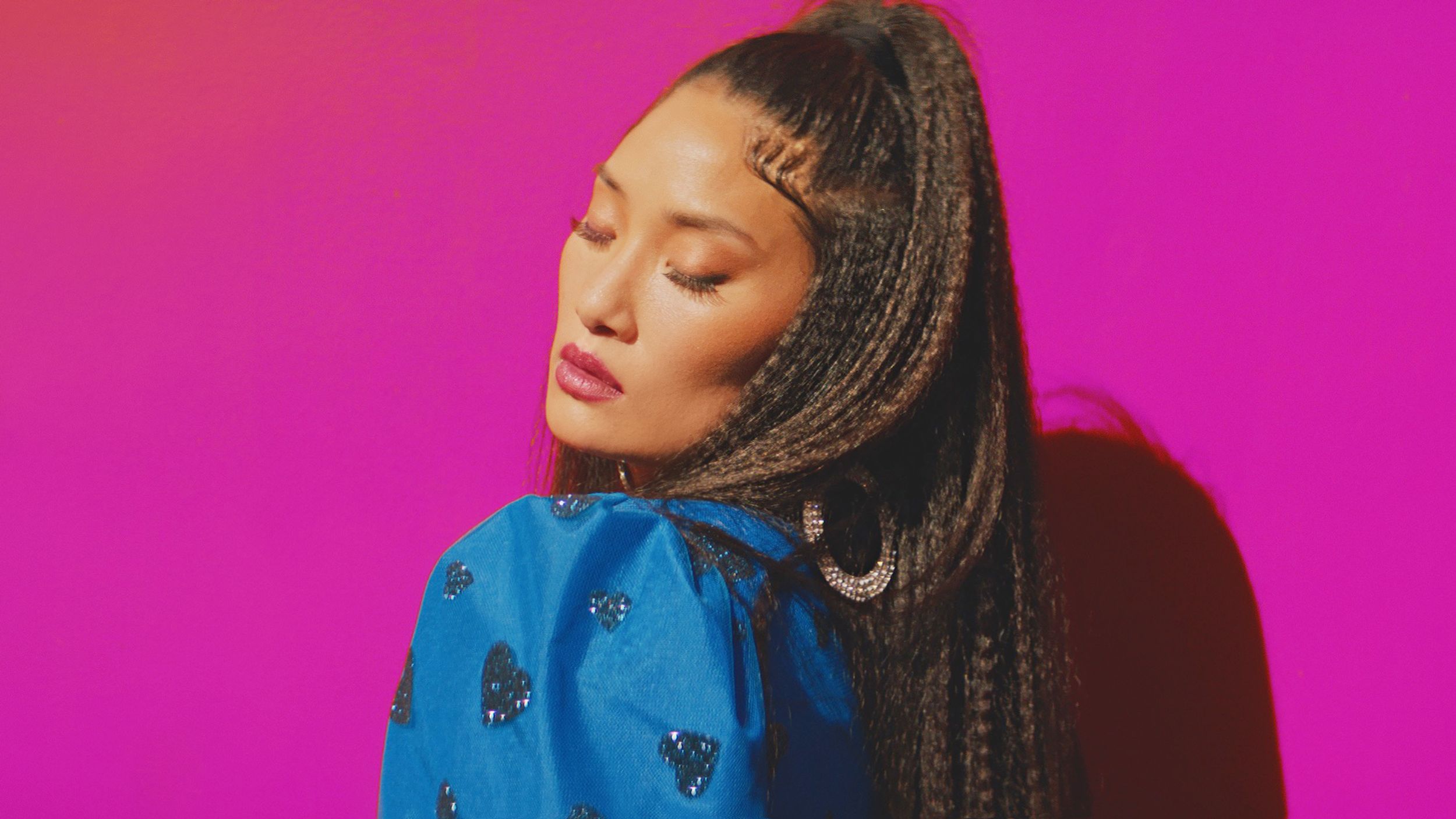 Living
The Korean-American "millennial Liberace" won over Cardi B and the rest of the world with drive, dresses, and a disco-ball piano.
It opened with her fingers. Deft and lithe, with surprising physical range for their size, they skated several octaves—tinkling in ecstasy before landing with clunky ceremony on just two notes: E natural and E flat. The camera peeled back to reveal a diamond-clad Cardi B in a skin-clinging Mugler bodysuit, hands fluttering over her nether regions, but our eyes didn't sway. Chloe Flower was playing the piano.

Accompanying Cardi B with several solos at her 2019 Grammys performance (you know, the year the Bronx native was nominated for eight awards), was just one of the turning points of Flower's career. In fact, the star had been born long before—roughly at the age of three, when Flower first began headlining piano performances. Resolved to become classical music's answer to Beyoncé, the first-generation Korean-American was halted in her fast track: There was no artist whose career Flower could present to her educators as a precedent for her own.

"Classical can be so overwhelming; I wanted them to rethink classical—to make it edgier, cooler," she laughs. "But part of the reason people can't digest instrumental music is because they can't understand it...but if Beethoven or Mozart was alive right now, I think they'd 100 percent be experimenting with production or drums."

Flower found a different kind of mentor in industry favorite Babyface. Together, the two decided Flower would not be limited by the traditional constraints of classical music, instead subverting the exclusionism of instrumental music by coloring it with pop formula. After signing to the producer's label imprint, she began to work regularly with hip-hop heavyweight Mike Will Made-It, her credits spanning the work of Céline Dion ("she recorded in two takes, lying down"), 2 Chainz, and Swae Lee. Slowly, Flower connected music's furthest-removed cousins, pop and classical, to single-handedly create a genre all her own: popsical.

"The aim is to inspire other people who may not have the technique to become a classical soloist, there needs to be a genre for them too," Flower reveals. "You don't need to go to a conservatory to experiment. You don't have to be Aretha Franklin to have a career as a vocalist, and that should be the same for instrumentalists."


---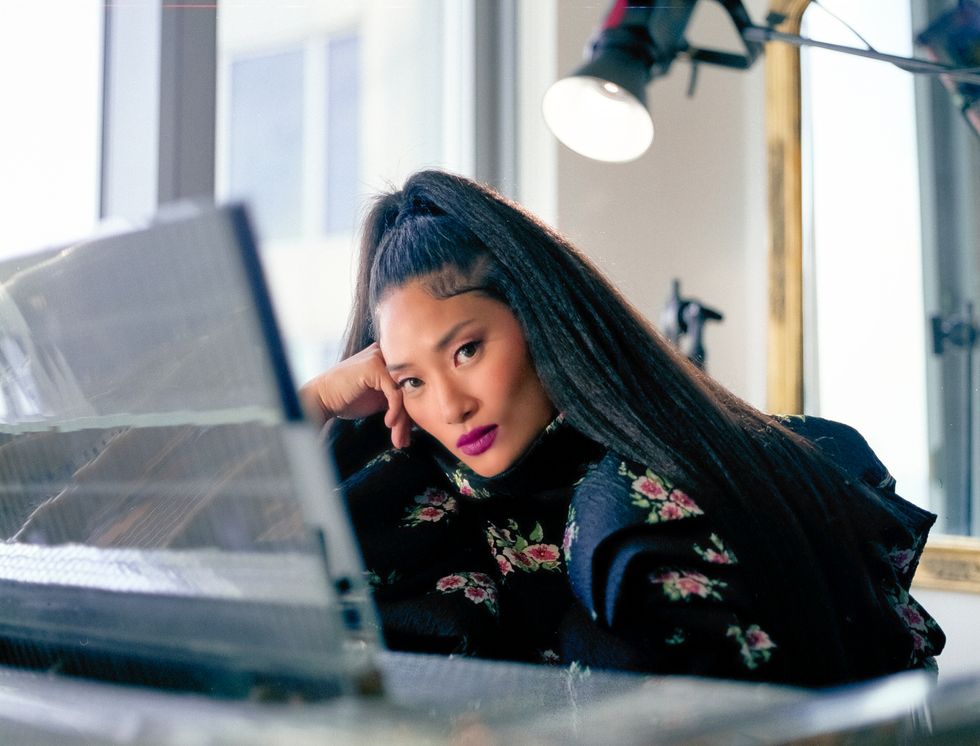 Photo: JC Calubayan
Flower's bedtime has been 7:00 AM for a couple of weeks now. Widening instrumental music's audience requires unending effort, and Flower has spent many a sleepless night writing, producing, self-styling, and shooting in preparation for her impending—still untitled—debut album in hopes of doing just that: her first single, "
Flower Through Concrete
," a lavish love letter to her fans. The musician speaks somewhat apologetically about her latest offering, often over-justifying its decade in the making. The reality is it's taken Flower a while to chip away at the glass ceiling to see her first full-length project made. Not only does a small hand span make it more difficult for women to compete with the keyboard-spanning mitts of male pianists, but the creative chose not to secure attention for her output with "skimpy" clothing—a method resorted to by many female classical musicians.
"I want to be sexy and hot, that's just not my angle," Flowers reveals. "But classical music is so competitive. There aren't 20 famous classical pianists because the audience is small—they just don't understand and appreciate the music. It took me this long to put out an album so that it wouldn't be a gimmick. I didn't want to do anything I wasn't proud of just to sell records. "
Flower doesn't need to undress to set herself apart because she dresses up. Consistently branded the "millennial Liberace" for approaching her piano in couture only, she'll pose in a
gem-encrusted Versace flapper dress
(with a matching Gucci headpiece) or
tiered Dolce & Gabbana floral gown
—pawing the pedals in
six-inch Giuseppe Zanotti stilettos
. Over the years, her cleaning lady has received roughly 10 suitcases full of luxury fashion. It's another Flower strategy to carve her place in instrumental music. In a sector that proclaims even walking the stage in red "ostentatious," performing in technicolor is an act of rebellion.
"I never showed off my outfits until a few years ago, when I thought, because I can't express myself vocally and tell you how I feel—I'm going to communicate through fashion. It was just part of telling the story."

Photo: Deborah Tam
But unlike much of New York's fashion set, there is nothing jaded about Chloe Flower's navigation of women's wear; she pursues beautiful outfits with the enthusiasm of a kindergartner at a princess party. Shopping has admittedly become an extravagant habit for Flower (she does not exercise self-restraint readily), but the musician hopes one day her addiction may curate an exhibition-worthy archive. Still, it's counterintuitive for the pianist to want to shine too brightly on the stage. When Cardi B suggested she wear couture to open the rapper's Grammys set, Flower balked. She even advised they hire a model as a stand-in for a pianist, considering the performance initially only involved two notes.
"You're an idiot if you don't do this," the musician's publicist, Lauren Ceradini, responded to the suggestion. With Cardi responding positively to beefing up the performance with several piano solos, Flower donned the gown and accepted the job. Minutes after her first appearance on screen, Flower trended on Twitter, each review articulating a variation of "the pianist stole the show!" in 280 characters. The response worried Flower—would Cardi B resent the spotlight's pivot?
"Cardi just hugged me, like, 'Have you seen Twitter? You did this!' She has no ego," Flower recalls, still vaguely shocked. "Performing with her at the Grammys, it's like people realized that the piano can look cool and be fierce."
A host of budding instrumentalists as young as six years old now follow Flower on Instagram, enamored almost as much with her high heels, high fashion, and even higher apartment (which offers 180-degree views of Manhattan) as they are with her talent. Then there's the glittering piano. Composed of thousands of tiny mirrors, the instrument is one Liberace himself toured with—procured from an inoperative Vegas museum dedicated to the late artist (for fellow fans: there is now a brand new
Liberace museum collection
in the city). "This would look much better in my apartment," said Flower upon discovering the dust-covered piece.
"I definitely feel his presence because that piano was so iconic for him," she says. "What I loved about Liberace was that he wasn't afraid to be over-the-top. 'Too much of a good thing is wonderful,' he used to say. I loved that. It was not only rebellious, but a form of expression."
Shopping has since become Flower's only vice. While it would have been too easy for the artist to lean into the 'party girl' lifestyle of a 2010s recording artist, Flower vehemently refused. She's stayed away from drugs, regularly refrains from alcohol, and won't drink coffee for weeks ahead of a performance. The decision is a practical one. Perpetually commitment-phobic, Flower has never dabbled in Botox or filler and credits her creaseless skin to what she ingests—or doesn't.
"You can buy a $600 face cream, but if you smoke and drink, it doesn't look good," she says. "I also try to avoid wearing makeup where I can. But I have this vitamin E ointment, there's nothing like it. It has wheat germ and aloe vera. It's seven dollars on Amazon."
Reader, I have since bought
this ointment
. Like millions of Twitter users and Cardi B herself, I'm powerless in the face of Chloe Flower. She's the 21st century's answer to the pied piper—we're all willing to follow her dancing fingers to our doom. Luckily, Flower is only leading us toward the light. She's been a leader in the battle against sexual exploitation and trafficking—serving as a panelist on the subject for the United Nations. She has partnered with Amnesty International to bring attention to their causes. She's a vocal advocate for children learning an instrument. And through it all, with dresses and disco-ball pianos, creating a genre of music accessible enough to inspire many and be enjoyed by all. When someone says
"
Renaissance woman,
"
 you should think of Chloe Flower.
"I can't wait for classical music to cross over to pop or film, I don't ever want to get lazy," she shares. "Ultimately, I just want my music to be on the pop charts
—
one of my instrumental songs with no features be number one."
Photos: Deborah Tam and JC Calubayan
Want more stories like this?
Rising R&B Artist Jayla Darden Does It All—and We're Here for It
Why Jidenna Believes PanAfricanism Is More Important Than You Think
Meet the 24-Year-Old Art Curator Championing International Black Artists