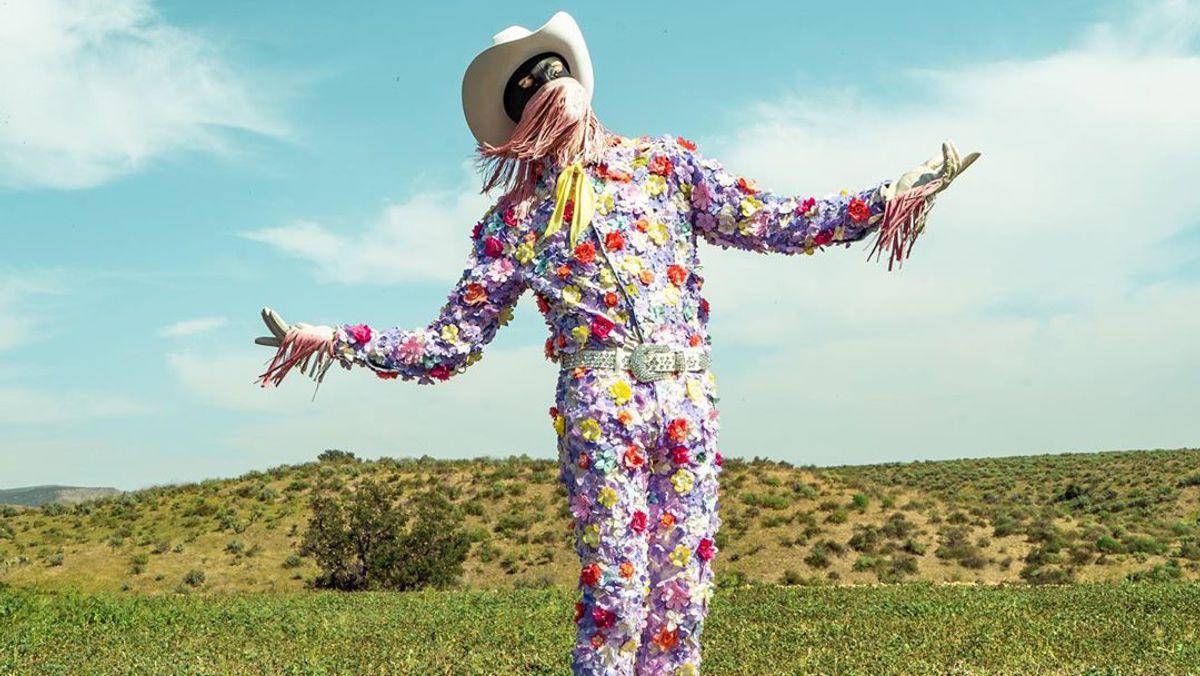 Celebrity
Orville Peck Is the "Show Pony" with Sincerity
In the wake of his sophomore release, the masked crooner tells why he's ready to reveal more than ever before.
Everyone wants what they can't have. Eventually, we're given it. Our
cars drive us
when we don't want to, we receive news of a cultural icon's death
before his family does
. And even then, it's never really enough. When we could go out anywhere and do anything, we wanted to stay home. Now we're home, we just want to go out. After a hectic three-year ride, breakout country sensation Orville Peck—now resting in the confines of a Vancouver hotel room—just wants to tour. Despite subscribing to the mystery, Orville Peck fans still want to know who Orville Peck really is.
Many artists emerge after marinating in the music industry's womb with a new name and updated appearance, but now we want more than a well-packaged entertainer and repeat-worthy product—we want access. As such, speculation encircles the masked crooner in cowboy drag. Perhaps he grew up in South Africa (the star references his "Southern Hemisphere" upbringing) before landing between Canada, London, and Los Angeles. You might have seen him on the West End, drumming in a successful band or creating his own. He could be twentysomething or closer to 40. But none of it really matters, because Orville Peck's identity is not the most interesting thing about him.
"There's this perception of me that I'm hiding," Peck says, "but the only thing I don't reveal is my face. I decided that that was my representation of my country music star to give some flair. Besides covering half of my face, I would argue I bare my soul past the point of comfortability on every song."
It's been an odd year. Every artist with a successful debut dreads the release of their second offering, which may cement flash-in-the-pan fears. Months before Peck's sophomore project was slated for release, he was greeted by a global pandemic. As
Show Pony
was scheduled to drop, the murder of George Floyd spurred the largest civil rights movement in history. When the project was finally released several weeks ago, Peck was halfway through an isolation sentence in compliance with Canada's COVID-19 immigration restrictions.
Peck's career rocketed while he remained at a literal standstill. He watched as
Show Pony
pranced into its peak position as the third top-selling country album on iTunes. "I don't know how many openly gay artists there have been on the country charts," Peck laughs.
---
It's unexpected that Peck will forgo the revelation of his background and yet be so transparent about his sexual identity—something so many only embrace in the shadows. Even stranger that he would opt to ride his vibrato-heavy baritone vocals past pop and into a genre where heteronormative hegemony is written into the guitar solo.
"I wanted to be a country singer to fill a gap that I was missing as a fan: the authentic country spirit," shares Peck. "People assume because what I do has the appearance of challenging the status quo, but this is actually my weird little love letter to the genre."
It's country music's inherent campiness that has always attracted Peck. The genre requires intense emotional frankness for no detail-spared storytelling that would see most musicians balk. Without country, and his mask, Peck doesn't know if he'd ever be vulnerable.
"People think I'm mysterious now, but before I started writing the music, I never spoke about my feelings, my personal life, to anybody," he reveals. "So to me, if I force myself to be as exposed as I possibly can in my music, the fact that I cover half my face kind of evens it out to where I feel like I'm at a similar level of sincerity to other artists that don't wear a mask."
Peck speaks with quiet confidence, often repeating his ideologies either to compensate for the personal details he won't offer, or because he's been so steadfast in them for so long. The country listener, he assures, is not just a straight middle-aged white man (although it's worth acknowledging that demographic is a fan, too). He refuses to credit himself as a contributor to
"
yeehaw culture's
"
recent popularity (it was something of a happy coincidence). The artists most worthy of respect—and art Peck himself often revisits—are those who operate from a place of unwavering "sincerity" ("the artists who would show you a little piece of who you are"). The singer hopes his own sincerity rings true to fans. After all, he's just a country "purist," paying tribute to the genre from his own perspective.
"Mainstream country, as a genre, hasn't felt as up-to-date as other genres with inclusivity or diverse points of view—they're the last genre to embrace outsiderness," he admits. "But I found country as a weird, gay kid surrounded by my own kind of cowboy culture. There's no such thing as one kind of country fan."
This year has brought Peck closer to his idols than ever. He was asked to perform for Willie Nelson—before the event was canceled in the face of COVID-19—and recently released a duet with pop-country crossover extraordinaire Shania Twain. While he unfortunately won't ever be able to elicit the praise of his forever favorite, Patsy Cline, there's always Dolly Parton. If Parton listened to just one, Peck could "die happy." Then there are the supernovas of other genres, like Diplo, who have become a ride-or-die ally for the musician.
"I tend to be attracted to the same type of artist who's attracted to me: the artist who doesn't really follow a rule book or subscribe to a formula," Peck claims. "With Diplo, we both just get along so well with one another, but we come from a similar place in terms of music making. We're each creating our own path."
It isn't lost on Peck that his connection with the DJ has propelled his mainstream acceptance. The music machine has taken a different approach to creating megastars in the digital age. Publicists' pitches will include the entire life story of an artist, including varying details of hardship alongside A-list co-signs or built-in social media audiences who've likely already subscribed to their
"
authenticity.
"
It feels like an age since we've seen pre-Instagram artists like Lana Del Rey springboard off their mythicism—hence why Peck feels so unique right now.
"If you have a great song and you tell me a story in a great way and you put an aesthetic into what you do, that's enough for me," shares Peck. "I think our barometers are a little broken these days; we rely on other factors to tell us something is good other than talent. The scourge of the industry is that the most talented have to fight 10 times harder and still don't get to that same point of recognition as their mediocre counterparts."
Show Pony
is categorized by Peck as an EP, an intermediary between
Pony
and his next studio album. While the internet has become the only promotional tool during the pandemic, thankfully, the Peck package sells itself. Orville Peck is a triple threat: He can pen a track that connects and wows crowds, and he can self-style a memorable outfit (he has "good taste"). If the Top 40 charts decide to embrace the musician, he can sleep soundly knowing he infiltrated pop culture with "sincerity." Because, mask on or off, he's going to
"
make it" the Orville Peck way—that's just who he is.
"To me, putting on that mask and the outfits I wear forces me to go out there and have no choice but to be myself," concludes Peck. "It's the artist's responsibility to expose oneself, even the parts of yourself that you don't trust or like. Having even one person take that and have it mean something to them, that's what a successful artist looks like to me."
Top photo: Instagram/@orvillepeck
Want more stories like this?
Why Jidenna Believes Pan-Africanism Is More Important Than You Think
Rising R&B Artist Jayla Darden Does It All—and We're Here for It
How Pianist Chloe Flower Became Our Pied Piper