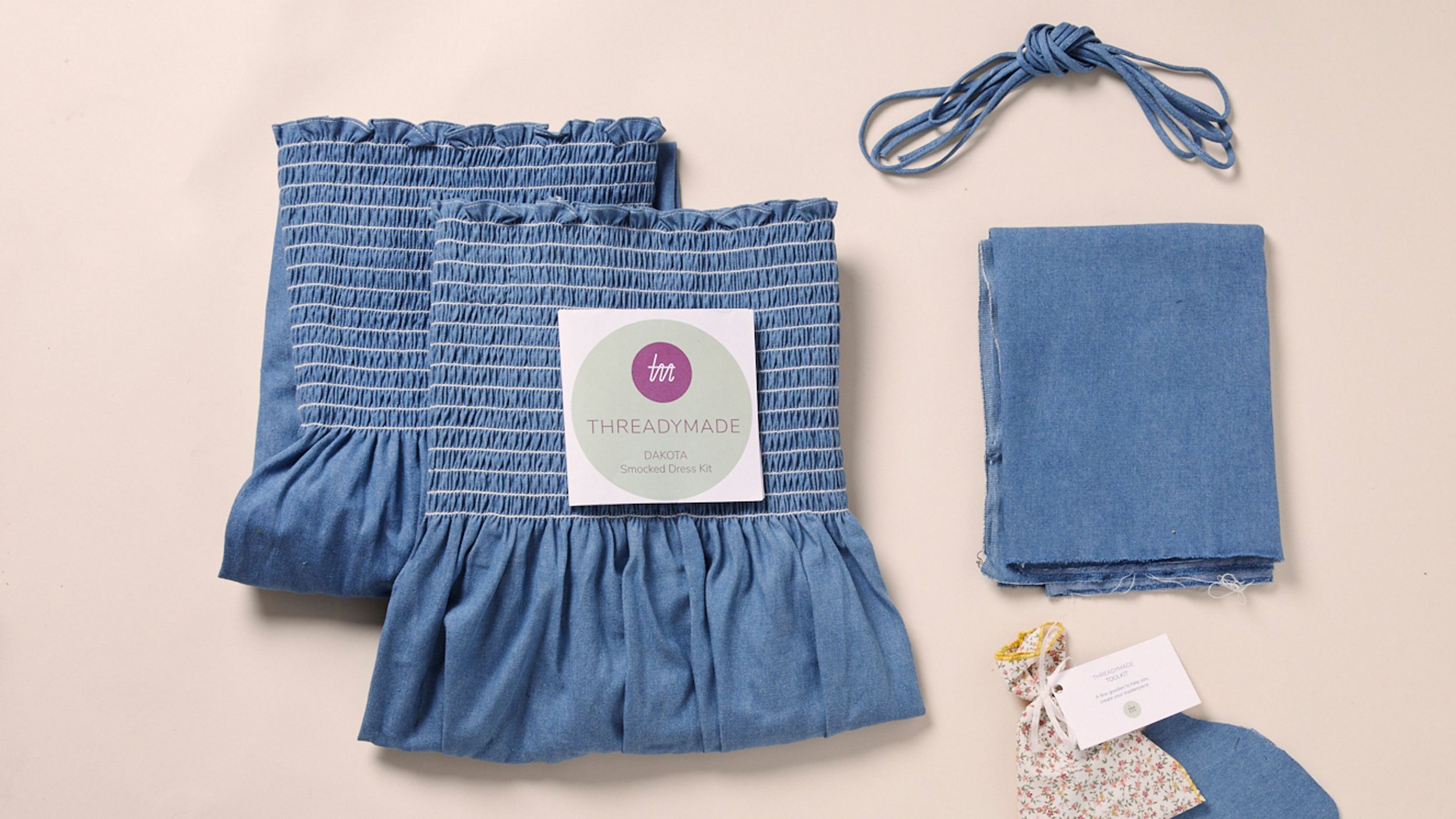 Fashion
Meet Threadymade.
I was 100 percent one of those kids who fantasized about becoming a fashion designer when I grew up. In reality, learning to sew was incredibly frustrating since, as a solidly right-brained individual, the mathematical mechanics of using sewing patterns ultimately turned me off from the entire practice.
Cut to fifteen years later—I was thrilled to learn about
Threadymade
, a new startup box service that seeks to simplify home sewing by creating patternless, pre-packaged sewing kits and utilizing rescued fabrics. The kit comes with everything you need to make the garment of your choice—pre-cut fabric panels, straps, a specially designed ruler, pins and pin cushion, a seam-ripper, chalk, and extra fabric (to make a matching
face mask
, bag, etc.). All you need at home is the sewing machine—no extra trip to the supply story necessary.
The company was created by four fashion industry veterans with different specialties—
Rob Younkers
(the design mind),
Felicity Sargent
(the wordsmith and branding expert), Brenda Van Yacca (the product development guru), and Larry Geffner (the authority on all things pleating and stitching)—in the hopes of reaching expert sewers, beginners, and the fashion community alike.
Since "cottage-core" became a defining trend during quarantine, not only with clothing—sourdough bread baking and vegetable planting became popular pursuits—the company's timing couldn't be better as we prepare to head back indoors for the colder months ahead. It's not only an accessible way to try out a new hobby, but to also add a few new items to your wardrobe and offer a technology-free outlet for lingering anxiety and boredom. "[Think] homesteaders who love fashion," jokes Sargent.
---
Photo: Courtesy of Threadymade
Currently, their offered styles range from the "house dress" and "
prairies dress
" trends, à la
Dôen
,
Batsheva
, and
Hill House Home
. "When creating the brand," says Geffner, "I kept thinking about the two most difficult things for home sewers to access: pleating and smocking." The Threadymade team pre-pleats and pre-smocks the fabric panels in NYC's garment district, which gives the product a crisp, high-quality feel. Because the styles have an ageless aesthetic and are also size-inclusive, the kits have an intergenerational appeal for families. "Because these techniques have been around for years, it's fun to see a grandma recognize a pleated skirt style she wore in the '50s, a smocked top from the '70s, and now the younger generations wanting these looks," says Younkers.
The team has also been surprised to learn that the home-sewing community hasn't necessarily gravitated towards seasonal-specific colors and patterns and are more interested in individuality and personal taste than adhering to industry-based trends. "Coming from a fashion background," says Van Yacca, "we have to forget those tried-and-true timelines. We need to collectively reimagine the fashion system, but we're really learning that people want to do their own thing. They'll follow along, but they're more inclined towards what speaks to their communities—which is entirely different from some globally driven marketing campaign."
Every kit is made to order and made to each customer's size specifications—a
sustainable mindset
that curtails excess production. And not only is Threadymade exclusively using deadstock fabrics, they've noticed that the act of making has increased their audience's collective understanding of clothing production, which in turn inspires more mindful purchasing. "It doesn't need to be new to be cool," says Sargent, who adds that the team is exploring options to partner with print makers and vintage fabric curators in the future.
They also plan to continue to expand Threadymade's style range, branching out into pants next with a pair of culottes. They've recently launched kids sizing for the holidays and have expanded to include international shipping. The future looks bright for Threadymade because, as Younkers puts it, "There's nothing more fun than saying
'
I made this!
'
"
Photos: Courtesy of Threadymade
Want more stories like this?
Why DIY-Inspired Clothing Is Our Favorite Trend of the Moment
8 Fashion Apps That Make Curated Shopping Insanely Easy
Inside the New Realm of Virtual Styling