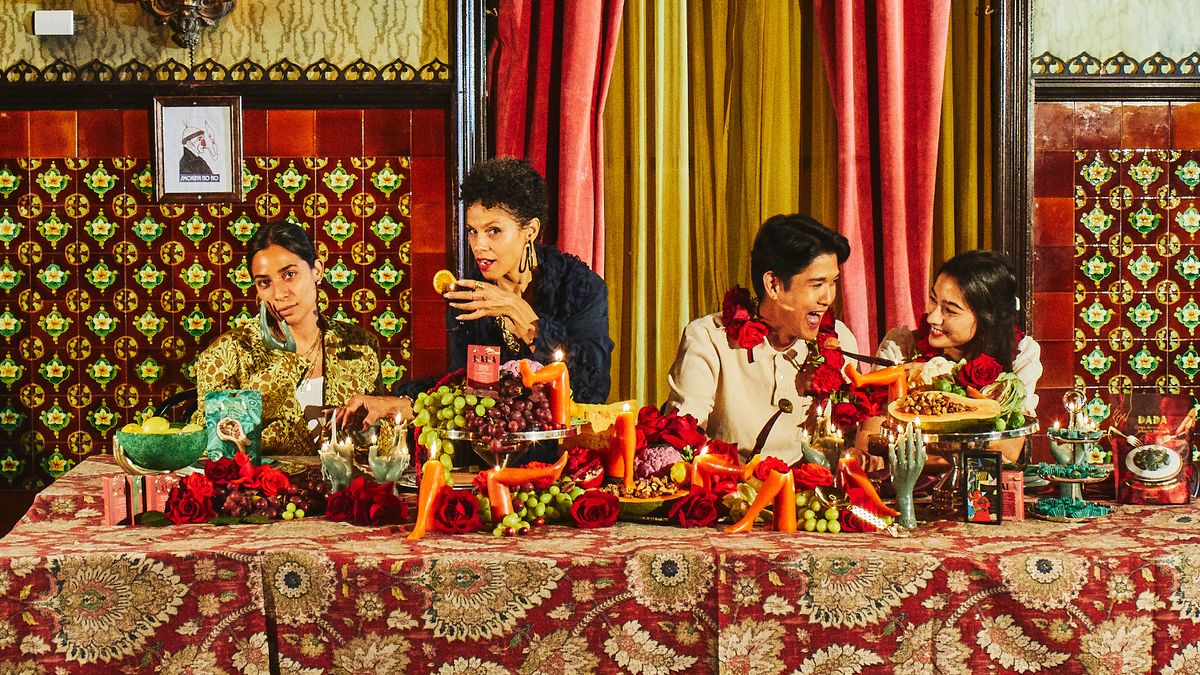 Entertaining
It's all about fuss-free details.
Just in time for the holiday season, consummate hostess Claire Olshan, founder and CEO of
DADA Daily
, has launched a line of cheeky
home goods
to upgrade your dinner table (even if you're just ordering in pizza and having a movie night). The line of attainable yet slightly decadent pieces includes a
"I Wanna Hold Your" napkin ring set
, the
Baby Won't You Light My Legs candle
, and more—perfect additions for just about any soirée.
"I have always been a very design-minded person," says Olshan, who founded New York's Fivestory boutique before launching her line of healthy snacks, DADA. "And then I had a totally other passion—a strong health and wellness focus—that came from having a lot of food allergies as a kid. But those two worlds never overlapped for me until I sort of had an epiphany they could. This is an entertaining snack, and we want to give our customers all the tools they need to be a confident hostess."
---
Dada
Dada
Olshan admittedly loves an elaborate, maximalist tablescape (think 
Cabana magazine
-inspired) for her dinner parties. Just look at the stunning tablescape she designed for the photo shoot featuring DADA Daily entertaining pieces. "My tables actually look like that," she says. "But they're very relaxed, and they're very unfussy."
Here, Olshan shares her expert tips to entertain like a pro. Most important, stay relaxed. "Always remember that this is the part of your life that is supposed to be the best," she says. "If you have been stressing about everything from start to finish, people are going to feel that, and that's not fun. Just know that if you have good people, some good wine, and something for them to eat (that's what DADA is here for), then nothing can go wrong."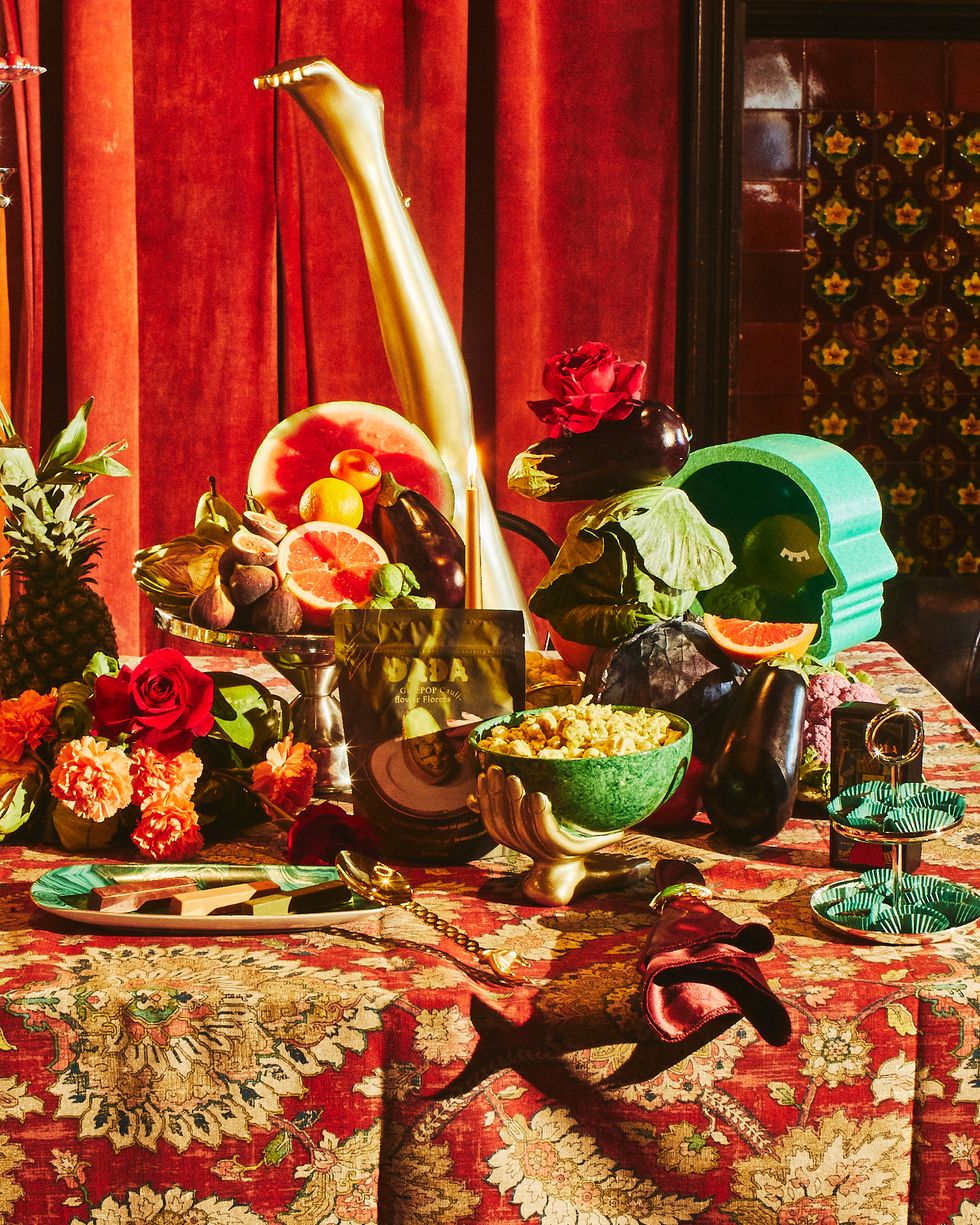 Photo: Cody Guilfoyle
Eat Your Vegetables...and Decorate with Them, Too

"I usually use the vegetables I'm using to cook with and just buy extras and put them in the middle of a table. I always rely on that, and it doesn't take any extra time. I think people underestimate how easy it is for vegetables to shine. You just put a gorgeous eggplant in the middle of a table, and it's like a centerpiece—or an artichoke, for example, will look beautiful no matter what you do. Or lemons or oranges...all citrus looks really nice together.

"I love taking a bunch of asparagus and tying it with a velvet ribbon so it's like a fluffy bow. Then you just throw them in the middle of a table. Tomatoes on the vine are gorgeous. If you can find brussels sprouts on the vine right now at the farmers' market, it looks so cool in the middle of the table. Or really funky mushrooms, like the pink or yellow ones. And obviously at this time of year, pumpkins, squash, and gourds are really easy and perfect for the table."



Bodega Flowers Will Do Just Fine

"I live about a block from the Union Square farmers' market, so I like to get my flowers there, but if it's an off day and the farmers' market isn't happening, I will literally just go to the bodega and buy a bunch of flowers. There's no such thing as an ugly flower. Even carnations, which, by the way, we used in our photo shoot for the new home goods line, are actually pretty and have such a bad rap!"



Go Natural

"I had a dinner party for my birthday about a month ago, and I was not in the city. It was super last-minute and I literally went on the street and cut big leaves off of trees. I wrote peoples' names on them and used the twigs and the branches in the middle of a table. Nature is always going to be pretty—the more wild it is, the more fun it is."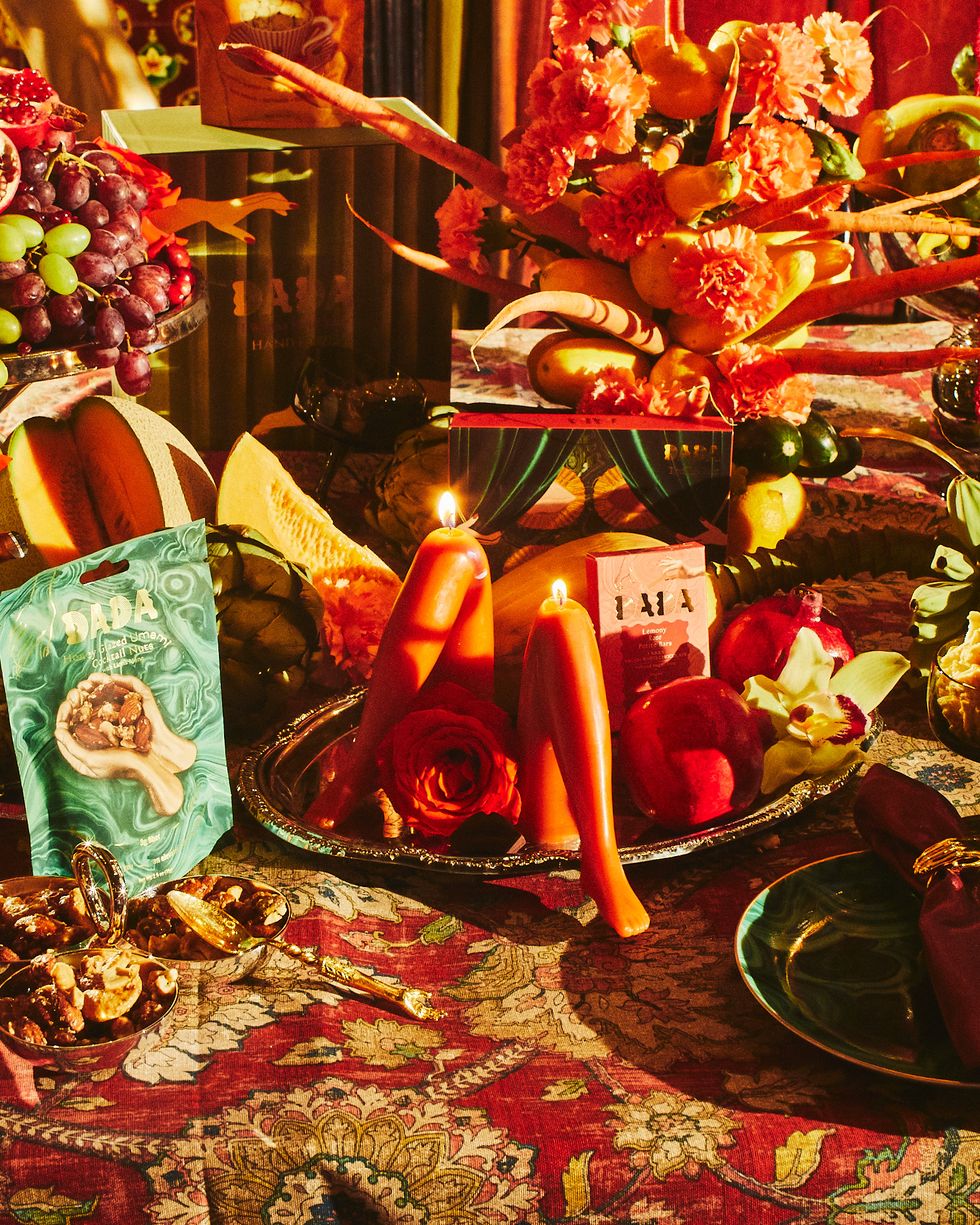 Photo: Cody Guilfoyle
Create Different Heights
"With the DADA candles, I always like to prop them up like a shot glass, or you just go into your cabinets and find like, a cool coaster or a shot glass and create different heights. You can put a piece of fruit on a flipped-over glass, or use different-sized bowls to create that kind of typography of different heights."
Etsy, Etsy, Etsy!
"For the photo shoot, I spent a dark rabbit hole of about seven hours on Etsy and I found all these amazing things. I typed in 'green Venetian glasses' and found the best pieces. Also, for example, I have always loved the
Cabana
magazine look and love their Persian rug tablecloth, but I didn't want to splurge. So for the photo shoot, I just wrote into Etsy 'Persian rug tablecloth,' and I got a million great options. That's how we found the tablecloth for the shoot, and it was like, $150."
Shop Claire's Etsy finds here.
You Don't Need to Cook Every Single Thing
"My move is: 'How do I make this as easy as possible for myself?' Yep. People think they have to cook the whole meal, and they get super overwhelmed. It's like, no, you could make a salad or soup and then you can order the main course. For me, DADA snacks are the perfect bookends...appetizers and there's a dessert, you know? So for me, those are taken care of and then I focus on what I'm good at. I'm very good at making salads and soup. I'm terrible at making main courses, so I will usually order in for the protein."
Avoid Taking Risks
"I would say avoid taking risks when you have a lot of people coming over. Don't decide to make something for the first time…don't do that. People like to come and feel like you've got this."
Have an Epic Party Playlist
(Hint: Here It Is..)

"I'm a music-obsessed human. I have (what I think) is like, the greatest dinner playlist of all time. I've now tested it everywhere. In my 34 years alive, I've been thinking about songs that make people happy, and these are just really feel-good songs that translate. Also, it's an eight-hour playlist, so if you're having a really long party, it won't be looped."

Listen to Claire's Party Playlist: