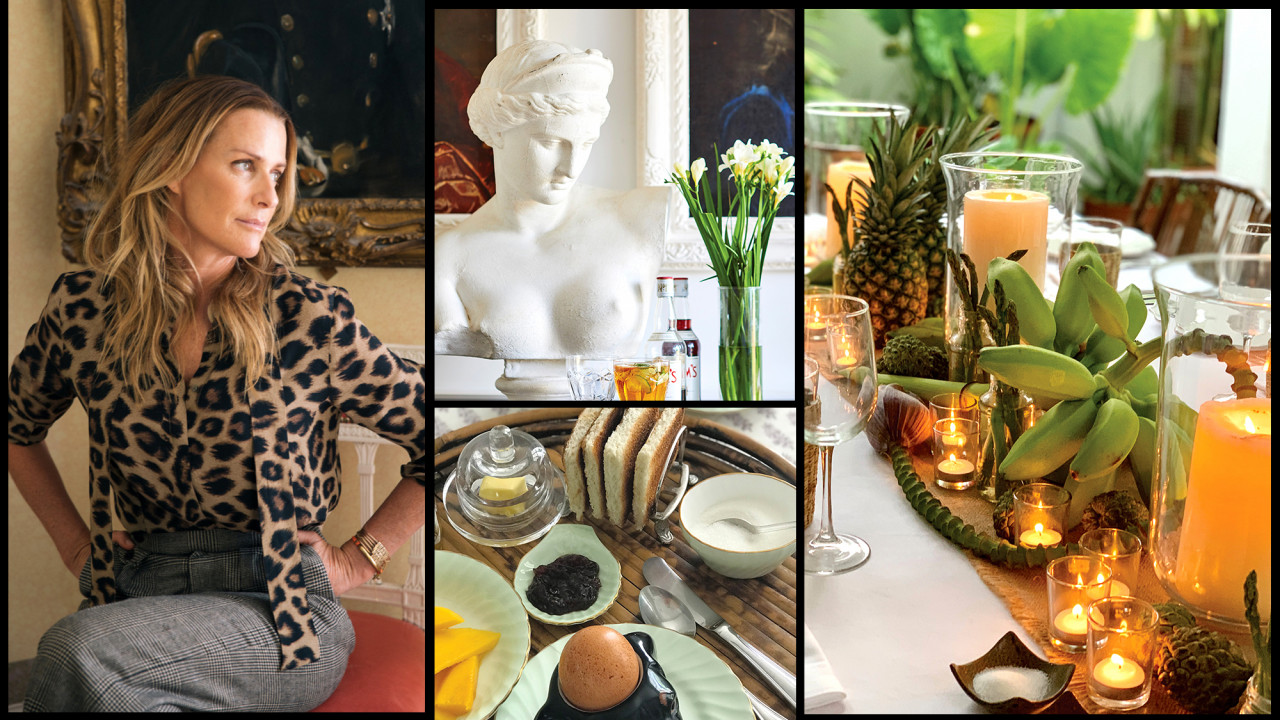 India Hicks Shares Her Secrets to Gracious Entertaining in the Midst of a Pandemic
A dinner party is about more than just cocktails and candles.
Hearing the name India Hicks conjures up images of utterly fantastic Bahamian dinner parties wrought with interesting guests and lust-worthy tablescapes. Her persona is pretty synonymous with great style—it's even in her Instagram handle @indiahicksstyle. Lucky for us, she is releasing her third book titled An Entertaining Story, which is not so much a "how-to" as it is exactly what the title says: a story. Separated by meal, including breakfast, Christmas dinner, tea time, and, of course, cocktail hour among others, Hicks depicts her own experiences with useful tips and far fetched stories—including a rather intriguing tale of how her sister accidentally peed in a photographer friend's unplumbed 'loo' that was waiting to be installed—peppered throughout.
The book closes on New Year's Eve, shortly before Hicks' life, along with most of the world's, changed greatly. At the time of our interview, we established that we were both in our parents house, mine nestled in a suburb of Texas while hers, an English country house in Oxfordshire, decorated by her father, famed interior designer David Nightingale Hicks. Let's just say the jealousy was immense. Prior to that, she spent the first seven months of lockdown on Harbour Island in the Bahamas with her "other half" David and her five children, but minus one important member of the family, their "top banana"—the cook who has been with the family for fifteen years. "She was absolutely queen of the kitchen. David, thank god, does know how to roast a chicken." Her kids have also been experimenting in the kitchen, preparing cheese souffles and introducing her to Crisco, which she doesn't think is even legal in England.
While she was no longer hosting fabulous parties under the Bahamian sun (or moon), her large family served as her dinner guests. Despite all of the craziness, Hicks found that her love of entertaining actually came in handy, bringing to light the underlying importance of a dinner party that was present all along—not to mention how well her skills translated to organizing relief efforts for the ongoing crisis in the Bahamas after Hurricane Dorian (donate to the GoFundMe here). "It's the time that we stop, we pause, and we break bread together. We catch up with one another, we look each other in the eye and we put our screens down. Funnily enough, even though I wrote the book way before the world exploded, it feels really relevant right now to be talking about sitting around the table with your family and friends." With that in mind, below are Hicks' tips for entertaining that apply to all whether you are on a tropical island or a tiny NYC apartment.
"I think that's really key. It doesn't take a big budget to be resourceful. We're not always going to the florist and picking up fresh, expensive flowers. You can go into the garden and just pluck some leaves off a tree and arrange them in a fun pattern. We do that a lot with palm fronds. We'll often have a table runner that is made up of them down the center. Here in England, it may be that you've got some dried roses that you put down time and time again. You don't need to always be going out and buying the fresh ones."
A Sense of Style Is Never Overrated
"Obviously, we are also careful and cautious but you mustn't lose your sense of hope, your sense of humor, your sense of style. All of that can keep coming. I put a new tablecloth that my son had designed on the table recently and it was just my mother, my other half, and I thought, Let's put flowers out even though we were only eating scrambled eggs. I put the table cloth on, I put the flowers out and we just thought, Ugh, this is lovely."
"Pretty napkins. I don't mind whether it's a good linen napkin or a paper napkin, as long as they're pretty and clean. Set the table. It makes it feel that you've made the effort. Add a table display of some kind. Again, it could be just shells that you're putting around the table. It could be a flower arrangement. It could be some beautiful ornaments that you've got. Just think differently. I think something in the middle of the table is important."
Adapt Your Tables Seasonally But Keep the Principles the Same
"My entertaining style changes by season. Here I would probably be putting dark greens on the table or something, but the backbone to how I entertain remains the same. I always want a pretty table. I always love fresh flowers. I always have to use old jam jars. I don't want it to look pretentious. I want it to be easy, but I want it to be pretty. I want someone to come away from a meal and just think, 'That was so lovely.' The principles remain the same. Invite interesting people. Seat people carefully. Make sure the lighting is bloody flattering, especially now. I'm 53, I've got to think about the lighting all the time."
You Can Be a Host Anywhere
"You don't have to live in the Bahamas. You don't have to have a beautiful garden in England. You can find a corner of your apartment in New York and transform it by getting a new tablecloth, by doing a huge big arrangement of flowers, by adding candles—it's so worth the effort."
"Cocktail Hour is the Most Important Meal of the Day"
This one's pretty self explanatory…
Entertaining Skills Can Be Used Just About Anywhere
"For the past year, I've really been working hard to raise money and awareness for the ongoing crisis that happened to the Bahamas after Hurricane Dorian. We applied many of the principles that I have for a good evening at home to the food bank. We would have a DJ come and we would start at like 7:30 in the morning packing 3,000 parcels which were distributed to all of those who were in need or who had been affected by the island's lockdown. The DJ would play and we would make the parcels look pretty. It was interesting that there was a lot of overlap with what I've been doing before but on a very different level, suddenly working at a food bank. It was an amazing experience. We continue to raise money for it. We continue to feed those who have been distressed by not being able to go back to work."
The Tablescape Is Important, But It Isn't Really The Point
"I kind of fell into finding that laying a table actually became really worthwhile which sounds utterly absurd at this moment in time where we are tackling such huge issues as Black Lives Matter and COVID and climate change and countries on the verge of civil wars. Yet, when I actually look beyond the tablecloths and the napkins and the candles and the flowers, what I find is coming together around the table is actually hugely important and possibly has never been as important. It's the time that we stop, we pause, and we break bread together. We catch up with one another, we look each other in the eye and we put our screens down. Funnily enough, even though I wrote the book way before the world exploded, it feels really relevant right now to be talking about sitting around the table with your family and friends."
Photos: Courtesy of India Hicks
Want more stories like this?
The Go-To Interior Decorator to the Obamas Talks Modernizing the White House
Talking Design Trends and the Art of the Home Gym with Alison Rose
Fall's Most Stylish Paint Color Trends Have Us Swooning