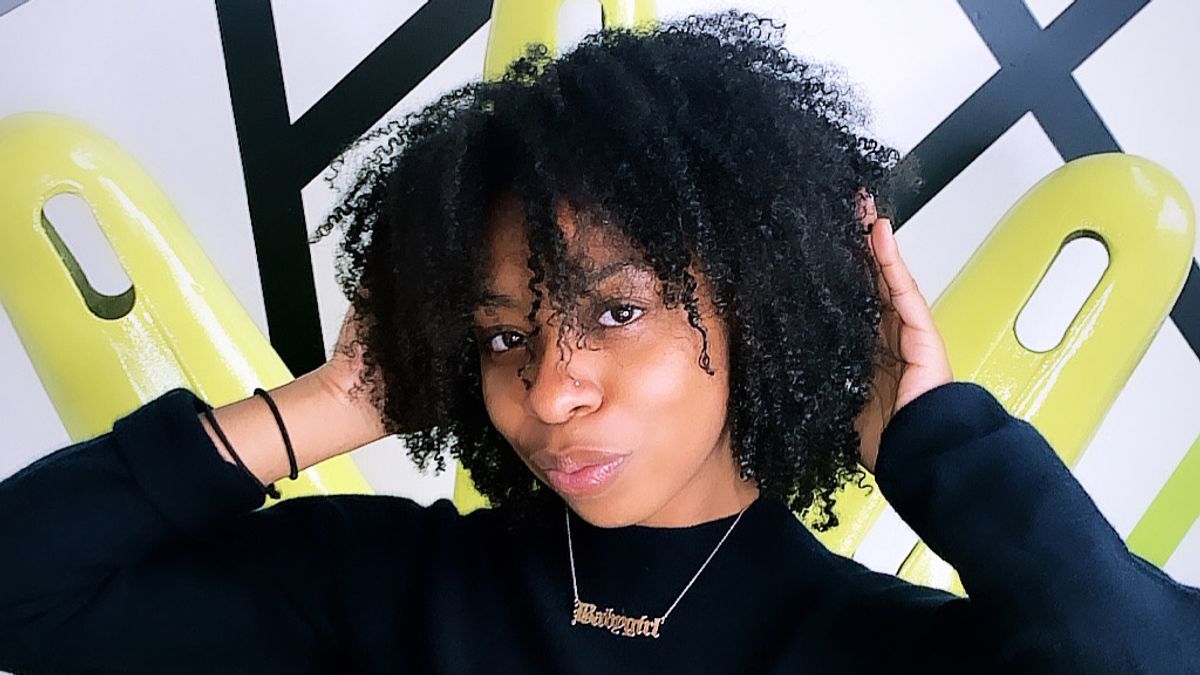 Hair
I'm a Black Woman Who Is Still Afraid That Non-BIPOC Stylists Won't Understand My Hair
4a–4c girls, you know what I'm talking about.
One of the most important relationships you'll ever have isn't always the one with your closest friends or the love of your life. It isn't your kinship with your family or your close-knit ties with your house pet. This precious relationship is built on the connection you have over the fate of your natural hair—your stylist. I've worked on my own relationships with stylists for several years, and it's a connection that I've learned I won't be able to find everywhere—or shall I say, at every salon.
In my younger years, having
naturally curly hair
was the bane of my existence. From painful wash days to Sunday afternoons booked in advance for bi-weekly blowouts, having curly hair never felt like something about which to be proud. To be honest, there were times I would visit salons for blowouts and instantly feel embarrassed watching my stylist struggle to comb through my hair.
As a Black woman, the negative experiences I've had in the past with stylists who weren't BIPOC have made me apprehensive each time I walk into a salon. I've experienced everything from subtle shade about my hair being too dry and unmanageable to stylists suggesting harmful chemicals such as relaxers or perms to make my hair quicker to style.
Once, at a salon in New York, where I was booked with a specific stylist, I got to the salon and the concierge brought me to a chair with another woman of color instead of the stylist I had originally booked. I got it—and quickly understood why. It was assumed that the BIPOC stylist was better equipped to care for my coils compared to their non-BIPOC counterpart.
I figured this was the case when, even after my service was under way, the stylist I was originally booked with sat at her station waiting for another possible client to come in. What I couldn't understand, though, was how someone could consider themselves a professional stylist without being able to style all types of hair and not discriminate against kinky and coily hair textures.
Part of being a professional stylist is taking on the huge responsibility of caring for a client's hair and ultimately how they feel about themselves. "As a stylist, my role is to help my clients build confidence about themselves through hair care," explains Dominique LyVar, professional stylist and educator at DevaCurl. "If someone is feeling great about themselves, they can wear any hairstyle. The only way to have someone be confident about their hair is to give them the tools and education on how to care and style what was given to them at birth."
With more than 20 years of experience, LyVar has dedicated his profession to changing the lives of his curly clients in and out of the salon. As a curly client myself, my fear of booking services at salons without BIPOC stylists not only stems from the negative experiences I've had in the past, but also the misconceptions and prejudice that surround having coily and kinky 4b/4c hair. "The biggest misconception that I've experienced as a stylist is that 4a
–
4c zigzag or coily textures are hard or difficult to work with," he says. "When I started doing hair professionally, I totally thought this was the case. For me, it was because there was a lack of proper education that drove all these misconceptions."
Personally, I never learned about my
natural curls
until I took matters into my own hands to find a stylist and a salon that understood my kinks and coils. After standing over the sink and cutting my damaged curls (which were the result of a series of experiments with chemicals in 2017), I eventually found a stylist that created a safe space for me to experience my curl journey and learn more about my natural hair in a healthy and positive way.
In my opinion, education should be a top priority for all stylists, especially when dealing with different hair types and curl patterns. It was only until the importance of curl education recently started trending in the last 10 years or so that I actually started to think that most stylists might be able to care for my hair. Until that happened, I found myself making excuses for stylists that should never have been made. I blamed my hair for being unmanageable rather than considering that a certain stylist might not have the proper knowledge for how to care for it—much less teach others embarking on their natural hair journey.
However, I learned along the way that this responsibility isn't tied to the race or ethnicity of the stylist, but rather how much they value education as they progress in their career. According to LyVar, it isn't uncommon for clients to believe that only a BIPOC stylist can properly care for their natural hair. "My clients definitely voice their concerns about seeing a stylist who isn't BIPOC. This is a valid concern, and I make it a point to educate the client so they understand that a stylist does not have to have the same ethnicity for them to be knowledgeable about highly textured hair. I am a Black male stylist that learned so much about textured hair from someone who wasn't a BIPOC."
All in all, my fears have made me more autonomous about learning what works best for my natural hair and researching salons and stylists that have my curls' best interests at heart. "There are tons of 'curly hair' products on the market today, but [it] could be quite confusing for someone just starting their curly hair journey. Moisture is very important when it pertains to healthy hair, especially 4a
–
4c," LyVar reminded me.
---
If you're starting out on your natural hair journey and looking for products, here are a few that I love using on my 4B/4C hair!
This, my curl friend, is my favorite and most trusted curly hair product. This curl cream not only keeps my hair moisturized and defined, but it also serves as a cream that I use when wearing my hair in a low bun or curly ponytail.
Now, this curl jelly is the truth! I like to apply this product to my curls in the shower before they've had the chance to dry. It leaves minimal residue in my curls and can be reactivated in my hair with just a couple spritzes of water. If you're a fan of wash-and-gos, like I am, this product works great to lock in the hydration and keep your hair soft and defined throughout the day.
For those curl friends who aren't fans of wash-and-gos and would rather dry their curls to achieve their favorite looks, this dryer attachment works wonders. I purchased this at the start of my curl journey to dry my curls during wash days or in between protective styles. This diffuser attachment is universal and works with most hair dryers. It also works to reduce unwanted frizz.
While most curly girls don't believe in applying oil to their curls so as to not weigh them down, I love using this oil to massage my scalp before and after braiding my hair into protective styles or putting a wig on. It leaves my hair with a shine like no other.
If there's one thing I've learned throughout my curl journey, it's that deep conditioning isn't an option—it's a must. I like to leave Amika's Soulfood Mask in my hair for about 20–30 minutes depending on how much TLC my curls need.